The capital of Portugal, Lisbon (or Lisboa in Portuguese), is one of the most vibrant, liberal, and progressive cities of the EU countries. It's also one of the safest, most affordable, and tourist-friendly European cities, boasting extremely low crime rates.
Lisbon is home to an attractive array of bars, restaurants, nightlife, flea markets, monasteries, and museums. The cosmopolitan city displays a perfect mix of modernity and old-town charm. Its contemporary and culturally diverse energy places it among Portugal's top ten places to live.
Lisbon is known for being peaceful and easygoing. Apart from its excellent climate, Lisbon is recognized for its fantastic food, friendly locals, stunning architecture, and fascinating history.
Why Visit Lisbon?
Nestled into the hills of Lisbon lie quaint, pastel-colored houses and winding cobbled streets filled with the smell of flowers, laundry, freshly baked bread, and pasteis de nata. Centuries of decorative ceramic tiles, or azulejos, adorn the city. The squeaky rattling of Lisbon's yellow tramway adds another layer of eclectic charm to the town.
Lisbon is rich in vibrancy and architecture and has a captivating history, being the second-oldest city in Western Europe (after Athens). Lisbon is located at the mouth of the Tagus River. The river forms part of the border between Spain and Portugal and is essentially responsible for Lisbon's economic prosperity.
Is Lisbon Dangerous?
Lisbon is not dangerous and is absolutely safe to travel to. According to the Safe Cities Index 2021, Lisbon ranks as the 9th best city in the world for personal security. According to the 2022 Global Peace Index, Portugal is the 6th safest country in the world.
This is mainly due to a number of factors. Portugal is socio-politically stable with a low crime rate. It has a family-oriented and relaxed vibe. The Portuguese are also renowned for being open, accepting, and amicable.
However, compared to the rest of Portugal, Lisbon does appear to have slightly higher crime rates. Cases of petty theft do happen, especially in busy tourist areas. Although there aren't any specifically dangerous areas to completely steer clear of, the following areas are best avoided at night.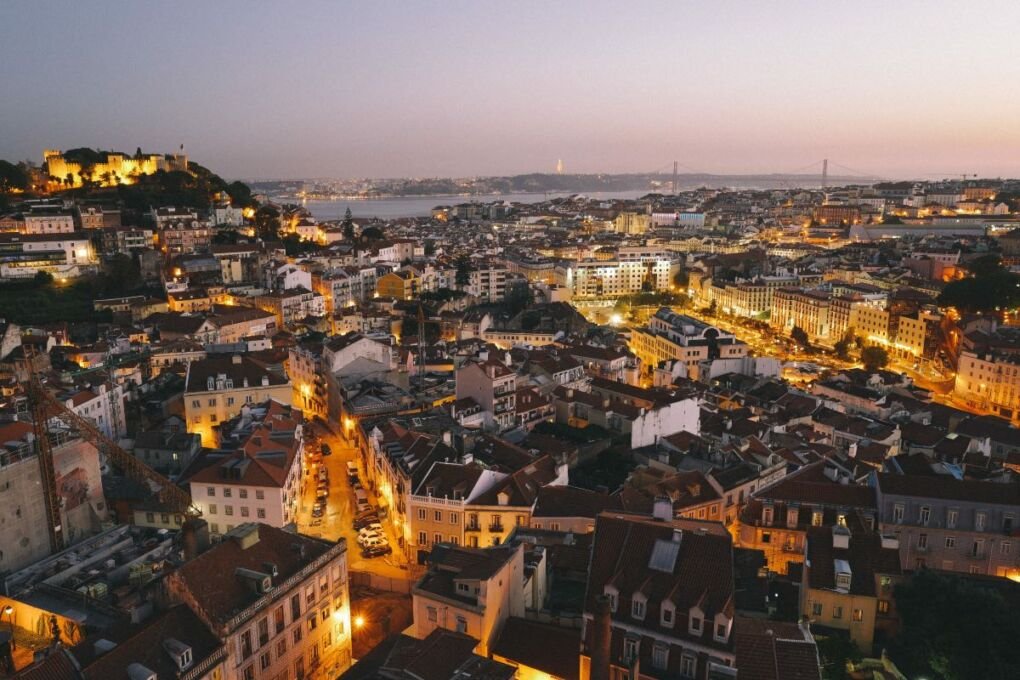 Dangerous Areas in Lisbon
Amadora
Amadora is a densely populated urban community in the northwest Lisbon Metropolitan area. This district is known for its large apartment blocks, commercial parks, and industrial areas.
This area is not aimed at tourists. It has higher than usual crime rates of muggings, drug use, and vandalism. Walking here at night, alone or in a group, is unsafe.
The Amadora municipality shares the same subway, bus, and train networks as the city of Lisbon, so be careful if you travel via public transport and get lost. You want to avoid ending up in the wrong area at the wrong time.
Chelas
Chelas is one of Lisbon's poorer and less attractive neighborhoods. It has a worse reputation than most areas around the city. Low-income housing and poverty are more prevalent here.
It's home to many migrants from various African countries—Cape Verde, São Tomé, and Guinea, to name a few. This is due to Portugal's long colonial history of expansion into Africa.
Chelas is known for being less safe than other neighborhoods in Lisbon, and you may get hustled here. Luckily, Chelas is over an hour's walk from Lisbon's city center, so it's tricky to stumble upon randomly.
Is it Safe to Live in Lisbon?
Lisbon is very safe to live in. As the metropolitan hub of Portugal, Lisbon has slightly higher crime rates than other more rural parts of the country. However, do not let this deter you from choosing to live here. The capital has an exceptionally high standard of living and is a great place to raise a family. There are plenty of beaches, parks, and open outdoor areas.
Lisboetas (people from Lisbon) are known for being very liberal. Their diverse and multicultural society can be attributed to their tolerance and welcoming attitude toward different religions, sexual orientations, ethnicities, and social statuses.
Safe Areas in Lisbon
Lapa
Located between Estrela and the River Tagus, the Lapa Quarter sits on one of Lisbon's seven hills. The Lapa area is considered a distinguished neighborhood, lined with charming cobblestone streets and magnificent views of the river.
Many of Lisbon's foreign country embassies and consulates can be found in Lapa. Although it is home to many top-notch cafes and restaurants, Lapa is not known for its nightlife or party scene. It is a calm, primarily residential area with not much traffic, which makes it great for cycling and walking. It has a welcoming and relaxed feel.
Alcantara
Located away from the busy city center, Alcantara is an artistic and creative hub known as one of the more trendy boroughs of Lisbon. It's a waterfront district near the 25 de Abril Bridge.
As a former industrial zone, the area's recent gentrification means it's clean, safe, and modern. Alcantara attracts all types—business people, coliving and coworking digital nomads, expats, and older Portuguese Nationals. This specific neighborhood has been praised for its acceptance of cultural diversity.
Alcantara maintains good access to public transportation (although there is no metro—only trains and buses) and slightly cheaper property prices than Central Lisbon.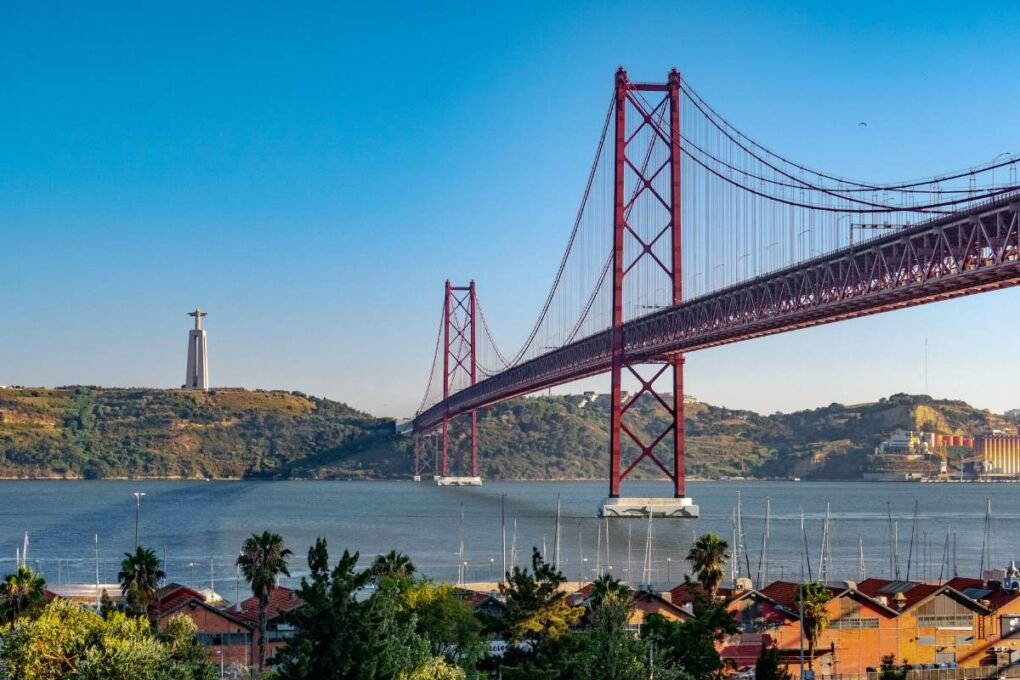 Príncipe Real
Filled with gardens and 19th-century mansions, Príncipe Real is one of the more fashionable areas in Lisbon. It's located in the northern Bairro Alto district and is one of Lisbon's most central neighborhoods, with fewer tourist attractions.
It's home to Jardin do Príncipe Real and many small cafes, grocers, antique shops, gay bars, art galleries and high-end fashion retailers. This neighborhood's charming elegance and romantic feel are sure to blow you away and transport you to another world.
Where to Stay in Lisbon
When visiting a new city, you want to feel comfortable while embracing a place's true spirit. More and more travelers are looking for authentic experiences when going abroad and wanting to stay in accommodations immersed in the local culture.
Lisbon, in particular, also offers a lot of excellent coworking spaces for those digital nomads looking to travel and work abroad.
With the above in mind, the following recommended accommodations are divided according to price range, from luxury to mid-range to budget.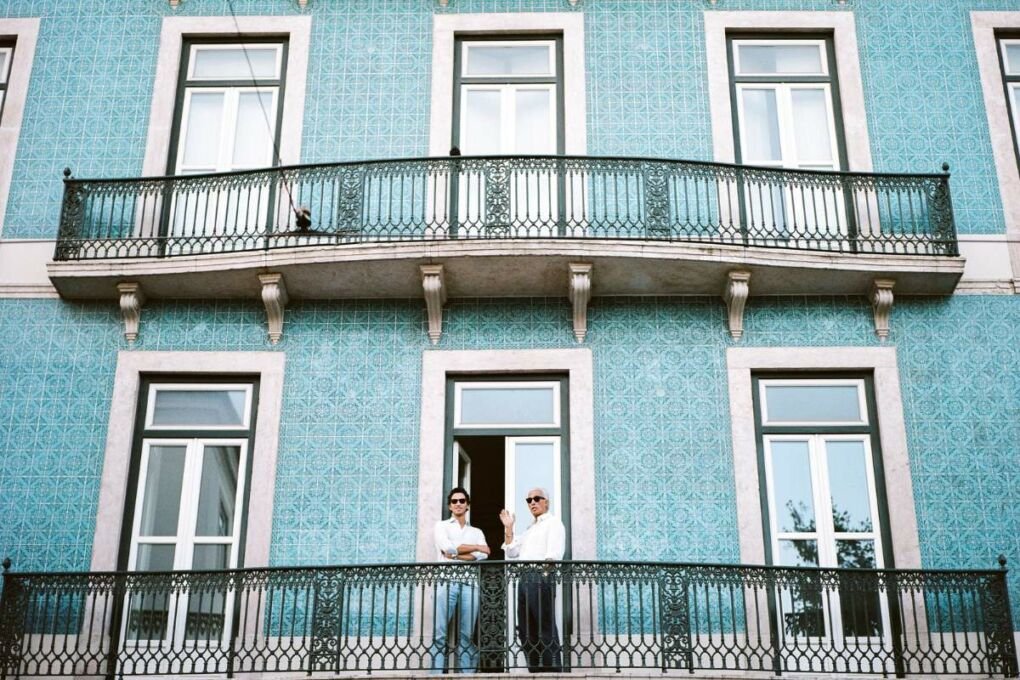 Luxury Hotels in Lisbon
Sublime Lisboa
Glamorous and vibrant, the Sublime Lisboa is an intimate boutique hotel with 15 rooms and suites. Its sophisticated yet relaxed vibe offers guests a chic and intimate stay, with each room being unique.
Sublime Lisboa is conveniently luxurious in the center of the Amoreiras neighborhood. Enjoy exploring one of the many nearby fine-dining options or eat in and enjoy Mediterranean cuisine at the hotel's very own restaurant Davvero.
Verride Palácio de Santa Catarina
If you're looking for something more opulent than a boutique hotel, look no further than the Verride Palácio de Santa Catarina. Located in the heart of Lisbon, this hotel was once a palace. Choose from various suites that exude a perfect balance of modern and royal.
Enjoy 360-degree views of the city while sipping a cocktail on the rooftop bar, or head to the hotel's SUBA restaurant for an unforgettable Portuguese dining experience.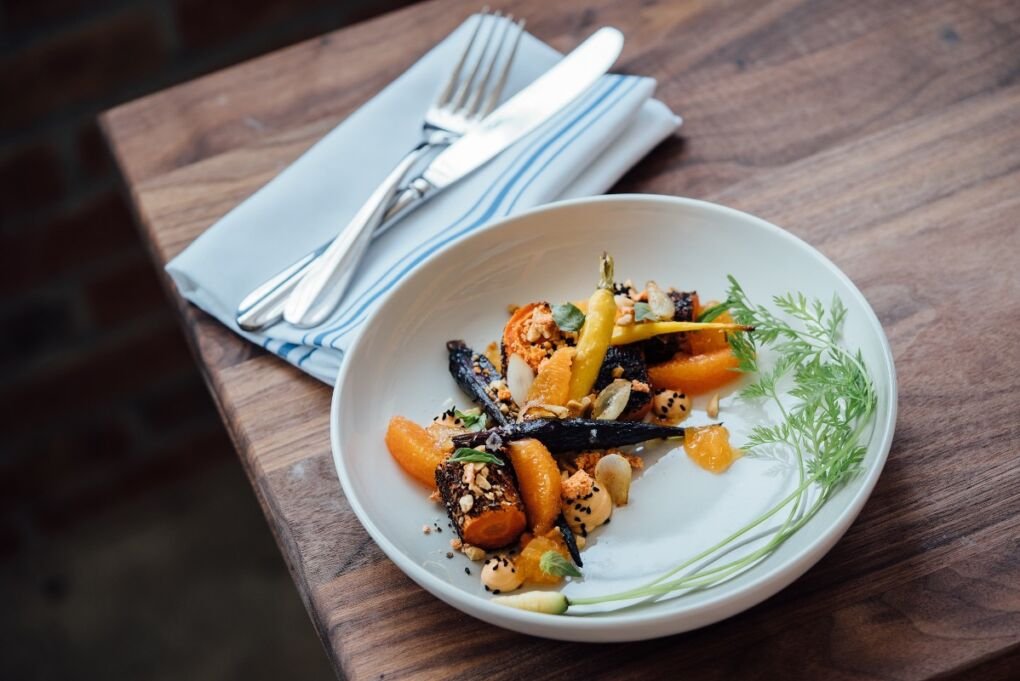 Mid-Range Hotels in Lisbon
Lisbon Garden Boutique Guesthouse
Cozy, comfortable, and intimate, the Lisbon Garden Boutique Guesthouse is a charming oasis in the middle of the city. A mix of vintage and contemporary, this hotel has 12 rooms.
It offers both a bar and restaurant as well as laundry services. The hotel feels home-like, and the premises are light and bright with lots of greenery. There is a gorgeous rooftop terrace bar lounge where you can unwind from your daily adventures.
Independente Principe Real
Bold and bohemian, the Independente Principe Real has been renovated within two 19th-century palaces. You can choose to stay in a dorm room or a private suite. There are two popular restaurants on-site and a complimentary breakfast buffet.
This hotel's philosophy is rooted in social living; eating and drinking, sleeping and resting, and having fun and exploring. It attracts a range of like-minded visitors and travelers.
Check rates and availability
Budget-friendly Hotels in Lisbon
WOT New Lisbon
Located in old Lisbon between Bairro Alto and Principe Real, WOT New Lisbon is an affordable and authentic choice of accommodation. It doesn't have the sterility of modern hostels as it's set in an original 18th-century building and decorated throughout with colorful azulejos.
Private and dorm rooms are available. It's perfect for solo travelers, families, and small groups. Its location is central and accessible, and there's also complimentary breakfast and a bar on site.
Avenue Rooms and Suites
Avenue Rooms and Suites is modest accommodation just 300 feet (100m) from Avenida Liberdade and a five-minute walk to the nearest metro station. The location of this hostel is prime. As the name suggests, the accommodation offers dorms, rooms, studios, and suites. All suites and studios have private bathrooms.
It's close to popular nightlife as well as many restaurants and shops. There's free wifi throughout the premises and a shuttle available at an extra cost.
Check rates and availability
Tips for Staying Safe in Lisbon
Even though Lisbon is a safe city, it's better to be safe than sorry! Here are some tips on how to exercise caution when traveling around Lisbon:
Download the app Citymapper to help you plan and navigate your routes via public transport. Having a clear course will help you stay on track and avoid getting lost or ending up in areas you don't want to be in.
Be careful not to draw attention to yourself in crowded places and on public transport by flashing lots of cash and other valuables.
Ignore public commotion, as this could be a distraction. This is a popular method used by thieves to avert your attention while they quickly swipe your phone/wallet.
Lastly, don't get flustered or be in a rush the whole time—this makes you an easy target for pickpockets. Always try to remain calm and aware of your surroundings.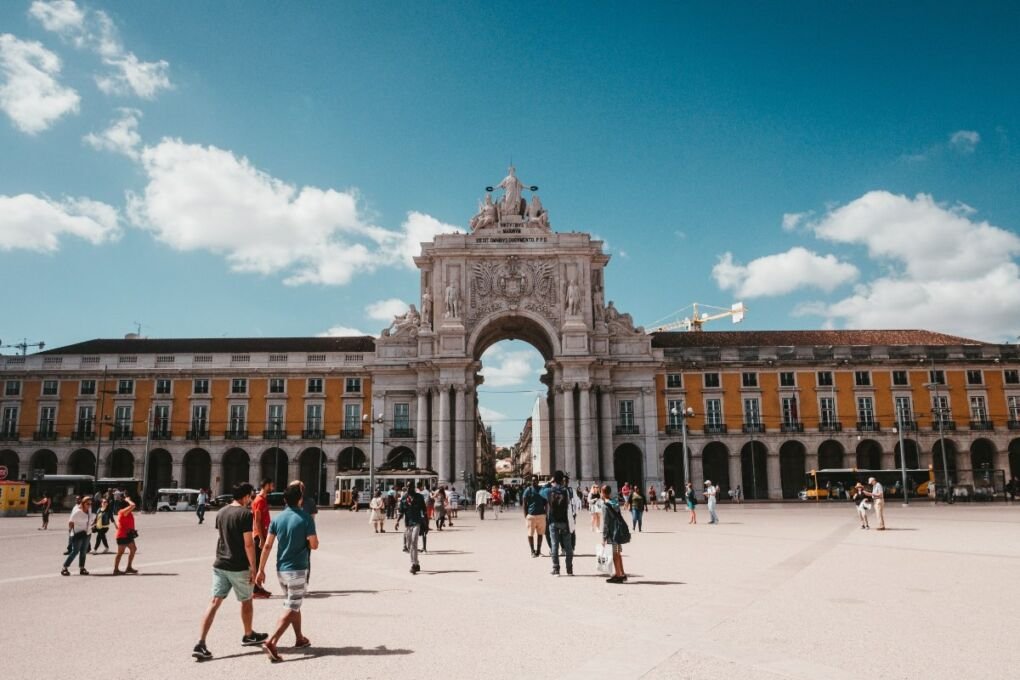 Is Lisbon Safe? | Frequently Asked Questions
What Should I Be Careful of in Lisbon?
Apart from petty theft, there are a few other things you should be careful of when traveling in Lisbon.
Don't rent/bring a car to Lisbon. You'll spend most of your time in traffic and fighting for parking.
Be aware of "tourist traps"—things or places that are excessively expensive.
Wear comfortable shoes, as you'll be doing a ton of walking. Lisbon's cobbled streets and hills are not so forgiving to fancy footwear such as heels.
Is Lisbon Safe for Women?
Yes! Lisbon is a perfectly safe destination for women and female solo travelers. Due to its low crime rates, Lisbon is regarded as one of the safest cities in Europe.
It's budget-friendly and has many reliable public transport options, making getting around the city super easy. Lisbon grants unique freedom to female and solo travelers.
However (regardless of gender), all travelers should exercise the same caution when traveling, whether in groups or alone.
Does Lisbon Have a Lot of Pickpockets?
Although not nearly as bad as in Barcelona or Rome, Lisbon does have pickpockets. And unfortunately, the situation is only getting worse. 
This is especially true in the summer months when public spaces are densely packed with people. The thieves are pickpocketing professionals—both locals and foreigners who come to Lisbon, specifically in the high seasons when there are plenty of tourists. 
Pickpockets have also been known to frequent the trams, Lisbon's iconic mode of public transportation.
Is it Safe to Walk Alone in Lisbon at Night?
Generally, the city of Lisbon is safe to walk around alone at night. However, after 2 am, it's usually not recommended for tourists to walk alone. If you're heading out to enjoy the nightlife, try walking around in groups of 2 or more. 
Of course, certain areas of Lisbon are safer to walk alone in than others. Use your discrepancy and common sense. If you feel that something is off, more than likely, it is.