Ah, Morocco. A country as rich in culture as it is in delicious food (try a lamb tagine and you'll see what we mean), Morocco is an obvious bucket list country for any traveler, and one of the best places to live in Africa as an expat.
Lying between both the Mediterranean and Atlantic seas, this North African country has it all. Tourists can spend their trip up mountains, on beaches, and of course, wandering the famous Sahara desert. Failing that, take your pick from Moroccos' incredible cities.
Marrakech, with its Koutoubia Mosque and fabled Kasbah (markets).
Casablanca is Morrocos' chief port, with its many museums and awe-inspiring architecture.
Or the countries' cultural capital, Fes, for a step into the 'old-world', where mosques, museums, and the oldest Medina in North Africa meet.
With all this in store, all that you need to know before booking your flight is, "Is Morocco safe?".
Why Visit Morocco
When you're soaking up the atmosphere of the ancient medinas, strolling through lush gardens, and haggling at colorful souks, you'll wonder why you didn't visit Morocco sooner. There's a reason it's one of the most popular destinations in Africa.
It's got all the trademarks of an amazing trip. The nature: so varied and yet so stunning. The weather: sunny with balmy evenings. The cuisine: flavourful, complex, and punchy, from fish chermoula to bastilla. And, of course, the people. Kind and hospitable to a T.
If you're seeking history, natural beauty, and fascinating culture, Morocco is the place to go.
While we wouldn't ideally recommend it for a lad's trip, for the culturally conscious, curious backpacker, however, Morocco is an incredible holiday.
Is Morocco Dangerous
Morocco has its fair share of dangers, and travelers should educate themselves on these before their trip.
The US State Advisory advises traveling Morocco with increased caution since there is a risk of potential terrorist attacks. Travelers to Morocco should also avoid political demonstrations during times of tension in the country, and keep vigilant in large crowds, like those that form from sports events. There is also a moderate level of crime in Morocco, with the country scoring 49.07 on Statistas' crime index in 2022.
So what does this mean for tourists? Simply that you should be cautious of the known dangerous areas and scams in Morocco, and be sensible and alert wherever you are.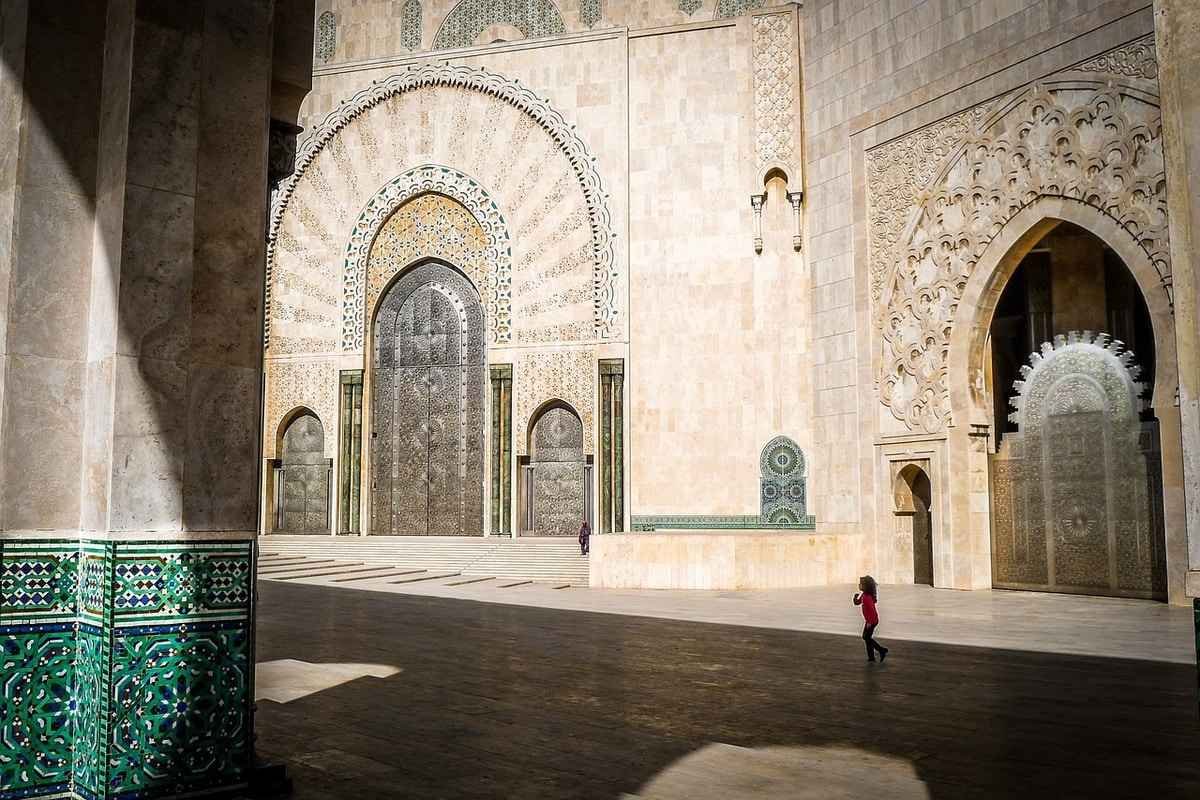 Dangerous Areas in Morocco
Casablanca
Made famous from the movie of the same name, Casablanca can be pretty unsafe for travelers. The city has a moderate crime rate, with the main offense being drug-related crimes. Mugging and theft is almost as bad. The train station and football stadiums can be a hotbed for petty crime too. Avoid Derb Ghallef, Bernoussi and Bousbir.
Fez
A beautiful city still well worth a visit, Fez has its own collection of crimes. Be careful with taxi drivers suddenly skyrocketing your fare mid-trip, as well as enthusiastic locals offering their services as 'tour guides'. Youth gangs roam the streets, so keep your head down and walk with confidence. Lastly, make sure to avoid the areas with the most crime in Fez: Ben Debbab, Zouagha, and Bensouda.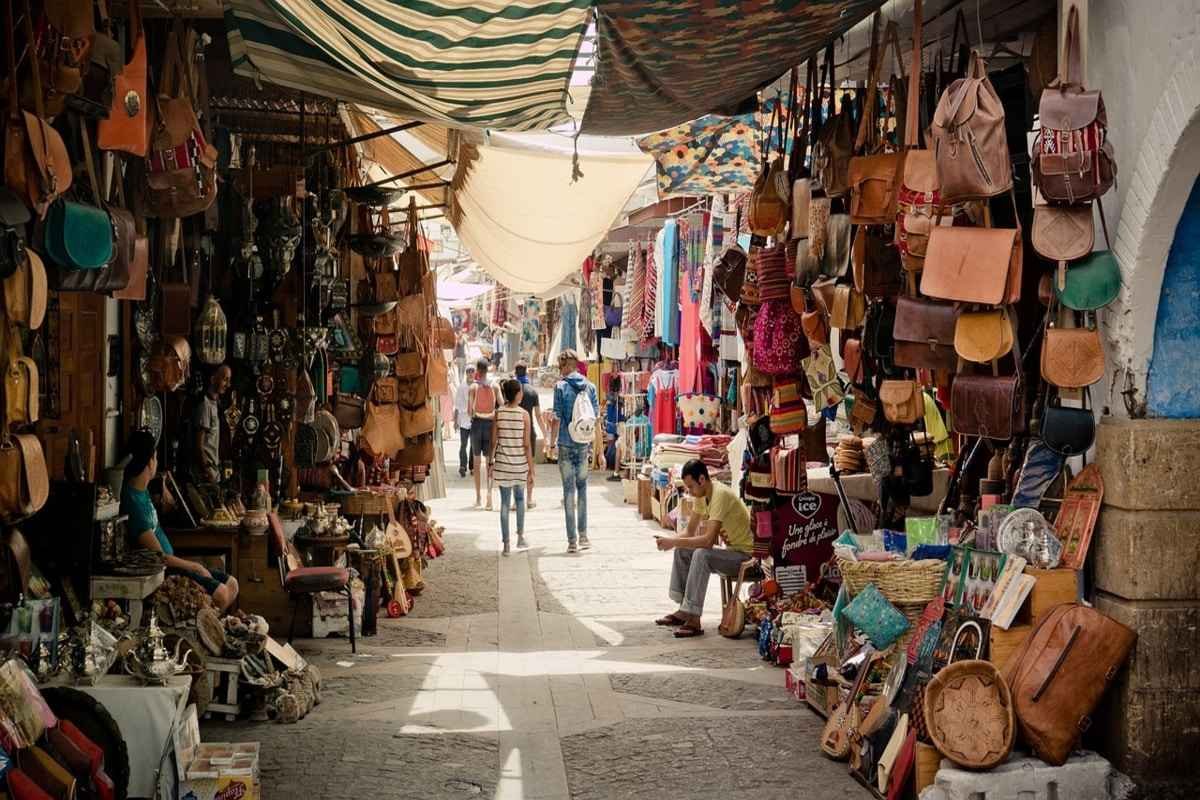 Is it Safe to Live in Morocco?
Most certainly. Why, the famous French designer Yves Saint Laurent loved Morocco so much that he made it his home. Cities like Marrakech and Rabat feel very cosmopolitan and are affordable to live in — even for students.
Violent crime is very rare, and foreigners are hardly ever its victims. Just be mindful of the petty crime mentioned in this article.
So if you're planning on settling down in Morocco, expect most locals to be welcoming and eager to share their culture with you. Of course, in the bigger cities, you will encounter more opportunistic types, but you'll wise up to spotting them very quickly.

Safe Cities in Morocco
Essaouira
Essaouira is one of Moroccos' safest cities and a surfers paradise to boot. This windy city is a beautiful and budget-friendly place to live, with a thriving expat community. Plus, if watersports aren't your thing, there's an abundance of art and culture to enjoy too. Essaouira is warm, clean, and nowhere near as touristy as Marrakech. Home sweet home?
Asilah
A little seaside town in Northern Morocco, Asilah is a popular holiday destination for locals. This alone should tell you enough. Full of pretty white buildings and brimming with Portuguese history, Asilah is the opposite of Marrakech.
Forget hectic crowds and frantic bargaining. Instead, imagine a slow-paced lifestyle, relaxing on the quaint coastline, soaking up the art in Asilahs' annual art festival. Ready to move yet?
Rabat
Morocco's capital city, Rabat, offers the best of both worlds. A modern new town, and picturesque old town, expats can hit up some shops or absorb some history as they please. Theatres and restaurants, bars and nightlife: you needn't miss any of your usual pastimes when you relocate.
The city of Rabat also flaunts a fusion of cultures; Mediterranean, African, and European making its population, food and culture fascinating and diverse.
For the football fanatics, Rabat is home to not one but six football clubs. Watersports, handball, and volleyball are also popular in the city. Nice.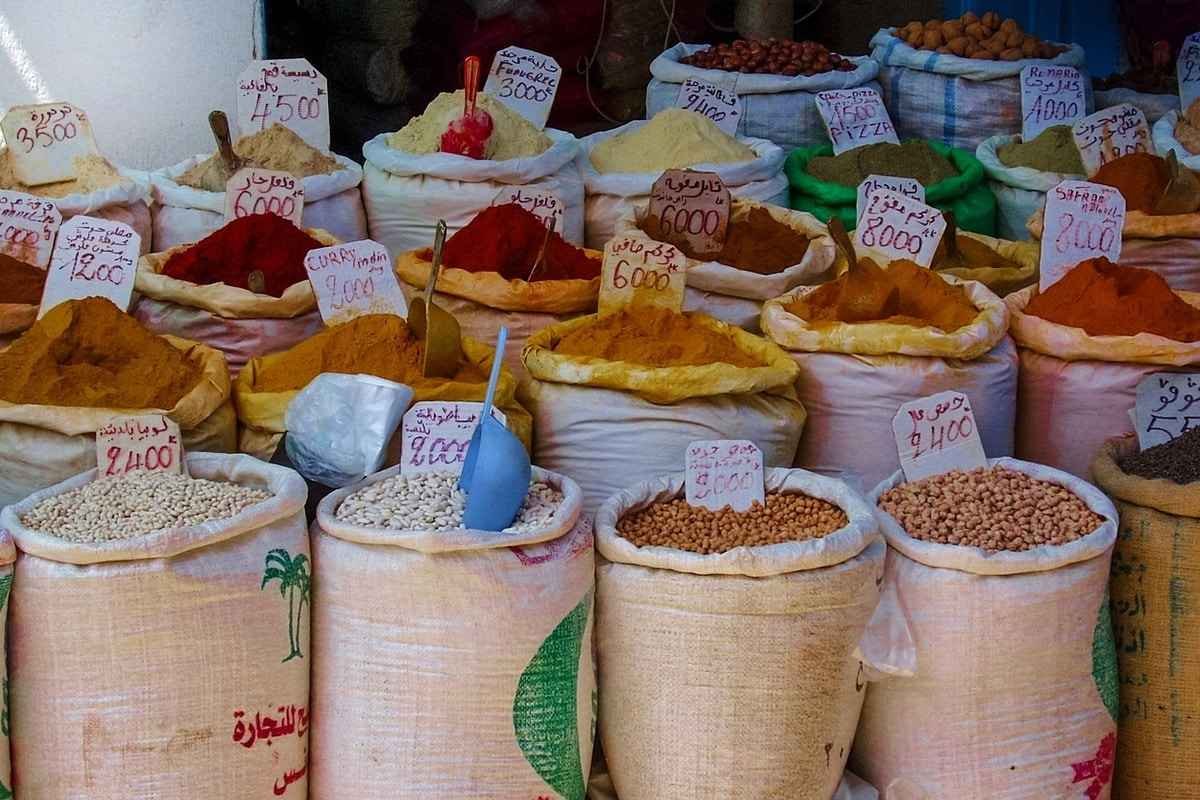 Warnings & Dangers in Morocco
We'll be honest; there are a fair few dangers and annoyances to be aware of in Morocco. Travelers should be wary of scams, petty crime, harassment, and terrorism. Don't worry. The latter is very uncommon, with the last news-worthy incident occurring in Marrakech in 2011. A bomb killed 17 tourists, after which local authorities tightened security exponentially.
If you're heading over, you should also avoid protests, as these can escalate and become violent. Other dangers are nature related, from bad weather to unsafe mountain trails. Protests turned-violent and traffic accidents can present a threat to the unwitting traveler too.
Overall Travel Risk
: 4 Out of 10
There are several safety issues in Morocco, but most of these can be avoided.
The biggest issue for tourists is petty crime; the actual crime rate is fairly low. Pickpocketing is rife, so if you haven't yet got a good money belt, now's the time. As for using ATMs, be discreet and avoid flashing your cash.
You should also take extra care with your belongings in the Souks. These are hotbeds for thieves, and the large crowds make for an easy escape. Keep a firm hold of your belongings, and don't wear expensive jewelry out.
What else? Well, burglaries do happen, especially in cities. These are generally opportunistic rather than violent, so just make sure to lock up properly.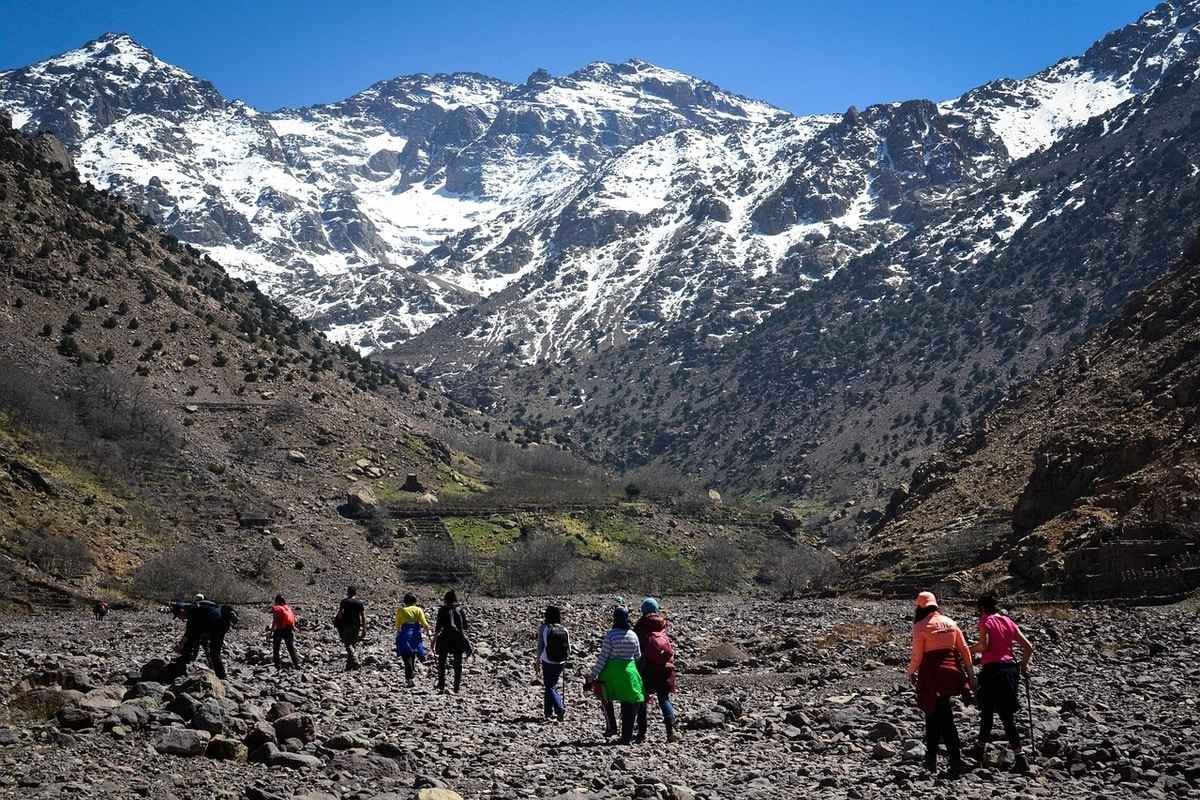 Fraud
One of the biggest issues travelers can face in Morocco is scams. These can range from mildly irritating to downright nasty. Let's start on the mild end: research ticket prices for tours and attractions to avoid getting ripped off. In general, naivety can get you in trouble in Morocco.
So, whether you've made a 'new best friend' in a local (it can happen, but many tourists have reported being robbed blind in similar circumstances) or you've met an amazing Moroccan girl online who needs you to spot her some cash, be skeptical. Not everyone has good intentions.
The Henna Scam
When in the busy medinas of Marrakech, you may spot a surprisingly large number of female tourists roaming around sporting poorly done henna on their hands. This is no random occurrence; one of Marrakech's most well-known scams is that of the henna women.
Honing in on you, the unsuspecting tourist, they grab you by the arm, and before you know it, you'll be half-covered in henna. Your polite refusal will be ignored, as the henna lady insists that her work is "free because she likes you". Afterward, she will demand an extortionate payment for her services, generally starting at around $40, becoming aggressive if you don't pay up.
We recommend keeping an eye out for the henna ladies before they approach, and if you do happen to end up in their vice-like grip, firmly pull your arm away. Be politely assertive.

Getting "Directions"
You're in a street you can't place, peering at google maps, sure that the palace you intended to visit was right here. A local offers to help you in the right direction and, better still, guide you the whole way! What a stroke of luck!
Not so fast.
A known scam is when a local offers to act as a guide to clueless tourists before aggressively demanding payment for their services. Even accepting directions is risky. Now, this mainly refers to being approached in the street, so don't be deterred from heading to a nearby souk or restaurant to ask for directions.
Buying Hash
Morocco is famed for its hash, producing an estimated third of the world's supply. But that, dear friend, does not mean it's legal, nor that you should be buying it. Strict penalties are in place for drug use, and offenders can face up to 10 years in prison.
In Marrakech and Fez, depending on how hippie you look, you're likely to be offered it in the street — sometimes multiple times a day. A common scam in Marrakech is for sellers to approach tourists in the street and offer to sell them hash. After the sale, a police officer- who is in on the whole thing- will appear and search you, the tourist. They will, of course, find the just-exchanged hash and charge a hefty sum to not send you to prison.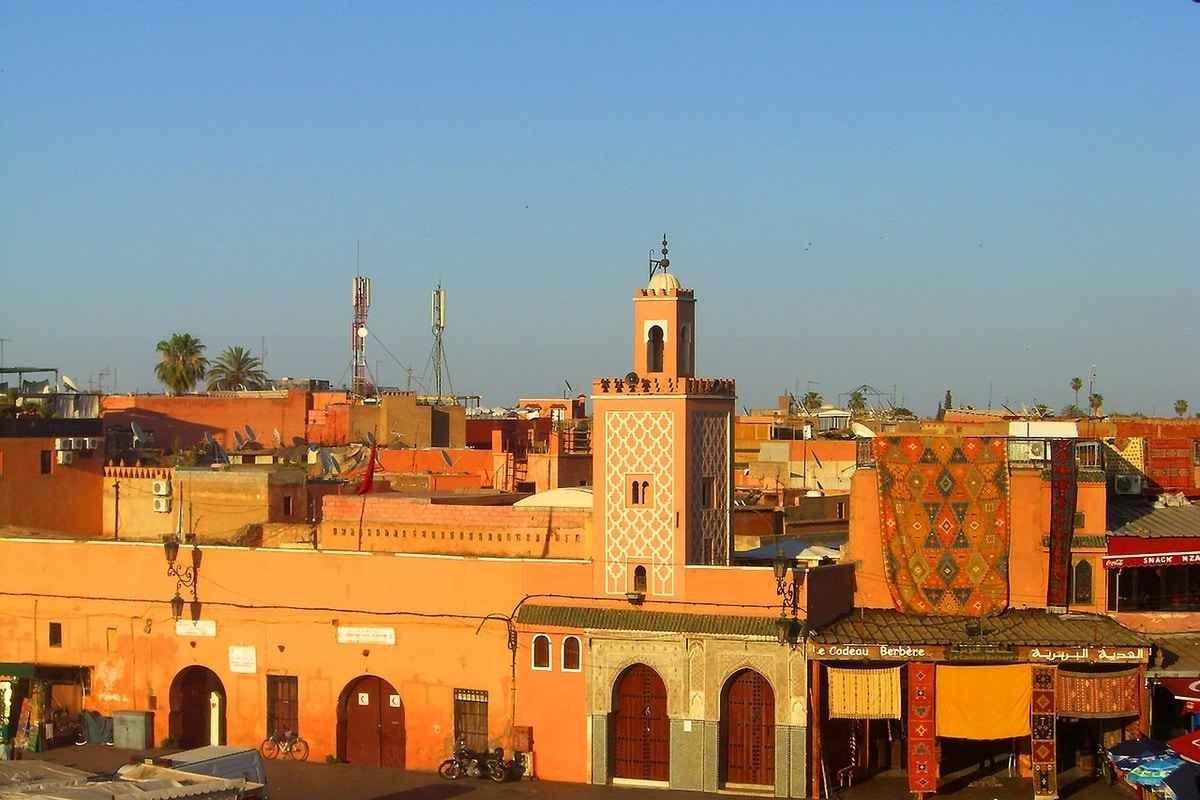 Tips for Staying Safe in Morocco
Don't let Moroccos' scams and dangers put you off of visiting. After all, if these were unmanageable, Morocco wouldn't be so popular with tourists year after year.
Here are our 5 tips for staying safe on your trip.
Take your valuables with you wherever you go.

If you must leave them somewhere, make sure they are properly secured.

Lock your residence, even when you're inside.

Especially

when you're inside. Easy access makes an easy robbery.

Don't go out or travel alone.

Safety comes in numbers, and it's' nice to have someone with you when you're on your travels. Even if it's just to play devil's advocate when you're about to buy yet another ceramic ashtray.

Dress conservatively.

You're in a Muslim country, and it shows respect.

Don't buy drugs.

Anywhere. Even if you're offered a once-in-a-lifetime price for the best hash in the land. Use the mental image of the jail cell you'll end up in as an incentive to say no.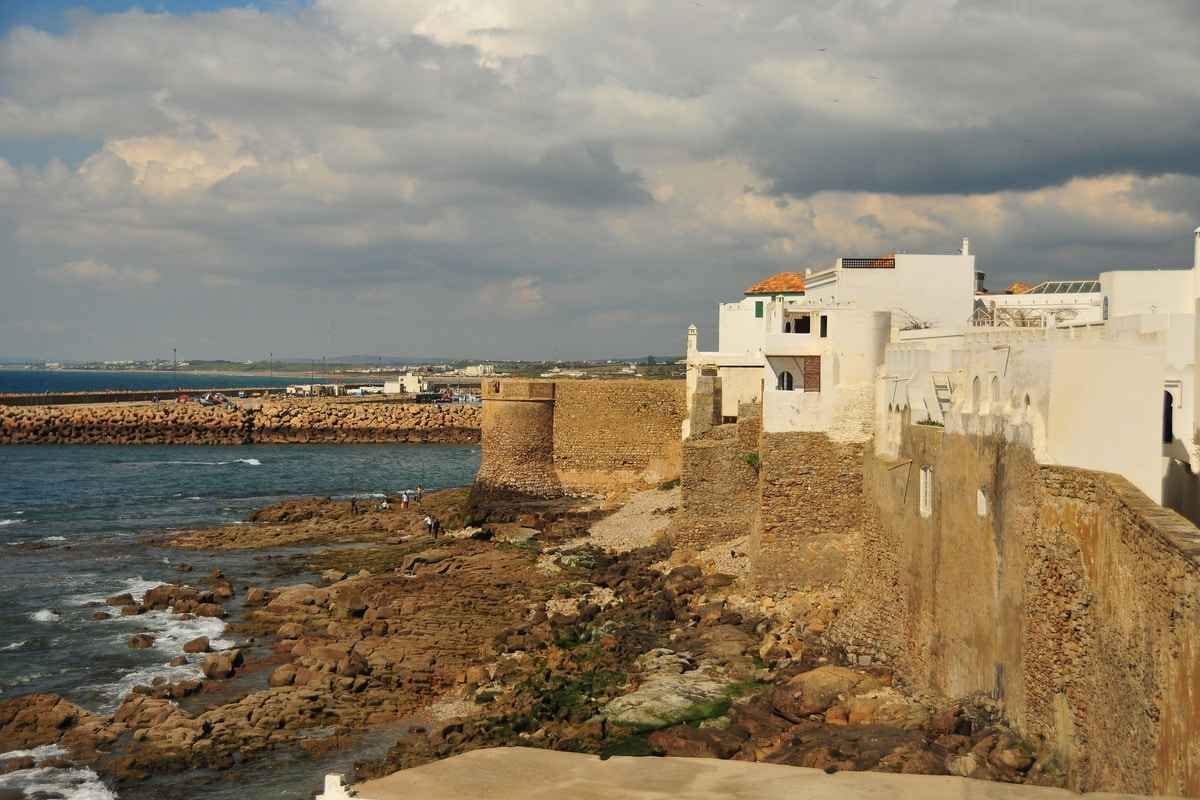 Is Morocco Safe
| Frequently Asked Questions
Is Morocco Safe for Female Solo Travelers?
Unfortunately for the ladies, street harassment is practically a given.
Culturally, older women are well respected, so if that's you — or if you happen to be traveling with your mum, you'll have a very different experience with men.
In any case, we advise you to dress modestly, although you're still likely to be catcalled either way. Male attention usually doesn't go further than catcalling and starting, but be sure to stick with your travel companions since there's safety in the pack.
Is Morocco Safe at Night?
At night, the cities in Morocco can be a bit sketchy. Scout out your area during the day to make traveling home in the evening a breeze. And after dusk, try not to end up in unfamiliar territory — especially not alone. Use taxis if you must.
Is it Safe To Run in Morocco?
As long as you stay aware of your surroundings, yes. We recommend dressing conservatively for your run and sticking to populated areas. Consider bringing a jogging buddy too. Also, leave your headphones at home when on a run — no matter how good your running playlist is.
Is Marrakech Safe?
For the most part, yes. You're actually less likely to be assaulted in Marrakech than in the US!
However, it's very likely that you will be verbally harassed. 'Helpful' locals can be very pushy, and in the medina, don't be surprised if the beggars and stall salesmen get a bit aggressive. Stay calm, walk away, and know that they are unlikely to actually fight you.