Are you planning a trip to Tulum, Mexico? Then, get ready to dust off your passport and have a life-changing journey. Found along the sun-kissed shores of the Yucatan Peninsula lies Tulum inviting you to immerse yourself in its tranquil beauty.
This beautiful coastal gem of a town has a unique blend of vibrant culture and beaches with white sands that stretch as far as you can see. A slice of paradise promises a palpable sense of ease and a break from the hustle and bustle of urban life.
So, before you take your trip to this tropical haven, let's dive into the question on everyone's mind: Is Tulum safe for tourists?
Why Visit Tulum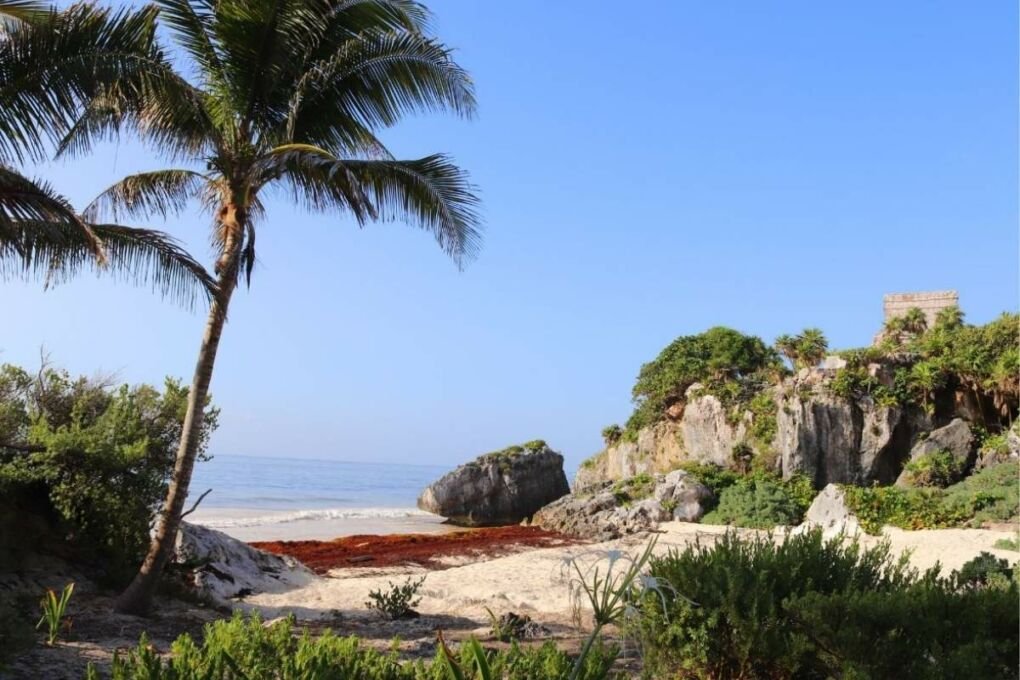 There are so many reasons why you should visit Tulum. This town has a way to charm you. Picture this: you wake up to the gentle rustle of palm trees and stroll on the sun-kissed beach. You can explore the town's ancient Mayan ruins overlooking the Caribbean Sea, offering a mesmerizing glimpse of paradise and happiness.
As you walk along Avenida, you are welcomed by colorful murals, inviting cafes, and boutique shops. Whether you're a history enthusiast or a beach bum, this town has something to offer everyone.
Tulum has one of the best cuisines in Mexico. If you're an eco-friendly person, there are various sustainable hotels, vegan and natural restaurants, and small cafes that avoid using plastic.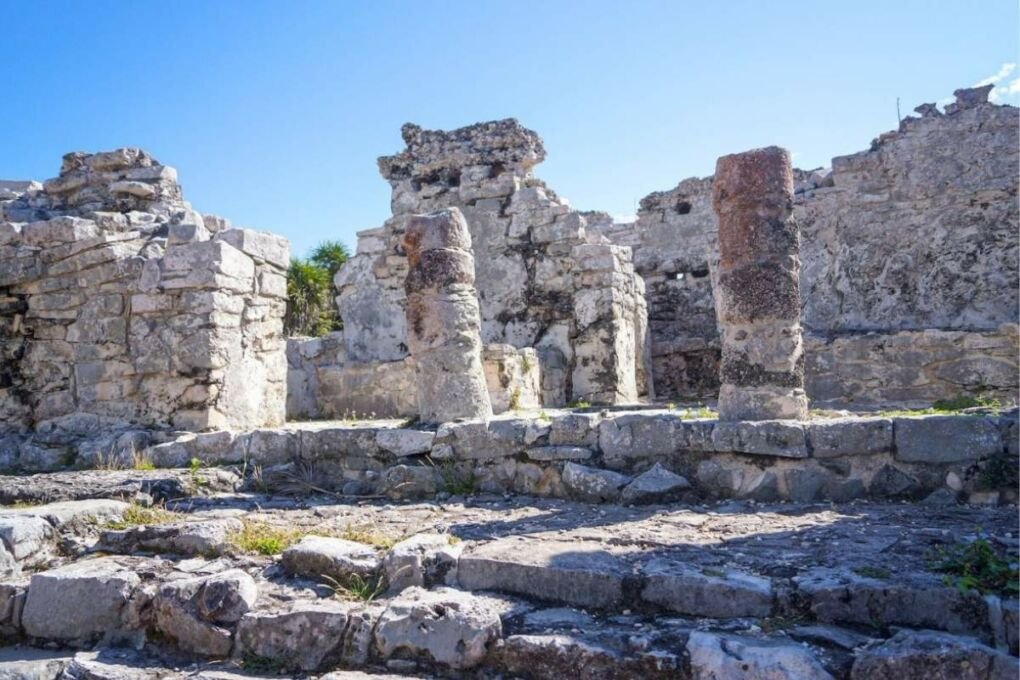 Is Tulum Dangerous?
A particular image has been portrayed of Mexico being a place for dangerous cartel kingpins. Before traveling, people frequently ask: Is Mexico safe? So, let's clear the air about Tulum's safety.
Tulum is generally considered a safe place for tourists to visit. However, like any other destination, exercising proper precautions is essential. This town has a low crime rate compared to other parts of Mexico.
According to statistics by Numbeo, Tulum has a crime rate of 38.11%, the lowest crime rate in Mexico compared to other tourist hotspots. To ensure safety, the Mexican government has strengthened its police presence, including undercover personnel. There is also a network of cameras throughout the town that document in real time. The footage is routed to a control center in Quintana Roo, which alerts local authorities whenever a crime happens.
Dangerous Areas in Tulum
La Veleta
La Veleta sits between Tulum Beach and Downtown Tuluma, better known as Tulum Centro. It is a district filled with luxury hotels, villas, and apartments, brimming with popular restaurants and top-notch grocery stores. One would consider it the perfect place for property rental if you decide to extend your stay.
Although this seems like a haven, there is always a disadvantage. The town's reputation took a hit due to higher incidents of crime. While crime hardly affects travelers directly, the number of murders that have occurred is enough to convince travelers to opt for safer locations.
Some alleys are deserted and unlit at night, which could be unsafe for you. Construction is always happening in the area, making it unsafe in certain parts because of thefts that happen around the construction sites.
Playa del Carmen
Playa del Carmen is a place that has many travel and rental agencies offering tours of the site and allowing the hiring of water sports equipment. The area is home to many eco-resorts. Although Playa del Carmen is a beautiful, lavish area, it has cartel violence.
In 2022, two Canadians were shot dead at a top-notch luxury hotel in Playa del Carmen, which revealed drug-related violence, sparking fear among tourists. Cartels are known to sell drugs to foreign visitors because they often have more money to spend on narcotics than locals.
Is it Safe to Live in Tulum?
Tulum has become a tourist magnet in the Mexican Caribbean. The town has seen a drop in crime rate following ongoing efforts to bolster safety for tourists. Earlier this year an enhanced security campaign was launched involving all levels of the Mexican Caribbean.
Authorities deployed troops to patrol beaches, national parks ,and Tulum's popular archeological site. Overall safety level is relatively good in Tulum, but like any destination, it's always a good idea to be extra cautious.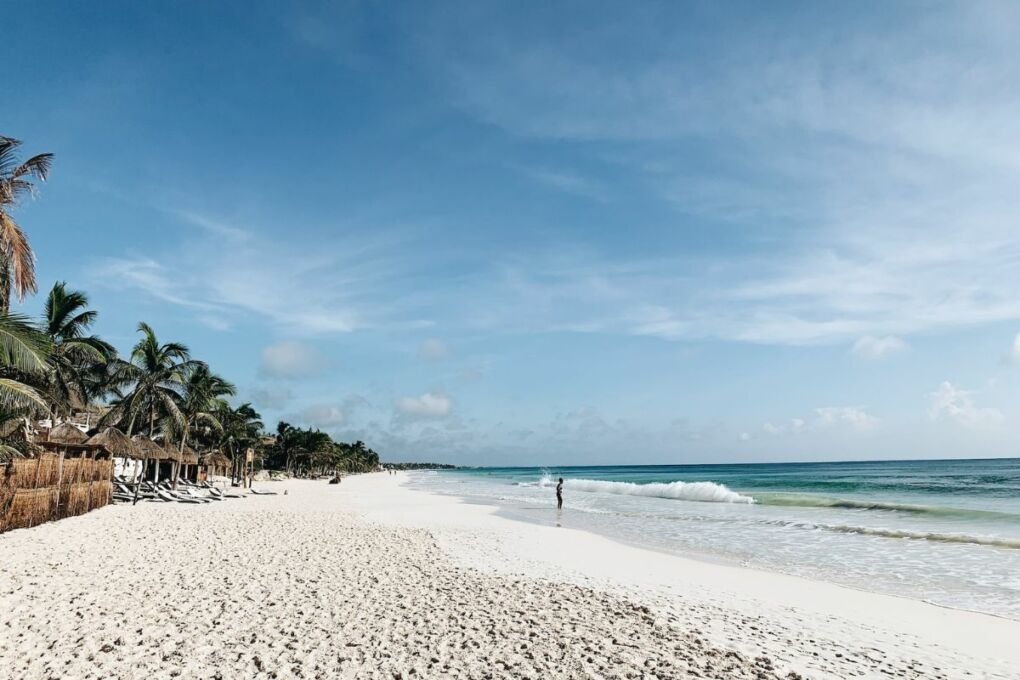 Safe Areas in Tulum
Aldea Zama
Aldea Zama is at the forefront of eco-friendly development and has bloomed into a tourist attraction over the years. Everything, including the roads and buildings, has been paved and urbanized. This place's standout feature has to be the addition of secure new apartments sectioned off with private and quieter areas leading to the beach.
This luxury development has two entrances, which are guarded 24/7. It also has private beach clubs, which allow you to take strolls during the day or night. Besides its nearby beaches, Aldea Zama is a convenience-focused environment as it offers all amenities and leisure for you.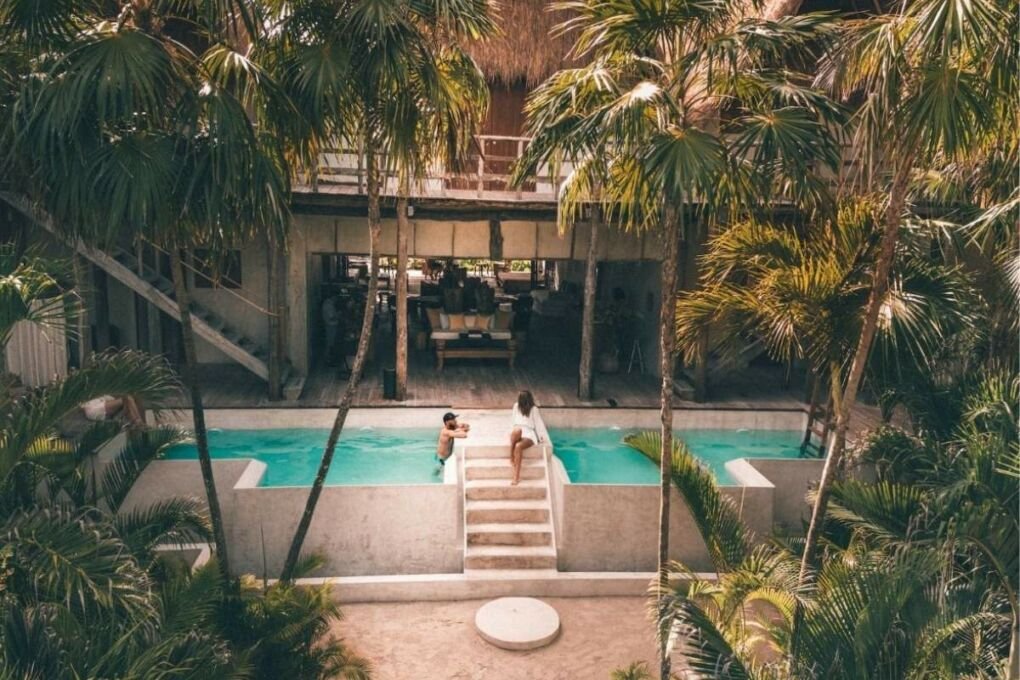 El Pueblo
El Pueblo is one of the areas that has kept some of the original vibes of the once-small village by the beach. The area is known to be loud. The advantage of living here is that it's cheaper – a go-to spot for budget hotels and bars, within walking distance to everything, and has excellent restaurants and bars.
Because everything is within walking distance, it makes it easy for you to get around. This means you can plan tours to the Mayan ruins or the cenotes without having to go through unnecessary hassles.
Beach Road/Hotel Zone
Hotel Zone is to be noticed, as it has outstanding restaurants, hotels, high-end boutique shops, and thrilling nightlife options. While Beach Road is known for its beautiful turquoise waters and magnificent cenotes.
The South and Middle Beach Zone is close to Sian Ka'an Bio-Reserve Tulum National Park, which is family-friendly and perfect for solo travelers who love doing yoga and outdoor gyming.
It is within biking distance of famous cenotes like the Encantado, Corazon del Paraiso, or the Cenote Escondido. It's a fun spot for people who love water sports like snorkeling, diving, or kayaking.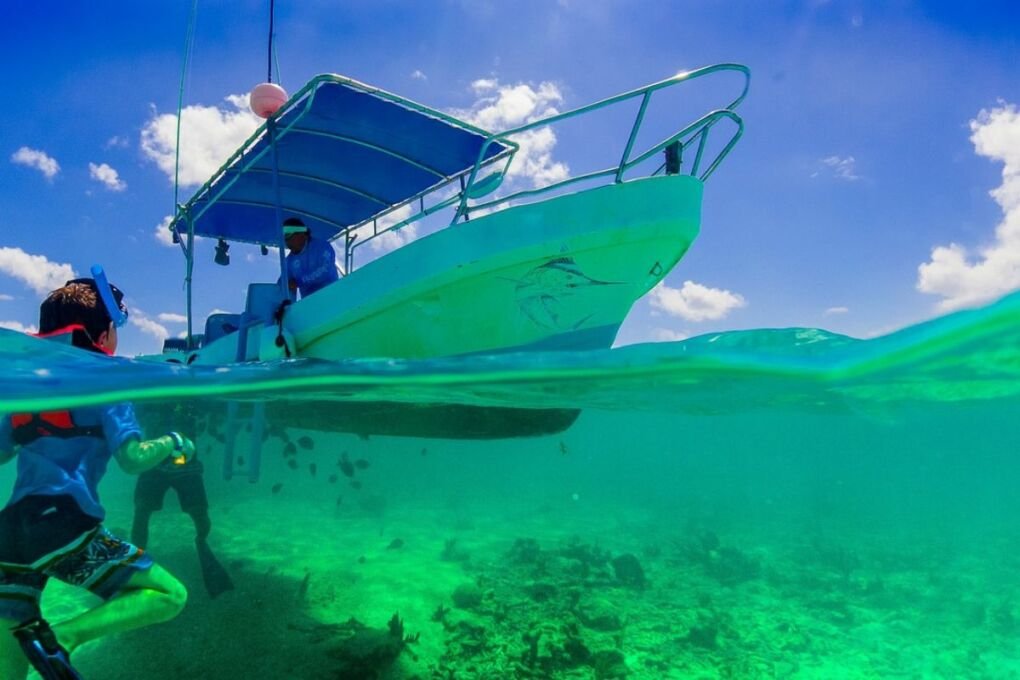 Warnings & Dangers in Tulum
Tulum is considered a safe destination, and while petty crimes can occur, like pickpocketing and small-scale ATM scams, you must stay vigilant in crowded areas and at night. If you want to stay safe in this captivating haven, keep an eye on your belongings and avoid areas considered shady.
Dangers aside, you can unlock the whole magic of this enchanting destination and explore this gem without worry. We have compiled a list of safety issues in Tulum, so you know what to expect when you arrive at your destination, mi amigo.
Overall Travel Risk (4/10)
With its pristine sun-kissed beaches and bohemian vibes, Tulum is a traveler's paradise. This town's overall travel risk of 7 out of 10 offers you knowledge of the moderate safety of this place. You must stay informed about common safety concerns, including petty theft, ATM scams, tap water, and drugs. In general, keep your belongings secure and always remain vigilant of your surrounding areas.
Learning some Spanish will be advantageous, and you're less likely to be a target. This can help you in cases of emergencies and also help you fit in with the locals. If you are in an emergency, the number to call in Mexico is 911.
Tip: Nighttime driving should be avoided.
Drugs and Alcohol
Tulum has seen an increase in drug-related gang activities. These drug-related crimes have increased by 488% in the last year. Although these crimes do not target tourists, they have occasionally been caught in the crossfire. The advice here is don't buy drugs in Mexico because you're inviting danger.
There has also been an increase in reports about tainted alcohol, which makes customers sick or die. Most of these reports were from resorts and hotels popular among tourists in areas such as Tulum and Cancun. When in public drinking spots, always keep your drink in your hand to protect yourself from getting spiked.
Petty Theft and Robbery
If you find yourself in a situation where you're a victim of an armed robbery, do not try to fight or argue with the criminals. Instead, save your life and hand over all the items you have because this fight is not worth your life.
Petty thefts also occur in Tulum, so keep your valuables out of site and carry small amounts of cash. Avoid getting distracted. Always be vigilant in crowded areas and keep your belongings close to your person and out of place.
Criminals usually target wealthy tourists, so don't put a target on your back by being flashy.
ATM Scams
There will always be an opportunist attempting quick money-making scams. If someone approaches you at the ATM and offers to help you avoid local bank fees, just know this is an attempt to scam you.
This small-time criminal has a card skimmer in their pocket and intends to scan your bank card. It's always better to carry a credit card with no foreign currency fee, and cash can be exchanged in a local bank.
To avoid getting scammed, refrain from using public ATMs to minimize the risk and instead use ATMs in banks, hotels, malls, or supermarkets.
Tap Water
Tap water in Mexico, including ice cubes, is unsafe to drink. The Organization for Economic Cooperation and Development has deemed it unsafe to drink tap water because it is polluted with disease-causing organisms such as E.coli and Cryptosporidium.
It's safer instead to drink bottled water. According to the World Health Organisation, drinking contaminated water can lead to severe health issues, including hepatitis A, dengue fever, cholera, and schistosomiasis.
Reports have shown that Mexico consumes 12% of the world's bottled water. When in restaurants, ask for "un bote de agua pura," which means "one bottle of purified water."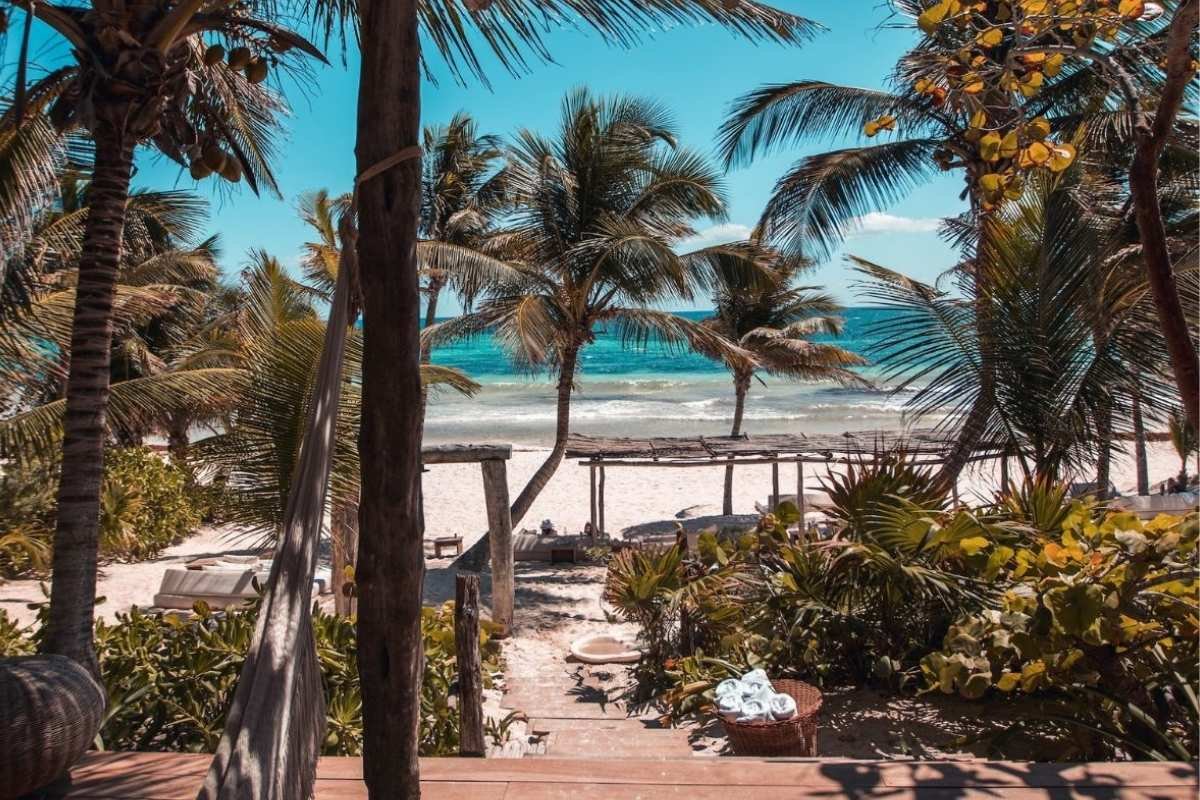 Tips for Staying Safe in Tulum
As you embark on your enchanting Tulum adventure, ensuring a safe and memorable journey is paramount. We have compiled a list of four invaluable tips to ensure that you have a safe and unforgettable visit to Tulum.
Reliable transportation:

When getting around Tulum, you must use well-established taxi services or trusted transportation apps. Use caution when you're dealing with unmarked vehicles.

Stay in well-lit areas:

When nighttime comes and you're out exploring the nightlife, ensure that you stay in populated and well-lit areas to ensure a safe and enjoyable night.

Protection against mosquitoes

: Pack insect repellent to shield yourself from mosquito bites, and consider wearing long sleeves as added protection.

Stay hydrated:

Tulum can get super hot, so you must stay hydrated. Carry bottled water to ensure that you always have fresh, drinkable water.
Is Tulum Safe | Frequently Asked Questions?
Are the Beaches Safe at Night?
Beaches in Tulum are generally safe, but it is wise to avoid isolated places after dark. Taking a walk after dark is a big NO in Tulum. It's always safer to stay in well-lit and well-populated establishments to ensure your safety.
When you're out at night, be cautious if you're traveling alone. Try to avoid walking alone late at night if you can. Especially avoid between the center of town and the beachfront hotel zone.
Should I Be Worried About Hurricanes in Tulum?
Yes, hurricane season in Tulum is heavy from mid-summer to early fall, from July to October. During these months, hotels have great specials running, so you'll have to choose between unbelievably great rates against the chance of a bad storm leading to a hurricane.
The last hurricane was in August 2021. Hurricane Grace struck the Mayan temples of Tulum, leaving the roofs of some homes torn and cutting the power to thousands.
Are There Medical Facilities in Tulum?
Yes, there are medical facilities in Tulum. This small town has top-notch health and hospital services that they are proud of. If you're a guest staying in an all-inclusive five-star hotel, you best believe you will get the best medical attention.
If you're not staying in an all-inclusive hotel, familiarize yourself with the area and use local hospital services. The medical facilities in Tulum are efficient with small waiting lines, and are inexpensive compared to other healthcare services in other parts of Mexico.
Is Tulum Safe for Solo Travelers?
There are so many factors to consider to stay safe when solo traveling. Tulum is generally safe for solo travelers.
There are many ways that you can keep yourself safe as a solo traveler in Tulum, so you must do your research in advance about the area so you can have an understanding of the destination and create safety measures for yourself to ensure that you have an enjoyable trip.