Sardinia, or the Italian name 'Sardegna,' is a beautiful island off the coast of Italy. It has pristine beaches, fascinating ancient ruins, nature reserves, and fantastic wines. It is a great holiday destination for the whole family, especially for sea-lovers.
While Sardinia is an island, many islands around it deserve a visit too. Island hopping is fun, but it can become confusing if you don't have the proper planning or know how to travel from island to island.
This seven-day itinerary covers all of these fantastic island beaches along the coast and, most importantly, tells you how to get to them. Along the way, you'll discover much of the island's history and see its natural beauty up close.
Sardinia Trip Tips
This Mediterranean island off the coast of Italy is relatively easy to get to if you know how to travel in Europe. If you're a first-time traveler, here are a few things to prepare and be aware of before setting off on your Sardinia vacation.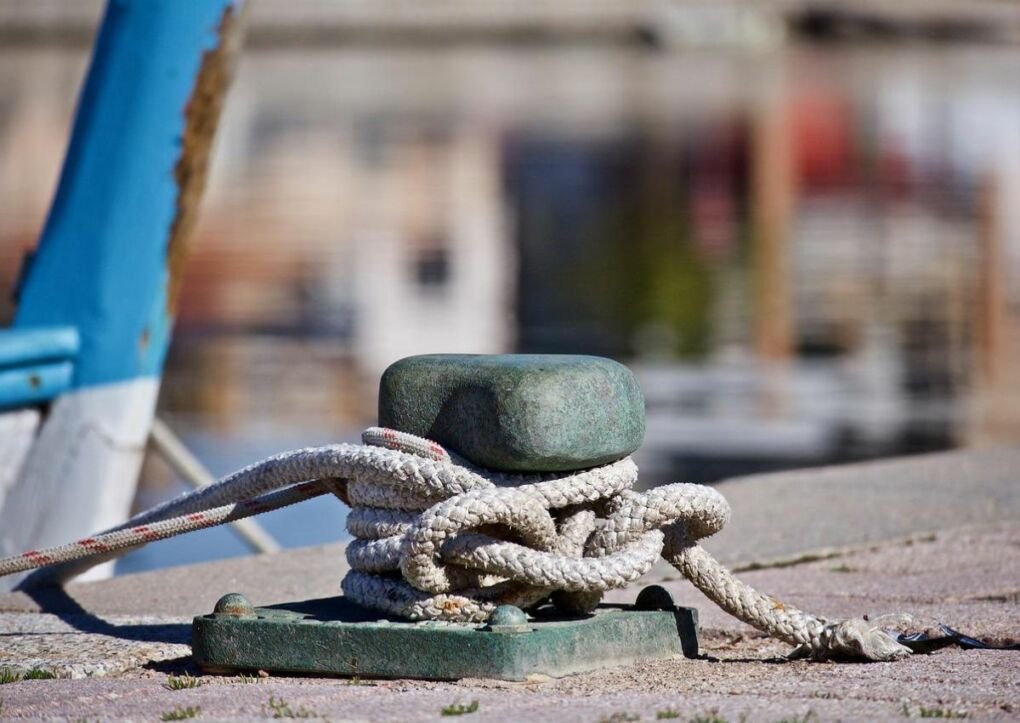 How to Get to Sardinia
There are two modes of transport available to get to Sardinia from mainland Italy – either by ferry or airplane. Whichever way you choose for your trips to Sardinia depends on your travel needs and personal preferences.
By Ferry
If you choose to go by sea, you'll need to take a ferry to the island. The shortest ferry ride from Italy is Piombino to Olbia with Moby Lines. This ferry ride takes five hours and sails six times per week.
Unfortunately, there are no ferries that connect to Alghero directly. The closest port is Porto Torres, but you would still need an additional bus or car ride after docking. If you plan to take a ferry, it's best to land in Olbia and drive to Stintino from there.
One of the pros of getting to Sardinia by ferry is that you can take your car along. Transport your vehicle on the ferry to use on your road trip around the island.
By Plane
Getting to Sardinia by plane is the fastest and often the cheapest way. The two main airports in Sardinia are Olbia and Alghero. It would be easier to land in Sardinia through Alghero Airport for this itinerary.
A few direct flights are available from all over Europe to these airports, so you don't have to be in Italy already to visit the Italian island. Many low-cost airlines regularly fly to North Sardinia, like Easyjet, WizzAir, and RyanAir.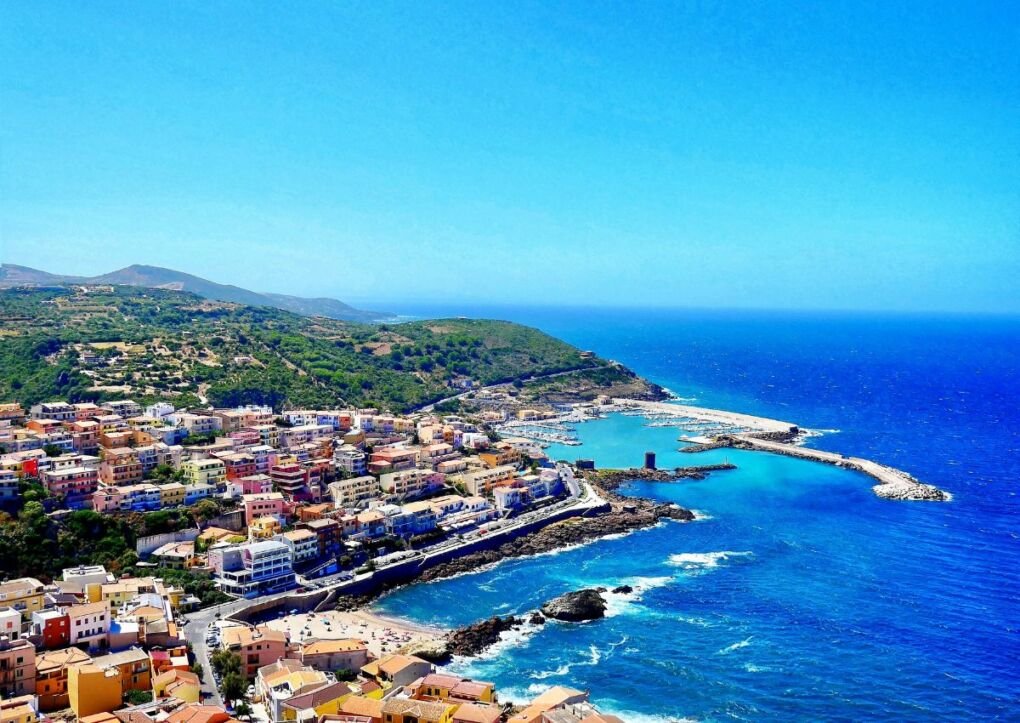 How to Get Around On Your Sardinia Trip
Sardinia does have public transport like buses and trains. However, while it is cheaper to use them, they are often late. The best way to navigate your Sardinia trips is by car, ferry, or boat. You can bring your car by ferry or rent a car at the airport. Europcar and Avis have many affordable car rental options available.
North Sardinia Itinerary
This seven-day trip to Sardinia focuses on the coast and visits many of the island's white-sand beaches and cobalt blue waters. These Sardinia itineraries will be part by road and part by the sea. You'll also see some historical and culturally significant landmarks.
Day 1 & 2: Stintino
While Stintino isn't as famous to outsiders as Palau or La Maddalena, locals flock to this remote north-western tip of Sardinia. It has enough activities to keep you busy for two whole days between its wonderful beaches and nearby islands.
You can reach Stintino from Alghero Airport by bus, although it is quite a drive at just over two hours. A car or taxi drive will only take half an hour. Of course, traveling by car is the fastest way. Make a day of it and stop by a few beaches along the way if you have the time.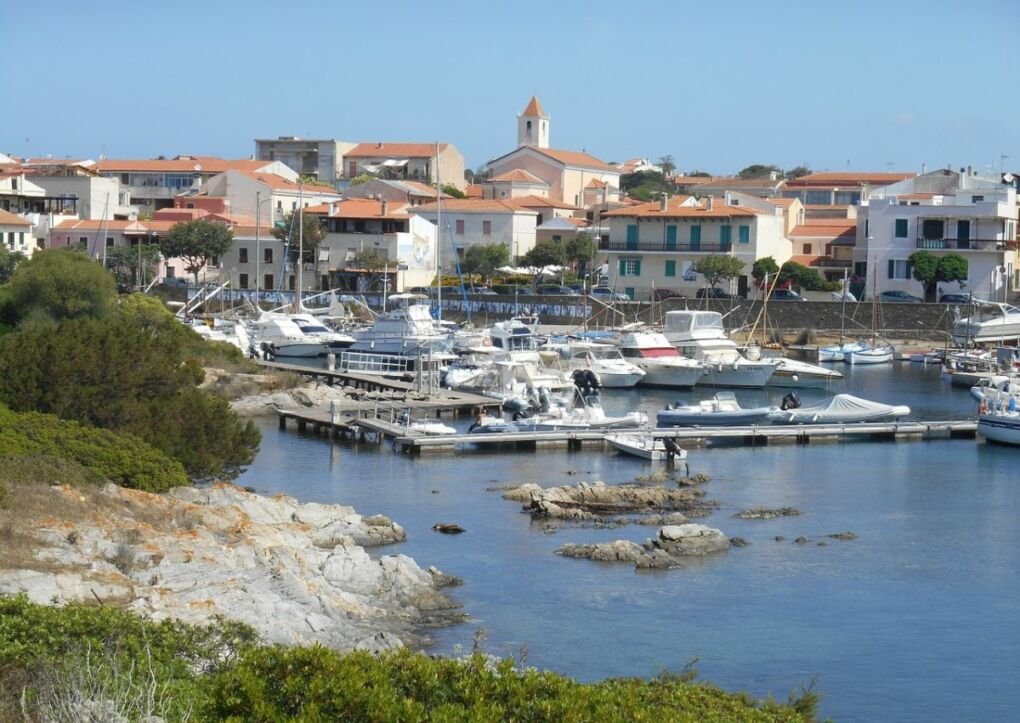 Day 1:
The main point of interest is Stintino and its fantastic beaches, where you should spend your first day. The most famous beach in the area is La Pelosa. A small beach of only 328 yards (300 m) long. The beach is only 1.25 miles (2 km) away from Stintino.
The easiest and cheapest way to get to the beach is by taking a public bus from the village of Stintino. If you are renting a car, parking will cost about $2.25 USD.
In an attempt to protect the beach's ecosystem and environment, local authorities have made it mandatory to buy tickets to visit the beach.
From June to September, visitors have to make reservations by calling first. Then, pay the $4 USD admission fee for up to eight visitors per party. La Pelosa is a highly protected beach that has a few main rules visitors have to abide by:
Lay on top of a straw mat. Before laying down your towel, you need to lay down a straw mat. This prevents you from accidentally removing large amounts of sand from the beach shore.
Rinse your feet. Before leaving the beach, you have to rinse your feet at the designated fountains along the shore.
Don't take any shells, sand, or stones from the beach. This rule applies to all beaches in Sardinia, really. If you take anything from the beach, you risk a few hundred euros fine.
No trash. No trash is allowed anywhere other than the designated trash cans scattered around the beach. While this is a rule of this particular beach, it is a sign of respect to throw trash in a bin anyway.
Smoke at designated spots. There are a few areas where smokers are allowed. Again, when done, throw your used cigarettes in the designated trash cans.
Day 2:
On your final day in Stintino, stop by Asinara Island for a day trip. This tiny rustic island is uninhabited by people but has a few animals roaming around. It is also a protected area for marine life and a few animal species.
One of the protected animal species is the Albino Asinara Donkey which you can see at Asinara National Park. The easiest way to reach the park from Stintino is by boat or taxi boat. Boats and taxi boats leave from Stintino's Tanca Manna harbor every day.
Asinara island also has lovely beaches and hidden coves to explore. There are a few beaches on the island, but one of the most beautiful beaches is Cala D'arena. This beach has untouched white sands and transparent waters. While still not as vibrant as Budelli island's beach, the beach sand here is so clear that it takes on a light pink hue in some areas.
If you're feeling adventurous, you can inspect the abandoned jail on Asinara island. Asinara was once a maximum-security prison complex with ten prisons on the island. Walk or bike through the island and see how many you can find.
Interestingly, only one prisoner managed to escape out of the thousands of prisoners held on the island over its 112 years of existence.
Where to Stay in Stintino
Budget: Hotel Cala Reale– With a garden, outdoor pool, terrace, and tennis court, this budget hotel has more than enough to help you cool off after a long day.
Mid-range: Lina Hotel– Appreciate complimentary Sardinia cuisine at this scenic hotel near the marina and beachfront.
Luxury: Park Hotel Asinara– Have a luxurious stay at this beautiful hotel with a terrace, gardens, restaurant, bar, and coffee house.
Day 3 – 5: Palau
Palau's beaches are beautiful and only a short ferry trip away from the La Maddalena islands.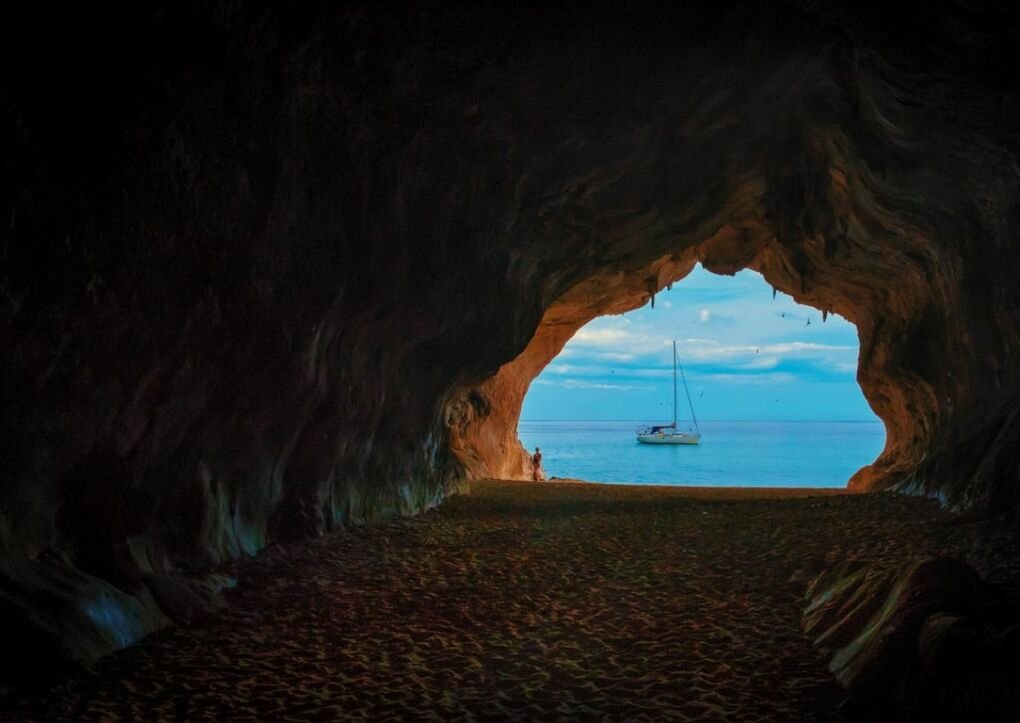 Day 3:
A great way to visit the Maddalena islands is on a Maddalena boat tour that stops at the islands of Spargi, Budelli, Santa Maria, and Razzoli. These islands are a must-see with their sparkling beaches and pink granite rocks. You can relax on the shores of Spargi, Razzoli, and Santa Maria.
Entrance to Budelli island, with its peculiar pink beaches, is restricted. The entire shoreline of this beach has pink sand that tourists started taking as souvenirs, which harmed the beach's ecosystem. However, this beach should be a must-see on your itinerary, even if you can only do so from a boat.
Day 4:
On your second day in Palau, visit the seven islands of La Maddalena and Caprera. Take one of the 15-minute ferry rides to Maddalena that leaves every hour from Palau.
Of those seven islands, the two bigger islands are La Maddalena and Santo Stefano. The other five smaller islands are tourist destinations.
All of the islands are part of the La Maddalena National Park, which protects the marine life in the area. The biggest island of Maddalena is full of energy and many shops, restaurants, and cafés to enjoy the slow island life.
Another island to visit here is Caprera Island, with its small coves and remote hiking spots at Poggio Stefano. These islands are great for sea lovers and swimmers but can sometimes be overrun by tourists. It's best to visit these islands in Sardinia out of season.
Day 5:
Besides the islands of Maddalena, Palau also has a few beaches nearby you can't miss on your third day here. You can have a mini road trip to Sardinia's Palau and visit a few. One of the beaches you should see is Porto Pollo. It lies west of Palau and is very popular with water sport enthusiasts.
The weather and waves at Porto Pollo beach are perfect for windsurfing, kite surfing, diving, and sailing. You could easily spend a whole day here just feeling the adrenaline rush from the salty wind blowing through your hair.
Palau itself also has fantastic hiking opportunities that you cannot miss. One such hike is at Roccia dell'Orso, also known as 'Bear Rock' because it resembles a bear. While the hike isn't very strenuous or long, it's best to wear hiking shoes to safely climb the granite stones and stairs.
The entrance fee is $2.25 USD per person. Once on top, you can see a breathtaking sight of the whole of Palau.
Tours in Palau
This La Maddalena Archipelago Full-Day Trip by Boat is a great trip that takes you to the beautiful beaches and the smaller natural pools perfect for private swims. There is a bar and restaurant available onboard for this seven-hour trip.
Where to Stay in Palau
Budget: Palau City Hotel– This affordable and cozy accommodation in Palau's city center comes with fully equipped bathrooms and an on-site restaurant.
Mid-range: Le Ville Le Saline– This luxury villa just outside Palau on the beachfront of Spiaggia delle Saline beach is great for a laidback stay with the whole family.
Luxury: Vento Mare Apartments & Rooms– These apartments are an excellent choice for a couple or a small family. It is only a short walk from numerous beaches and 457 yards (500m) from the Palau ferry. Each apartment has a private bathroom, air conditioning, and coffee facilities.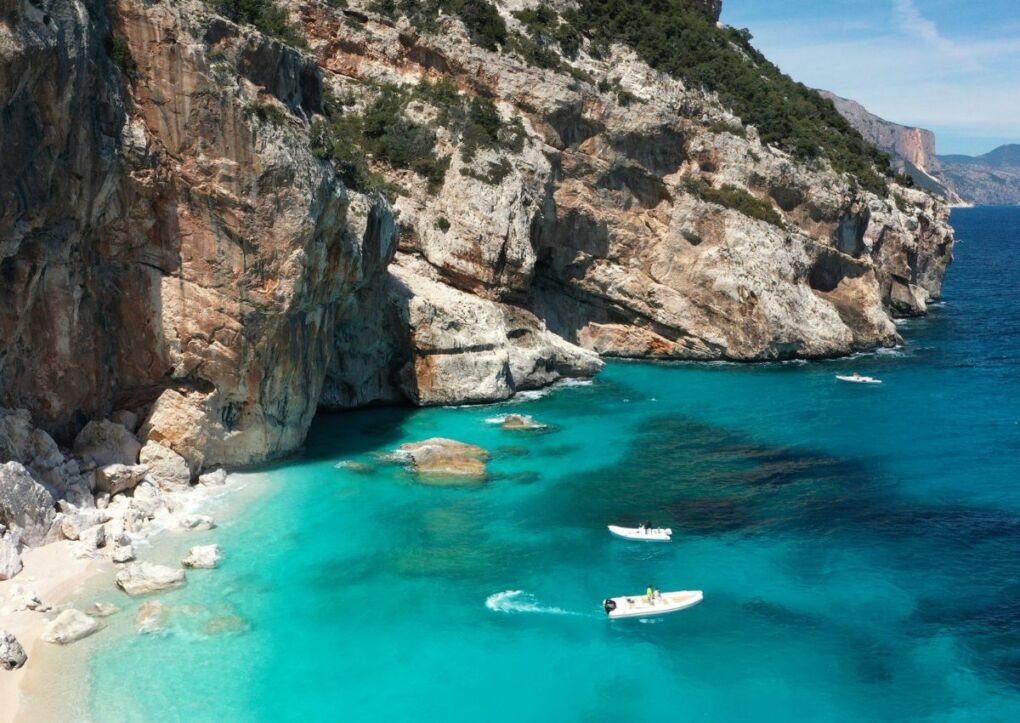 Day 6 & 7: Golfo di Orosei
Golfo di Orosei, or the Gulf of Orosei, is a must-see destination for beach-lovers on their Sardinia vacations. Up until recently, this gulf on the eastern coast of Sardinia was almost impossible to access.
There are a few beaches in the north that you can reach with a short Sardinia road trip, but as you move down more to the south, the terrain gets rockier. Most beaches are a bit easier to get to by boat, so most of this Sardinia travel itinerary will be by the sea.
Day 6:
On day one in the Golfo di Orosei, visit the beautiful seaside town of Cala Gonone. There are multiple places to explore and see, which will keep you happily busy for your two-day visit here.
Renting a kayak to paddle to the different beaches nearby is highly recommended. You can rent one with all the needed equipment from Prima Sardegna for a half-day or up to two days. Each beach has crystal clear water with many opportunities to swim, snorkel, or enjoy a drink at a nearby bar.
Some suggested kayaking stops are the of Spiaggia Centrale, Cala Cartoe, Grotte del Bue Marino and Cala Luna.
Day 7:
On day two, spend a night in. It is one of the most well-known beaches in the Mediterranean, and you can kayak there from Cala Gonone. You can also reach it by boat or car.
This beach has impressive caves to explore and is incredibly alluring to adventure-lovers who like trekking and climbing. About 1.8 miles (3 km) away from Cala Luna are the caves of Bue Marino. The unique rock formations and white shores are often used for movies and seen in films like Mr. Robinson and Swept Away.
Grotte del Bue Marino is an enchanting grotto that was the last refuge for the rare monk seal. It has a northern and southern branch, but the southern branch is easiest to reach by kayak. You have to buy admission tickets in cash to enter the caves, but it will be worth every cent.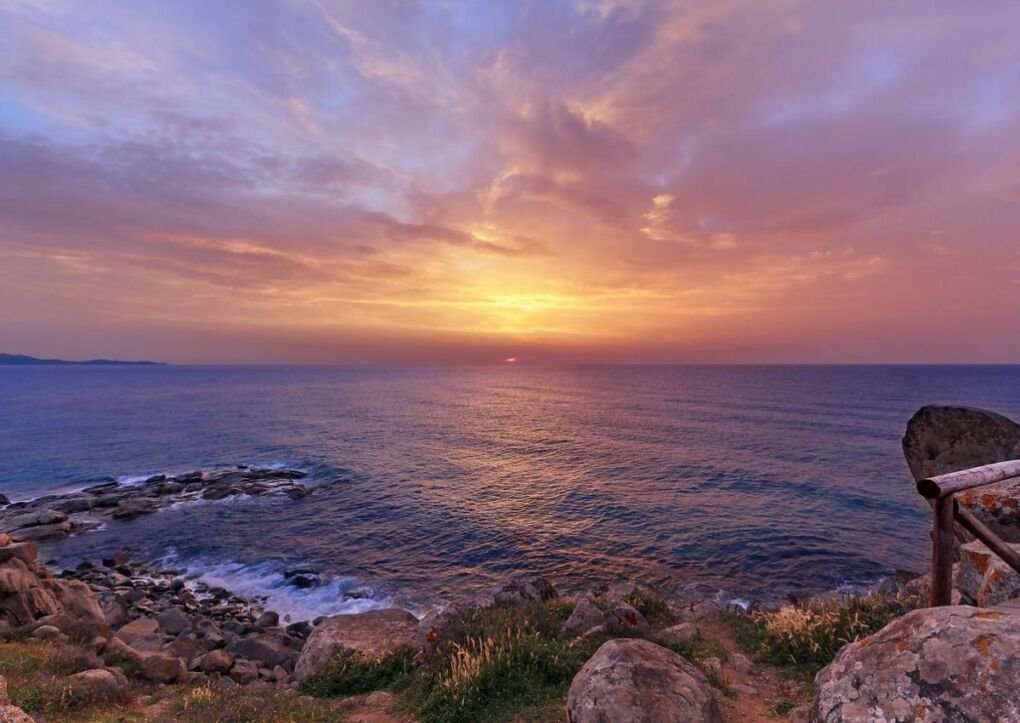 Where to Stay in Golfo di Orosei
Budget: B&B Littu– Enjoy coastal views from your terrace or balcony at this tranquil B&B in Cala Gonone.
Mid-range: BUE MARINO Hotel– Overlook the dreamy Golfo di Orosei at this beachfront hotel. While there, watch the sunset from the hotel restaurant or cocktail bar.
Luxury: Hotel Villa Gustui Maris– This luxury hotel in Cala Gonone has everything you need for a comfortable stay on the Gulf of Orosei coast.
Final Thoughts on Sardinia Itinerary
If you're an outdoor or sea-lover, you'll adore Sardinia. It is a beautiful island with many tiny islands sprinkled along its coast. A boat trip is the best way to experience the island's stunning beaches and unique landscapes.
Whether you're hoping for a swim in the Mediterranean or visiting the best hiking spots, this island has something for everyone.