Whether you're after a sneaky drink after work or looking to delve into the comradery of a fistfight, London's pubs are the lifeline of its down-to-earth charm.
Nestled within the nooks and crannies of London town lies a nostalgic zest within these pub's crevasses. From fun-filled activities in Shoreditch to the captivating corners of Convent Garden, this magical metropolis is peppered with alcohol-laden dives to get lost in.
Are you looking to sift through the modern pubs and unearth the surviving relics of London's boozy past? We'll guide you through the oldest pubs London has to offer and highlight why these spirited (in both senses) historical havens are a must.
A Historic Pubs in London Guide
London's pubs are a great way to explore the city's unchartered history —filled with tall tales and taller drinks. Take a look at the old establishments, such as Victorian pubs in London, that is sure to provide an unforgettable experience to appear on any list of quirky things to do in London.
Ye Olde Cheshire Cheese
Location: 145 Fleet St, London EC4A 2BP, United Kingdom.
With various sections of this establishment dating back to the late 1600s, rebuilt after the Great Fire, Ye Olde Cheese is the place to be. This old-timey hole-in-the-wall is a great place to experience the vibrance of the few remaining examples of traditional British pubs.
From the gloomy glow of the fireplace to the inexpensive pub grub, this place will have you transported back to simpler times through one sip of a frothy pint.
With regular famed patrons, such as Charles Dickinson, one can wonder if the walls are embellished with a mystic charm that stokes the fires of creativity. So, writers and novelists can rejoice and set up shop in this sublime space to uncover the secrets of London's greatest literary stars.
Cittie of York
Location: 22 High Holborn, London WC1V 6BN, United Kingdom.
While this pub was built in the 1920s, this magnificent establishment is simply dripping with character and a stoic grandeur of Victorian times. Owned by Samuel Smith's Old Brewery, you'll have no trouble getting a beer to put a hop back in your step.
This pub has an abundance of quirky embellishments that will help you get into the old-timey spirit of London's vast and unique history. From the cute cubicles that look like train compartments to the giant iron fireplace in the middle of the main room, the Cittie of York is an epic adventure like no other.
Lamb & Flag
Location: 33 Rose St, London WC2E 9EB, United Kingdom.
With a hearty inn on the premises since the 1600s, the Land & Flag is another historic establishment with an unchanged facade.
Through an epic history of prized fistfights, this pub claimed the nickname 'The Bucket of Blood' through its rough and tough reputation in the 19th century. A night out at this brawling bucket of fun will be sure to put hair on your chest (whether by repeating its fighting history or taking one too many shots).
The sudsy splendours of its fantastic pint selection are constantly changing to provide a unique beer experience every time you visit. On Sundays, you can expect a roast with all the tasty trimmings, from Yorkshire pudding to the fan-favourite roast potatoes at one of the oldest pubs in Covent Garden.
The Seven Stars
Location: 53 Carey St, London WC2A 2JB, United Kingdom.
The Seven Stars is one of this city's oldest public houses, making waves since 1602, and is sure to provide a dazzling twinkle to any night out. Open seven nights a week, excluding holidays; this dim-lit delight is always ready to serve the masses with drinks and smiles.
Situated near the Royal Courts of Justice, you can expect to find an argument of lawyers and patrons of the law planted at this spot after their big wins and losses.
With liquor-laced libations once poured and drunk with enthusiasm throughout the various ages, this establishment is the best place to take a shot or two with your closest friends.
The Spaniards Inn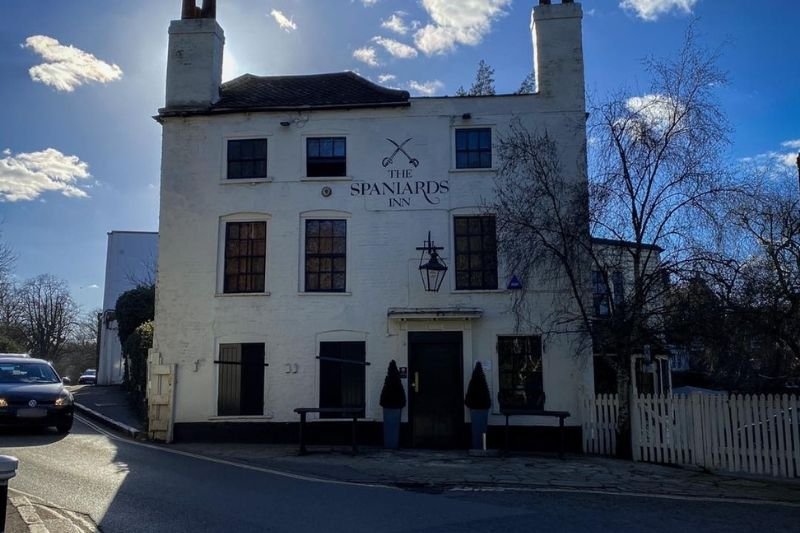 Location: Spaniards Rd, London NW3 7JJ, United Kingdom.
A wood-panelled wonder that brings a slice of history to all that steps foot across its threshold, the Spaniards Inn is a surviving dinosaur of London's drinking past. This establishment was built in 1585 and has been the drinking den mentioned in various literary works, such as The Pickwick Papers by the great Dickens.
With an encapsulated beer garden and a charming, quaint white-washed exterior that seems steeped in untold stories, this space is a treat to experience. From the sparkling chandeliers to the woody pleasures of the scent of oak in the air, the Spaniards Inn is a voyage into worlds once lived that you won't soon forget.
The George Inn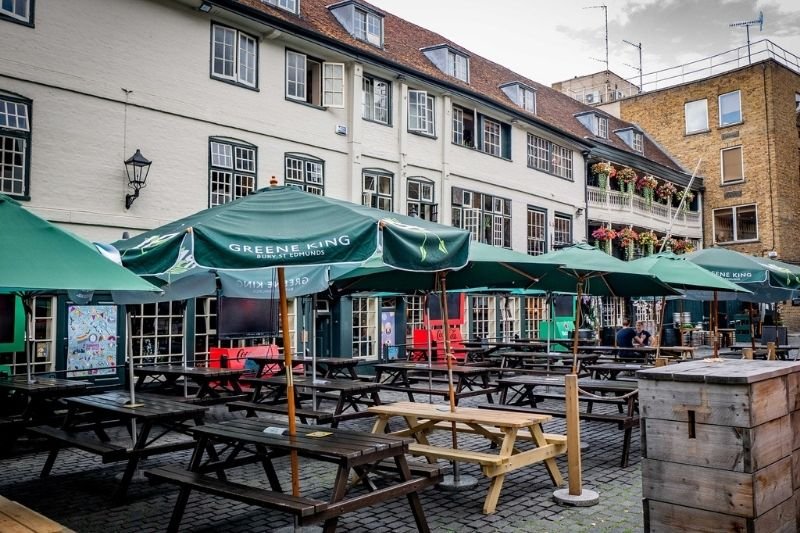 Location: 75 Borough High St, London SE1 1NH, United Kingdom.
This authentic galleried coaching inn turned pub dates back to the 17th century and is a must if you're looking for the best day drinking spot.
With painted wood trimmings and a lovely beer garden perfect for any sun-drenched day, this Southwark pub will have you flushed with pleasure (from the beer and good vibes). Whether you're looking to celebrate with a sparkling pink prosecco or craving a bloody mary after a long week, this drinking den is ready to cater to any occasion.
This establishment is owned by the National Trust in London and is a space that many can enjoy, from furry pals to your crawling family clan.
Final Thoughts on the Oldest Pub in London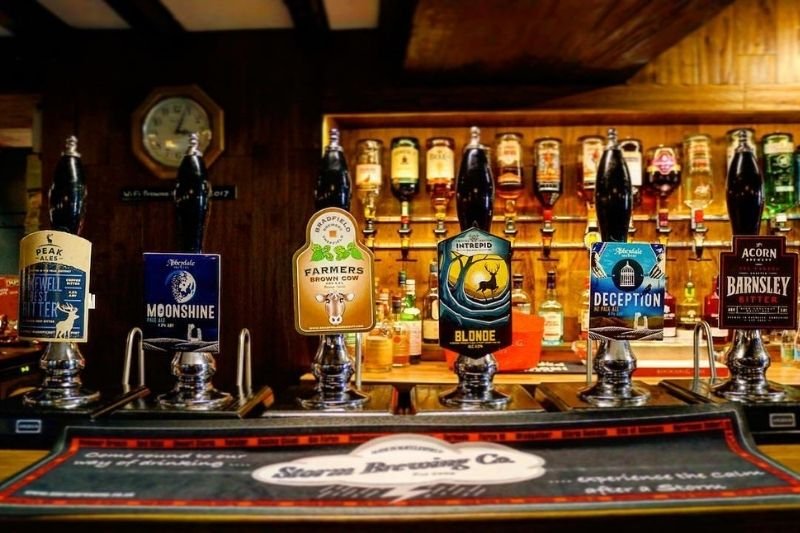 These living legends of providing a drink on merry and mournful times are the perfect spots to craft some memorable occasions of your own.
The historic London pubs can be discovered and enjoyed by every kind of individual, such as thirsty locals and long-term travellers looking for a cheap yet cultural British experience.
Whether you prefer the refinery of the Spaniards Inn or craving to get down and dirty at the Lamb & Flag, old pubs in London will provide a pathway to the underbelly of life's wonders.