It's no secret that Kuala Lumpur is one of the most bustling and colourful cities in the world. In order to truly gain a genuine appreciation for Malaysia's capital, I highly recommend that you vacate the busy streets, and head up to the skies, by exploring a whole new perspective of this beautiful city. Spend your evenings at any one of the best rooftop bars in Kuala Lumpur for an experience you will never forget. From helipad lounge to bars with rooftop pools, this is one city that seriously knows how to party in style!
In this article, I'm going to give you a little insight into my Top 5 rooftop bars in Kuala Lumpur, bars which I absolutely loved (once I actually FOUND them!!) and which are guaranteed to offer you an incredible and blog-worthy experience that you will want to last a lifetime. If you have more free time, check out these great things to do in Kuala Lumpur.
Where to next? Check out these fun things to do in Penang!
Best Rooftop Bars in Kuala Lumpur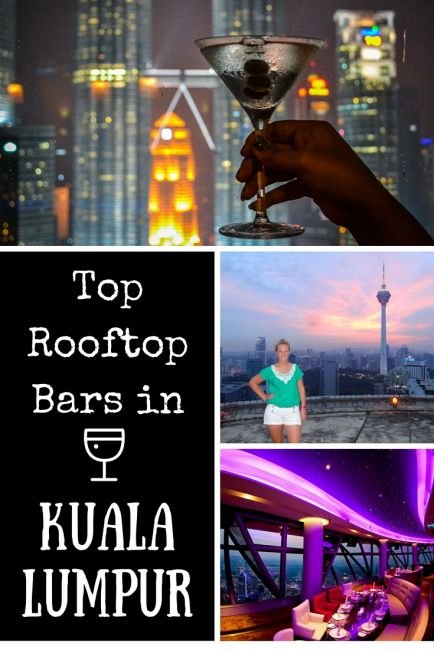 Helipad Lounge Bar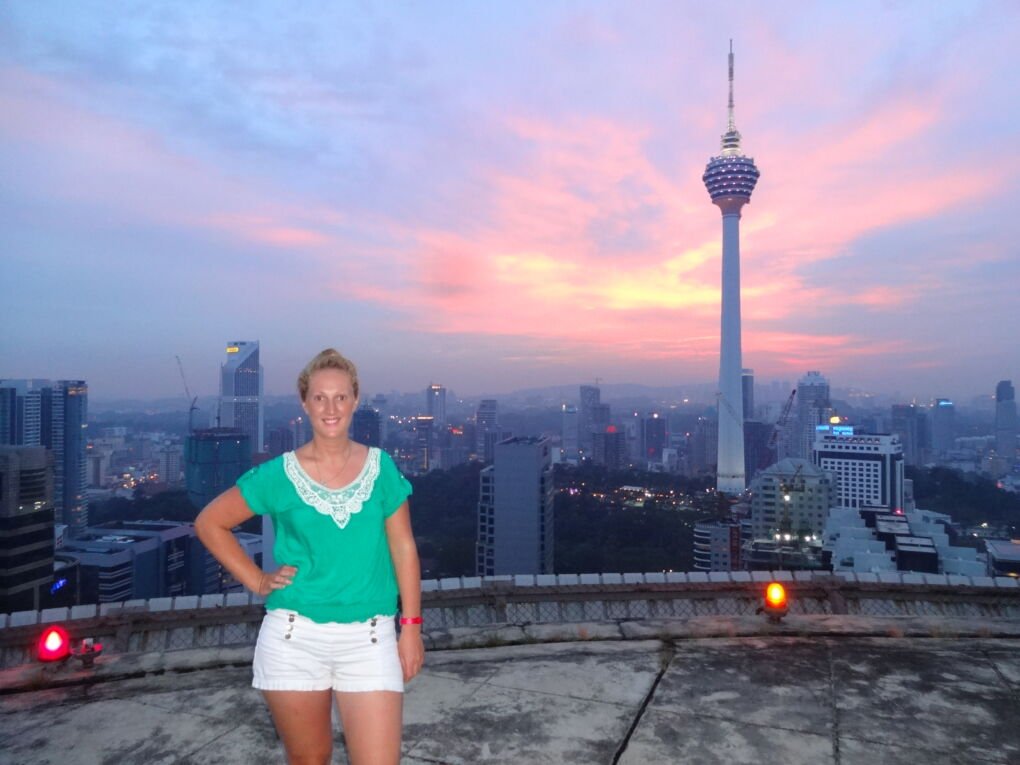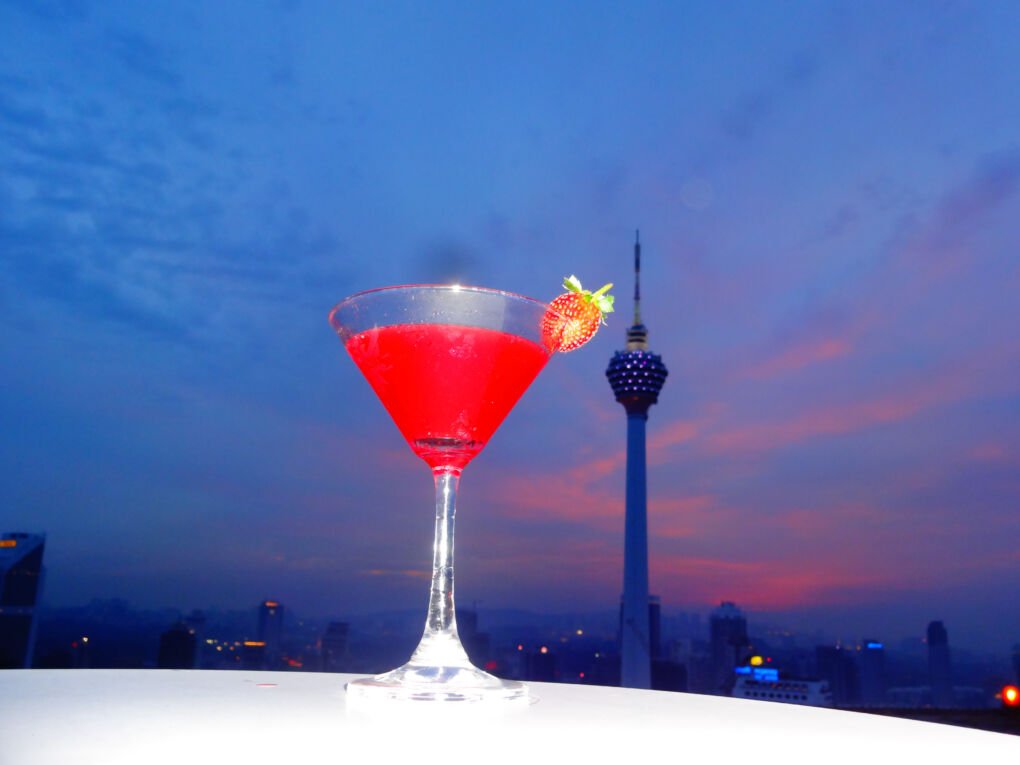 Heli Lounge Bar in Kuala Lumpur (also known as helipad lounge) has more behind it than just a name and has to be one the coolest places I have ever been. The lounge itself is a fully functional helicopter pad. You will never be ceased to be amazed by this bar. Of course, if the original concept of the bar being a helicopter pad wasn't enough, the bar's theme will certainly blow you away as everything inside the bar is aeronautically-oriented. As you can imagine, this bar is instantly a hit with plane enthusiasts, especially when they spot an entire booth made from the original side panel of a traditional Boeing 737. And let's not forget a Boeing-747 turbine which has been creatively converted into a DJ console.
Note: You will need to arrive between 18:00 – 21:00 to access the rooftop bar for free.
Directions: Bukit Bintang 34th Floor, Menara KH, Jalan Sultan Ismail.
Opening Hours: 18:00 – 24:00 Monday – Wednesday; 18:00 – 02:00 Thursday; 18:00 – 03:00 Friday & Saturday

SkyBar at Traders Hotels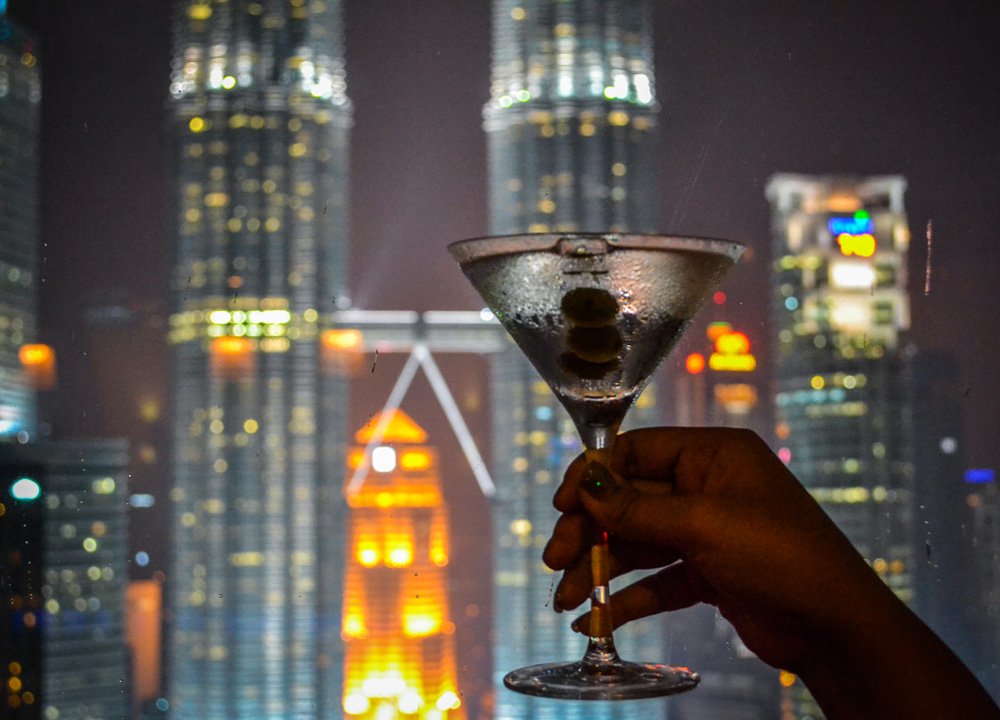 SkyBar at Traders Hotels is considered one of the most glamorous cocktail lounges within the city and boasts the most well known rooftop bar in KL. The bar itself is situated on the 33rd floor of popular Traders Hotel. The Skybar could very easily be considered one of the hottest venues in the city and is certainly a place to be and be seen. Not only does it provide dizzy views of the city but it features a fantastic list of exclusive drinks. If that hasn't sold you quite yet, the SkyBar is spacious and airy while also providing a breathtaking centrepiece which comes as a large pool that is bordered by cabanas on one side, with a bar and sofas on the other.

Directions: Level 33, Traders Hotel, 50088 Kuala Lumpur, Wilayah Persekutuan
Opening Hours: 10am – 1am (Sunday to Thursday)
10am – 3am (Friday, Saturday and eve of Public Holidays)
Budget Accommodation in Kuala Lumpur
Reggae Mansion Backpackers Hostel – From €8.60 per night
Back Home Hostel, Kuala Lumpur – From €12.90 per night
Paper Planes Hostel, Kuala Lumpur – From €15.50 per night
Atmosphere 360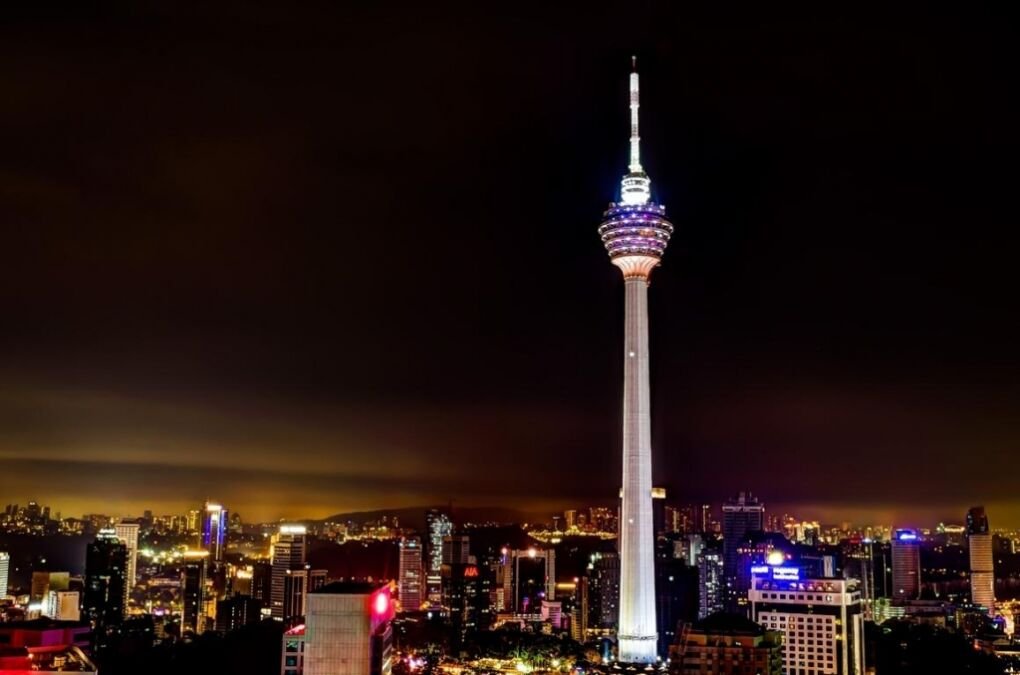 The name may already give you a clue as to what this restaurant is all about. The revolving Atmosphere 360 restaurant and bar, at the top of Kuala Lumpur's most iconic tower, boasts one of the highest views within the city. At a dizzying 276m, the open viewing deck is approximately 100m higher than the beautiful Petronas Twin Towers' sky bridge. The restaurant features floor to ceiling windows, which house delicate table and chairs. You may not immediately realise you're moving until you look out of one of the grand scale windows to see that you have a completely new view across the city.
Directions: Jalan Puncak, 50250 Kuala Lumpur, Wilayah Persecution
Opening Hours: Daily, 11.30am – 2am
Luna Bar in Pacific Regency Suites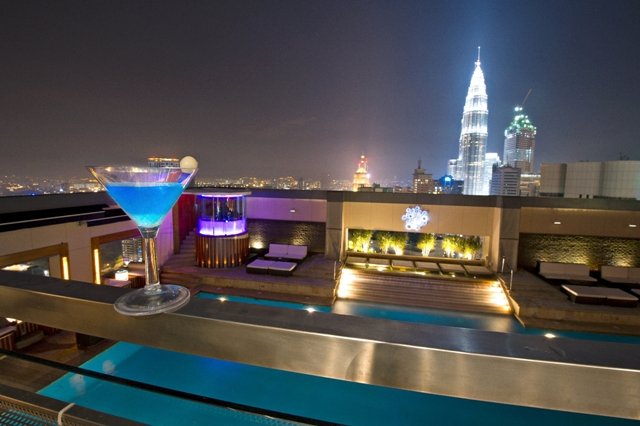 Luna Bar, situated in the Pacific Regency Suites is a two-storey rooftop bar that is located on the 34th floor. The Luna Bar is one of Kuala Lumpur's well-known clubs, and it can't be difficult to see why, with it's breathtaking 360° views of the city. When I was in KL I met some close friends who had flown in from Australia here and we were blown away by the views and incredible atmosphere.The Luna Bar has been uniquely designed to feature a swimming pool, an alfresco lounge and a generously sized bar situated on the lower level. Definitely one of the most spectacular rooftop bars in Kuala Lumpur.
Directions: Jalan Punchak, 50250 Kuala Lumpur, Wilayah Persekutuan
Opening Hours: Mondays to Thursdays – 5pm to 1am. Fridays, Saturdays – 5pm to 3am. Sundays and public holidays – 10am to 1am
Best Luxury Hotels in Kuala Lumpur
Oasis Suites Kuala Lumpur – From €49 per night
The Penthouse KLCC – From €114 per night
Fraser Place Kuala Lumpur – From €84 per night
Mai Bar at Aloft Sentral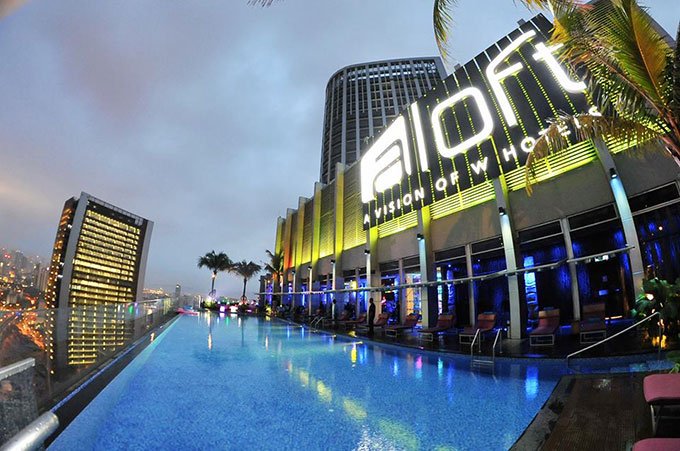 The Mai Bar is located on the 30th floor of the Aloft Kuala Lumpur Sentral. The bar itself is incredibly spacious and features a rooftop poolside bar that provides its guests with an abundance of sexy cocktails and never ending list of beverages. Upon visiting the Mai Bar, you can expect the latest chart-topping tracks with the help from the bar's resident DJ. Why not take advantage of the bar's happy hour that begins at 17:00 up until 21:00 in order to get front row seats at the most beautiful sunset that you can imagine, while sipping a refreshing cocktail of your choice.
Directions: No 5, Jalan Stesen Sentral, 50470 Kuala Lumpur, Wilayah Persekutuan
Opening Hours: Sunday to Thursday: 12:00 pm ~ 12:00 am
Friday & Saturday: 12:00 pm ~ 02:00 am