Sangla is a small cozy village in a valley in Kinnaur, Himachal Pradesh, India. Better known as Sangla Valley, there are a variety of things to do and see here which will bring you closer to nature. The quiet, unscathed aura of the valley, simple and loving people and the touch of mountains makes Sangla Valley a perfect picture postcard destination. Sangla Valley is an exquisite vacation destination for families, friends and also solo travellers. Here, I'm going to present the top things to do in Sangla Valley in 2 or 3 days. If you need to know how to there from Delhi, this guide should help.
Looking for more India travel inspiration? Read my India's Golden Triangle travel guide.
Sangla Valley Travel Guide: Top Things To Do
Despite being a small village, there are a number of places to see and activities to do in Sangla Valley.
Kamru Fort
A centuries-old fort is one of the top things to do in Sangla valley. Located on a hilltop just a little outside of the village, Kamru Fort is a pleasant surprise for photography lovers. Kamru Fort houses the famous Kamakshi Devi Temple, and the main fort is rumored to have 33000 gods. The entry to the main fort is not allowed for tourists, only the main priests of the temple can go inside. Although, you can visit the Kamakshi Devi temple, and the priest will assist you with that. It is a nice 20-30 mins from the cars drop off area towards the hilltop. It is one of the most photographed places in Sangla Valley, and the wonderful wooden exteriors will produce amazing pictures.
Bering Nag Temple
A temple dedicated to the God of Snakes – Lord Jagas, Bering Nag Temple is another top thing to do in Sangla Valley. The temple flaunts intricate woodwork like the Kamru Fort. It also makes up for stunning pictures with gorgeous mountains in the backdrop. The temple has some influence of Buddism and the Buddhist bells are also present here. I would recommend clicking pictures of the bells.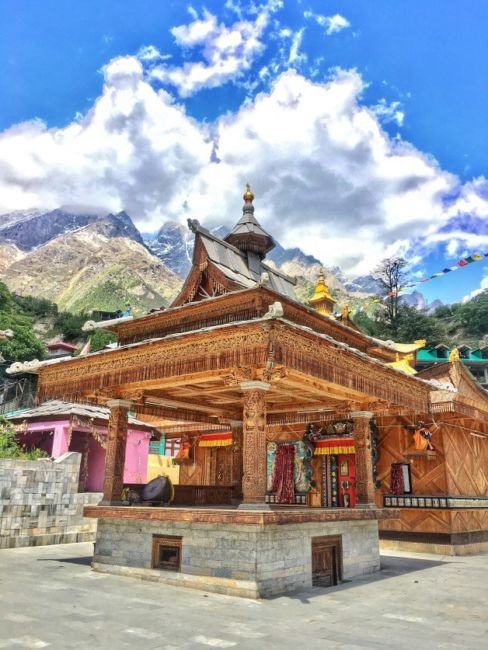 Baspa River
The entire Sangla Valley lights up with the musical sound of the Baspa river flowing at the base of the valley. Not yet commercialized like the Beas River in Manali, Baspa river is the perfect place to reconnect with nature. Sitting on the rocks on the river bed with the high pace of water flow will be an ever-lasting experience. The area is still not developed and hence there's no direct way to reach the river. After crossing the gorgeous bridge, you might have to step down on huge rocks to reach the river. For those afraid of water, I recommend enjoying the river bed from the bridge. There is no facility of tea or snacks, so you should keep your own if you wish to spend more time here.
Chitkul Village
The last village on Indian territory bordering Tibet, China is another one of the top places to visit around Sangla Valley. Nearly 1.5 hours journey by road will take you to Chitkul village. Snow-capped mountains, the Baspa river flowing till here makes it a picture perfect village. The last restaurant of India is the most photographed location from Chitkul. When in Sangla valley, don't miss the nearby Chitkul village in a day trip.

Kanda Lake
An unheard destination from Sangla valley is a small trek away; beautiful Kanda Village. Located at a height of 2600 meters above Sea level, Kanda village is a pleasing sight for the eyes. The road to Kanda is still not developed. One can only reach Kanda either through trekking or by hiring a local 4X4 vehicle (with 4 gears). We opted for the latter. The drive to the village is a bumpy ride due to lack of roads and sometimes heavy trucks cause long wait time. But, it was an experience in itself. We went to Kanda village in search of a gorgeous unheard lake recommended by a local. The Kanda Lakeis a breathtaking lake in a quiet corner of the mountain. The lake is surrounded by snow-covered mountains which locals refer to as Kailash.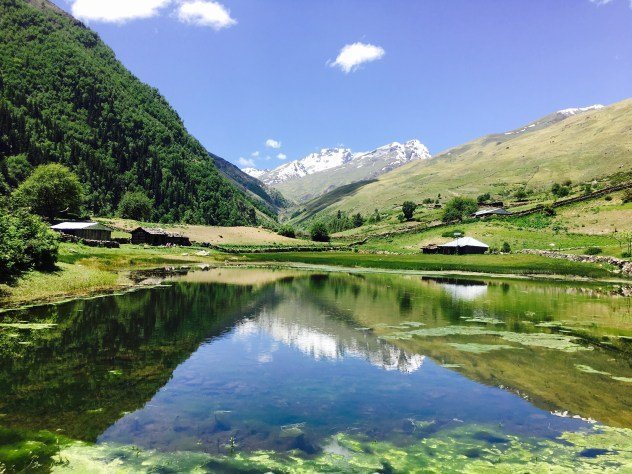 Kailash is the pilgrimage residence of Lord Shiva. Locals told us various stories about how impossible it is to visit those mountains. Whoever tried to do in the past, never came back, creepy, isn't it? Well, we didn't try but observed the beauty from far.
I highly recommend exploring the entire mountain and you will locate the Black River in a narrow valley. As the name suggests, the river is rumored to be cursed and is also slightly black in color. The Black river ultimately merges with the Baspa river in the Baspa river of the Sangla Valley.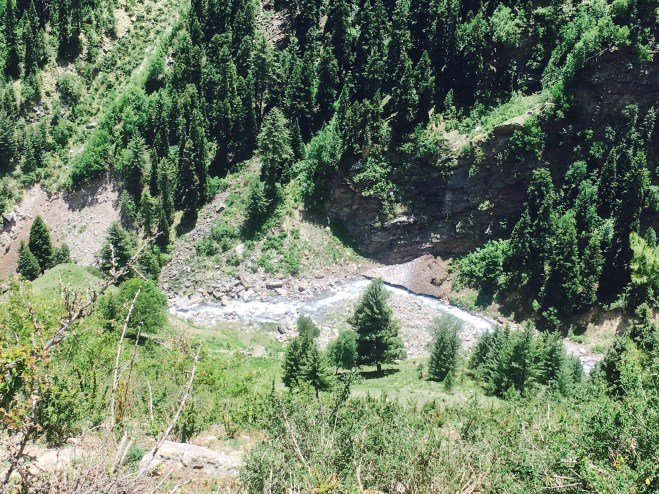 Buddhist Monastery
An underrated destination from Sangla valley is the Buddhist Monastery located in a quiet corner of the village. The Monastery doesn't have typical looks of other gorgeous monasteries from India. But, once inside, the Monastery offers a serene spirit.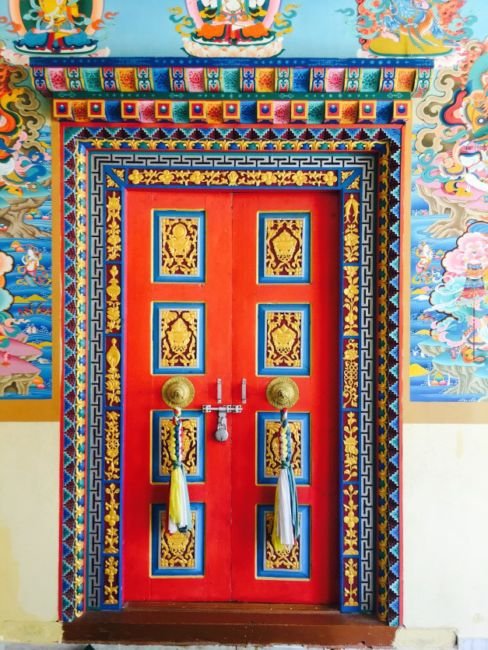 The very entrance of the door is another gorgeous thing to notice even before stepping into the monastery. The Monastery usually seems to be closed for public & tourists. But when you knock on their door, the humble monks open the locks of Monastery. Then you can offer your prayers and can stay as much as time as you need.
Local Food in Sangla Valley
Sangla valley has visible influence from Buddism and hence the same can be found in the food here. The market in the valley is really small with limited restaurants. But, we found one and tried local momos, vegetarian noodles, and chicken soup there for lunch on day 1. Regardless of the difference in flavors, I didn't like them much. Still, I recommend trying the local food, it is a nice way to get to know the place. For the rest of the trip, we stuck to our hotel's in-house North Indian food which had delicious homemade flavors.
Where to stay in Sangla Valley
There are limited hotels in the valley, and some new constructions also lined up for future. We went in June amid peak summer season and got a reasonable hotel with amazing views of the valley. I would suggest to book in advance and stay in the village itself.
How to reach Sangla Valley
Sangla valley is literally located in one corner of India, with only a few options to reach comfortably. From Delhi, you can choose between air, land, and trains. Road journey is the longest way taking up to 16 hours or more. Via bus, you can reach only till Rampur directly and then a change of bus would be required till Sangla. If going via a car, I highly recommend choosing an SUV for those high altitude roads. If you wish to travel via trains, then high-speed trains are available only till Chandigarh and toy train from Chandigarh to Shimla. From Shimla, again a cab or bus will be required to reach Sangla. There is no airport in Sangla, but the closest one is in Rampur. There is also one in Kullu, but both will reduce half of the travel time. Rest will have to covered via roads.
I had a superb time with my family in Sangla valley and even wishing not to come back. These are my top things to do in Sangla valley which I recommend to everyone planning to visit an unexplored destination in Himachal Pradesh, India.
Would you like to visit Sangla valley in Himachal Pradesh India? Share your thoughts with me?
Author bio
Shivani is the wonderful writer behind The Wandering Core. Born in New Delhi, she writes about her travels around Europe and Asia and shares photos from her trips with her many followers on her Instagram, Twitter and Facebook.