If you're considering celebrating St Patricks Day in Ireland or if you are wondering who Saint Patrick is? and why St. Patrick's Day is celebrated? Then you've come to the right place.
The truth is St Patricks day celebrations in Ireland and America are not the same. I wasn't even aware until I was in Ireland for St Patricks Day in 2018 and 2019.
My first St. Patrick's Day abroad experience was in New York City. So you can imagine the culture shock when I saw thousands of drunk people dressed as leprechauns, handing out shamrocks, pots of gold, and green – EVERYWHERE!
Who is Saint Patrick
Maewyn Succat was born in 385 in Roman Britannia in the modern-day town of Dumbarton, Scotland. At the age of sixteen, he was captured by Irish pirates and they took him 200 miles inland where he was a shepherd and farm laborer in County Antrim.
During his six years of captivity, he became fluent in Irish and turned to God for prayer (became Christian). After having a dream sent from God in which he was told to leave Ireland by going to the coast where he would find a ship waiting to sail to Britain. He escaped to France and became a priest and later a bishop. He adopted the name Patrick or Patricius upon becoming a priest.
He had another dream which leads him to move back to Ireland and he set the task of teaching Christianity to the Irish. He preached Christianity for over 40 years and in the year 432, Ireland became a Christian country.
Today St. Patrick is arguably the most famous patron saint of a country and there are landmarks named after him all around the world.
Pádraig is an Irish male name deriving from the Latin Patricius, meaning "of the patrician class. Patrick is the English version.
Myths about the Irish and St Patrick
The majority of the Irish are Catholic. True. The Republic of Ireland is historically a Catholic country and a large majority of the Irish are Catholics.
There are no snakes in Ireland. True, It's believed that Saint Patrick delivered a sermon that drove the island's serpents into the sea. The truth is Ireland is surrounded by icy waters – much too cold to allow snakes to migrate.
The shamrock symbolizes good luck. Patrick used the three leaves of a shamrock to explain the Christian holy trinity: the Father, the Son, and the Holy Spirit. This is actually taught in schools as the first time I heard this statement was from my friends 5 years old and I researched it.
The Irish eat corned beef and cabbage. False, Bacon and Cabbage are popular in Ireland. The dish consists of sliced back bacon boiled with cabbage and potatoes.
The Irish drink green beer. False, this is another American tradition. There are plenty of Irish beers, whiskey, and gin brands but green beer is not one of them.
Is St Patricks Day a national holiday in Ireland?
Yes, St. Patrick's Day is a bank holiday in Ireland. Besides Ireland, there is only one other place that made St Patricks Day a national holiday – Montserrat! The Caribbean locale hosts a vibrant St Patrick's Day celebration that merges their culture with Irish culture for March 17.
How to celebrate St Patricks Day
The modern celebration of St. Patrick's Day really has almost nothing to do with the real man. In fact St Patricks Day was basically invented in America in Boston in 1737. Until the early 70s, A priest would say a prayer and locals would go home and have a meal.
Today, there is St Patricks Day parades all over the world and wearing the color green became a show of commitment to Ireland also known as the Emerald Isle because of its lush vegetation.
In 1962 the show of solidarity took a spectacular turn in Chicago when the city decided to dye a portion of the Chicago River green. Today landmarks around the world like the Eiffel Tower, Rio's Christ the Redeemer, The Colosseum, and the Empire State Building are lit up in green, white and orange in honor of St Patrick's Day.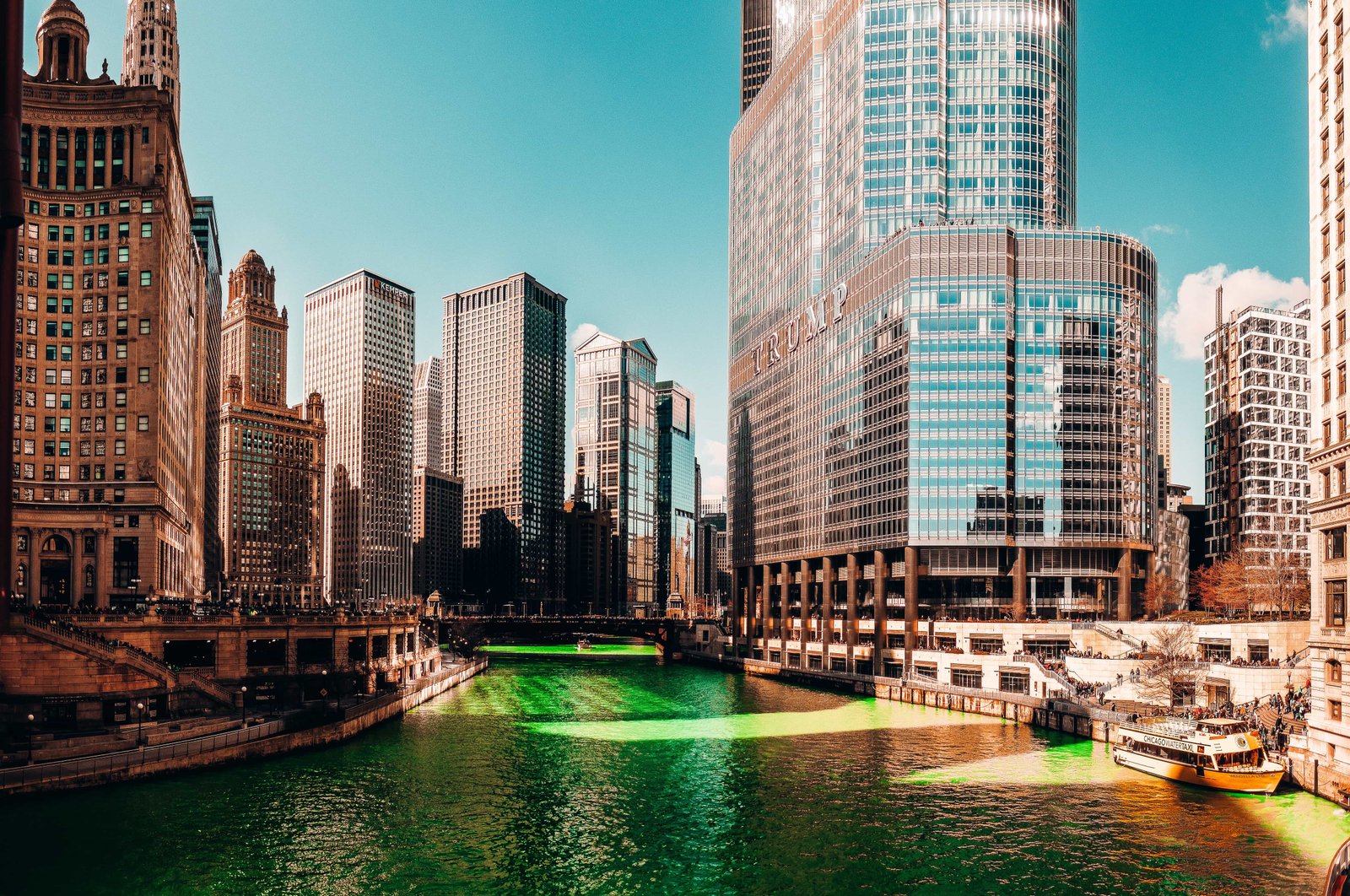 The day is celebrated on the 17th of March as It's believed that Saint Patrick was born on 17 March and he passed away on 17 March, 460.
What do Irish people do on St Patrick's Day
Irish people celebrate St Patrick's Day differently than Americans. In most families, they go to mass (church) in the morning then they watch a parade and they spend the rest of the day with friends and family.
Most popular St Patrick's Day Parades are in big cities like Dublin, Cork, Limerick, and Galway. Small towns like Wexford and Drogheda also have parades. Each parade is at a different time and certain roads are closed off and there's also a heavy police presence.
Dublin on St. Patrick's Day
Dublin stages the biggest and most extravagant St. Patrick's Day Parade outside New York. Literally half of Dublin's one million population plus more than a hundred thousand visitors from all over Ireland and from abroad line the parade and turn it into Ireland's largest street carnival.
The route for the Dublin St. Patrick's Day Parade is 2.5 kilometers long and leads from Parnell Square on the city's Northside down O'Connell Street, over the River Liffey via O'Connell Bridge into Westmoreland Street, past Trinity College at College Green and on to Dame Street.
Fun activities in Dublin
Landmarks like the Guinness Storehouse and the Jameson Distillery are great for celebrating Irish history with a traditional drink but without the downfalls of a packed and noisy bar.
Alternatively, you can say a prayer at the St. Patrick's Cathedral or can head to the National Leprechaun Museum to learn about the mythology and folklore of Ireland.
Have fish and chips at Murphy's Pub on O' Connell street or visit any authentic pub in the evenings to watch traditional Irish dancers with local musicians, making it a true Irish experience.
Future St Patrick Festival Dates in Ireland
2020: Friday 13th – Tuesday 17th March
2021: Wednesday 17th – Sunday 21st March
Ireland Weather in March
The one thing I've learned from living in Ireland for 2 years is that the Irish weather is unpredictable. You should always wear waterproof clothes that are breathable for when its sunny but also be prepared for the rain.
Generally, temperatures are relatively mild in March and April, but due to global warming, this can easily change. In 2018, it was snowing and the parades still went ahead as planned. In 2019, it rained and the parade was not canceled.
I'd highly recommend that you wear closed shoes like boots or sneakers and not sandals to avoid your toes being stepped on.
Suggested Reading: Ireland Female Packing List
Where to stay during St Patrick's Day Festivities
If you want access to everything and you don't mind the noise – City Centre
If you're on a budget – Trinity College area
If you want access to nightlife – Temple Bar area
If you want a luxurious and safe neighborhood (best for families) – Ballsbridge / Donnybrook.
Where to stay in Dublin City Center

Iveagh Garden Hotel is a 4-star sustainable eco-friendly hotel located in Dublin city center.
The rooms are decorated in rich textures and offer city views. All rooms have free WIFI, laptop-sized safes, complimentary water, Smart TVs and a bathroom with rainfall shower and hairdryer.
[maxbutton id="1″ url="https://www.booking.com/hotel/ie/iveagh-garden.en.html?aid=1558524&no_rooms=1&group_adults=1″ ]
Dean Dublin is situated in the heart of Dublin city and is surrounded on all sides by bars and clubs.
While the hotel tries to restrict the impact of this noise in bedrooms, the hotel, and the street can be very lively late into the night. Please do consider this before booking.
[maxbutton id="1″ url="https://www.booking.com/hotel/ie/the-dean.en.html?aid=1558524&no_rooms=1&group_adults=1″ ]
Where to stay near Trinity College area in Dublin
Isaacs Hostel offers affordable accommodation in the heart of Dublin.
With free WiFi, the award-winning hostel is just 200 m from Connolly Station and 100 m from the central bus station.
It is also the only hostel in Dublin with a sauna.
[maxbutton id="1″ url="https://www.booking.com/hotel/ie/isaacs-hostel.en.html?aid=1558524&no_rooms=1&group_adults=1″ ]
This accommodation within the very heart of the city.
It specializes in group hostel accommodation for schools, universities and low-budget tours to Dublin. The rooms are en-suite and include dormitories and private rooms.
In the mornings, Jacobs Inn Hostel offers breakfast for an additional charge.
[maxbutton id="1″ url="https://www.booking.com/hotel/ie/jacobs-inn.en.html?aid=1558524&no_rooms=1&group_adults=1″ ]
Where to stay in Dublin for nightlife
The luxurious 5-star Westbury Hotel has spacious and sumptuously furnished bedrooms with en suite bathrooms.
On Dublin's Grafton Street, Westbury has fantastic restaurants, a bar, and a fitness suite. Each immaculate room has Sealy beds, Lissadell linen, and Aromatherapy Associates bathroom products.
They also feature LCD TVs and an iPod compatible music system.
[maxbutton id="1″ url="https://www.booking.com/hotel/ie/the-westbury.en.html?aid=1558524&no_rooms=1&group_adults=1″ ]
At Temple Bar Inn you will find a terrace and a shared lounge with free tea and coffee, as well as a tour desk and luggage storage.
Each modern room includes a flat-screen TV with cable channels, a safe, mini-fridge and tea, and coffee making facilities. Featuring a shower, the private bathroom also comes with free toiletries.
[maxbutton id="1″ url="https://www.booking.com/hotel/ie/temple-bar-inn.en.html?aid=1558524&no_rooms=1&group_adults=1″ ]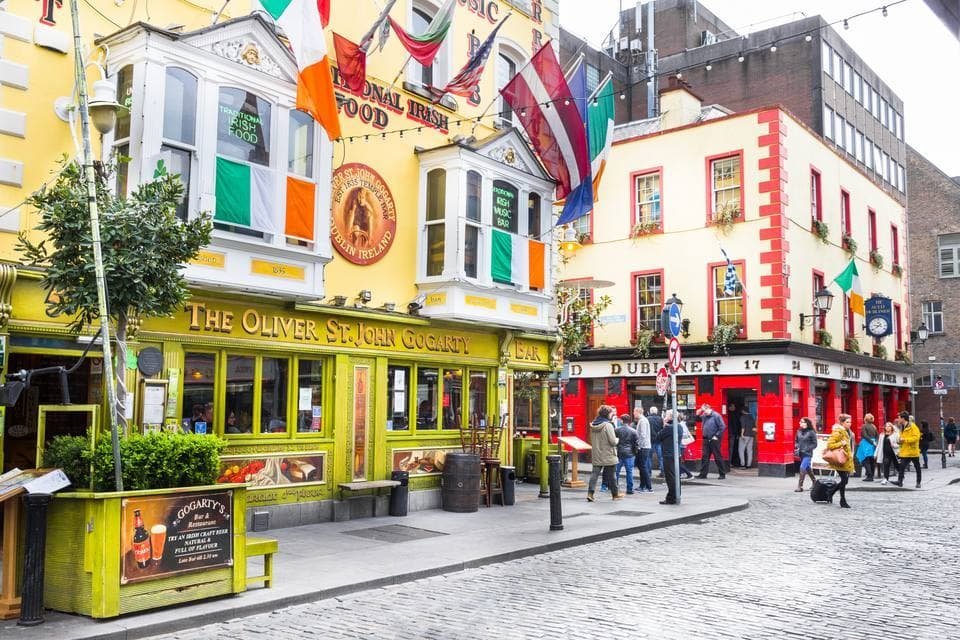 This is where I celebrated New Year's Eve in 2017!
The Gogarty is the only hostel in Ireland to have a bar and a restaurant serving traditional Irish food, including local favorites Dublin Bay Mussels and Beef & Guinness Casserole.
The hostel offers private and shared accommodation with free WiFi and breakfast included. There is also live music every night in the bar.
[maxbutton id="1″ url="https://www.booking.com/hotel/ie/oliver-st-john-gogarty-s-hostel-penthouse-apartments.en.html?aid=1558524&no_rooms=1&group_adults=1″ ]
Best place to stay in Dublin
Editors Note: I used to live in this area (Dublin 4) and I highly recommend it. Its about a 20 min (walk) to the city center or alternatively you can take a bus or taxi.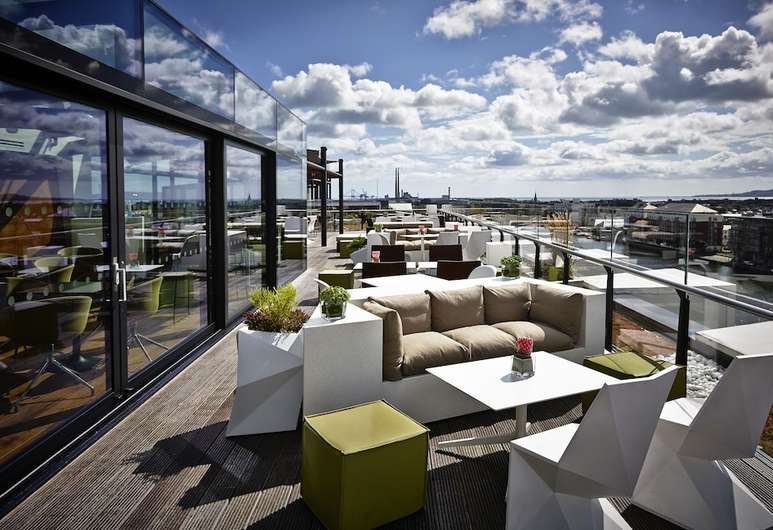 The Marker boasts a prime location in Dublin's regenerating south docklands.
The Libeskind-designed BGE Theatre is immediately adjacent, and the waters of the Grand Canal Basin are just a few steps away – a stroll here is a wonderful way of blowing away the cobwebs.
There are a number of smart cafés, bars, and restaurants in the area. The hotel's rooftop bar is one place to visit if you want to meet affluent people in Dublin.
[maxbutton id="1″ url="https://www.booking.com/hotel/ie/the-marker.en.html?aid=1558524&no_rooms=1&group_adults=1″ ]
Overlooking the 48-acre Herbert Park, this hotel is located 100 m from the RDS and 5 minutes' walk from the Aviva Stadium.
This stylish, modern hotel offers an award-winning restaurant and modern rooms. The air-conditioned rooms at the Herbert Park Hotel are decorated in light colors and feature large windows.
They include a TV, a safe, and private bathrooms with hairdryers. There is a 24-hour room service menu.
[maxbutton id="1″ url="https://www.booking.com/hotel/ie/herbert-park.en.html?aid=1558524&no_rooms=1&group_adults=1″ ]
More AMAZING Ireland Travel Guides
Get Insurance before traveling to Ireland
Use travel insurance while visiting Ireland so you are covered for theft and medical expenses. There are a lot of adventurous activities to do in Ireland, and it's best to have peace of mind while swimming, hiking and trying some of the best food in the world.
Find out why I recommend World Nomads, check out my World Nomads Insurance review.
Disclaimer: This article contains affiliate links. This means that if you make a booking after clicking on a link, I may receive a small commission at no extra cost to you!