Barcelona also known as the City of Gaudi, is the second largest city in Spain and home to Europe's largest football stadium. It's where gothic meets abstract and modern architecture. Where party lovers, art enthusiasts and foodies go on vacation. The perfect city for a weekend break or even a month long stay.
Barcelona boasts 9 UNESCO World Heritage Sites and is one of the most LGBT-friendly cities in Europe.
Despite volatile political situation in Catalonia, eight million visitors stayed in hotels in the city in 2018, a 5.2% rise over the previous year.
Best time to visit Barcelona
The best time to visit Barcelona depends on your reason. Summer (Late May to Early September) is High season in Barcelona with the hottest weather and largest crowds.
Low season in Barcelona is between November and early March. Temperatures are cooler and prices for accommodation and activities also drop during this season.
Best time for Sightseeing:

The first half of March, the month of May and mid-September through October.

Best time for soccer:

Soccer season usually starts in late August and end in late May.

Best time for festivals:

Late spring and early autumn.
Things to do and see In Barcelona
The best way to learn about local food, culture, and history is through locals who offer many walking tours, food tours, and cooking courses in Barcelona. It's advisable to book in advance to avoid disappointments.
Grape at the Sagrada Familia
Over a hundred years in the making, a visit to the Sagrada Familia should be at the top of your bucketlist on your first visit to Barcelona.
The Sagrada Familia is the work of famous Spanish architect, Antoni Gaudi, who was also responsible for many of the city's other key attractions including Parc Guell, Casa Batlló and the Parc de la Ciutadella fountain. Unfortunately, Gaudi passed away before even a quarter of his masterpiece was complete. Current plans aim to finish it by 2026, a century on from Gaudi's death.
Even with the ongoing work, this landmark building is a sight to behold and is already open to visitors with proceeds from tickets helping to fund the construction. When work began in 1882, the Sagrada Familia was meant to be a simple Gothic church inspired by the Vatican. But after Gaudi took over as Architect Director, he radically changed it's design to put his own stamp on it and devoted the rest of his life to the project. Looking around, the building is uniquely Gaudi, with elaborate carvings and a fairytale-like feel.
Most notably, the building features 18 unique towers representing 12 apostles, 4 evangelists, the Virgin Mary and, of course, Jesus Christ.
The building was recently declared a basilica by Pope Benedict XVI, indicating it's cultural and religious significance.
For entry to the Sagrada Familia, Book a ticket online so you can get a discount and save time in the queue as thousands of visitors flock to the landmark each day.
By: Kieren from Got My Backpack
Explore Casa Batlló
Barcelona's architecture is unlike any other city. From Park Güell to Sagrada Familia, it's evident what a mark world renown architect Antoni Gaudi made on the city, especially at the turn of the 20th century.
There's an area with two residential buildings across the street from one another, off of Passeig de Gracia, where his impact closer to home – for the residents of Barcelona – can be seen. One of those buildings is a mansion named Casa Batlló, once home to a wealthy family now open to the public and a UNESCO World Heritage Site. It the actual Batlló family house, that is owned by another family but open to the public.
It's incredibly famous for its "skeleton" like balconies that face the street, and various colorfully tiled chimneys on top of the home that look like ice cream cones. It's nicknamed a "magical" house and it's organic, whimsical lines inside and out, and colorful stained glass and porcelain tiles make it easy to understand why.
By: Mikkel of Sometimes Home
Stroll through Parc de la Ciutadella
Barcelona is an amazing and beautiful city with so much to offer. One of my favorite spots in this gorgeous town is The Ciutadella Park. It's also known as Parc de la Ciutadella.
This sprawling green space connects 4 cool neighborhoods of Barcelona and holds so much to do and see. The park is home to The Barcelona Zoo, The Museum of Natural Sciences a quaint lake for boating and a ribbon of trails. As you can imagine, you could fill a whole day with activities and not even leave The Parc de la Ciutadella! Even if you don't have a full day to spend on the park attractions, it's a must-see part of the city.
The park was built atop the demolished 18th-century Fortress of Barcelona. These military grounds were considered by locals to be a symbol of repression by the central government. To celebrate its removal, the park was built and it's a tremendous symbol of regional pride today.
The most instagrammable spot In The Parc de la Ciutadella is the Cascada fountain in the center of the park. If you've ever been to Rome, you may notice that this gorgeous water feature was designed to resemble a fountain there, the Fontana di Trevi. Make sure to stop there and climb the stairs of the water feature. It's gorgeous and the perfect spot for a picture and a nice view of the park below. There's also a concession stand to grab a snack and a drink.
Whenever I'm in Barcelona, I make sure I have time for a stroll through The Parc de la Ciutadella. If you take my advice, you'll see why for yourself.
By: Derek of Robe Trotting
Spend the afternoon at Park Güell
If you're a first time visitor to Barcelona, don't miss the system of parks and architectural masterpiece that is Gaudi's Park Güell. Greeted by what can only be described as a 'Hansel and Gretel' style house, the colourful buildings are a feast for the eyes and make a beautiful entrance to his park.
Construction on Park Güell began in the 1900's. Gaudi was instructed by the entrepreneur Eusebio Güell and it was intended to be a residential park for well-off families and expats in Barcelona. It's now one of the most popular tourist sites of the city.
The free part of the park allows you to access Gaudi's bridge and some of the park grounds. However, it is totally worth paying the entrance fee to the area of the monument – you don't want to miss Barcelona's famous mosaic 'Salamander!' Walk up the stairs past the Salamander to Sala Hipóstila, a temple beneath a stunning platform supported by 88 stone columns. Look up at the beautiful ceiling.
There is also a Museum inside Gaudi's house, where the artist himself lived for the last 20 years of his life. It contains furniture from Casa Batlló and can be entered for an extra fee.
To get to Park Güell, take the green line (L3) and get off at Lesseps or Vallcarca. Be prepared to walk uphill. It's advisable to book a ticket online or arrive early to avoid disappointment – it can get busy especially in Peak Season.
By: Amy of Temple Seeker
Mercat La Boquería
As a Spanish city known for its delectable cuisine, it makes sense that one of the best things to do in Barcelona is eat! There are endless foodie opportunities in the Spanish capital from food markets to modest restaurants, international cuisine and high-end restaurants.
However one of the best places to pick up tasty and affordable food is The Mercat de Sant Josep de la Boqueria, often simply referred to as La Boqueria. This colourful market is a favourite with locals and foodies alike thanks to its wide array of dishes served by 200+ vendors.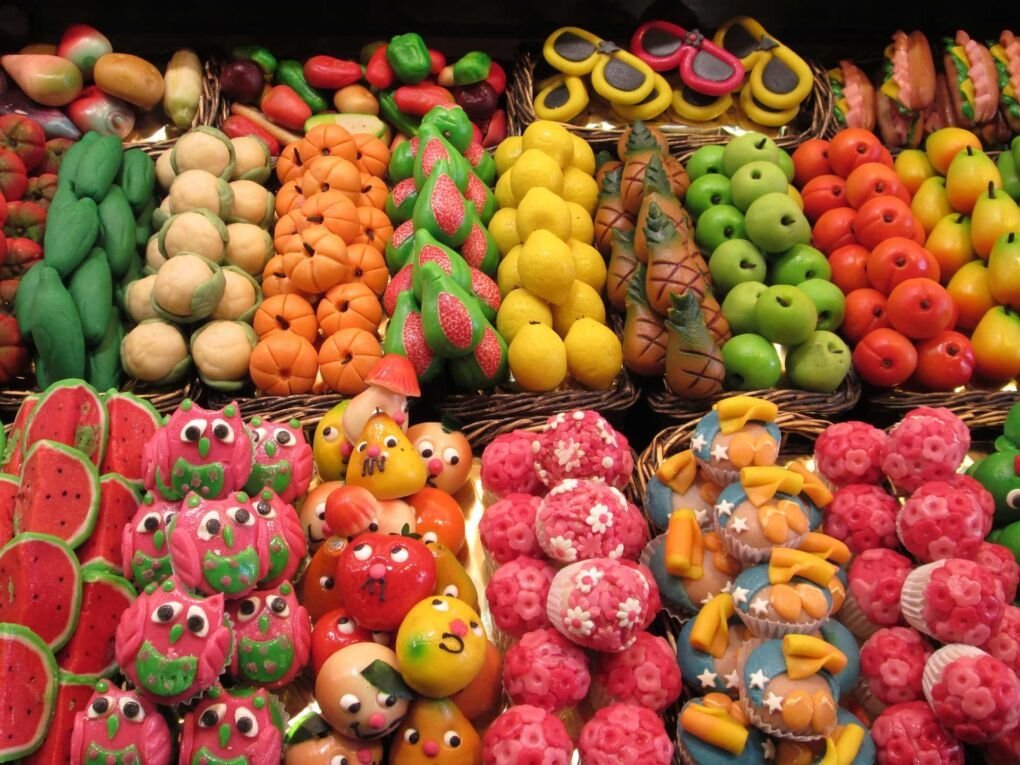 At La Boqueria, you'll find abundant fruit, freshly cooked seafood, decadent sweet treats, smoothies, sandwiches, coffee and even oysters. Whether you wander at your leisure or have a specific vendor you want to check out, the market is conveniently ordered with a floor plan and map available. On a sunny day, it's the ideal place to pick up a picnic and sit in one of Barcelona's many green open spaces. Luckily, it's also a covered market so that when it rains, you can sit inside and hide out with coffee and churros 'till it passes.
By: Rose of Where Goes Rose
Although Boqueria Market is the most popular, there are equally amazing and less crowded markets like:
See the Barcelona skyline from sea on a boat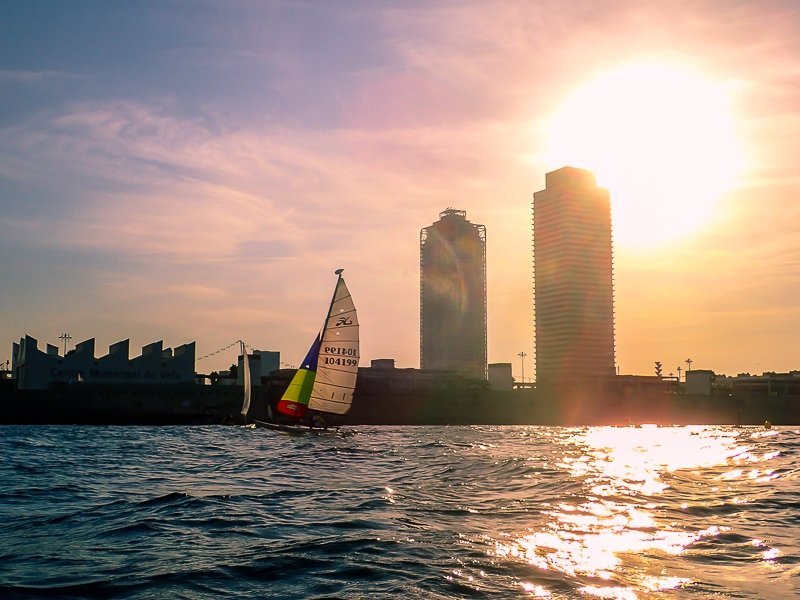 If you're looking for a different view of the city, consider going on a boat cruise! The Barcelona skyline with the iconic two towers (Hotel Arts and Torre Mapfre) is stunning seen from the sea, particularly at sunset.
It's a great way to get away from the crowds of the city for a bit and unwind. You can sail in Barcelona all year round, but if you go for a boat cruise between June and October, the water should be warm enough for a swim as well.
There are a wide range of boating activities on offer at Port Veill and Port Olimpic, including jazz cruises and private charters. If you're traveling on a budget, try Meetup or AirBnB Experiences for small group experiences. Barcelona is a sailing city and there are plenty of options!
By: Edwina of Traveling German
Exploring Craft Beer In Barcelona
Many people associate Spain with wine and cava, but there is also a long history of drinking beer. In the past, this focused on mass-produced commercial beer brands, including Estrella. The Barcelona craft beer scene has exploded in recent years, though, with over 100 producers located in Catalonia alone.
For craft beer lovers, the city is amazing to visit, with plenty of breweries, brew pubs, and craft beer bars. One of the prime neighborhoods for craft beer in Barcelona is L'Eixample, with beer aficionados now referring to it as "Beerixample." Within this neighborhood internationally recognized craft beer brands, including Brewdog and Mikkeller as well as a few other brewpubs and bars including Garage Beer Co. and BierCab.
Near the high-end shopping district within L'Eixample and close to one of the top stops for Gaudi tourism, CocoVail is a classic, California-style beer hall, with a focus on featuring Barcelona, Catalan, and Spanish craft beers. Closer to the water, near the neighborhood of Barceloneta is BlackLab, a Barcelona brewpub serving up their own beers, with plenty of outdoor seating. They offer tours and tastings each weekend. With dozens of craft beer bars in Barcelona, there is enough to keep any beer lover busy for a weekend in Barcelona. Many of the owners and patrons are also super friendly, speak English, and are willing to engage travelers in a conversation.
By: Amber of Food and Drinks Destinations
Barcelona History Museum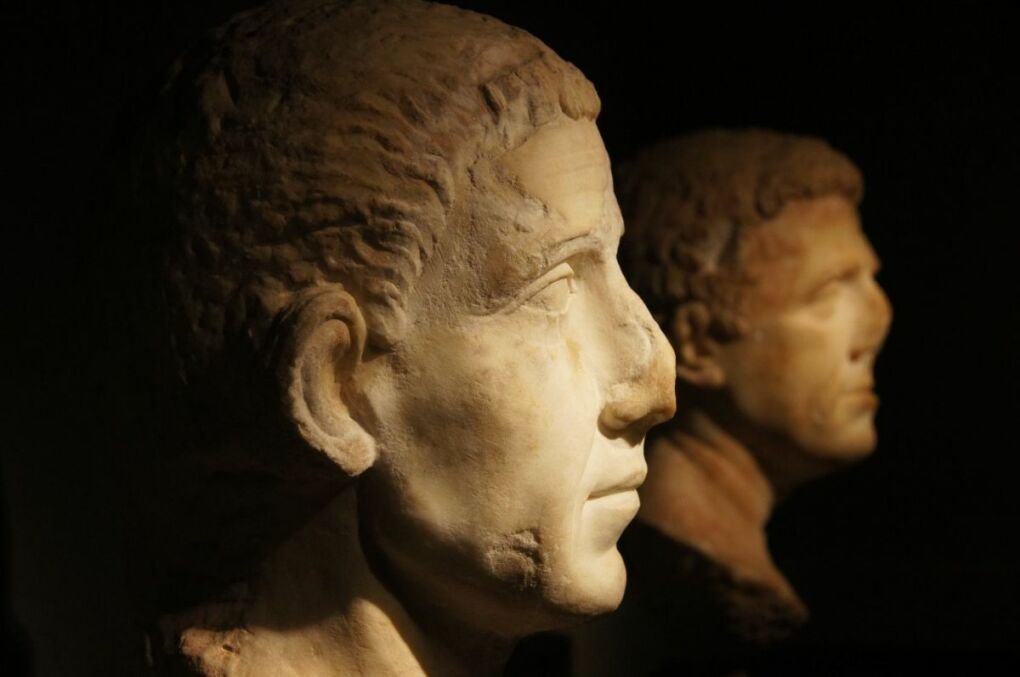 If you're a history fan, you won't want to miss a visit to the Museu d'Història de la Ciutat (MUHBA), also known in English as the Barcelona History Museum. The museum walks you through 2,000 years of Barcelona's history, going all the way back to ancient Roman times when the city was known as Barcina.
The venue that showcases this fine collection is a historical palace itself. Palau Padellàs was slated to be torn down to make way for the construction of a new road. Instead, it was relocated one stone at a time to the Plaça del Rei, where it sits today.
It was during this relocation process that ancient Roman remains were discovered precisely on the spot where Palau Padellàs was to be moved. An archaeological excavation was carried out, resulting in the discovery of a whole district of Roman Barcina.
This changed the whole focus of the museum, which was originally intended to focus on later periods of history. Now, the excavation site and the Roman artifacts uncovered there are some of the most important exhibits in the museum.
These artifacts include marble busts of some of Barcina's more wealthy citizens and the houses and workshops of the city itself. Little details such as a laundry and a fish sauce factory provide insights into daily life in ancient Barcina.
If you visit in the late morning or early afternoon, you can combine your visit with lunch at Cat Bar, just one minute's walk away. It gets rave reviews and is one of the best places for vegan food in Barcelona.
By: Wendy of The Nomadic Vegan
Take a cooking class
A cooking class is one of the best ways to learn about Catalan cuisine and to understand the ingredients used in its dishes. I particularly recommend the 'Market to Table' class run by Bear on Bike. The day begins early when you meet chef Alberto (yes, he's Italian, but you won't find anyone more passionate about the food of Catalonia!) at La Boqueria, Barcelona's principal produce market. You will spend an hour or so here learning how to buy the freshest gambas, the best acorn-fed jamon, and the juiciest figs.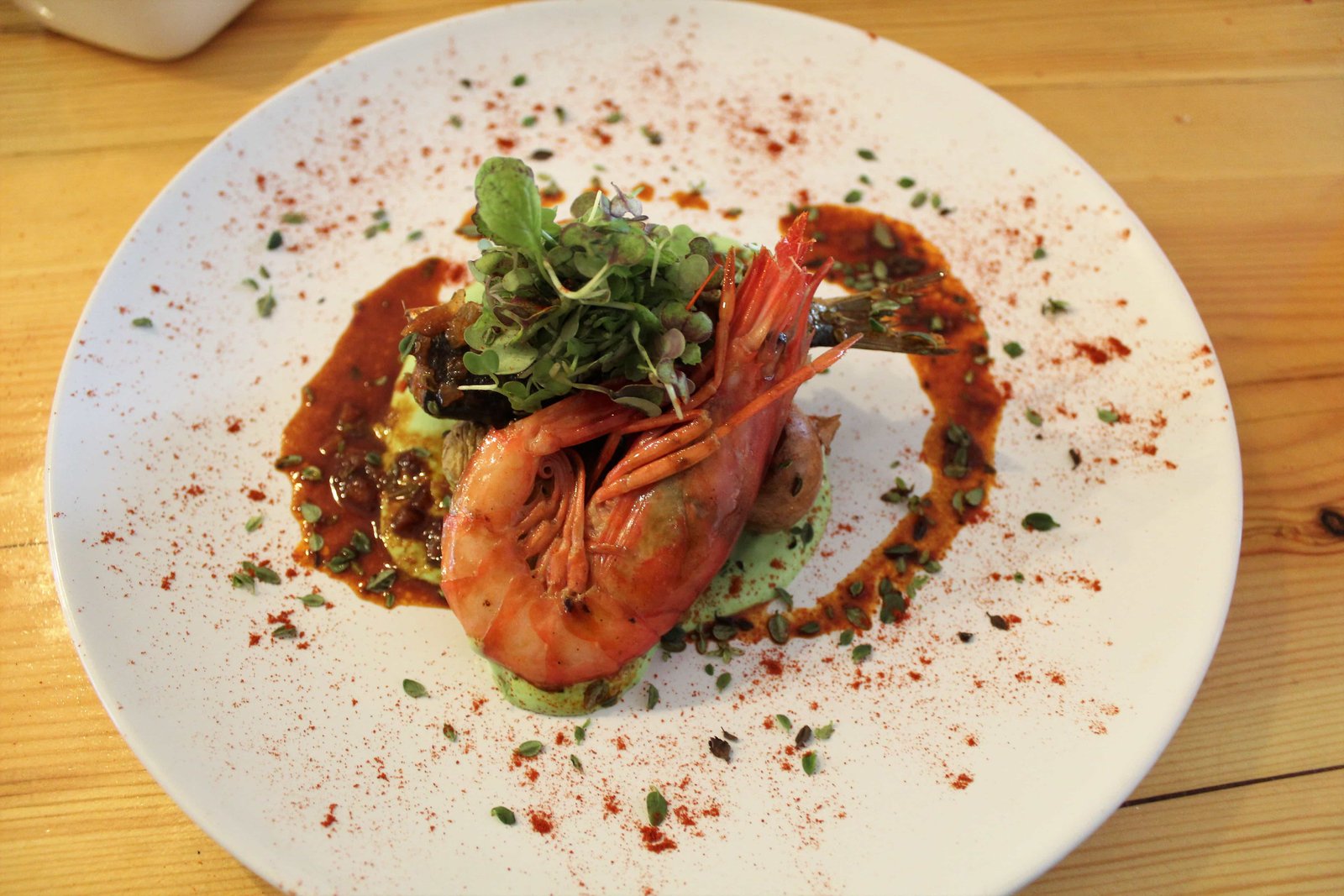 A walk through the bohemian El Ravel district brings you to Alberto's teaching kitchen which shares a space with a cool café where you can enjoy film evenings with food paired to the movie.
You spend the next few hours in the kitchen preparing dishes under Alberto's excellent tutelage, pausing mid-morning for a tasting board of plump olives, tangy goats' cheese, aged ham, and crusty bread, washed down with refreshing local vino.
Back to work, you finish cooking. During the day, you pick up loads of tips on new cooking techniques, how to combine ingredients, how to elevate the ordinary into something exquisite (who knew that adding watermelon to gazpacho would make it so delicious?), and how to present your food like a professional. Whether you are a complete novice or a seasoned home cook, you're sure to learn a lot, and have fun at the same time.
Finally, lunch is ready. You eat at a pretty table in a plant-filled conservatory and enjoy great conversation and laughter with Alberto and his team. The day ends around 3 or 4 in the afternoon.
By: Andrea of Happy Days Travel Blog
Go on a eating Tour
One of the most famous quotes about Barcelona is by Stefan Harris. He says that "Italy has great food and Barcelona has great energy." Personally, I think that's nonsense as Barcelona has both great energy and amazing cuisine! You just have to know where to find it.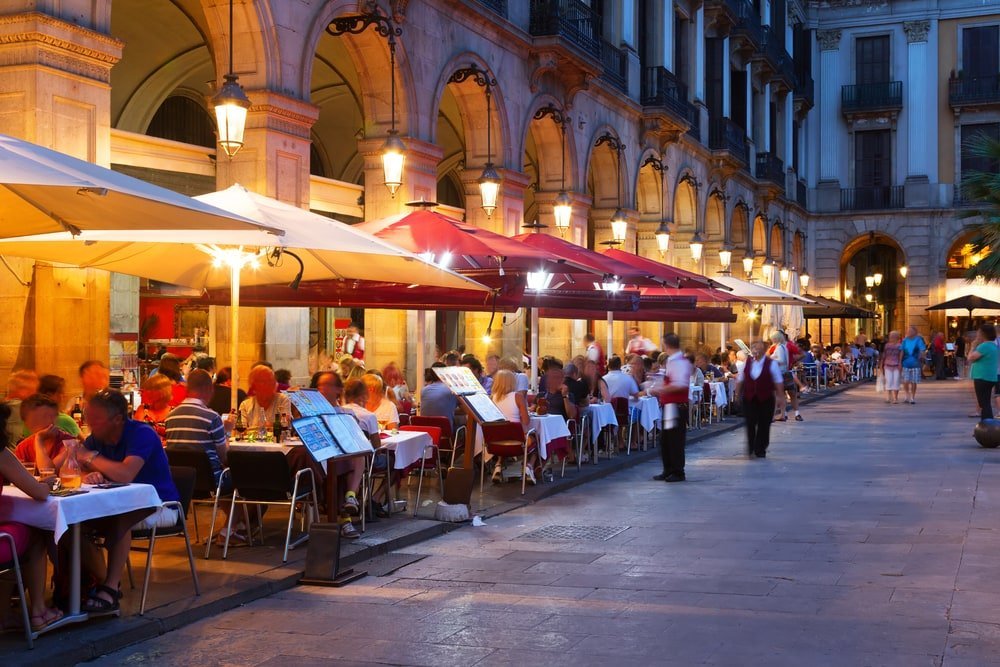 My personal favorite way to get introduced to the food of a new country or city is to go on a food tour, but I love using the Bitemojo tours which are self-guided on an app. My friend and I did the two and a half-hour "Gothic Quarter" food tour, which included stops at the La Boqueria and several delicious pastry shops and restaurants around the area. Highlights were fried polenta and artisanal donuts!
Since you do the tour through the app, you can read all about what you're eating while you're enjoying it. This is also a great way for solo travelers and groups of friends to enjoy a private experience (without paying the big bucks for a private tour guide!). It's like going on a delicious food scavenger hunt throughout the city.
If you prefer a group tour, there are many delicious options available for you to choose from as well.
By: Stephanie of History Fan Girl
Bunkers del Carmel
Barcelona is a stunning city and definitely one of the most beautiful in Europe. But how can you explore Barcelona best if you have very little time? Get a perfect overview by visiting the bunkers del Carmel. The bunkers are an amazing viewpoint from which you can have a breathtaking panorama view of the city.
This amazing view that is waiting for you at the bunkers del Carmel is not randomly – quite the opposite is the case, actually: Those bunkers have been built during the civil war in order to be able to see enemies approaching from all around.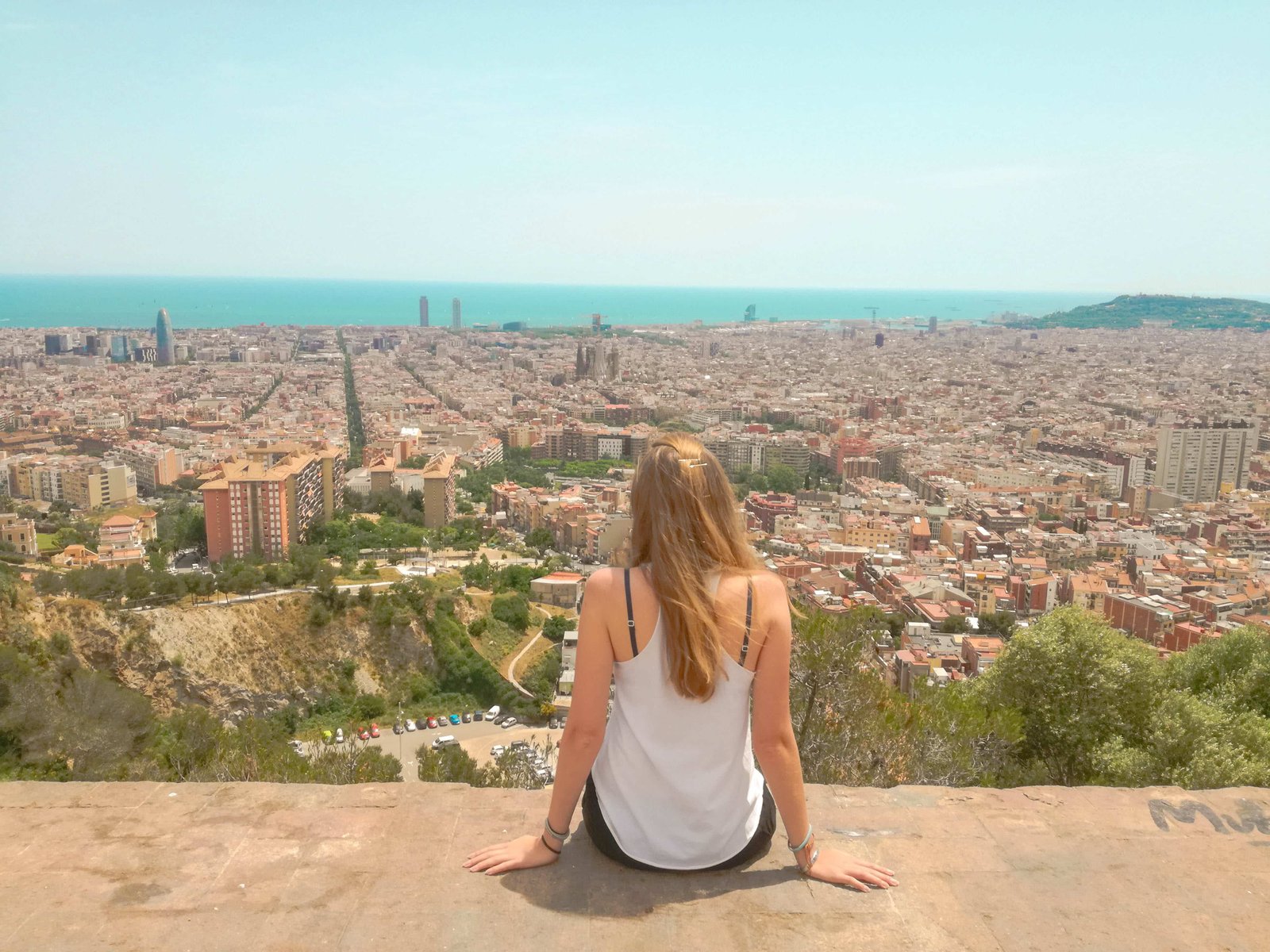 Even though the bunkers are no longer used for strategic reasons, its unique views still give you a wonderful overview of the city and you can take amazing pictures from up there. From the bunkers, you cannot only enjoy the unique sights of Barcelona from above such as the Sagrada Família but also see the beach, the surroundings of the city and the huge cruise ships stopping in the port. Another highlight is to see the sunrise or sunset from here. Even though the sun doesn't set over the sea, it's still a wonderful experience to see the sun disappear between the surrounding mountains.
By: Vicki of Vicki Viaja
Montserrat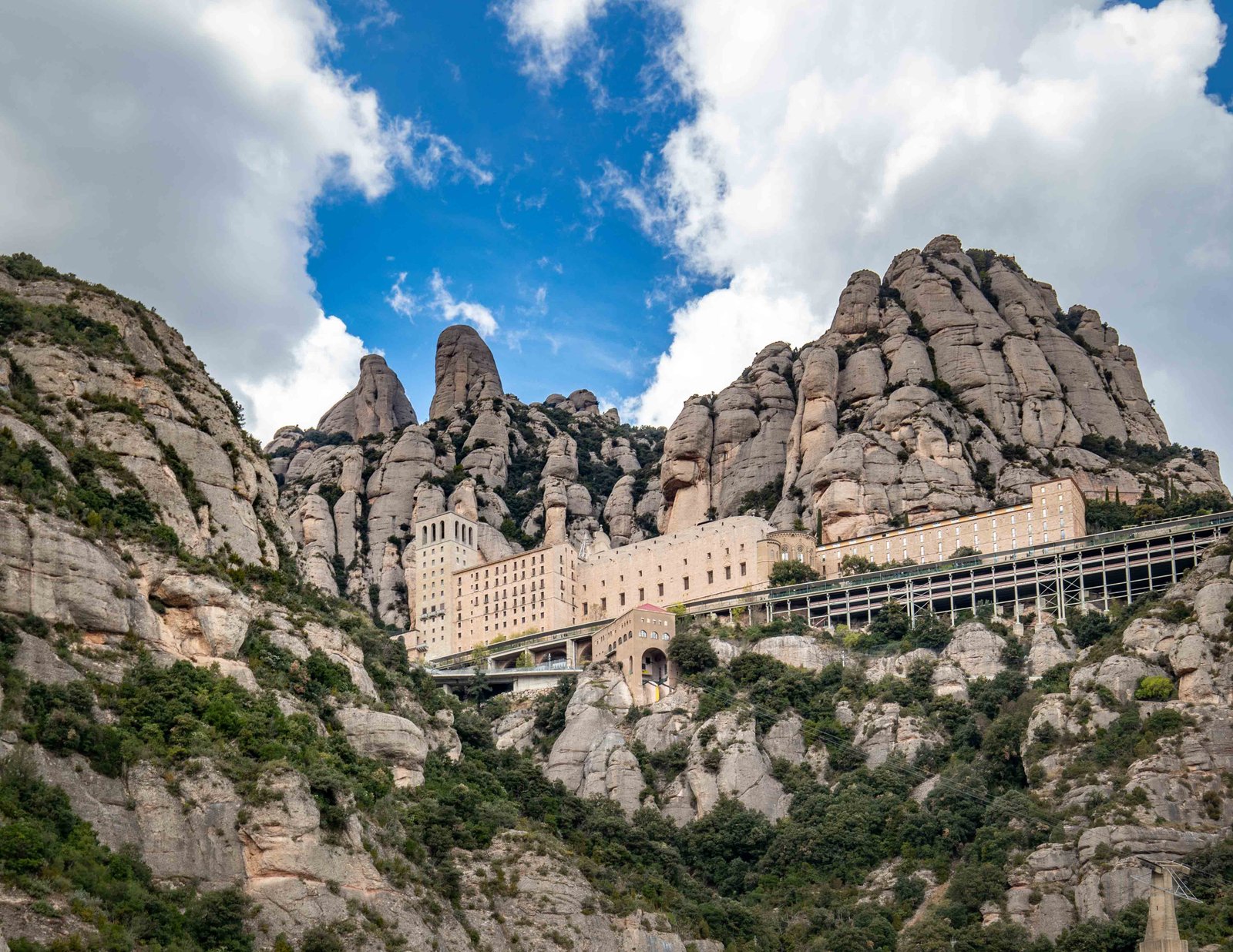 Just one hour from the city (and accessible by public transport), Montserrat makes the perfect day trip from Barcelona. As soon as you step off the train you feel transported to another world where the city is replaced by a small village surrounded by huge rocky mountains.
Getting up Montserrat itself is part of the fun and most people choose to take the cable car for spectacular views (or the funicular, which is cheaper, but the views aren't so good). If you are up for a challenge though, you can actually hike to the top of Montserrat. The hike will take you far away from the crowds over the seven steep kilometres it takes to reach the monastery.
The Benedictine monastery is an ornate building, filled with lanterns and feels as grand as any cathedral you can find in a European city, pretty incredible considering it's perched halfway up a mountain!
After visiting the monastery and taking in the views you can continue on a hike up to Montserrat summit or sit and relax in one of the two cafes. If you have more time or don't want to take on the steeper summit trail you can take a leisurely stroll to the Capella de la Santa Cova church, this tiny chapel is blissfully quiet and the cliffside walkway offers some of the best views in the whole area.
By: Cat of Walk my World
Font Màgica de Montjuïc
The Font màgica de Montjuïc, or the magic fountain as it's better known, is a must visit on any visit to Barcelona. It is the perfect way to end a busy day of sight-seeing, or the perfect way to start a night of partying.
The fountain, designed by Carles Buigas and first opened in 1929, sprays 700 gallons of water a second through 3620 jets, and is illuminated by 4760 lights. A truly magical effect is created, as the combined water and lights dance in time to show-stopping music and the wondrous cries of its audience.
The show starts just after dark and lasts around 20 minutes. It is completely free, but the best places to watch fill up quickly so make sure you get there a little before to choose your spot. You can watch with the historic Museu Nacional d'Art de Catalunya as your backdrop, or stand on the museums' stairway to get a view of the fountain and the Avinguda de la Reina Maria Cristina.
There are stalls all around the fountain selling snacks and drinks, but obviously they charge accordingly, so it might be worth taking a trip to a local supermarket before you arrive.
As the sun sets the atmosphere of the crowd builds. The incredible show is well worth the wait, and as soon as it starts you realize you are in for a treat. The illuminated water dances in rhythm to a range of music, from Spanish classical to modern hits. You won't be able to stop your toes from tapping or take your eyes off the strikingly unusual and impressive show!
By: Emily of Two Get Lost
El Paradiso
There's no shortage of places to grab a drink in Barcelona. But El Paradiso is by far the coolest. To get into this speakeasy bar, you have to pass through a false storefront of a meat shop. Once inside the shop head to the freezer door, another false door, that leads into the underground speakeasy. The bar has a modern design but carries a slight beach bar vibe to it.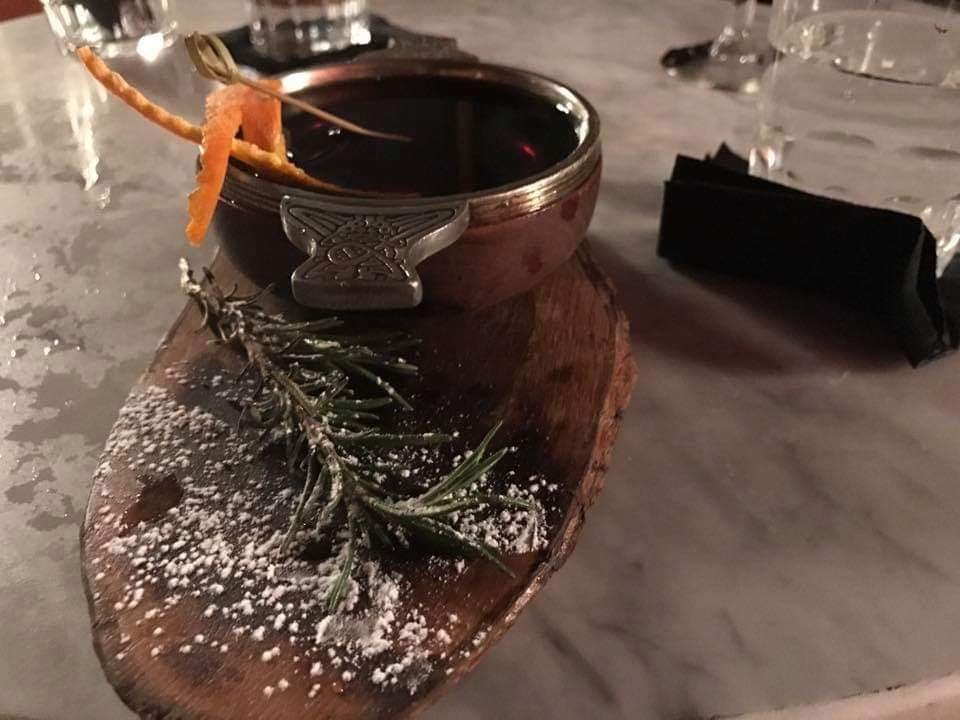 Another thing that makes El Paradiso a fun thing to do in Barcelona are the drinks. Every single cocktail is one of a kind. There are drinks in clamshells, hollowed-out logs, and glasses decorated like birds. There are even drinks that are served in a giant egg and steaming pipe. Imagination becomes a reality at El Paradiso. And the drink menu is always changing. This crazy bar has become a routine stop anytime I'm visiting Barcelona.
By Stephen of A Backpackers Tale
Best Hotels in Barcelona
Luxury: Casa Fuster
The Five-star Casa Fuster is an Art Nouveau masterpiece, with vaulted ceilings, antique lamps, Gaudí-designed chairs and plenty of marble. Besides the understated luxury of the rooms, there's avant-garde Mediterranean dining and live jazz and poolside cocktails on the roof terrace. Well-situated for shopping and dining in both Gràcia and Eixample and for exploring the best of Barcelona's modernist architecture.
Check for availability and rates at Casa Fuster
Moderate: Chic & Basic Ramblas
Funky hotel with a restaurant, bar, vintage decor, and billiards table just a 2-minute walk (170m) to the Drassanes Metro Station and an 8-minute walk (650m) to the waterfront and the ferry terminal. A buffet breakfast and parking are available for a fee, rooms feature modern touches like USB ports, and some rooms have balconies and kitchenettes.
Check for availability and rates at Chic & Basic Ramblas
Budget: Safestay Barcelona Sea Hostel
Beachfront hostel with mixed and female-only dorms, air conditioning, organized social events, a shared kitchen, and a restaurant. The hostel is located a 9-minute walk (800m) from the History Museum of Catalonia, 11-minute walk (900m) Barcelona Metro Station, and steps to numerous restaurants and bars.
Check for availability and rates for Safestay Barcelona
Get Insurance before traveling to Barcelona
Use travel insurance while visiting Spain so you are covered for theft and medical expenses. There are a lot of adventurous activities to do in Spain, and it's best to have peace of mind while swimming, hiking and trying some of the best food in the world.
Find out why I recommend World Nomads, check out my World Nomads Insurance review.