Switzerland is a small mountainous country located in central Europe. Germany, Austria, and Liechtenstein surround the landlocked nation. The country has a rich history and culture, and there are endless activities to do and places to see.
If you're planning a visit to Switzerland, or better yet, moving to one of the best places to live in Switzerland during winter, we've done all the research, so you don't have to. To immerse yourself in the beautiful Switzerland winter and find unique places to visit in Switzerland, you've come to the right place.
Winter In Switzerland: Weather
The winter season in Switzerland is notoriously cold and snowy.
Winter months run from December to February, and temperatures can plummet to as low as 30-25°F.
In the winter months, the entire country is usually covered with snow. The weather, however, is reasonably moderate and generally agreeable. Although it can be freezing, it's common to experience clear blue skies and the glaring sun.
What To Do In Switzerland
There are plenty of things to do in Switzerland in winter. Besides skiing, Switzerland has so much more to offer. The country has majestic winter scenery, enormous snow-capped mountains, and a clean and lush countryside.
Fun In The Snow
As the Swiss winter brings plenty of snow, the first thing that usually comes to mind is skiing. The best time for snow sports is late November to early December, before Christmas. There are low crowds and massive snowfall during this time.
Check out the beautiful Crans Montana and Verbier, beginner-friendly ski resorts with superb accommodation costs and a wide variety of skiing terrain.
Swiss cheese and chocolate
Switzerland is also the home of fine cheese and chocolate. For all the food connoisseurs, you can check out Max Chocolatier – a boutique shop where handmade cheese and chocolate are produced. This fabulous restaurant is perfect for some locally-sourced Swiss cuisines.
This is the perfect destination if you want a luxurious fine dining experience, or simply want to get your hands dirty in the chocolate-making workshop.
Christmas Shopping
For some retail therapy, you can do early Christmas shopping at the Mall of Switzerland, the largest shopping centre in central Switzerland. The mall first opened in 2017, and contains 150 shops across three stories.
If you want gifts for your in-laws, friends, family, and significant other, the Mall of Switzerland is your one-stop-shop for all your retail needs.
Swiss Trains
Taking a scenic train in Switzerland is a relaxing experience. Not only is the train an effective form of transportation, but there's also tons of breathtaking natural scenery to take in.
The world-famous Glacier Express connects several mountain resorts. You can take an 8-hour journey while soaking in the glorious natural landscape.
Whether it be the rocky mountains glazed in pearl-white snow, the crisp blue meandering lakes, or the fresh green grass, Switzerland's scenery will leave you speechless.
More Things To Do In Switzerland
Paragliding
If you like the idea of jumping off the side of a snowy mountain, check out paragliding over any of the many Swiss mountains.
Engelberg, Klosters, Gandria, Kriens, and Wengen are a few examples of the many beautiful mountain ranges. Each offers unique breathtaking views, making for the perfect backdrop for a fast-paced and exciting paragliding experience. Paragliding can add an exciting dimension to your vacation and is an ideal activity for thrill-seekers and daredevils
Go Boating
If paragliding is not your thing, but your daring soul still seeks some adventure, there are many options available. You can go boating in the Rhine Falls, one of the largest waterfalls in Europe. There are also stairs and viewing platforms on the southeast side of the falls.
Hop on a Roller Coaster
You can also dare yourself to the experience of a lifetime on the Gelmerbahn. This mountainous roller coaster ride begins at the Handegg in the Hasli Valley and lasts 12 minutes. Orientated at a gradient of 106%, the Gelmerbahn is an unforgettable rail experience that offers scenic views and a fast-paced, heart-thumping ride.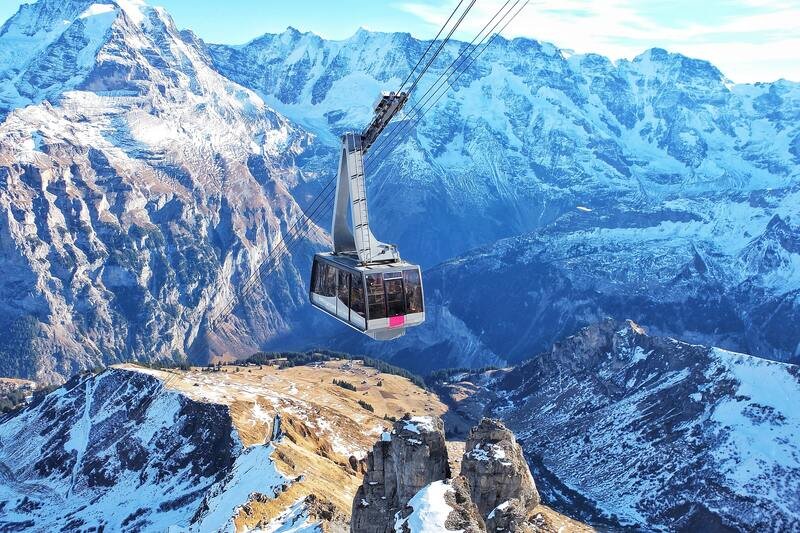 Bungee Jumping
Locarno, an Italian-speaking resort city in southern Switzerland, offers excellent bungee jumping spots. This scenic adventurous sport is a great activity to add to your winter vacation to-do list.
Although initially intimidating, the pristine dam waters and towering mountains make the fall all the more worth it. Also, bungee jumping in Locarno is super safe as the safety of the equipment is routinely checked, and the trained professionals have years of experience.
Cliff Walking
Another exciting adventure that allows for great views from high altitudes is cliff walking. Picture yourself suspended in the air on a bridge overlooking frozen glaciers and pearl-white snow.
Situated more than 9,800 feet above sea level, the Titlis Cliff Walk is not for the faint of heart. If you're keen to challenge yourself and reward your bravery with enthralling views of the landscape, then give cliff walking a try.
Explore The Natural Beauty
There are tons of activities to do in Switzerland in the winter season. The snow gives the Swiss natural landscape an incredibly marvellous crisp white appearance. For an up-close view of the vast mountainous terrain, check out Jungfraujoch, known by the locals as the "the Top of Europe."
The breathtaking towering mountains are like a winter wonderland and provide an expansive countryside view. Mount Titlis is also a stone's throw away from Lucerne, and you can see the Matterhorn, Mount Pilatus, and the Gornergrat, not far from Zermatt.
Despite the plummeting temperatures and the intense snowfall, not all the lakes in Switzerland freeze into ice. For an adventurous Swizz winter vacation, you can turn to the water. Switzerland is also known as "Europe's Reservoir," so you can place your best bet that there are plenty of majestic rivers, towering waterfalls, and tranquil natural springs to look at.
Check out the magnificent Lake Geneva or Lake Zurich, situated in two of Switzerland's cities with the largest populations.
One can explore Switzerland's more relaxed and laid-back activities. You can turn to Gelmersee – an alluring reservoir in Bernese Oberland – for a romantic and tranquil getaway.
Located in the same vicinity as Bernese Oberland, Lake Gelmer is surrounded by high alpine mountains and offers an exquisite natural landscape. A slow-paced, relaxing hike close to Lake Gelmer at the Gelmerhütte is an ideal dreamy and calming experience.
Fine Dining
For all gastronomy enthusiasts, Locarno is a fantastic city in Europe to satiate your taste buds. As the city is predominantly Italian-speaking, this may also be a prime opportunity to try out Italian dishes at the local restaurants. Have a look at Ristorante Lago, Antica Osteria, L'Archetto Take Away, and Osteria Chiara, which are among Locarno's best dining spots.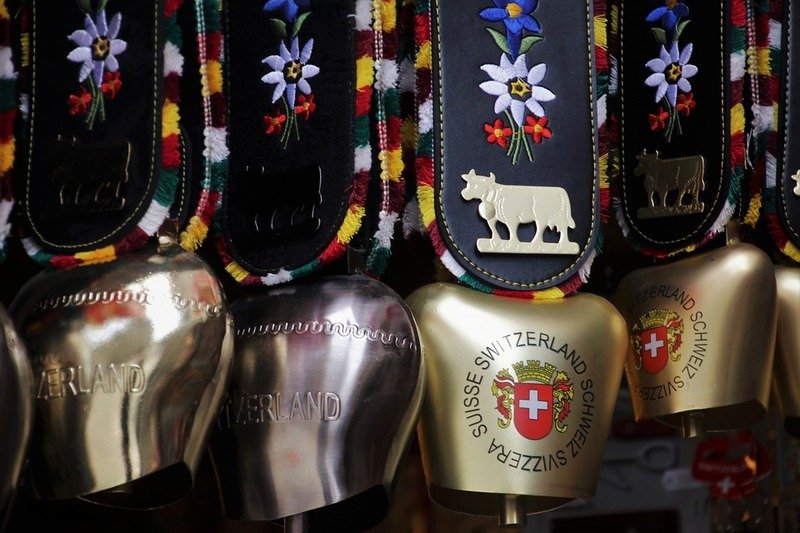 Art, History, and Culture
Lastly, head to the Swiss National Museum for an immersive experience of Swiss history and culture. The museum has incredible exhibitions and interesting guided tours that display Swiss tradition and innovation.
You'll also find photography and film exhibitions and an expansive library for ultimate reading pleasure. If you're interested in culture, history, and art, then the Swiss National Museum is the perfect stop for a winter vacation in Switzerland.
Things To Do in Switzerland In The Winter | One-day Winter Itinerary
Visit Davos, one of Europe's biggest winter sports areas
Ride the Bernina Express
Ice-skate on natural rinks
Relax in a warm thermal bath
Get your adrenaline pumping at the Titlis Cliff Walk
Go glacier climbing at Interlaken
Frequently Asked Questions About Switzerland
Does Switzerland have harsh winters?
Switzerland is located in a temperate zone. The winters don't get too cold, nor are the summers too hot. The altitude, however, significantly affects the climate.
What is Switzerland's coldest month?
January is Switzerland's coldest month. Temperatures average between 28°F and 38°F.
What should I pack in winter?
As the winter months in Switzerland are cold, it's best to layer up. You may need to pack a heavy coat, jacket, gloves, a warm hat, a scarf and winter boots. For extra warmth, you can also pack thermal underwear. Wool is a great insulator, so try to pack clothes made from similar fabric.
Cold weather usually means dry skin. Make sure to pack enough lotion. Sunscreen is also important as the sun is still harsh even during cold weather.
A medicine kit is also important. Make sure to pack Band-Aids, antiseptic creams, and medication for common illnesses. It's quite common to catch a cold in the winter, so it's best to be prepared.
Final Thoughts on Switzerland in Winter
Switzerland can get incredibly cold in the winter. But that shouldn't stop you from enjoying a Swiss holiday. Switzerland has tons of activities: winter sports, culinary experiences, outdoor activities, scenic train rides, and historical and cultural sites.
To get a taste of everything, try your hand at all Switzerland offers. Winter is undoubtedly the best time to visit Switzerland. The Christmas charm and the allure of the Swiss winter wonderland make this time of the year perfect for an exciting vacation.