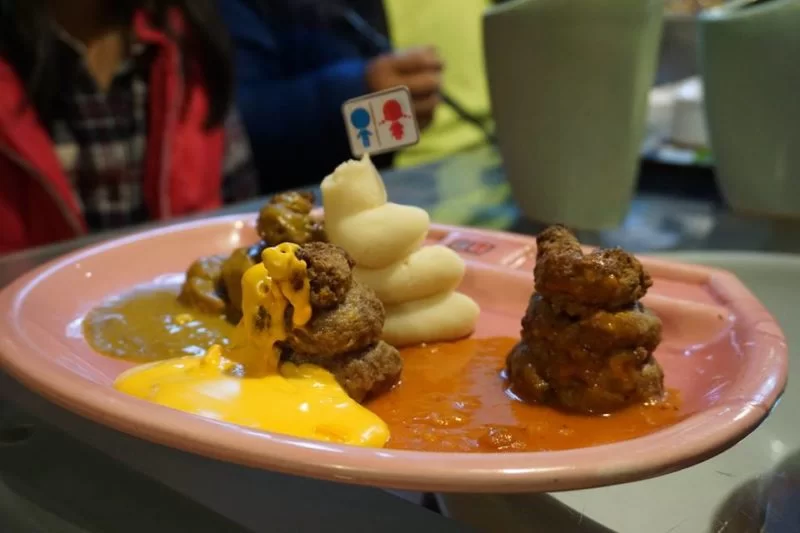 Anyone who has been to Taipei, or has researched a trip there, will know it is full of fun things to do! The city also knows how to impress when it comes to unusual restaurants, bars and cafés. There are so many unique themed cafes in Taipei that you might even struggle to find enough time to visit them all! I just returned from my THIRD trip and have had to update this list of themed cafes in Taipei as crazy colourful and quirky places keep opening up!
From Lego Worlds to Airplanes, Alpaca Cafes to Toilet Restaurants, the themed café scene in Taipei is totally bizarre but utterly lovable. Here's our pick of the best…
Best Themed Cafes in Taipei Taiwan
Alice Is Coming
Ever heard of Alice in Wonderland? Of course you have! Alice is Coming is a super-colourful cafe in Taipei that is decorated to make you feel like you're in a big Disney fairytale. Even the restroom is made in a way that you can truly experience the Wonderland experience. The tables are shaped like giant teacups that you can sit inside and you can eat multi-coloured food, heart-shaped desserts, Alice in Wonderland themed afternoon tea!
Address: Zhongzheng District, Yanping South Road, 111號
BRICK Works Lego Café
Who doesn't love Lego? Imagine you could be surrounded by Lego all day long? Bring back the kid in you at this amazing lego playground. While you can admire some small exhibitions, you can also taste some great lego-themed food such as lego brownies lego cupcakes, or you can watch The Lego Movie. The restaurant is pretty colourful and is made of Lego furniture to keep you happy. A Lego-lovers paradise!
Address: No. 1, Yumen Street, Zhongshan District, Taipei City, Taiwan 10491
View this post on Instagram
View this post on Instagram
Modern Toilet Restaurant
Modern Toilet Restaurant is one of the best known themed cafes in Taipei! I'm sure you've seen photos or videos online over the past few years. In fact, this place is so popular there two different toilet-themed restaurants in Taipei and I believe the brand is expanding outside of Taiwan!
Imagine toilets converted into chairs, drinks served in mini urinals, and poo-themed food such as curries mashed potato and gravy or massive servings of ice-cream served in toilet cisterns! Great place for kids! This one is a must on any Taipei Itinerary!
How to get there: Take the metro to Ximen MRT exit 6 and walk a few minutes.
Address: Xining S Rd 108, Lane 50, Wanhua District
Kumamon Café
Kumamon is a big mascot (a Japanese bear) that seems to be quite popular in Asia. This tiny café is located in a shop and serves desserts, waffles and pancakes. You'll recognize the colours and you'll be sitting there surrounded by the big bear. Plus all the food is Kumamon themed!n Visiting Taichung? It's another great city in Taiwan with lots of quirky cafes to check out!
Address: No. 42, Section 1, Nanjing East Road, Zhongshan District, Taipei City
View this post on Instagram
P-S. Bu Bu
Let's go back in time and to the United States for a bit! This old-fashion American diner themed café and restaurant is decorated with vintage posters and old cars. The tables are actually INSIDE the cars making it one of the most fun themed cafes in Taipei! It's the perfect café for classic car lovers as well as Americans who are seeking a reminder of home while in Taipei.
Address: No. 1號, Lane 140, Section 7, Zhongshan North Road, Shilin District
View this post on Instagram
Hello Kitty Cafe
Hello Kitty is pretty popular in most Asian countries but no other nation embraces Hello Kitty like the Taiwanese. This adorable cafe is ideal if you'd like to dive into a world of pink and white. The restaurant also has an old-American vibe with their big booths and diner snack food. They will also surprise you with their menu and their bread shaped like miniature Hello Kitty cats!
Address: No. 1, Jinshan North Road, Zhongzheng District, Taipei City
UPDATE OCTOBER 2019: Sadly it seems the Hello Kitty Cafe has CLOSED. If this changes I will update this article again.
Oia Cafe
Oia Cafe is a great choice if you'd like to see Alpacas in real life and cuddle with them while sipping on a coffee. We've all heard about cat cafés and dog cafes before, but have you ever heard of an alpaca café? Some of the cheeky ones might try to get under your table but they will surely entertain you!
Address: New Taipei City, Sanzhi District, 後厝里北勢子12-1號
View this post on Instagram
Rilakkuma Café
Rilakkuma Café is basically a little bear universe where you'll find nothing but bear-shaped food on your plate. This colourful café is decorated with fun and quirky figurines and bear cushions. Even their coffee has a special and adorable bear twist!
I mean, just LOOK at how cute this food is. Dig in to the Strawberry Cheesecake for dessert – you won't regret it.
Car Car Hotspot
This race car themed restaurant might be super colourful but the best part about this place is the massive playground that looks like a bus! Car Car Hotspot is great for children but also for the car lovers. While NOT in Taipei, we still wanted to include it on our list.
Address: Car Car Hotpot: No. 12, Section 1, Zhongmei Rd, Zhongli District, Taoyuan City, Taiwan.
Gudetama Chef
Gudetama Chef is pretty unusual. Who would have thought that we could create a restaurant with an egg yolk theme? Gudetama is actually a Japanese character known for its legendary laziness. This yellow and white place will surely add some bright vibes to your day!
As in most of these funky themed cafes in Taipei, there's a minimum charge for entering so be prepared to either order a drink or some food – of which both are great!
Mr r

Drinks

Macchi Coffee
Mr rDrinks Macchi Doggie Coffee is known for its beautiful marshmallow floating characters in lattes and for its cotton candy sodas. The restaurant is decorated with a chic industrial design and will make you smile with their creative dish presentations!
It's kind of just on the side of the street with a few small chairs outside in case you don't want your coffee to go. they change the theme off the drinks every season, from Halloween to Christmas to Valentines Day – so you can mix it up depending on when you're in Taipei. I was there for Halloween and thus got their Halloween special with a red fox and a bat.
Central Park Café
Remember the popular series Friends? Ehhh who doesn't?! In this show the main characters used to hang out in a little café called "Central Perk" in New York City, Well, Central Park Café in Taipei looks exactly like the one in the show….just with a slightly different spelling and clientele.
You'll even see the famous couch so you can recreate the Friends atmosphere with your travel buddies, order some coffee and chat with friends and take some pics of all the cool Friends memorabilia from posters, mugs, t-shorts, board games and box series.
A380 In-Flight Kitchen
What if you could pretend you're in a plane but not actually go anywhere? A380 In-Flight Kitchen is a fun airplane themed restaurant without all the painful things related to a flight such as turbulences or long security queues. Opt for a window or for a "middle-seat" and get your food served on a small plastic tray!
TankQ Café & Bar
TankQ Café & Bar has such a cute and quirky concept! You can eat out of a suitcase and drink out a crazy cartoon character coffee mugs. You'll find a cool combination of Marvel characters as well as factory/industrial vibes. Instagram and foodie heaven!
When it comes to quirky themed cafes in Taiwan, it doesn't get any better than this.
View this post on Instagram
View this post on Instagram