Cape Town is the Mother City of sunny South Africa, and it's no wonder why. Bringing together the beach, the bush, and the mountains, this city has it all.
Whether you are a local or visiting from far, far away, Cape Town offers an endless variety of possibilities to keep you busy.
What to Do in Cape Town
If you're heading to Cape Town sometime soon and need some things to add to your itinerary, here are 50 of the best things to do in Cape Town.
1. V&A Waterfront
If you do not visit the V&A Waterfront when visiting the Mother City, you are missing out big time on some amazing Cape Town activities. The Victoria & Alfred Waterfront offers everything from a shopping experience to take-out joints, and some spectacular restaurants looking over the harbour.
2. The Cape Wheel
The Cape Wheel at the V&A Waterfront is a must to add to your Cape Town itinerary. Whether you are just looking for a simple ride or a picnic in the sky, you get to choose.
Go during the day for a scenic view of the city and the sea, or go at night for a beautiful display of the city's bright lights. Get a free ride if it's your birthday and enjoy sites of the clock tower, the Two Oceans Aquarium, and Lion's Head.
3. Hot Air Balloon in Stellenbosch
No matter where you find yourself in the world, one activity that should be on everyone's list is going on a hot air balloon! But if you happen to find yourself in Cape Town, then be sure to go on a hot air balloon in Stellenbosch so you can tick it off.
4. Two Oceans Aquarium
The Two Oceans Aquarium is right by the V&A Waterfront and the Cape Wheel. Enjoy a walk around the aquarium where you can see the penguin exhibit or shark exhibit. You can also go scuba diving and watch feeding time if you get lucky. No matter what, you will find something to wonder over at this underwater wonderland.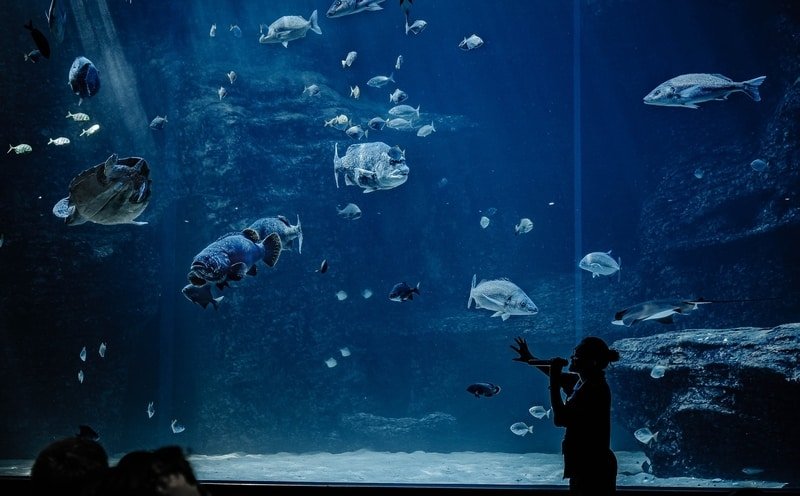 5. Mojo Market
The Mojo Market is said to be the heart of Seapoint, and understandably so. The market has a lively atmosphere, with live music, sports screenings, food stalls, and artisan retailers. Whether it's food or lifestyle that you are looking for, Mojo Market has got it all.
6. Sculpture Garden in Stellenbosch
The Dylan Lewis Sculpture Garden in Stellenbosch will give you serenity and a moment to reflect on the art and world around you.
Offering private guided tours, you will get a look at Lewis's four exhibition pieces, including The Old Studio, The Pavillion, The Old Storeroom, and From Animal to Human. Each piece features different elements of life and living. It's definitely worth every penny.
7. Table Mountain
Table Mountain is one of Cape Town and South Africa's most prized gems, and for a good reason. The mountain stands stark against the sea views, and the hike, or cable car up, gives you views to die for.
Being an iconic landmark, it is full of tourists from all over the world. Once you get to the top, enjoy a self-service buffet cafe while you see the world from above. There's a reason it is iconic.

8. Sea Point Promenade
Sea Point Promenade finds itself in the same area as the Mojo Market. However, at the promenade, you are awarded views of the ocean, and activities that range from a maze to putt-putt.
Along with the ocean view comes a spectacular sight of Table Mountain. Take a stroll as you enjoy the sunset at this lovely little place.
9. Franschhoek Wine Tram
Hop on and off at different places throughout the Cape Winelands to enjoy the harvest in a new way. While on Franschhoek's Wine Tram, enjoy wine tasting at the different wine farms from Cape Town center to Paarl, Strand, and Stellenbosch.
10. Boulders Beach
Boulders Beach is famous for its African Penguins that inhabit the area. Between large granite boulders, find yourself amongst the penguins as you tan and enjoy the day.
The beach is part of the Table Mountain National Park and is a marine protected area. This means you might have to pay for entrance, but it also means you'll likely get the beach, and the penguins, all to yourself.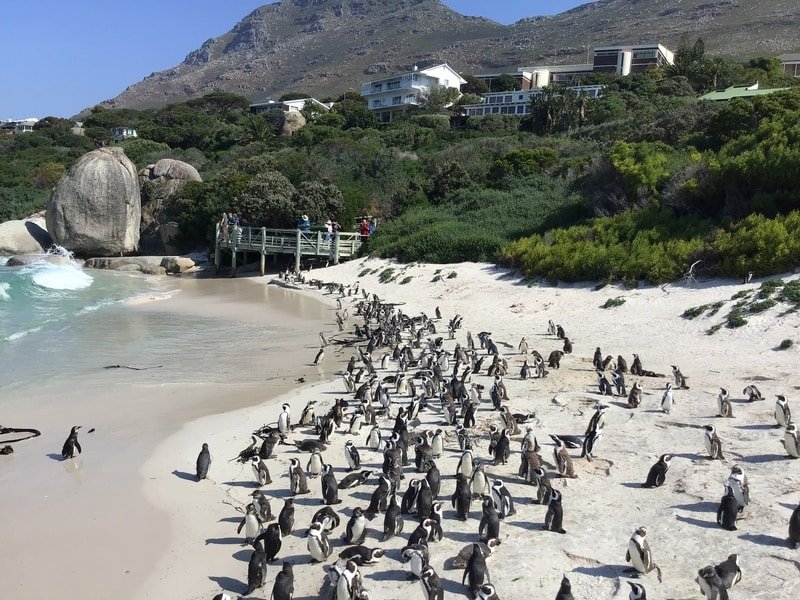 11. Lion's Head Mountain
Lion's Head is another famous spot for those who have seen and done the whole Table Mountain experience. Enjoy a hike up the mountain and be rewarded with golden sights of Table Mountain, Camps Bay, and Robben Island. Get up and get active with this Cape Town beauty.
12. Atlantic Outlook Kayaking
Enjoy your time in Cape Town on the water with guided kayak tours. Atlantic Outlook lavishes you with views of Table Mountain, Lion's Head, and sightings of dolphins, seals, penguins, and if you're lucky, even whales.
You would have probably seen most of these places before venturing out, but what better way to see the world than from the water?
13. Kirstenbosch Botanical Gardens
The Kirstenbosch Botanical Gardens stands in the upmarket Constantia area. It flourishes with flora and fauna and stands as a protected nature reserve.
Enjoy a picnic, a hike, or even a movie with the Galileo Open Air Cinema while you take in the fresh breeze around you. This place is a beauty and one that demands to be discovered.

14. SUP Around V&A
Stand-up paddling includes you and a bunch of your friends enjoying the waters that surround the V&A Waterfront on a long paddleboard. Choose to SUP alone, or with a friend on one of these boards. You can explore the places inside the city like the One & Only Hotel where many celebrities have stayed.
You also have the option of a much bigger paddleboard if you want to hang with all your friends. And don't worry about falling in the water, it will just refresh you as you take a swim.
15. The Old Biscuit Mill
The Old Biscuit Mill is a local food and lifestyle market in the vibey center of Woodstock. With food stalls, restaurants, and even workshops, you'll find yourself busy the whole time you're there.
Choose whether you want to enjoy the night markets or their famous Neighbourgoods Market. At both markets, enjoy art and design, food and drinks, and shopping or activities. They have it all.
16. Kalk Bay Harbour
Named one of the twelve coolest neighbourhoods around the world by Forbes Magazine, Kalk Bay Harbour is a little seaside village outside the busy Cape Town city. With historic buildings all around and a bohemian atmosphere, it's no wonder Kalk Bay is one of the coolest neighbourhoods. You might even get to spot a seal while you're at one of the seaside restaurants.
17. West Coast National Park
The West Coast National Park is close to the harbour at Saldanha Bay where azure blue waters lie still. Located within Langebaan, you can stay at the beach cottage accommodation and enjoy a bite to eat at Geelbek restaurant. Whether you hike, cycle, or mountain bike, all you can do is at this little harbour bay.
18. Canal Walk
Canal Walk is different from the other places mentioned so far in that it is a spectacular shopping center. While the idea of shopping is not as adventurous as other things, Canal Walk offers the ultimate shopping spree experience.
With restaurants and stores to keep you busy for hours, there is something for everyone. And if you are feeling tired from all the walking, enjoy a movie while you're around. It may be a shopping mall, but it's so much more than just that.
19. Cape Point
Walk beyond rocks and cliffs that reach above the ocean at Cape Point. Within the Table Mountain National Park, the Cape of Good Hope offers you the most incredible sunrises and sunsets.
Enjoy views across False Bay and find shipwreck trails to explore. Cape Point is a place you don't want to miss out on.
20. Llandudno Beach
On the Atlantic Seaboard, Llandudno beach lies. Take a scenic drive to this destination within its upmarket suburb. Enjoy the private and exclusive coastal town where you will find yourself away from the noise and buzz of the city center.
In this little town, it will be just you and whoever you bring with you, no shops or restaurants to distract you from simply enjoying the world around you.
21. Babylonstoren
Babylonstoren is one of the oldest Cape Dutch Farms in the country. It lies in Simonsberg, Franschhoek, and offers itself up as a fruit and veggie garden. They do offer accommodation at the Farm Hotel and a place to enjoy the spa and some food and wine. A romantic getaway if you're looking for one.
22. Surfing at Muizenberg
Surfing at Muizenberg can be the perfect holiday activity for you and your friends, or you and your kids. If you don't know how to surf, they offer lessons. And if you do know how to surf but don't have a board, you can rent one locally.
Everything is prepared for you to have the perfect day surfing the waves. Stay over at the beachfront accommodations and enjoy hiking, surfing, or sunbathing while you stay.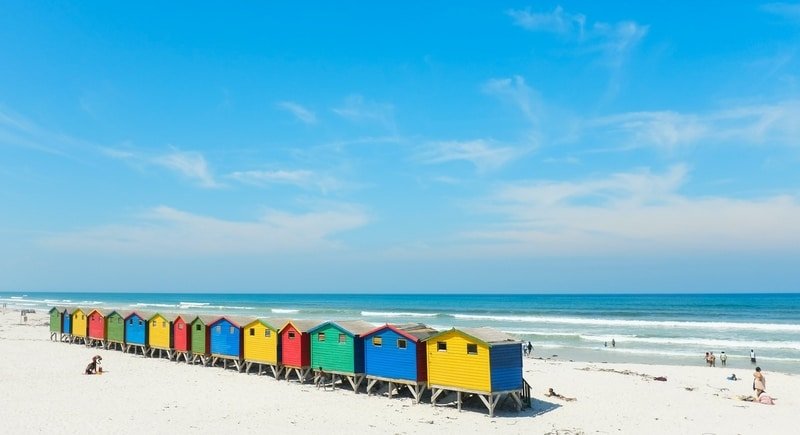 23. Oranjezicht City Farm Market
An educational, non-profit project was founded at the Oranjezicht City Farm Market. It stands as a local food and culture community with its urban agriculture. Enjoy their weekly Farmer's Market, where they sell fresh produce and artisanal foods. And if you want to really enjoy this city farm, pitch in with a little community service if you're ever free.
24. First Thursdays
First Thursday has become the event of the month with its special, one-night hustle and bustle on the streets of Cape Town. Every first Thursday of the month, find yourself walking down the street to explore galleries, restaurants, shops, and a night full of arts and culture.
Be prepared to stay late into the night because things get busy on First Thursdays. You won't even realize the time passing by.
25. Secret Gin Bar
Ever wanted to travel back in time to 1920s New York City to experience the vibes and the speakeasies? Well, the Secret Gin Bar is exactly that: a time machine to the speakeasy.
Hidden behind a chocolate shop, find yourself immersed in the luxuries of the Secret Courtyard that will transport you to Spain, Greece, or Italy. And then enjoy a little gin tasting in the Embalming Room with some of the Gin Bar's very own signature Gin & Tonics. The perfect place for date night, or two friends out for a good night.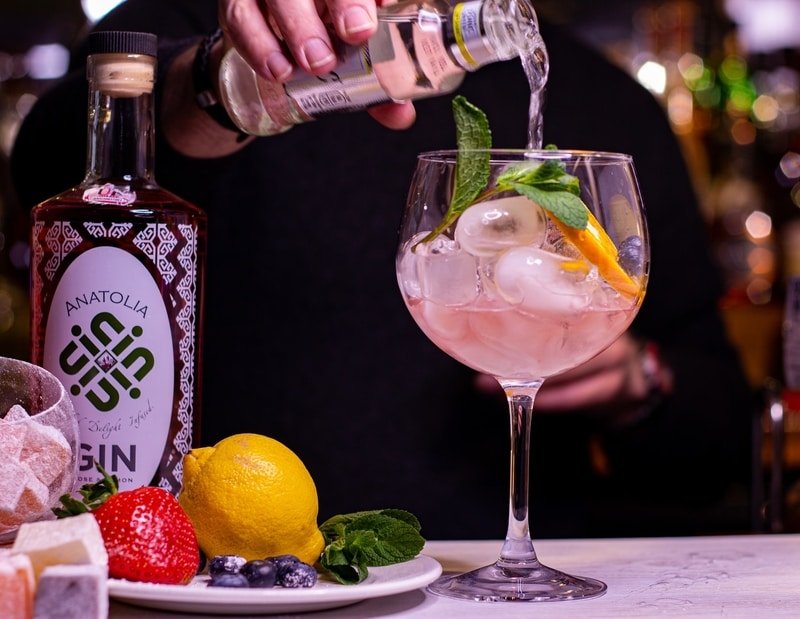 26. Bree Street
Bree Street is that vibey, trendy street that every city needs. With its hipster vibe, walk along the street to find artisanal foods and shops, a never-ending list of cafes, places to eat, shop, and drink. It will be a day of exploring best done on foot, so bring your comfiest shoes for this adventure.
27. Clay Cafe
If you enjoy painting, or even if you don't, Clay Cafe will take you to a state of relaxation and stillness. Whether you visit, find your perfect item, whether that be a bowl or a figurine, then pick up some paints and get to work. Enjoy food for all, including vegans or vegetarians, while you paint the day away. Find one in Hout Bay by the harbours and beach, or in the midst of the city center. This treasure is also great for a date.
28. Bo-Kaap
Bo-Kaap isn't just your average neighborhood. If you're looking for cheap things to do in Cape Town, then add this to your list.
This sunny suburb in the Mother City is known for its gorgeous display of colorful houses lining the streets. From blue and green to pink and purple, every color of the rainbow is represented by this beautiful display of culturally rich houses. This vibrant district is also the historical centre of the Cape Malay culture found in the city.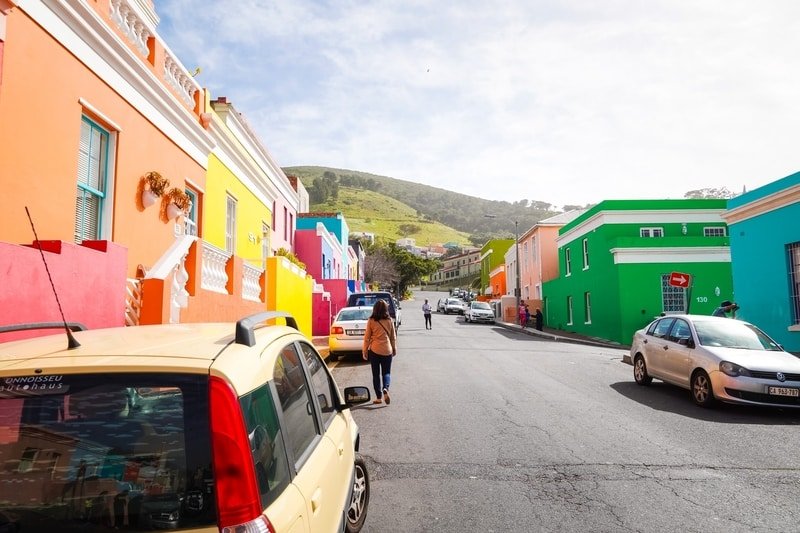 29. Green Point Urban Park & Biodiversity Garden
Green Point Urban Park is the perfect place for a weekend full of activities. Pack a picnic basket and choose your spot as you watch the kids play on the many different jungle gyms. If you need to catch up on a quick gym session yourself, there is some outdoor fitness equipment.  This park even has its very own Biodiversity Garden.
30. Red Bus Tour
The Red Bus Tour is a worldwide hop-on hop-off tourist activity found in countries across the globe. And lucky for you, there's one right here in the Mother City of South Africa! No matter where you choose to hop on, you'll be taken to some of the top places to visit in Cape Town – all in one day.
31. Zeitz MOCAA Museum
Situated at the V&A Waterfront in Cape Town is the Silo District, which is home to South Africa's very own Zeitz Museum of Contemporary Art Africa. Not only does the Zeitz hold some breathtaking pieces, but it is actually the largest museum of contemporary African art in the world.
32. Company's Garden
The Company's Garden located in the Cape Town City Centre is the oldest park garden in South Africa, as well as one of its richly historic heritage sites. With history, cute little critters, and a cafe with deliciously simple food, a day spent here is a day well spent. The garden is even home to the South African National Gallery.
33. Hout Bay Market
The Bay Harbour Market in Hout Bay is truly a treat. This rustic marketplace offers everything you can think of, including artisanal food stalls, live music to vibe to, and many local stores offering hand-crafted souvenirs. The perfect place to wander through on the weekend!
34. Camps Bay
Camps Bay brings cocktails and the beach together. After spending a day in the sun, pick one of the restaurants and bars to grab a sundowner as the hustle and bustle of the nightlife start to roll in. And when you're done with dinner and drinks, be sure to grab some gelato at the local Gelato Mania.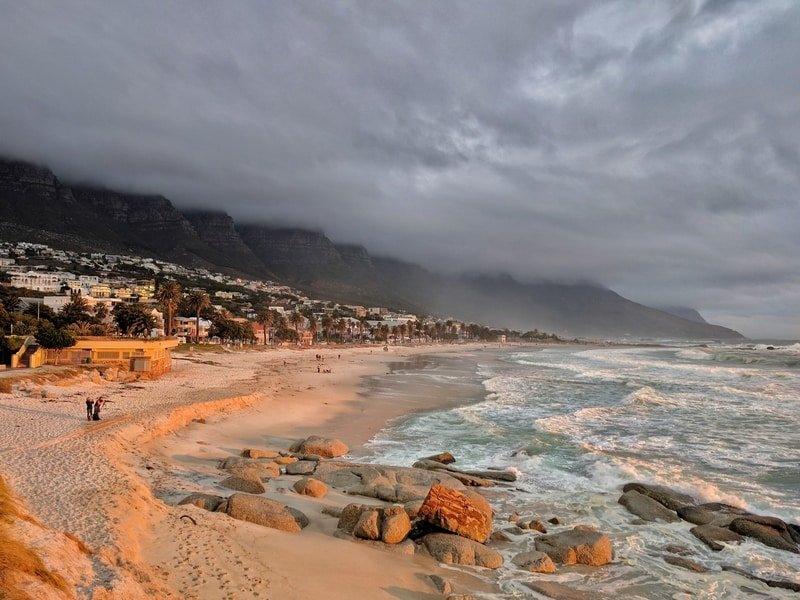 35. Helderberg Nature Reserve
Helderberg Nature Reserve offers over 398 hectares of forests and fynbos. Situated on the slopes of the Helderberg Mountain in Somerset West, this is the perfect spot for a picnic or a hike. And if you like to pedal, you can cycle along the epic Enduro lines or the world-class Downhill Track.
36. Intaka Island
Found in the very heart of Century City, Intaka Island is a preservation of man-made and natural wetlands. Not only this, but it is also a bird sanctuary for those bird-lovers out there. The nature reserve is perfect if you want to take the kids on a fun and educational adventure.
37. Signal Hill
Next to Lions Head and Table Mountain, Signal Hill offers spectacular views of the city and the sea. Pack a picnic, take a slow drive up the hill, and find yourself at the summit where you can sit and watch the sunset over the Atlantic Ocean.
38. Gelato Mania
This one is more of a tasty treat than an adventure, but it definitely could not be left off the list. Gelato Mania is a family-run artisanal Gelataria with 10 stores in the Western Cape of South Africa. With almost every flavor you could think of, this is definitely one of the yummiest things to do in Cape Town.
39. Mountain Biking at Meerendal
Meerendal Wine Estate, situated just 20 minutes outside of the city of Durbanville, offers you both wine and adventure, all in one. Bring your bikes and hit the trails for a fun ride around the vineyards. And when you are done, settle down at one of the restaurants and order yourself a big glass of red or white.
40. Wine Farms
Speaking of wine farms, Meerendal is not the only one you can indulge at. There are more than 500 wineries found in the Western Cape of South Africa. And we can guarantee that anyone you choose will deliver delicious drinks and delicacies. From Franschhoek to Stellenbosch, you'll never run out of wine farms to visit.
41. District Six Museum
This historical museum is located in District Six in the city of Cape Town. The District Six Museum is dedicated to the formerly racially-mixed suburb that once stood here before apartheid. If you need a break from the fun and games and want to learn more about South African history, then be sure to add this to your itinerary.
42. Beerhouse on Long Street
Long Street alone is a street full of experiences waiting to be had. If you find yourself here one night, be sure to stop by Beerhouse. With 20 taps and 99 bottles, an outdoor terrace, and live music to vibe to, this is the place to be when you are wanting to crack open a cold beer. You'll probably have to leave the kids at home for this one.
43. The Vue Sky Bar Lounge
If you're wanting to sip some cocktails and watch the sun go down with a truly spectacular view, then the Vue Sky Bar Lounge is the place to be. This rooftop bar offers everything from delicious drinks to a 360-view of the city. And the Utopia restaurant – said to be Dining Elevated – offers fine dining at its finest.
44. Strawberry-Picking
If it is a sunny day out and you are looking for something the whole family can enjoy, why not visit one of the Western Cape farms that offers strawberry-picking? Pick as many berries as you want, then settle down for a picnic surrounded by the beauty of the wine lands.
45. The Castle of Good Hope
The Castle of Good Hope, built in the 17th century, is another historically rich and interesting experience to add to your list. Interestingly enough, it used to lie right on the coastline of Table Bay but can now be found in the inner city of Cape Town.
46. Putt-Putt
If you're looking for some fun activities in Cape Town that your little ones will love too, then putt-putt is perfect! If you're visiting the Sea Point Promenade, then we suggest stopping for a quick game of mini-golf to keep the kids entertained. You might even end up enjoying it even more than them.
47. Clifton Beach
Clifton Beach is one of the most popular spots in the summertime with calm waves, soft sand, and a border of rocks to shelter you from the wind. Although visiting Clifton is one of the free things to do in Cape Town, it can get a little pricey if you spot the resident ice-lolly vendors roaming around.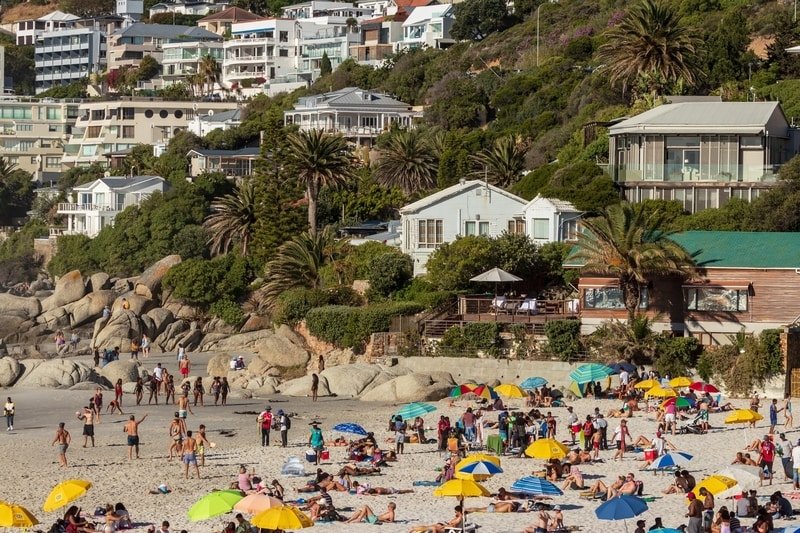 48. Galileo Open Air Cinema
Throwing it back to the wonder of drive-ins, The Galileo Open Air Cinema combines nostalgia and nature, all into one. With a movie schedule and different locations, including Kirstenbosch Botanical Gardens, you can pick the perfect movie night for you and your friends, family, or significant other.
49. Grand West Casino
The Grand West Casino located in Goodwood is one of Cape Town's best spots for all things fun. Leave the kids at home and go for a little gamble, or bring them along and hit the ice rink, the cinema, or the arcade. Not to mention the food court which offers the best of the best in takeaway cuisine.
50. Chapman's Peak Drive
Finally, a drive along Chapman's Peak should be an ideal ending to your Cape Town trip. The drive will take you past Hout Bay and Noordhoek on one side, and the big blue Atlantic Ocean on the other. This scenic drive is guaranteed to take your breath away.
Final Thoughts on Fun Things to Do in Cape Town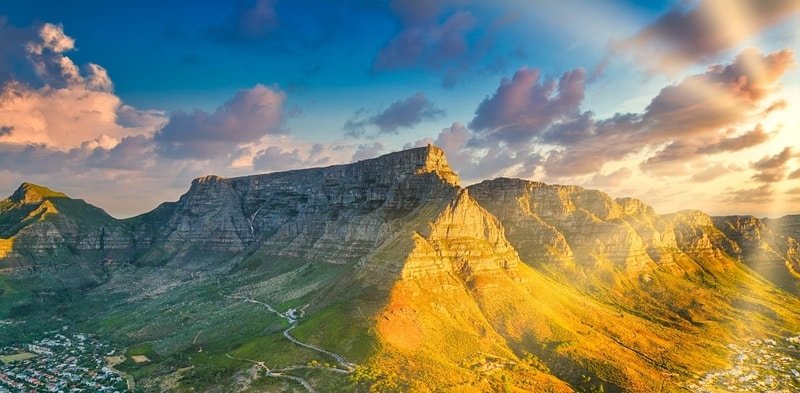 Well, there you have it. Fifty fun adventures to keep you busy next time you are in the Mother City of South Africa. No matter what mood you are in, or who you're with, there are never-ending possibilities when visiting Cape Town.