With many things to do in Leavenworth WA in the winter, this Bavarian-themed tourist town in the Pacific North West is worth a visit.
Nestled in a valley of the Cascade Mountains of Washington, Leavenworth is a town that will leave you feeling like you're having a little getaway to the Alps!
Leavenworth is home to an active community of outdoor enthusiasts. The town has the iconic Cascade Mountains as the backdrop and it's a great place to visit if you like walking, climbing, kayaking and mountain biking.
Where is Leavenworth?
Leavenworth is located on Washington State's eastern slope base of the Cascade Mountains.
The distance between Seattle and Leavenworth on the scenic Highway 2 is 117 miles (about 189km). If the roads are clear of traffic and snow, it will take 2.5-3 hours. To avoid getting a flat tire as I did, a 4-wheel drive and/or tire chains are required during the winter.
If you don't want to drive, the best way to get from Seattle to Leavenworth is by bus which takes 2h 53m and costs $35 – $55.
Alternatively, you can get a train to Leavenworth from Tacoma or Seattle and get off at the new Icicle Station (Amtrak's Empire Builder in Leavenworth, Washington). The trains started operating in September 2009 and cost about $30 – $45 and take 3h 20m.
Things to know before visiting Leavenworth WA
The town was discovered by Native Americans (The Yakama, Chinook, and Wenatchi tribes) who hunted the land for deer & elk and also fished Icicle Creek for salmon.
In 1890, white settlers who were hungry for gold, timber, and furs soon settled in the area and established a trading post.
By 1892 the Great Northern Railway (GNR) began laying tracks across the Wenatchee Valley and over Stevens Pass
By the 1930s Leavenworth was a ghost town with more than 20 empty storefronts along its two-block commercial district.
A plan was formed to transform Leavenworth into a Bavarian Village.
Leavenworth was actually known as Icicle Flats till 1983.
The town was named after Captain Charles F. Leavenworth – an American soldier active in the War of 1812 and early military
The first Oktoberfest was held in 1998.
Today Leavenworth welcomes more than a million visitors throughout a year packed with festivals and events!
Leavenworth is home to 2000 people.
Best time to visit Leavenworth WA
The best time to visit Leavenworth WA depends on the type of activities you want to partake in.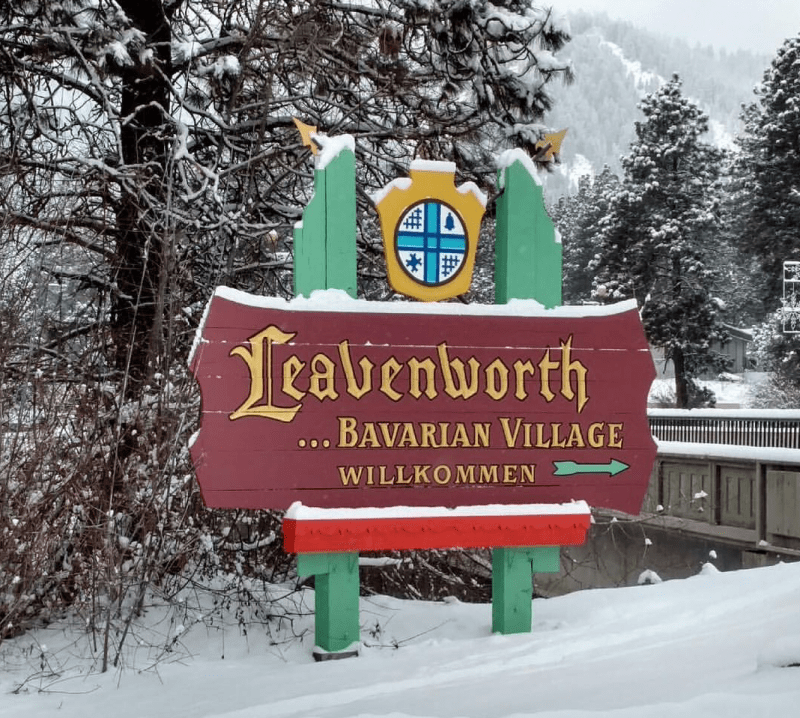 Summer in Leavenworth
Summer in Leavenworth is the ideal time to grab a pipe or paddleboard with limitless sunshine and float down the Icicle Creek's calm waters. And you can try whitewater rafting if you feel adventurous.
Autumn / Fall in Leavenworth
Autumn brings with it colorful leaves, crisp air, and festivals, like the famed Oktoberfest.
Winter in Leavenworth
There are many things to do in Leavenworth WA in the winter. The region is popular in winter because of the surrounding mountains that get plenty of snow ideal for sledding, skiing, snowshoeing, and other winter activities. Leavenworth is also known for its Christmas lighting ceremonies, in the wintertime, Leavenworth is undeniably beautiful and a perfect home base for a multitude of snowy events.
Spring in Leavenworth
Blankets of wildflowers cover the mountainsides, making spring a fantastic time for hiking and mountain biking.
---
Where to stay in Leavenworth WA
There is something for everyone in Leavenworth. Whether you want to stay in a luxury hotel, a rustic lodge, or even a hostel.
Best Places to Stay in Leavenworth WA for couples – LOGE Leavenworth
Situated in Leavenworth, 21.7 miles from Wenatchee, LOGE Leavenworth features free bikes and free WiFi.
The lodge offers a sun terrace, hammocks for relaxing, A barbecue, kitchen amenities like a microwave, fridge, and a kettle. along with a shared lounge.
The nearest airport is Pangborn Memorial Airport, 29.2 miles from the accommodation.
[maxbutton id="1″ url="https://www.booking.com/hotel/us/loge-leavenworth.en.html?aid=1558524&no_rooms=1&group_adults=1″ ]
Best Places to stay in Leavenworth WA for Budget Travelers – Cashmere Mountain Bed & Breakfast (Adult Only)
Offering stunning mountain views, Cashmere Mountain Bed & Breakfast is 5 minutes drive from downtown Leavenworth in the Washington State Region, 19.3 miles from Wenatchee.
Each room at this bed and breakfast is air-conditioned and features a TV. Certain units have a seating area to relax in after a busy day. A terrace or patio is featured in certain rooms.
The rooms are equipped with a private bathroom fitted with a bath. For your comfort, you will find bathrobes, free toiletries, and a hairdryer. There is also a shared kitchen at the property.
[maxbutton id="1″ url="https://www.booking.com/hotel/us/cashmere-mountain-b-amp-b.en.html?aid=1558524&no_rooms=1&group_adults=1″ ]
---
Leavenworth Festivals
The Leavenworth Festival Calendar began in 1966 with the Autumn Leaf Festival and the Christmas Lighting Festival and expanded in 1998 to include the incredibly popular Oktoberfest.
Leavenworth's Festival Calendar now includes festivities year-round. Almost every month of the year is cause for celebration; from IceFest in January, to the Wine Tasting Festival in August. Child and family-centered festivals include Maifest and Christkindlmarkt.
Things to do in Leavenworth WA in the Winter
There are many things to do in Leavenworth in December – it's a "Winter Wonderland" after all and there are many snow-themed activities during this special time!
Go to the Nutcracker Museum
If the cold, icy weather isn't your thing, there's plenty of indoor activities to keep you entertained – from spas, casinos, theatres, and museums like the world-famous Nutcracker Museum.
There is no better time of the year to visit a museum dedicated to a favorite Christmas icon! You'll see more than 6,000 amazing nutcrackers at the Leavenworth Nutcracker Museum, many dating back almost 500 years! Take a museum tour and greet Karl, the nutcracker mascot of Leavenworth!
Have scrumptious treats at The Gingerbread Factory
The Gingerbread Factory in Leavenworth is the only place where you can find personalized gingerbread houses. Visitors may either dine in the cafe or take their treats to-go.
The store opened its doors in 1988 and quickly gained a reputation for scrumptious cookies, desserts, and of course, all things gingerbread! With its charming exterior designed to look like a real-life gingerbread house, The Gingerbread Factory became a "must-visit" place in Leavenworth.
Best Snow Activities in Leavenworth
Wondering if there is snow in Leavenworth? Leavenworth gets over 98 inches of snow every year! The US average is 28 inches of snow per year. There are many fun things to do in Leavenworth WA in the winter including:
Fat Biking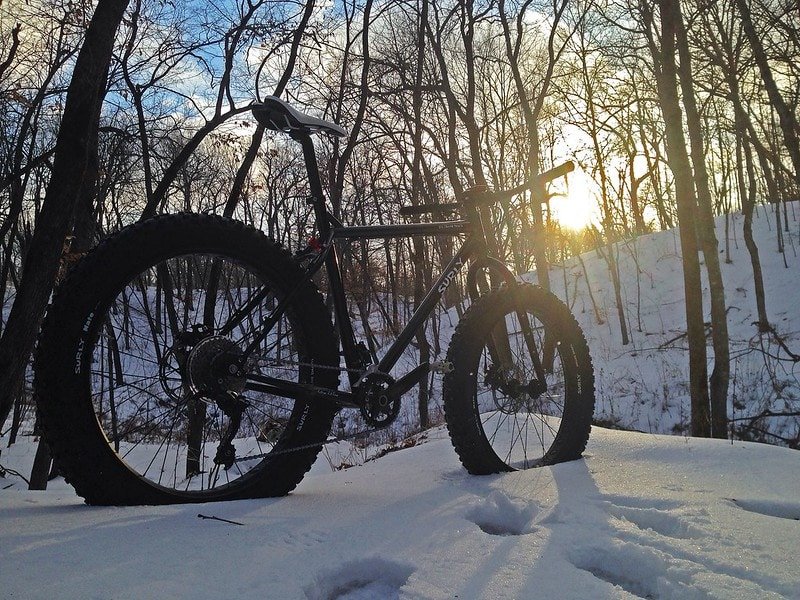 If you don't know about fat bikes, they are bikes with abnormally large tires are intended to carry you through the snow.
This makes it easier to enjoy a leisurely bike ride or an excursion down the Leavenworth Ski Hill mountain bike trail.
Go Ski Jumping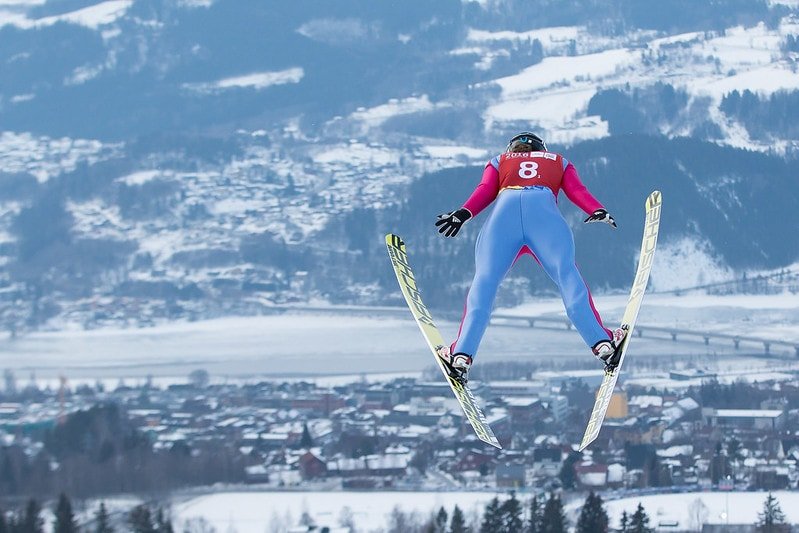 This is the only ski jump on the west coast of America!
D Hill has three different levels of ski jumping so you can choose the one that best fits your level of experience. Starting on the landing hill is recommended for beginners. For the 15-meter and 27-meter jumps, more experienced jumpers are welcome.
Ski Hill Tubbing
The Tubing Park of Lt. Michael Adams is one of the fun things to do in Leavenworth WA in the winter!
The tubing park is named in honor of LT Michael Adams, a graduate from Westpoint, who was killed in March 2004 while serving in Iraq. The tube lift was purchased in large part with a donation from the Adams family and friends.
Just relax in your inner tube and let the gravity do for you the rest of the work. After riding a rope tow to the top of a 100-foot mountain, the wind blowing through your hair, and the world whizzing past you will plunge back to the base at a fast speed!
Skiing and Snowshoeing
It takes little or no effort to glide on the surface of the snow and take in all the beautiful views surrounding the city.
You will have 26 kilometers of track to discover and skate lanes around Leavenworth offering a variety of terrain.
Eat your way around the Christkindlmarkt on Front Street Park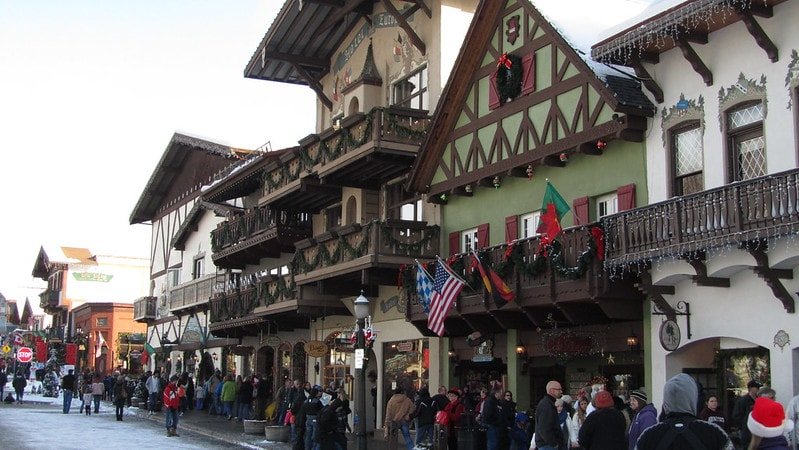 The Christmas markets (Christkindlmarkt) are a German tradition dating from the 1500s. They are places where merchants sell holiday ornaments, gifts, and decorations. Some of the most common Christkindlmarkt items included nutcrackers, cuckoo clocks, and straw ornaments.
One of the most popular holiday events is the Christkindlmarkt in Leavenworth, WA, and with good reason! The Bavarian-style market offers a wide range of unique items including German cuisine, handmade arts & crafts, a lantern parade, and Christmas entertainment.
The Leavenworth Christkindlmarkt takes place in front of and inside the Festhalle in Downtown Leavenworth! You'll be able to enjoy the festivities during Thanksgiving Weekend, so be sure to leave time on your schedule for the shopping experience you won't soon forget.
Friday: 11 AM to 7:30 PM
Saturday: 10 AM to 7:30 PM
Sunday: 10 AM to 3 PM
Attend the Leavenworth Christmas Festival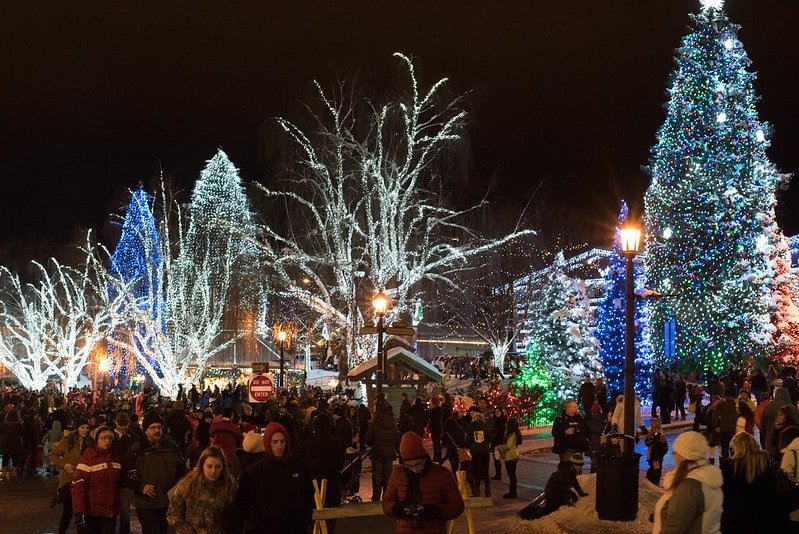 If a winter wonderland of snowy white streets, twinkling fairy lights, and winter activities are your idea of the ideal winter weekend, then look no further than Leavenworth. With 500,000 Christmas lights with live music, a special visit from city dignitaries, and Mr. and Mrs Claus. It's fun for the whole family!
The first Autumn Leaf and Leavenworth Christmas Lighting Festivals were held in 1966.
The Christmas Lights Festival is held during WEEKENDS annually. From November 30th to December 16th. For more information visit the official website.
"Jingle all the way" on a horse-drawn sleigh ride!
There's nothing like gliding behind beautiful trotting horses through the woods of Leavenworth, taking in all the glory of the mountains as you go. Snuggle with a warm blanket and allow the memory to begin!
Visit the Kris Kringle Christmas Store
The Kris Kringle Holiday Store has everything from nutcrackers and Christmas trees to ornaments, snow globes, and more!
Find fun holiday decorations, one-of-a-kind presents, or a personalized ornament that will always remind you of your beautiful Leavenworth Christmas.
---
How to explore Leavenworth WA in one day
If you visit between October to January, you should branch out beyond the town and plan a hike in the surrounding hills. The area is also popular in the winter as the surrounding mountains get plenty of snow perfect for sledding, skiing, snowshoeing, and other winter pastimes.
Start with wandering Front Street and exploring the German-themed restaurants and shops. If you want to get into the Alpine spirit of things, stop at restaurants like Munchen Haus and dine upon a beer and a brat on a bun completed by one of the many specialty mustards and sauces on the condiment bar. Or try some schnitzel at Andreas Keller. Duck into the many shops tucked along this main drag, hang out in Front Street Park or take a hike through Waterfront Park — both within steps of downtown.
On the beautiful town streets, you will find many treasures from different restaurants and bars, old German architecture, and charm to artistic alleys decorated in street art. From snowflakes on your nose to the sound of carols in the air, to what seems like a million trillion lights, this festive Bavarian town has endless ways to spark your holiday spirit. When the snow flies, whiz down the town's sledding hill on Front Street Park under a rainbow of blinking Christmas lights or gliding over fresh power on a sleigh ride past rivers and woods.
Best Leavenworth WA Christmas Hotels
There are many things to do in Leavenworth WA in the winter, this leads to many people coming in from out of town. I highly recommend that you book your hotel in advance.
With many places to stay, these Leavenworth WA Christmas Hotels are the cream of the crop!
PostHotel is the best Leavenworth WA Christmas Hotel for a staycation! It's an adults-exclusive hotel featuring a restaurant, the property also features free bikes. The property provides a year-round outdoor pool, a 24-hour front desk, and free WiFi is available throughout the property.
All rooms at PostHotel Leavenworth have a terrace. The rooms also include flat-screen TVs and a private bathroom with modern amenities.
The wellness area at the accommodation is comprised of a hot tub, a sauna, and an indoor pool. Guests at PostHotel Leavenworth will be able to enjoy activities in and around Leavenworth, like skiing and cycling.
[maxbutton id="1″ url="https://www.booking.com/hotel/us/post-amp-spa.en.html?aid=1558524&no_rooms=1&group_adults=1″ ]
Offering a terrace and views of the mountain, Storybook Riverside Inn is set in Leavenworth, Washington State on the Wenatchee River. This is the best Leavenworth WA Christmas Hotel for a romantic getaway!
Every room offers a view of the river and mountains from a private balcony or patio. A flat-screen TV, Keurig coffee, iPod dock, bathrobes, and free toiletries are provided in every room. Some rooms offer a fireplace. Each suite has a private bathroom with a shower.
[maxbutton id="1″ url="https://www.booking.com/hotel/us/storybook-riverside-inn.en.html?aid=1558524&no_rooms=1&group_adults=1″ ]
Styled in Bavarian-inspired decor, mountain or village views are featured in each guest room at Bavarian Lodge. A free hot breakfast, plush towels, and linens are included in every room.
The hotel has a year-round outdoor pool, this Leavenworth lodge is just a minutes' walk to the Leavenworth Nutcracker Museum and Front Street Park. Plush bathrobes and free Wi-Fi is offered in all rooms.
[maxbutton id="1″ url="https://www.booking.com/hotel/us/bavarian-lodge.en.html?aid=1558524&no_rooms=1&group_adults=1″ ]
---
More PNW Guides
How to rent a boat in Seattle
---
Best Insurance for visiting Leavenworth
With so many places to visit in Leavenworth, make sure you get travel insurance so you are covered for theft and medical expenses. There are a lot of adventurous activities to do in Leavenworth, and it's best to have peace of mind while skiing, hiking, and trying some of the best food in the world.
Find out why I recommend World Nomads, check out my World Nomads Insurance review.
Disclaimer: This article contains affiliate links. This means that if you make a booking after clicking on a link, I may receive a small commission at no extra cost to you!