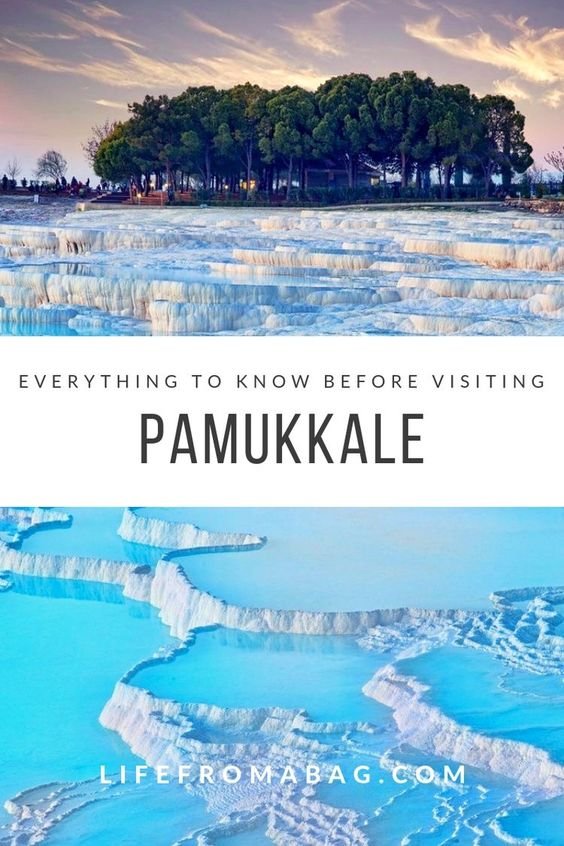 The ancient city of Hierapolis is located on a 200-meter high terrace of limestone deposits amid a wonderland of mineral water pools and petrified limestone waterfalls. With many things to do in Pamukkale, the ancient city overlooks the modern town of Pamukkale in Turkey's Inner Aegean region.
It was founded as a thermal spa in 190 BC by Eumenes II, the King of Pergamon, the city was most likely named for Hiero, the wife of the legendary founder of the Pergamene dynasty.
The word "Pamukkale" translates to Cotton Castle.
Pamukkale is one of the most popular tourist destinations in Turkey, with over two million visitors every year. It's famous for its white terraces made of travertine, a sedimentary rock deposited by water from the seventeen naturally occurring hot springs in the area.
If you're planning a trip, here are a few things to know before you visit Pamukkale:
How to get to Pamukkale?
Pamukkale is located in the Southwestern province of Denizli. The area is reachable by car, bus, train, and plane – depending on where you are traveling from.
When flying, I'd recommend arriving at Denizli Airport as it's only 1 hour away, alternatively you can arrive at Izmir Airport but you will have to drive for 4 hours or take the train (5 hours) to reach Pamukkale.
For my Pamukkale trip, I took the overnight otobüs Pamukkale (bus) from Cappadocia to Denizli. It took me 9 hours and the experience was positive. The bus stops every two hours for toilet breaks, the buses have wifi and free snacks are served.
Pamukkale Entry Tickets
Entry into Pamukkale costs 50TL per person (price in June 2019). This includes entry into Hierapolis as well as the Travertines. You have to pay an additional 50TL to swim in Cleopatra's Pool.
Pamukkale opening hours?
Hierapolis Archaeology Museum: 9 am – 12:30 and 13:30 to 7 pm (closed on Monday)
Cleopatras Pool: Open every day from 9 am until 7 pm
Travertine Pools: open every day 24/7
Things to do in Pamukkale
Pamukkale was the site of the ancient holy city of Hierapolis. The area was chosen as the city's grounds for the natural thermal springs that dot the hillsides. The water that emerges from these springs is supersaturated with calcium carbonate. When it reaches the surface, carbon dioxide de-gasses from the water, depositing the calcium carbonate as a soft gel which eventually crystallizes into travertine.
Walkthrough Hierapolis City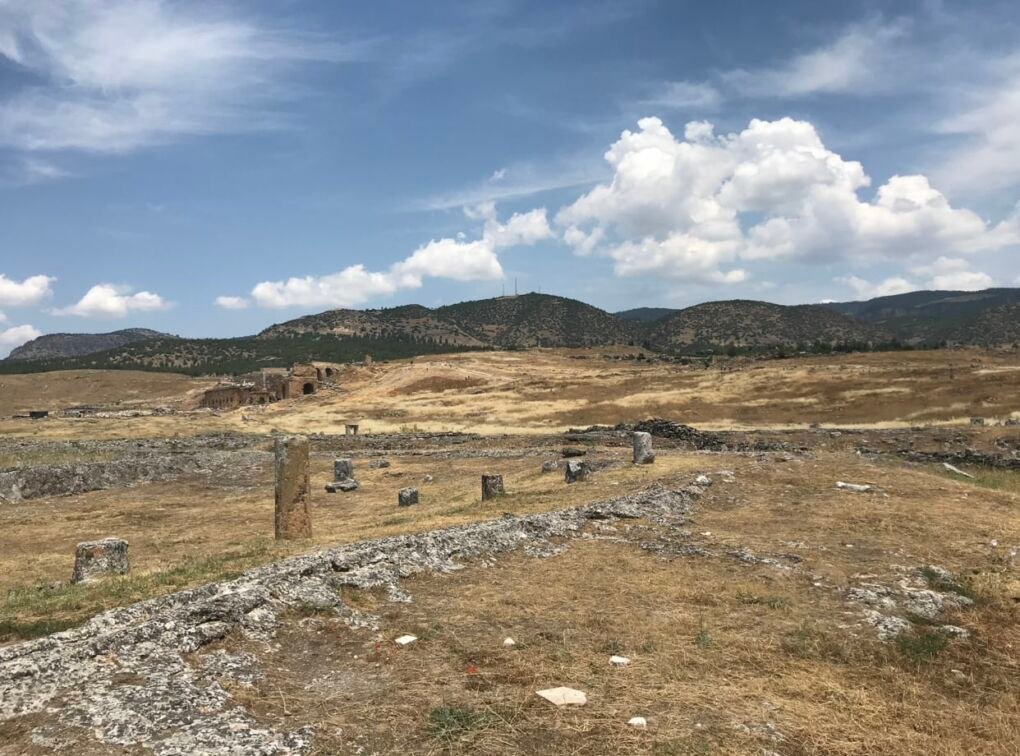 Established by King Eumenes II of Pergamon not long after 190 BC, Hierapolis was initially a sustained military province.
The first city was pulverized by a quake in 60 AD, and it was after the reconstructing that its grandness days started. This city was flourishing during the days of the Roman Empire.
See the Hierapolis Theatre
Walking up a hill in 40 C weather was probably the worst part for me but when I saw the theatre, I had no complaints.
The theatre at Hierapolis was built in the second century AD under the Roman Emperor Hadrian during a period of extensive rebuilding following a devastating earthquake in 60 AD. It was later renovated under Septimus Severus (193-211 AD).
At this time, the scaenae frons was modified and decorated with elaborate limestone and marble carvings. Although the exterior is relatively unassuming as viewed from the front, the interior contains one of Anatolia's most complete and best-preserved collection of Greco-Roman theatre decorations.
Hierapolis Archaeology Museum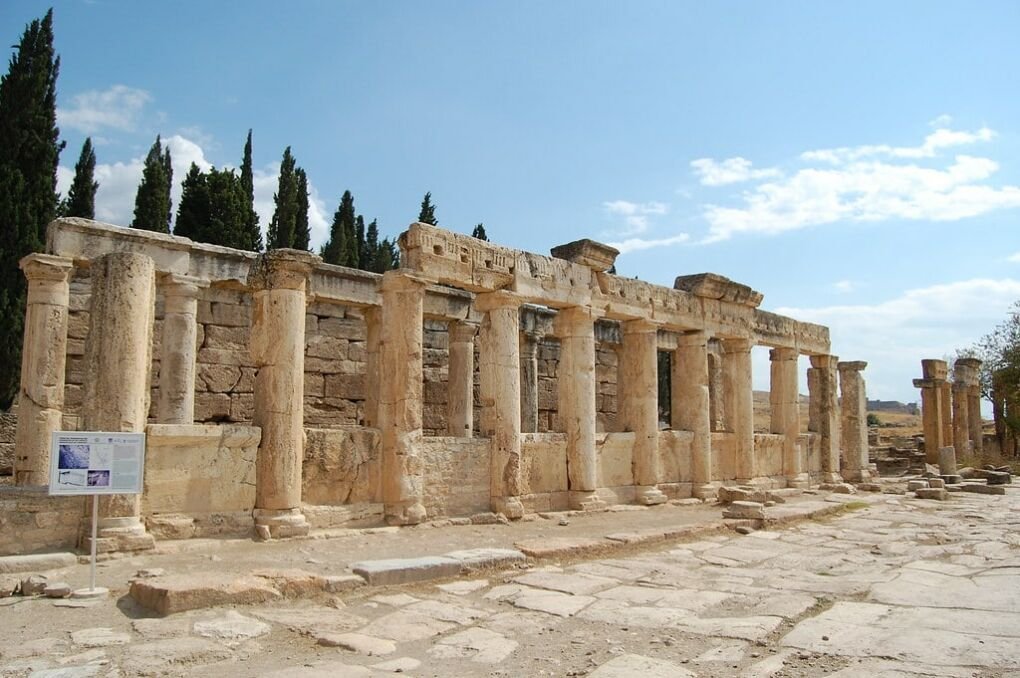 This is the building that encloses the original Roman Baths and houses a display of the smaller and more fragile finds from the site such as coins and other small objects in one of its three galleries. The other two galleries are given over to statues and sarcophagi respectively.
Swim in the Pamukkale Cleopatra's Pool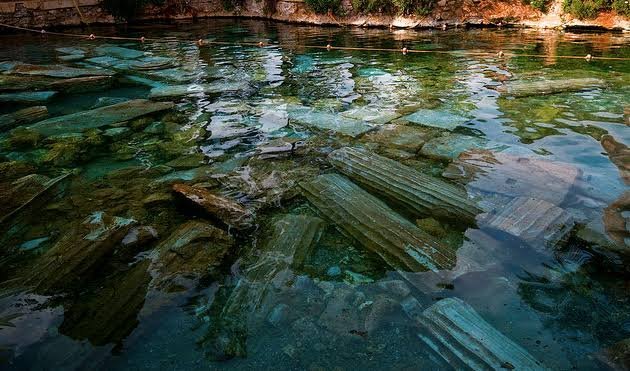 Cleopatra's Pool is set within the well-preserved ancient Greco-Roman city of Hierapolis. For over a thousand years, people have been coming to this region to soak in the mineral-rich, geothermal waters. This particular hot spring is sometimes called a champagne pool, because of the bubbles that move through the water and dance across your skin.
Tip: Visit before sunrise to avoid the crowds.

Paragliding over the Cotton Palace
Deriving from springs in a cliff almost 200 m high overlooking the plain, calcite-laden waters have created at Pamukkale – an unreal landscape made up of mineral forests, petrified waterfalls and a series of terraced basins. The ruins of the baths, temples and other Greek monuments can be seen from the sky if you choose to paraglide. Tourists don't have access to some parts of the Travertines and no drones are allowed so this is one of the best ways to see Pamukkale.
Hot air balloon in Pamukkale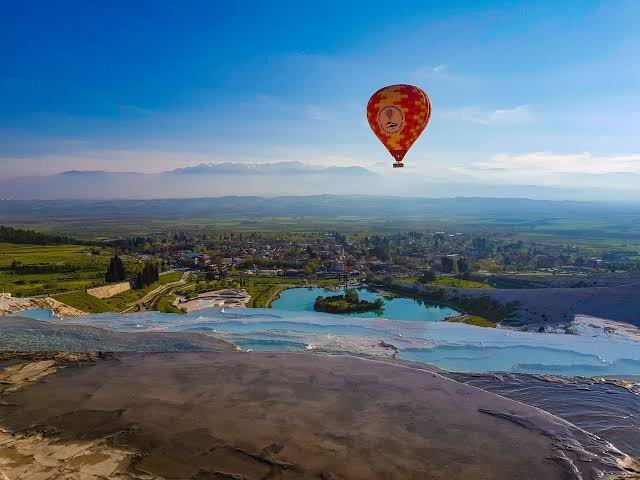 An alternative to paragliding is a hot air balloon ride. Not as popular as the balloons in Cappadocia, this is another great way to watch the sunrise in Pamukkale.
Dip your feet in the Turkish thermal pools
The water from the springs ranges in temperature from 35-100°C (95-212°F) so it's been used as a spa since the second century BC. To preserve their appearance, tourists are asked to remove their footwear and follow a set pathway, along which are shallow pools where you can dip your feet whilst crossing the travertines.
Did you know: Pamukkale became a UNESCO World Heritage Site in 1988.
Best time to go to Pamukkale
The best time to visit Pamukkale is in Spring. Summertime is too hot, when I was there it was 40 degrees and uncomfortably hot. Wintertime is very cold and it snows sometimes.
Is Pamukkale worth visiting
Yes, Pamukkale is beautiful but the truth is, it looks nothing like the travel brochures. So don't have high expectations. Due to over-tourism most of the magical pools are gone. In fact, less than 10 remain and tourists aren't allowed to access them which is great because they will be preserved. This shouldn't discourage you to visit this magnificent UNESCO World Heritage site.
I booked my Pamukkale tour with Tours4Turkey. I sent them an email and Selim responded immediately.
He arranged my bus from Cappadocia to Pamukkale, shuttles for me while I was in Pamukkale, a hotel for me to shower and rest before my tour of Pamukkale and a bus to Izmir.
He kept checking on me along the way, he answered all my questions and he was so helpful.
---
Where to stay in Pamukkale
Located in Karahayit, Doğa Thermal Health & Spa offers a spacious garden, an indoor pool and an outdoor pool with free parasols and sun loungers. The property has a physiotherapy clinic on site. Free WiFi access is available throughout.
Rooms here will provide you with flat-screen satellite TV, air conditioning and a balcony. Featuring a hairdryer, private bathrooms also come with a bathrobe and free toiletries. You can enjoy a mountain view and a pool view from all the rooms.
At Doğa Thermal Health & Spa you can benefit from facilities like spa, sauna, Turkish bath, hot spring bath, massage treatments and fitness center at an additional charge. The 24-hour front desk provides room service. Laundry, dry cleaning and ironing services can also be offered upon request.
[maxbutton id="1″ url="https://www.booking.com/hotel/tr/doga-thermal-health-amp-spa.en.html?aid=1558524&no_rooms=1&group_adults=1″ ]
Offering a garden, terrace, and an outdoor pool, Venus Suite Hotel is totally renovated in 2015. Free WiFi is accessible in all areas. The property arranges a free transfer service to Pamukkale's centrum every 30 minutes.
Each room here will provide you with air conditioning, an electric kettle, a balcony, and a minibar. Featuring a shower, private bathroom also comes with a hairdryer and bathrobes. You can enjoy city view and garden view from the room. Extras include a safety deposit box and ironing facilities.
At Venus Suite Hotel you will find a 24-hour front desk, providing room service. Other facilities offered at the property include meeting facilities, a shared lounge, and a ticket service. The property offers free private parking as well.
[maxbutton id="1″ url="https://www.booking.com/hotel/tr/venus-suite.en.html?aid=1558524&no_rooms=1&group_adults=1″ ]
This family-run hotel offers contemporary accommodation and a sauna along with free Wi-Fi. It is located opposite the popular terraces of Pamukkale.
Hotel Hal-Tur has soundproofed rooms of varying sizes, each equipped with air conditioning, satellite TV, and a minibar.
Relaxation facilities at Hal-Tur Hotel include a hot tub, a large courtyard with a swimming pool, a children pool, an indoor pool, and a sauna.
[maxbutton id="1″ url="https://www.booking.com/hotel/tr/hal-tur.en.html?aid=1558524&no_rooms=1&group_adults=1″ ]
---
More Turkey Travel Guides
---
Get Insurance before visiting Pamukkale
Use travel insurance while visiting Pamukkale so you are covered for theft and medical expenses. There are a lot of adventurous activities to do in Turkey, and it's best to have peace of mind while hiking and doing water sports.
I highly recommend World Nomads.
Find out why I recommend World Nomads, check out my World Nomads Insurance review.
Disclaimer: This article contains affiliate links. This means that if you make a booking after clicking on a link, I may receive a small commission at no extra cost to you!