Cape Town is a vibrant, trendy city with so much to offer. If you're looking for something a little bit different than Table Mountain, there are plenty of unusual things to do in the Mother City.
From beautiful sights to open-air cinemas, many of Cape Town's experiences are worthy of your bucket list. Whether you're looking for romance or adventure, you won't have to travel far.
So you've managed to get cheap flights to Cape Town, now it's time for you to experience the city. Here is a list of some unusual things to do in Cape Town.
---
Planning a trip to South Africa? Read this first…
---
Things To Do in Cape Town
Whether you're interested in indoor or outdoor activities in Cape Town, there are many fun things to do. But if you really want to experience the lesser-known side of the city, there are a few secret destinations that can't be missed.
Main Road, Kalk Bay
Kalk Bay is home to many of the secret things to do in Cape Town. Main Road is lined with charming and quirky shops. Don't be fooled by their size, they offer a lot more than meets the eye. There are also lots of little side alleys that conceal the most unique shops.
Here you'll find many restaurants and cafes worth your time. The Brass Bell is a collection of restaurants and pubs right on the ocean shore. On sunny days you can sit on one of the many decks and watch the ocean crash against the shore.
Kalk Bay is a trendy harbour town full of seaside charm. If you're a fan of coffee, Kalk Bay Expresso is the place to go. This little cafe is hidden inside a restored Blue Train carriage.
Woodstock
If you're looking for something alternative, Woodstock has it all. It's one of the oldest suburbs in Cape Town but it doesn't show it. The suburb is full of incredible street art from some of the world's best (such as Faith47).
Woodstock is a creative hub filled with galleries and shops. If you're looking for creative gifts or local art, be sure to visit The Old Biscuit Mill or Woodstock Exchange.
Cape Town's hipster suburb is filled with great restaurants including The Test Kitchen, one of the best restaurants in the world. All in all, Woodstock has something for everyone and is definitely worth a visit.
Fun Things To Do in Cape Town at Night
Cape Town is beautiful during the day but it truly transforms at night. There are plenty of incredible restaurants to choose from as well as trendy bars and exciting night-life.
First Thursdays
On the first Thursday of every month, the center of Cape Town comes alive. It's a great way to experience the art and culture of the city.
Once a month, you'll be able to walk between art galleries, shops, bars and restaurants in Cape Town. This initiative promotes local art and encourages locals and tourists to explore the city on foot. It's completely free to join in on the festivities and there's no structure or schedule.
Rush Trampoline Cape Town
Great birthday ideas in Cape Town are not hard to find. Rush Trampoline Park is a great place to host parties or go on an unusual date. The indoor extreme trampoline park caters specifically to groups, big and small.
Every Saturday night Rush opens after dark and the park turns into a party. Since the park glows in the dark, the blacklights turn Rush into a truly unforgettable experience.
Group Activities in Cape Town
If you're looking for something different for your friend or family group in Cape Town, there are a variety of group activities bound to tickle your fancy.
Bo-Kaap
A list of unusual things to do in Cape Town would be incomplete without including the Bo-Kaap. It's renowned for its brightly painted houses and beautiful cobbled streets.
Its unique history intrigues people from around the globe. It's a great place for an afternoon stroll. There are many walking tours available that will allow you to experience the culture, taste some local food and take a couple of photos.
The Vue Sky Bar & Lounge
As far as secret places in Cape town go, The Vue Sky Bar is a unique place to see the city and beyond. You'll be able to experience a 360-degree view while sipping your favourite drink. This is the perfect place to watch one of Cape Town's magnificent sunsets.
Chapman's Peak Drive
There are many cool things to do in Cape Town. One of the most beautiful is to drive along Chapman's peak. This ocean road provides an idyllic view of the ocean and is considered one of the most incredible ocean drives in the world.
But the best place to view the ocean is from Chapman's Point, the highest point of the drive. If you're lucky you might even be able to see some whales. It's a great free thing to do in Cape Town.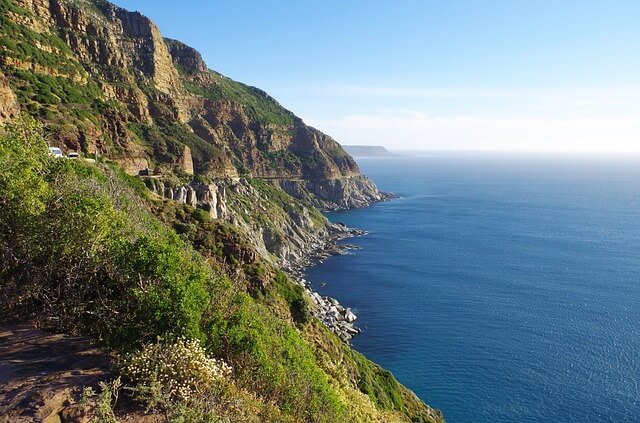 Fun Things To Do in Cape Town For Couples
The city can be pretty romantic if you know where to look. Some of the most secret places in Cape Town are perfect for date night.
Open-Air Cinema
If you're looking for something romantic to do, Galileo Cinema shows open-air movies all around Cape Town. Whether you're a fan of action movies, romance or a good laugh, Galileo Cinema's offer it all.
Not only do they show movies, but you'll also be able to grab a bite to eat. Either way, you'll be able to relax under the stars and enjoy a romantic evening.
The Pepper Club
Cape Town is home to many amazing hotels, but The Pepper Club offers a unique experience. The hotel is home to an intimate, retro cinema. They host weekly dinner and movie nights open to the public. If you're looking for a great date idea, it doesn't get much better than this.
Final Thoughts of Unusual Things To Do In Cape Town
There's really no shortage of Cape Town attractions, with plenty of unusual ones. The city has so much to offer for both tourists and locals. It's definitely worth doing more than just the touristy things.
Travel Insurance for South Africa
Use travel insurance while visiting South Africa so you are covered for theft and medical expenses. There are a lot of adventurous activities to do in SA, and it's best to have peace of mind while diving, hiking and trying some of the best food in the world.
Find out why I recommend World Nomads, check out my World Nomads Insurance review.
Disclaimer: This article contains affiliate links. This means that if you make a booking after clicking on a link, I may receive a small commission at no extra cost to you!