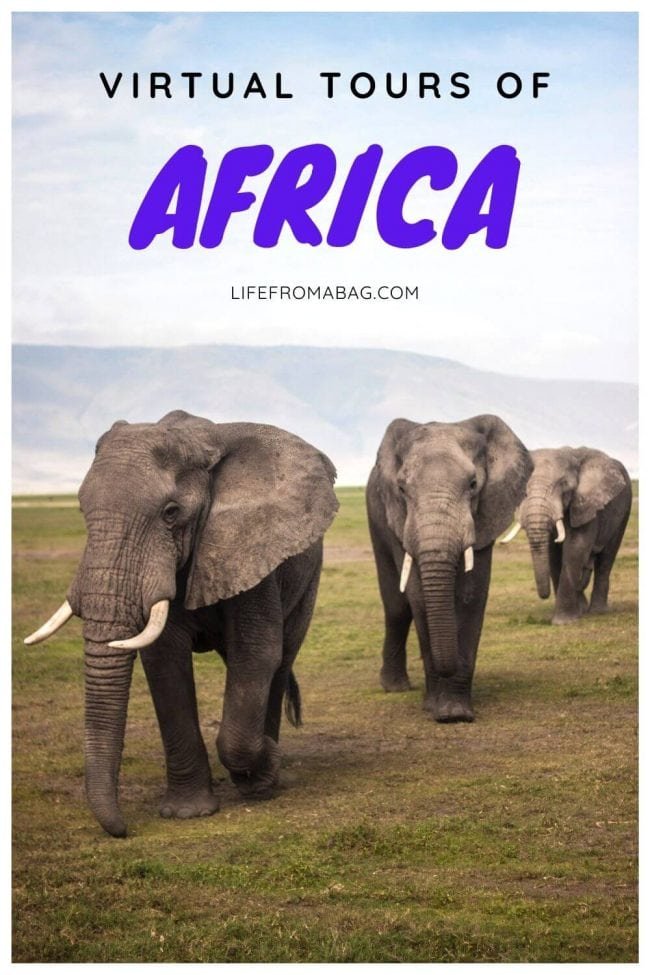 Virtual Tours of Africa give you a complete 360° view of several panoramic images that are edited and seamlessly connected into a single piece.
Africa is home to geological wonders spread across 54 countries with over 3000 fascinating tribes and cultures. There's no continent like Africa, with tropical beaches that rival some of the world's best.
While travel might be restricted at the moment, this doesn't mean you shouldn't take time to explore.
Travel is not about visiting a foreign land, its simply about the discovery of something new – and this can happen in your own living room.
Don't miss out on traveling through Africa during the pandemic. Simply take these virtual tours, instead…
Best Virtual Tours of Africa
There are many amazing virtual experiences in Africa for wildlife enthusiasts, history lovers, and adventure junkies. This list will take you from South Africa to Zambia and even Egypt.
Tour the magnificent Victoria Falls
Victoria Falls one of the greatest natural wonders on the planet, the falls cascade 355 feet from a natural crevice in the Earth through which the Zambezi River travels.
The falls are 1700 meters wide and 108 meters high, they can be seen from either Zambia or Zimbabwe.
Although the dolls have the largest curtain of falling water on the planet, one and a half times wider than Niagra Falls and twice as high.
[maxbutton id="2″ url="https://www.airpano.com/360video/Video-Victoria-Falls-Full/" ]
Explore the Sahara Desert
The Sahara Desert spans some 8,600,000 square kilometers and reaches a total of 11 countries. These include Algeria, Chad, Egypt, Libya, Mali, Mauritania, Morocco, Niger, Sudan, Tunisia, and Western Sahara.
Sahara is one of the three deserts in Africa including The Namib and the Kalahari. This virtual tour shows shares some educational information and majestic views of the most parts of the desert.
[maxbutton id="2″ url="https://www.airpano.com/360photo/algeria-sahara-2/" ]
Go on Safari in South Africa
There are many amazing places to Safari in Africa but South Africa is one of the top destinations! You can enjoy anything from budget to luxury safari experiences at the many national parks in South Africa. This is one of the best virtual tours of Africa for a unique safari in your own home!
[maxbutton id="2″ url="https://www.andbeyond.com/andbeyond-tv/wildwatch-live/" ]
See the Pyramids of Giza
The Pyramids of Giza are the last of the ancient Seven Wonders of the World and one of the most known landmarks in Egypt. The pyramids were constructed around 4,500 years ago as grand tombs for the pharaohs.
The royal tombs were built for three kings: The Great Pyramid is the largest, northernmost and oldest pyramid of the group was built for Khufu, the second king of the 4th dynasty.
At 143 meters, the middle pyramid was built for Khafre – the fourth of the eight kings of the 4th dynasty. The southernmost and last pyramid to be built was that of Menkaure, the fifth king of the 4th dynasty.
[maxbutton id="2″ url="https://www.google.co.uk/maps/about/behind-the-scenes/streetview/treks/pyramids-of-giza/" ]
See the Tomb of Queen Meresankh III
Queen Meresankh III was the daughter of Hetepheres II and Prince Kawab and a granddaughter of the Egyptian Pharaoh Khufu. She was the wife of King Khafre.
The tomb consists of two main chambers divided by pillars with a remarkable row of figures of the Queen and her family in high relief on the end wall. Another chamber with four similar carved female figures leads to a stairwell from which a lower (but featureless) crypt can be accessed.
[maxbutton id="2″ url="https://my.matterport.com/show/?m=d42fuVA21To" ]
Other amazing Egypt tours: Mosque-Madrassa of Sultan Barquq, Coptic Red Monastery, and the Ben Ezra Synagogue.
---
More AMAZING African Travel Guides
---
Best Travel Insurance for Africa
Use travel insurance while exploring Africa so you are covered for theft and medical expenses. There are a lot of adventurous activities to do in SA, and it's best to have peace of mind while driving, hiking, and trying some of the best food in the world.
Find out why I recommend World Nomads, check out my World Nomads Insurance review.
Disclaimer: This article contains affiliate links. This means that if you make a booking after clicking on a link, I may receive a small commission at no extra cost to you!