Sri Lanka is one of the hottest travel destinations on the planet right now, with the number of tourists travelling to this untouched paradise rising year on year. Since returning from my second trip to Sri Lanka in less than a year, the number one question people have been asking me is where to stay in Sri Lanka. While some friends are more interested in the budget side of travel, most are all about the best luxury hotels in Sri Lanka….and my goodness are there some jaw-dropping properties here! Need help planning you trip to Sri Lanka? This travel guide should help.
Considering we were on a blogger trip, sponsored by the Sri Lankan Tourism Board, it is no surprise that we were also hosted by some of the most luxurious hotels in the county. The best thing about Sri Lanka is that luxury does not mean expensive, with many of these costing just $100 a night.
Here are my top 11 suggestions on where to stay in Sri Lanka, if you're looking for luxury!
Where To Stay in Sri Lanka: Video Reviews
11. Water Garden Sirigiya
Open less than a year, this is definitely one of the top new luxury hotels in Sri Lanka. When I opened the door to my private villa, my jaw dropped. Every villa had a private swimming pool and each one was surrounded by rice fields, intertwining pathways and with panoramic views of Sirigiya Rock, one of the top attractions in Sri Lanka. I knew I had arrived in paradise. My villa was one for the most beautiful properties I have every stayed in, both inside and out. Honestly it could have housed an entire family it was so big, complete with four poster bed, an arm chair in the bedroom and a living room area with funky couches and a view of your private swimming pool and deck.
The bathrooms in the villas were the size of a normal hotel room, complete with an elegant bath and walk in shower. If you're looking to get out of your villa (which is highly unlikely!!) you can wander up to the bar, restaurant, spa on stilts or the insanely massive infinity pool that overlooks the entire property and of course Sirigiya. Should I keep going, or do you get the gist? This place is PURE LUXURY.
Price: From €256 per night per villa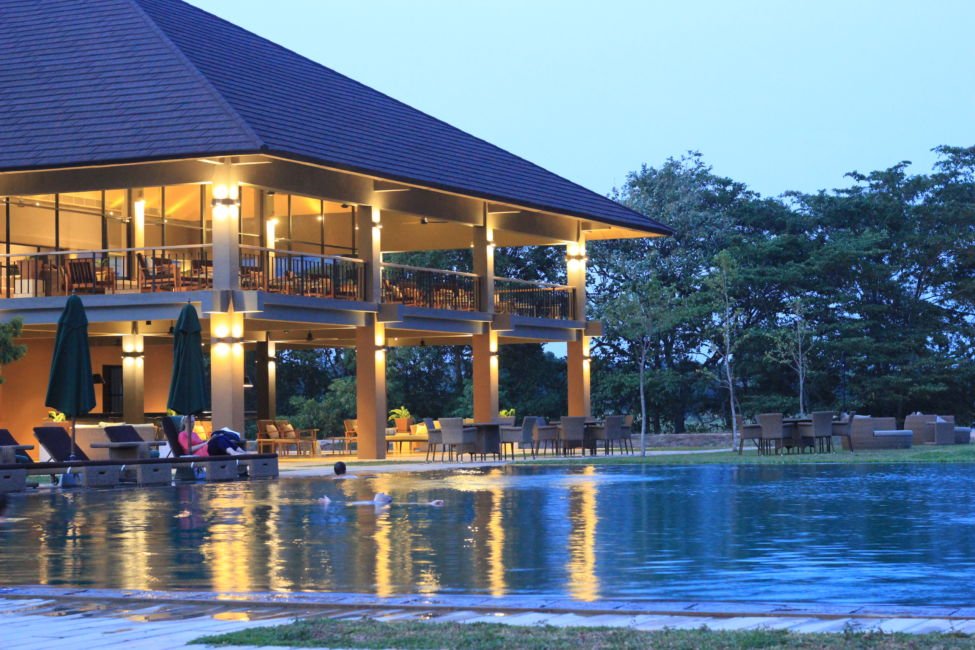 10. Movenpick Colombo
With almost every trip to Sri Lanka starting and ending in Colombo, it's no wonder there are so many luxury hotels in the city to deal with high tourist demand. While I have stayed in many Movenpick Hotels before, I found the one in Colombo extra special. I was upgraded to an Executive Suite on arrival and was so over excited about the view from my room, and bath tub, that I made an entire video about it!
The real cherry on top for this hotel, however, was their insane rooftop infinity pool which was actually even more impressive after sunset than before. The rooftop bar does some great local cocktails, which combined with some sharing platters and a panoramic view of the ocean, make this bar one of the best in the city.
PRICE: From €139 per night
9. Sunrise by Jetwing, Pasikudah
This hotel is home to the second largest swimming pool in Sri Lanka and the largest (or at least longest) swimming pool I've ever seen in my life. The moment we arrived and saw the pool all I wanted to do was jump in. One lap of this pool would be enough exercise for the day!
My room had a perfect view of this magical pool, with a balcony that allowed me to walk straight out of my room, into the sand and a few steps away from the pool of my dreams! Sunrise is located right on one of the most beautiful beaches in Sri Lanka, Pasikudah, with soft, white sand and a great array of water sports to choose from. The beach os over 2km long and you as it is still pretty much undiscovered you will have the whole place to yourself, bar a few locals.
PRICE: €106 per night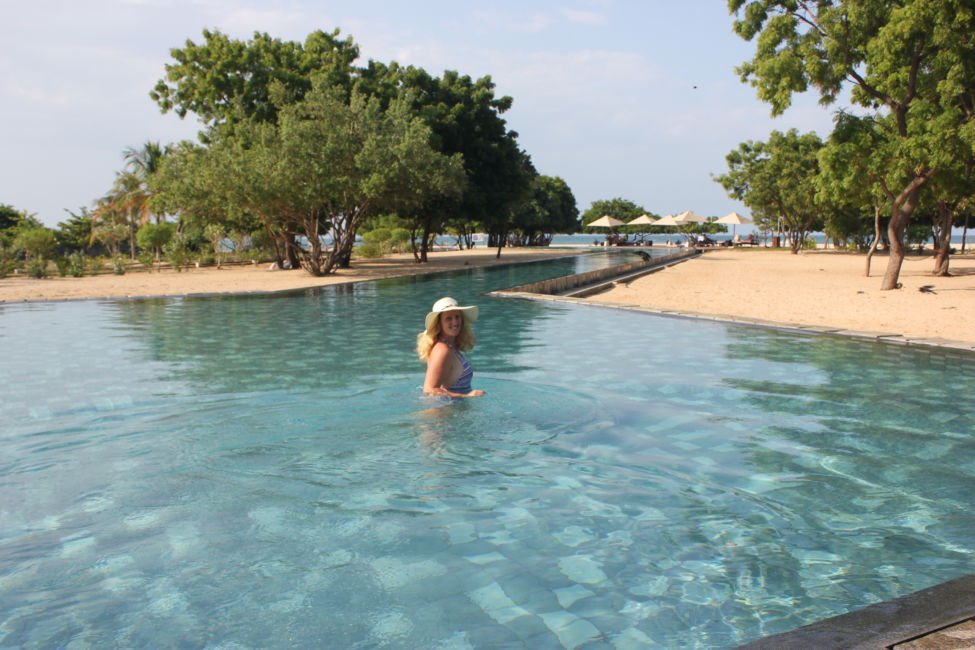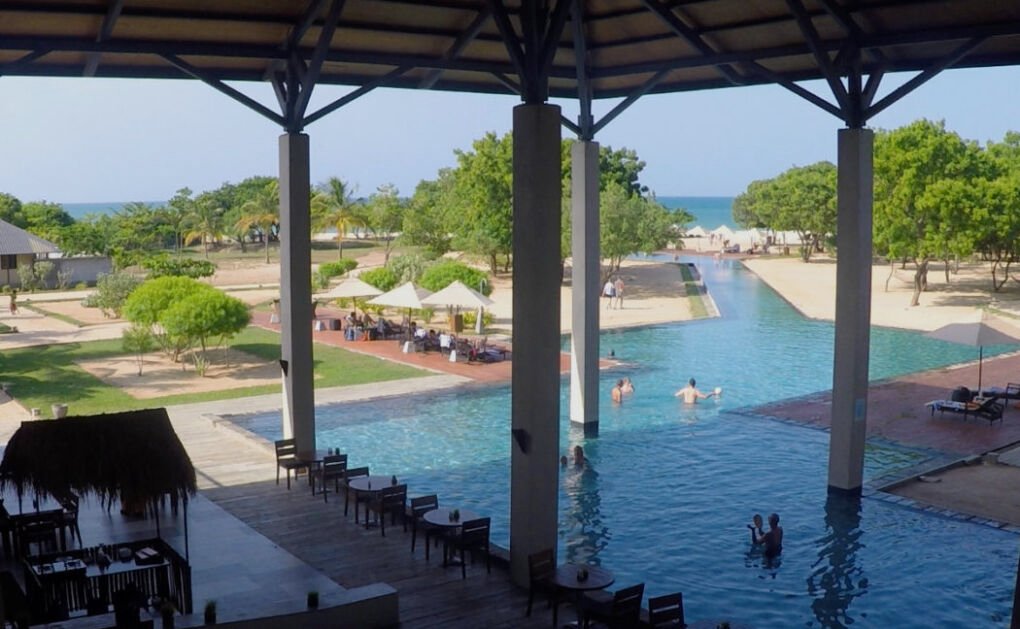 8. Craig Appin Bungalow, Hatton
Craig Appin Bungalow is one of many unique bungalows situated in Sri Lanka's tea plantations. Dating back from the colonial period, these bungalows are almost like a taste of old England and really do have a certain type of charm not to be found anywhere else in the country. This particular bungalow can only host a maximum of 14 guests, making it the smallest and most exclusive of all the hotels in Sri Lanka we stayed at. There was almost a staff member for every guest, and the two bloggers and I agreed that the food here was some of the best we ate on ur trip, home cooked local dished cooked to perfection.
The staff here were so amazing, incredibly helpful and always had sweet stories to tell about the property or themselves. All rooms are as luxurious as you would expect, with great views out onto the gardens, four poster beds, and cute little products in the room like face cream and hand wrapped bathroom products. If you are planning to visit the tea plantations, and want to feel "at home" for a few nights, this is the place to stay!
PRICE: €109 per night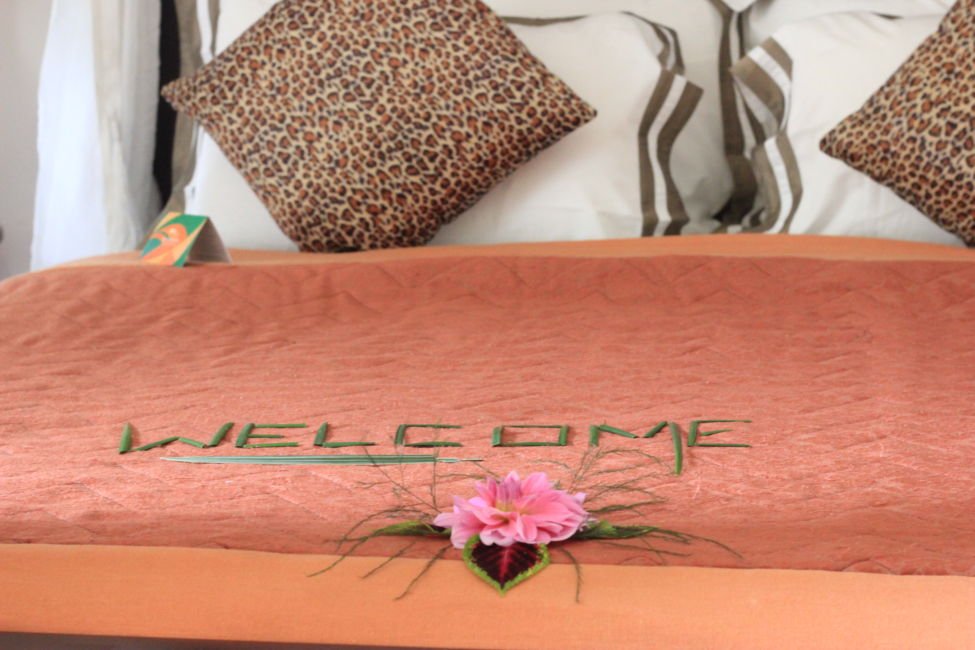 7. Colombo Seven by Jetwing
My last night in Sri Lanka was spent in this modern Jetwing hotel, complete with spectacular rooftop infinity pool and bar. Swimming in the pool at sunset was one of the highlights of my trip to Sri Lanka. I loved the rooftop pool and sharing platters on offer, enjoyed with a perfectly made Mojito!
There's also a great restaurant on the ground floor, serving a great variety of Asian specialities as well as a mean Australian beef burger. Rooms are bright and come with great city views, and the bathtub is a definite bonus!
PRICE: €115 per night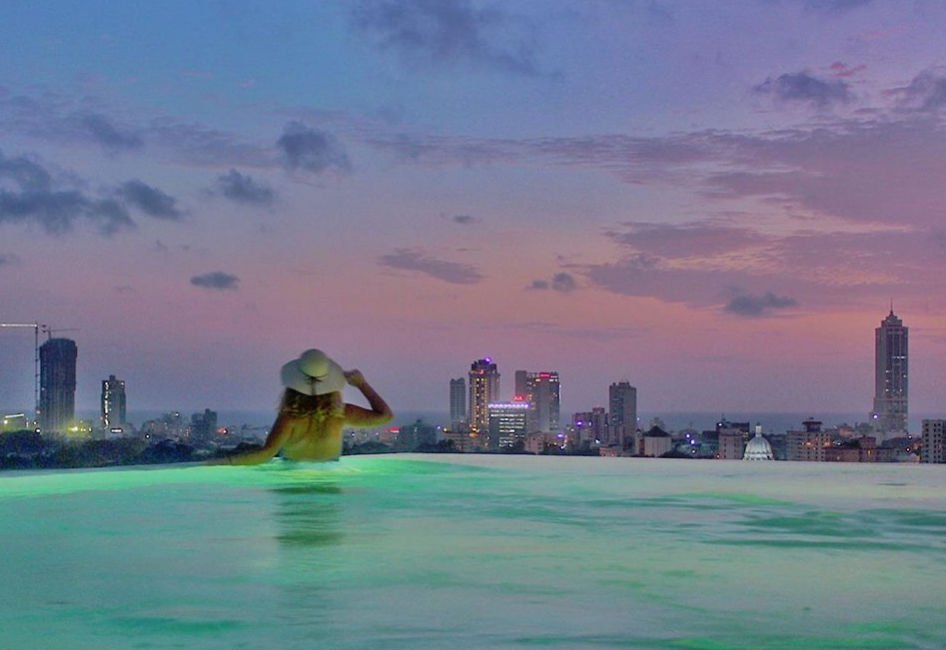 6. Cinnamon Lakeside Colombo
Cinnamon Lakeside Colombo was the first hotel I stayed at on arrival in Sri Lanka for my first trip last year and it totally blew me away. From the outside, the design of the hotel sort of looks like a giant cruise ship, complete with one of the largest hotel swimming pools I've ever seen. As the weather can get almost unbearably hot and humid in this tropical country, choosing a hotel with a swimming pool is a must!
The rooms have views of the lake or the city, and the breakfast each morning was amazing. It's a great base to explore Colombo from and at night you can come home and chill out my the piano in the lobby.
The real cherry on top, and what gave this hotel that added touch of class, was the live music to be found in the lobby at night – a very talented piano player who created a vert relaxing environment to sit down and make new friends. Special shout out to The Library Bar which is a quiet place to have a drink in the daytime but turns into a night club complete with dance floor and DJ at night. We had hours of fun here – more fun than I would ever expect to have in a hotel bar in Sri Lanka!
PRICE: €139 per night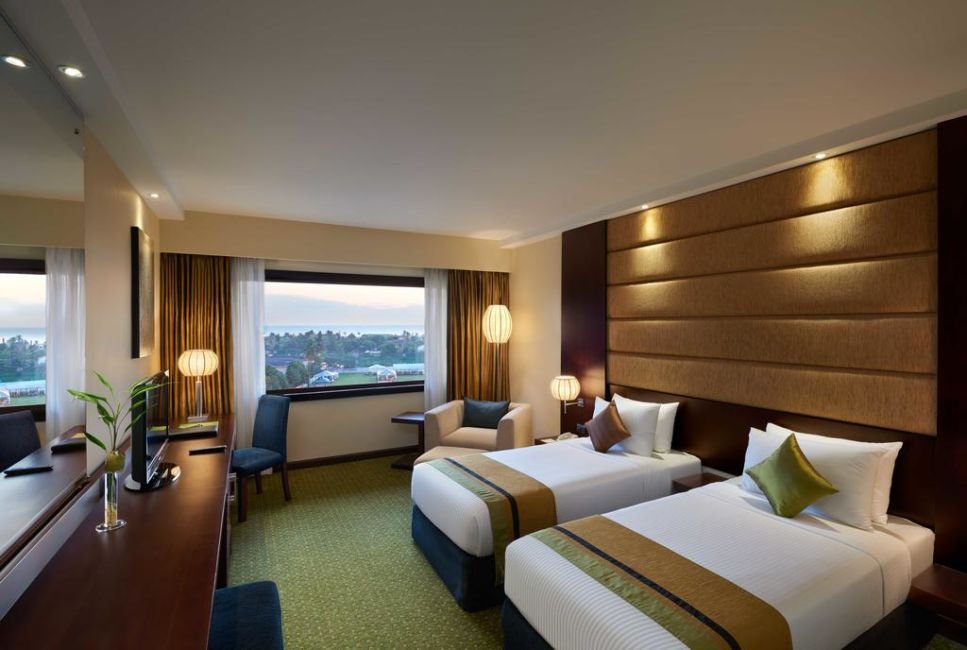 5. Cinnamon Bey Beruwala
Cinnamon Bey Beruwala was the second stop on my two-week tour of Sri Lanka last year. The location of this hotel is what makes it one of the best in the country, with spectacular views out over Beruwala Bay and the most stunning stretch of rugged coastline. The beaches here are home to some huge waves and must be a surfers paradise at certain times of the year. If you're looking for a perfect beach holiday and wondering where to stay in Sri Lanka, this should be your first stop.
There are two swimming pools, the main one situated next to the bar and restaurant and a more private one located next to the pool villa rooms which we had exclusive access to. On arrival, we simply opened our balcony doors, stepped outside and jumped straight into the pool!
As my first week in Sri Lanka was part of an organised tour, we were treated to an extraordinary food experience at Bey Beruwala's best restaurant; Rock Salt. It was one the highlights of my entire trip to Sri Lanka, meeting the chefs being taught to cook our own food while wearing oversized chefs hats and tasting delicious freshly-made cocktails. We actually got to cook pieces of meat on a hot stone on our table – a seriously enjoyable experience. Oh, and the food was amazing, of course.
PRICE: From €51 per night
4. Galle Fort Hotel
While I didn't actually stay the night in Galle Fort Hotel, we did stop off here for lunch and given the welcome we received, I have no doubt that a stay here would be unforgettable. Management also gave us a tour of the property and I seriously started wishing that we had time to stay there. Think big four poster beds, a mini library full of interesting photo-books and details of Galles interesting history, and a room that looks like it belongs in a castle.
Everyone in the group agreed that the lunch we ate at this hotel was by far the best food we ate on our entire trip through Southern Sri Lanka. Each dish, be it the perfectly cooked fish or chicken served with steamed vegetables or the melt-in-the-mouth pudding, was served with immaculate presentation in mind and while we were served far too much food no one was complaining. Special shout-out to the chocolate brownie dessert – I would nearly fly back to Sri Lanka just to taste that again.
An added bonus of this hotel is its location inside of the historic Galle fort, one of the top tourist spots in Sri Lanka. It feels like travelling back in time when visiting Galle, with quaint little houses and shops and beautiful art and craft stores around every corner.
3. Ebb and Flow Jungalows
This was one of the most unique lodging options I encountered while in Sri Lanka and was a very welcome break from hotel life. I have so much good things to say about these beautiful little jungalows that I don't quite know where to start. First of all, I guess, I should explain exactly what they are! The surf jungalows are sort of like a mixture between a bungalow and a luxury villa. There are two ensuite bedrooms downstairs, with hammocks hanging outside the sliding doors and a stone's throw away from the small, private pool. Up the stairs is the kitchen and chill out area with the best part of all – a perfect view of Midgama's top surf spots. Around the back of the jungalow, there is a very cool outdoor bathtub with 100% privacy!
The absolute best thing about staying here? Fastest internet in Sri Lanka. Honestly, it is a digital nomad's paradise. Even if you don't work from your computer, you will want to pull your hair out after a week of travelling around Sri Lanka and will be shouting words of praise when you connect to Ebb and Flow's super speedy broadband!
The second best thing about this place? It comes with your own private chef who can literally whip up anything you please. You simply give him the list of ingredients to buy each day and he will cook you lunch and dinner – I swear Sri Lankans are born good cooks too! If you're into surfing, or would like to try something new, the friendly owners Verity and Gareth can take you out on the surf. The waves here are perfect for beginners and even if you're a little more advanced you can find great waves up and down this untouched coastline.
2. Habarana Lodge
Our base for two nights when on our elephant safari, Habarana Lodge wins hands down for the most amazing bedrooms in Sri Lanka. Obviously everyone has different tastes, but for my my private tree house in Cinnamon Habarana Lodge beats the rest hands down. First of all the room was absolutely massive. Honestly it was bigger than my entire Korean apartment where I managed to live happily for two years. The bed was definitely king size and if you peeked out the windows you could hear birds winging and mischievous monkeys fighting with each other – ahh young love. Be sure to keep your windows closed though o this is one place where monkeys rule the grounds!
While the breakfast in the Cinnamon Bey Beruwala was by far the best, Habarana Lodge wins for their dessert room. That's right, there was an ENTIRE ROOM dedicated to the most delicious desserts in the world. I must have gained so much weight in a short period of time and I blame it entirely of this dessert room! Those macarons, and jellies…that chocolate brownie cake! Ohh painful memories.
Special mention to the sprawling grounds which you can explore, and you never know what wild animals you will come across, as well as the absolutely massive swimming pool surrounded by towering palm trees 0 definitely one of my favourite hotel swimming pools in Sri Lanka. I guess the seclusion was what added to the whole affect – you really feel like you're in the middle of the jungle here.
PRICE: €77 per night
1. Cinnamon Wild Yala
I decided to keep the best for last as not only is this by far my NUMBER ONE place to stay in Sri Lanka, it is now very firmly at the top of my list when it comes to the world's best hotels. A stay in Cinnamon Wild, which is located within a leopard's pounce of Yala National Park, is an experience you will never forget. As our bus made it's way down the long and winding road to the hotel in the pitch dark, our guide kept telling us to be quiet and to look carefully out the windows. He told us that you have to be so careful driving down this road as sometimes elephants, wild boar, leopards and other wild animals roam freely on the grounds. As we passed the lake next to the hotel, getting closer to the entrance, we could see the bright sparkle of eyes bobbing their heads up and down – crocodiles!
One of the first pieces of advice given to us by hotel staff was that we must not walk alone from our rooms (private wooden villas spread out across the grounds) to the hotel bar / reception. We must always call for a guide to walk with us, to fend off any wild animals we may encounter and to avoid snakes! What a welcome – I knew I was already in love with the place.
On our first night we were to the greatest culinary experience I've ever had in my life – eating a la carte, all 12 of us, next to the lake with ice sculptures (that had been made specially for us) surrounding our long table. Right by the lake, about 2 metres from the waters edge was a table full of desserts while 2 meters inside the lake lay some hungry crocodiles eyeing up our chocolate brownies. Or us…I'm not sure which would be tastier. We had private chefs cooking us steak, lobster and anything your heart desires. I honestly can't describe how amazing this meal was…you'll just have to experience it for yourself!
Besides being locked in the most incredible place in the world, the hotel also has a rooftop bar perfect for star gazing, a swimming pool to relax after a long day on safari and qualified guides to bring you out on tours. My definition of the perfect hotel. Stay here, you won't regret it!
PRICE: €82 per night
Have you stayed in any amazing hotels in Sri Lanka? What was your favourite? Leave a comment! x