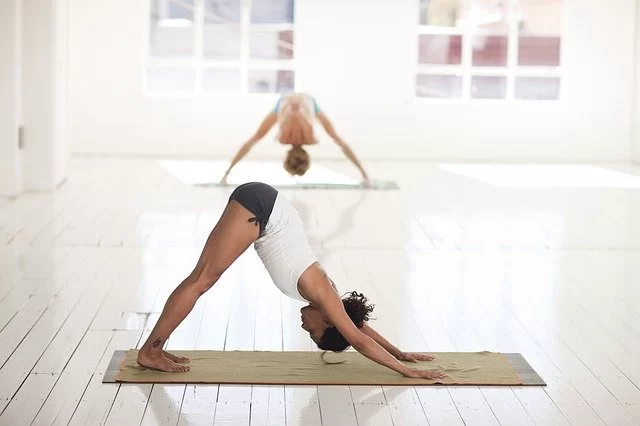 If it's less of a tailored retreat you're looking for and more a casual introduction to the world of yoga while in Bali, it's definitely a good idea to get a class pass for a local studio in Canggu. This option is much more flexible and affordable than committing to a weeklong intensive retreat, and it gives you the power to choose when and how you practice. Having lived and taught yoga here in the 'gu, I wanted to share my thoughts on Yoga in Canggu and best places for yoga classes in Canggu.
It's also a great way to get to know more about different yoga styles on offer – do you like Yin? Are you more of a "Power Flow" kind of person? Or do you come to life at the hint of all things spiritual and meditative? (Note – if spirituality and meditation is your thing, get yourself straight the The Practice Bali. No questions asked.)
Whether it's self-healing, movement, a spiritual awakening or a combination of all three you're after, Canggu boasts some of the best quality yoga classes you'll find on the whole island of Bali.
The contradiction of Canggu's busier party areas I feel actually lends itself to the chilled out atmosphere created by most of the following studios, and for those of you easing yourself into yogic living, these will probably hold more appeal than the often overwhelming essence of the yoga scene in Ubud (Ubud is fantastic in itself, but these days there are just so many people doing yoga).
Alternatively, if it's more a fitness retreat with an element of yoga, then these WanderFit Retreats in Bali throughout the year might also be of interest to you!
That said, here are the best places to practice Yoga in Canggu…
Yoga Classes in Canggu
1. The Practice Bali
Anyone who knows me will be aware that I can't sing higher praise about The Practice. In a stunning bamboo studio just off the craziness of Batu Bolong, co-founders Octavio, Rob and Carl have created a truly special community space where like-minded souls come together to share in yoga and meditation practices, as well as weekly events, workshops and regular trainings.
The Traditional Tantric Hatha Yoga method is followed here, with classes divided into Moon, Sun and Fire- style to help you identify your own individual needs on any given day and learn how to meet them. If you're looking for some of the best yoga classes in Canggu, this is where to come.
Moon style is practiced in the evening, and is great for relieving anxiety, insomnia and calming the mind (or 'moon') after burnout or overwhelm (or a stressful drive down Batu Bolong).
Sun practice is generally a morning class, where you'll focus on building prana (energy) and revitalising all areas of the body.
Fire class is considered the most advanced stage of Traditional Hatha, as it incorporates pranayama (breathwork), bandha (energetic locks) and mantra alongside asana practice to burn through limitations and become a more authentic, inspired version of you!
A truly inspiring place that is difficult to leave – the comfy sofas and free ginger tea will have you chatting for hours after class, and it's a great way to make new connections, too.
More on The Practice Bali website.
Looking for a place to stay while in Canggu? Check out these great hostels.
2. Samadi Bali
Another Canggu favourite, Samadi Bali on Padang Linjong also creates a welcoming community feel as soon as you enter in through the stone-paved archway.
Daily community classes allow you to 'drop-in' and try different styles like Vinyasa, Ashtanga, Yin, Slow Flow, and Meditation, and they also offer regular workshops and a weekly Ecstatic Dance for you to shake out excess stress and worries from your body in whatever way you feel!
The Organic Vegetarian Café also boasts an absolutely delicious offering of foods (designed by the same creator of the Shady Shack menu), including a mouth-watering Indian section of the menu. The daily Thali Special is something which keeps me coming back for more, and their smoothies and desserts go down a treat with some of my friends who aren't even into yoga!
Arguably the best part and well-known aspect of Samadi is the weekly Organic Market, where expats converge every Sunday from 10am to load-up on organic veggies, health food products and local crafts.
Samadi Bali's website has all the info.
3. Desa Seni
Even if you're on a budget that won't quite stretch to STAYING at Desi Seni's stunning all-inclusive holistic health resort, the drop-in yoga classes are open to the public and are conducted by experienced teachers from all over the world.
In fact the cheapest way to enjoy a yoga holiday in Canggu is probably to invest in a class pass (to any of the places on this list) and tailor your preferences to suit.
Desa Seni's yoga schedule offers an array of styles from Ashtanga, to Power Vinyasa and Hatha too. Regular workshops and intensives are run, as well as privately tailored retreats for guests of the resort, and there's no shortage of beautiful Balinese surroundings to enjoy it all within. I'd highly recommend trying Yin or the Creative Vinyasa Flow with Charlotte – an extremely knowledgeable and friendly face to guide you through your practice and meet you wherever you're at along your yoga journey.
Book Your Yoga retreat or check out the schedule on Desa Seni's website now
4. Serenity Bali
Serenity Eco-guesthouse and lodge is one of the first places I ever stayed in Canggu, and it's a great place to base yourself if you want to get to know the area while having easy access to daily yoga.
The schedule is probably the largest I've seen in Bali, with over 8 classes a day of all styles and levels including Aerial Yoga, Bali Yoga, Mysore and the more common Hatha and Vinyasa flow. You can do drop in classes, or take part in regular 'detox retreats', and the local staff are some of the most helpful and friendly around. Budget accommodation is a few hundred metres down the road, and more pricey deluxe private rooms are available in the main complex.
Guests get access to yoga, a pool and many other treatments, as well as breakfast included in the Alkaline Café – delicious vegan and vegetarian food all with a low pH and a mantra written on the walls that says 'let thy food be thy medicine'.
What's not to love, really??
(I recommend the vegan coconut ice-cream and the grain-free coconut bread!)
….and all the yoga!
5. Odyssey MVMT
Odyssey MVMT is the only 'fitness' based yoga studio I will include on this list, purely because not only do they offer quality fitness classes – they also know their yoga, and manage to combine the two in a way I've never quite experienced before. Their intention to combine functional fitness with mindful movement and meditation sits well, too. The gorgeous location overlooking the rice fields on 'The Shortcut' means it's a lively place to meet community (even if the noise of the road might interfere ever-so-slightly with savasana).
Yoga offerings include Surge, Soul, Essence and Breeze – a unique take which makes sure the 'essence' of the traditional yoga practices don't get completely lost amidst pumping music and buff surfers (not that we're complaining).
Add in a cheery barista in the garden café outside, regular group fitness challenges and yoga workshops, and you've got yourself a well-rounded introduction to the yoga world in Canggu.\
See more here
I hope this brief guide to Yoga in Canggu can help you on your own personal yoga journey, and if you have any other suggestions for good yoga classes, be sure to leave a comment.
Author Bio
Jenny is a freelance writer and certified Hatha/Vinyasa/Yin/Meditation Yoga teacher with an MA in the Irish language and BA in both English and Irish. Jenny has taught yoga in both Sri Lanka and Bali and is currently back home in Ireland.