The vibrant city of Cancun, located on the Caribbean Sea, is well-known for its beautiful sandy beaches and playful waves. With magnificent resorts that combine swimming, fishing opportunities, and intriguing cultural landmarks.
This vibrant country on the Yucatan Peninsula is a great location for shopping as well, with well-known malls and boutiques selling high-quality goods. However, many visitors who are considering a vacation to this location find that safety often becomes a concern amid the fun-filled gatherings, addictive music, and mesmerizing dancing.
You may be wondering how safe Cancun and Mexico, as a whole, are. We're here to provide comprehensive information about the safety characteristics of Cancun, a turquoise-filled adventure.
Why Visit Cancun?
Cancun is definitely Mexico's number one tourist destination. This is due to its lively nature, its glistening beaches, and its vibrant nightlife.
If you're a lover of history and breathtaking stonework, then you should go and take in the Mayan Ruins. Explore the various temples, such as the Temple of Kukulkan, the central and most popular temple. The ruins are near Valladolid along the Yucatan Peninsula, it's the perfect excuse for a Yucatan road trip.
After taking in the beauty of the ruins, go for a swim in the crystal blue waters of a cenote. These are deep natural pools of water, and there are multiple cenotes to pick from. Some have holes at the top for the light to shine in, while others are completely underground.
Is Cancun Dangerous?
Cancun is known to be an active crime hotspot, although it's not the drug-ridden place people make it out to be. Most of the crime in Cancun is related to home invasions and corruption within the government.
National Guards were recently deployed in the city to enhance security for tourists due to the rising drug-related violence. Tourists usually aren't the target of such crimes, but the shooting that happened in April 2023 took place in the hotel district, which raised alarm bells for the Mexican government.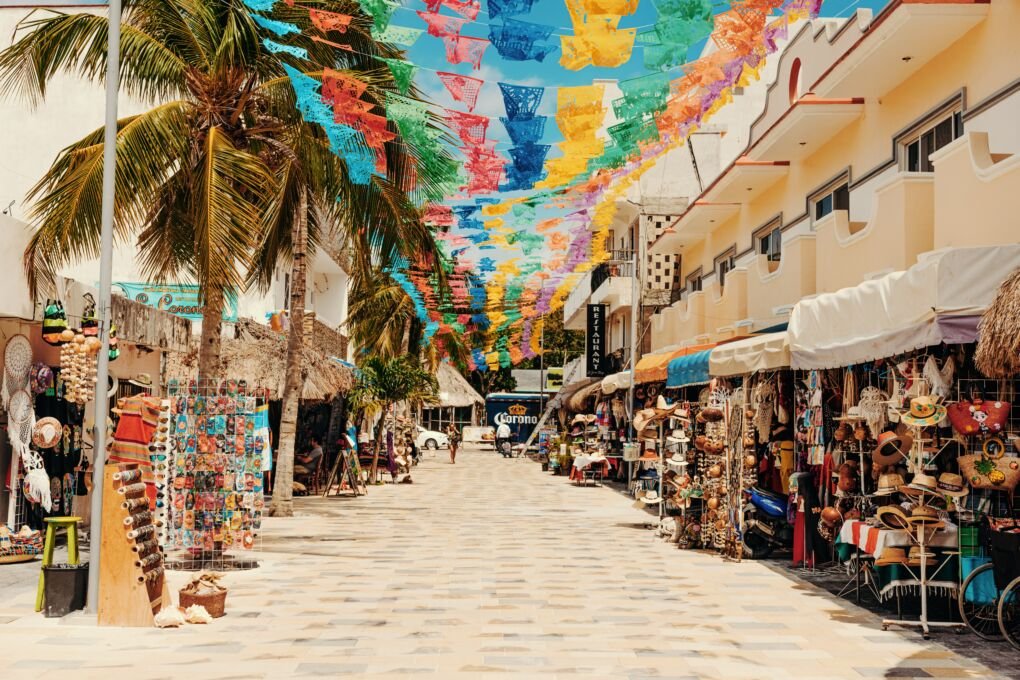 In order to enhance tourist security, Cancun police have begun using drones that have night vision capabilities to help them monitor everything. Tourist hotspots have had an increase in surveillance cameras in an effort to make you feel safer.
Dangerous Areas in Cancun
Villas Otoch Paraíso
Villa Otoch Paraiso is known as the most dangerous town in Cancun. It lies between Cancun and Merida and is known for bloodshed. We wouldn't advise going to this town on your vacation due to the violent crime reports. Avoid it at all costs.
There are numerous gangs operating within the town, and they have been the cause of the ongoing violence. It is a hub for ruthless crimes and is no place for outsiders.
There aren't any tourist attractions in this area, and it's far from the heart of Cancun, so you can easily steer clear of it.
Valle Verde
Valle Verde is located in Quintana Roo, not far from Cancun. Quintana Roo boasts its own activities and fun, such as swimming with dolphins and snorkeling. That being said, Valle Verde is not somewhere you want to find yourself.
The settlement is known for its gang affiliations and violent crimes, so it's not recommended for tourists. The shack-ridden town is not the friendliest, and if you find yourself there, try not to offend anyone and leave as swiftly as possible.
You may also encounter people trying to sell you drugs, don't accept but don't be offensive.
Is It Safe To Live in Cancun?
Cancun is said to be one of the safest cities in Mexico. Being that it's a tourist oasis and one of the main locations for holiday destinations, the Mexican government and police take very good care of it.
The city is very popular for young adults wanting to enjoy spring break, and this has caused seasonal crime in the area. Petty criminals know when to flock to the hotel side of Cancun to take advantage of the teen hysteria.
Within the city and the hotel district, you're safe from violent crimes. They occur more on the outskirts where you won't find any tourists.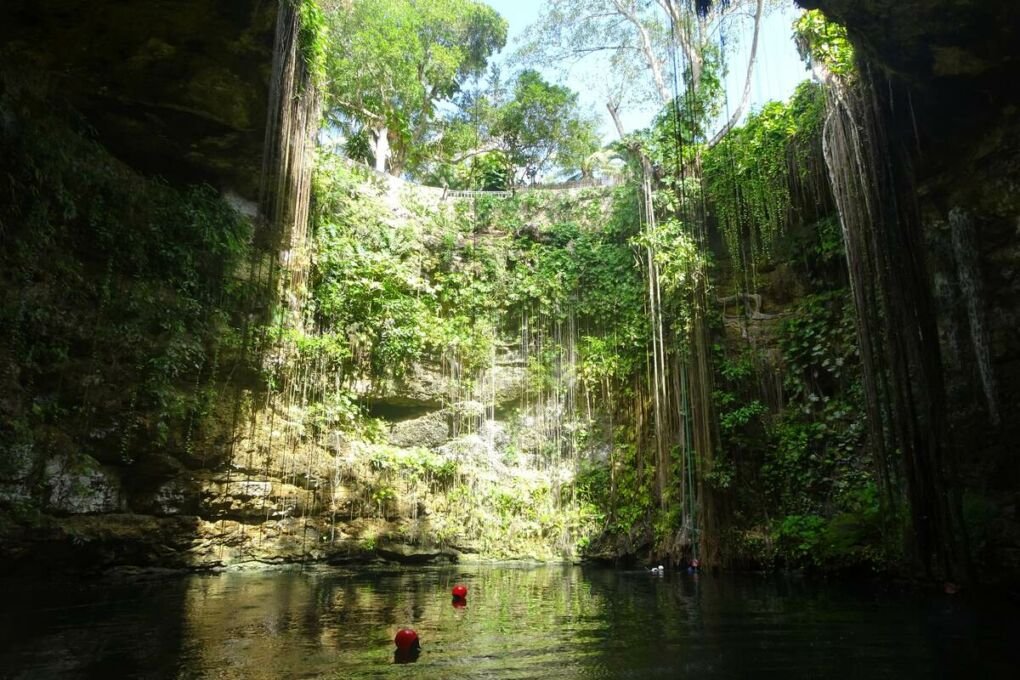 Safe Areas in Cancun
Hotel Zone
This is arguably the safest place for tourists in the city. It's home to some of the best all-inclusive resorts and hotels.
Coco Bongo is one of the best nightclubs in the area. A brimming show that has acrobatics, music, and flowing drinks makes this an absolute must. The line gets long, so save yourself some time and book your tickets beforehand, plus, they're constantly changing their shows, so it will never be the same one.
Be sure to visit Museo Maya, which is a museum that houses artifacts from the Mayan era and the Chichen Itza.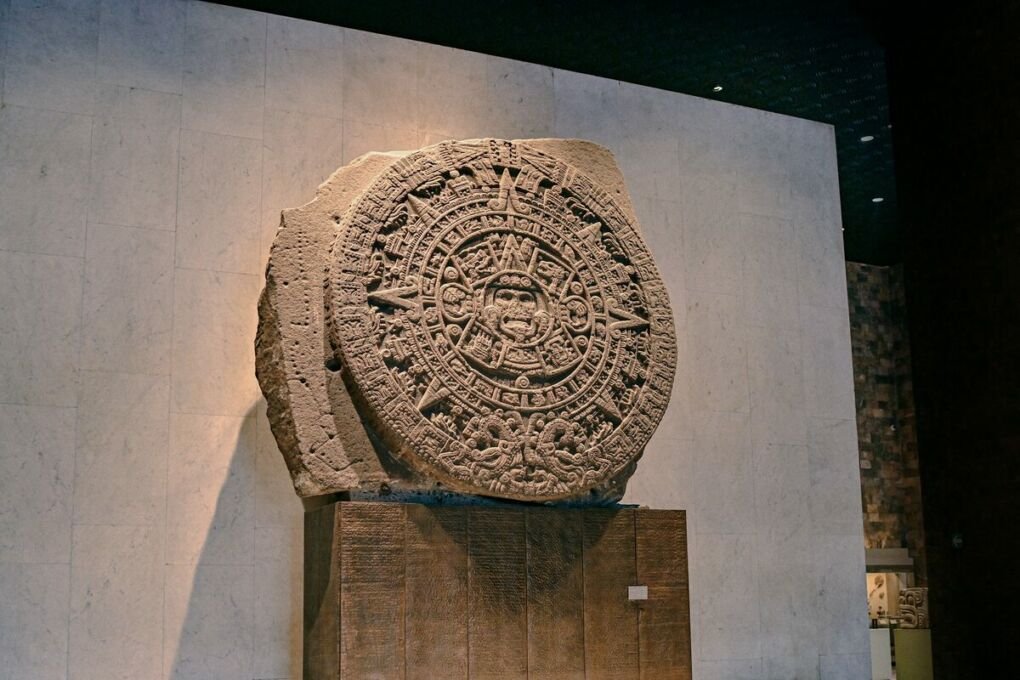 Playa Del Carmen
This coastal resort town located on the Riviera Maya is only a short 45-minute drive from the Cancun airport.
For an experience like no other, go ziplining through the forest at night. Take the plunge and immerse yourself in everything that the jungle has to offer. Afterward, go on an ATV ride until you get to the magnificent underground river tunnel.
For something that the whole family will love, visit Parque Los Fundadores. Noticeable by its famous Portal Maya statue of a man and woman rising up out of the water, it's got play areas, food, and shows all day long.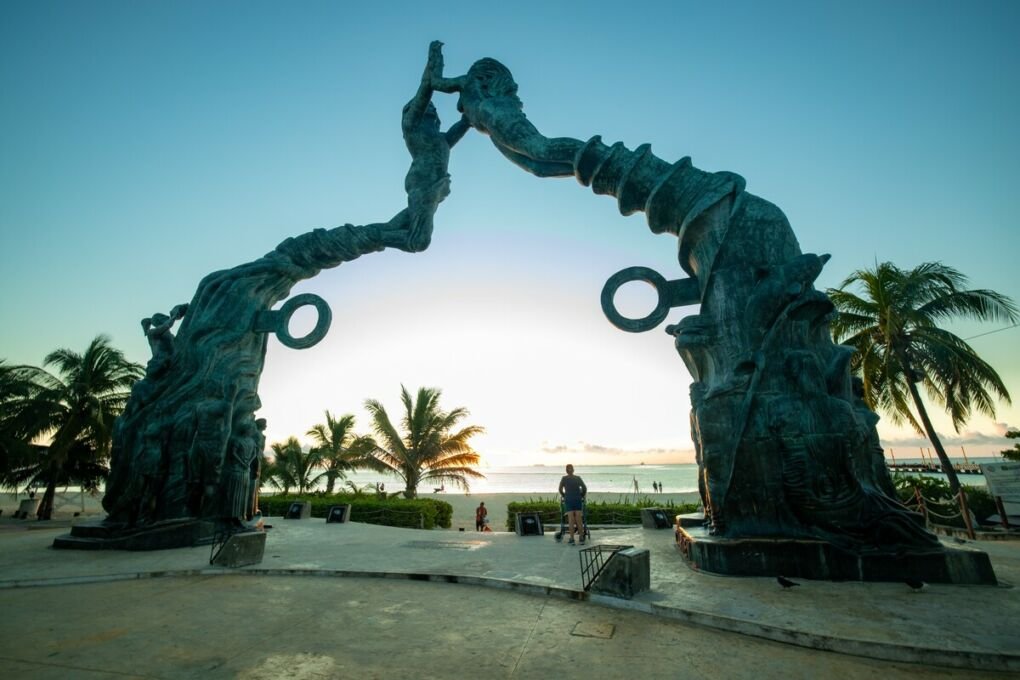 Isla Mujeres
Isla Mujeres is an island in the Caribbean Sea, a short ferry ride away, boasting stunning beaches and astounding coral reefs.
One of the main reasons to go to the island is so that you can experience Museo Subacuático de Arte (MUSA). The MUSA Underwater Museum presents over 500 life-size sculptures that were designed to counteract climate change and its effects on the oceans. You can snorkel or dive down to the marvelous installation.
If you're a thrill seeker, then we have just the thing – swimming with whale sharks. You can snorkel and interact with them, be advised that they're only in the Caribbean from April to August.
Warnings and Dangers in Cancun
Cancun is definitely a place where you can feel safe and relaxed, however, it isn't without its concerns. Be sure to remain aware of your surroundings, and not like in a paranoid way; just keep your wits about you.
The party scene in Cancun is massive, and it's easy to get drawn into the energy, but we advise keeping your drinks to a minimum. Do go out and drink but don't become too inebriated. Too much alcohol can lead to vulnerability, and it's best that you're always aware of everything that's happening around you.
Overall Travel Risk (3/10)
When visiting Cancun, be sure to adhere to the local culture and customs. You don't want to come off as rude, especially when visiting temples or places of spirituality. Rather ask for any clarity that you may need.
If you aren't in the Hotel Zone, we wouldn't recommend walking at night. The Hotel Zone is relatively safe at night, and you won't have anything to worry about. However, the surrounding areas aren't as safe at night, and we urge you to be cautious.
Stay in well-lit areas that you or someone you're with is familiar with. Be mindful of where you're going. Don't blindly wander into areas that aren't tourist-friendly.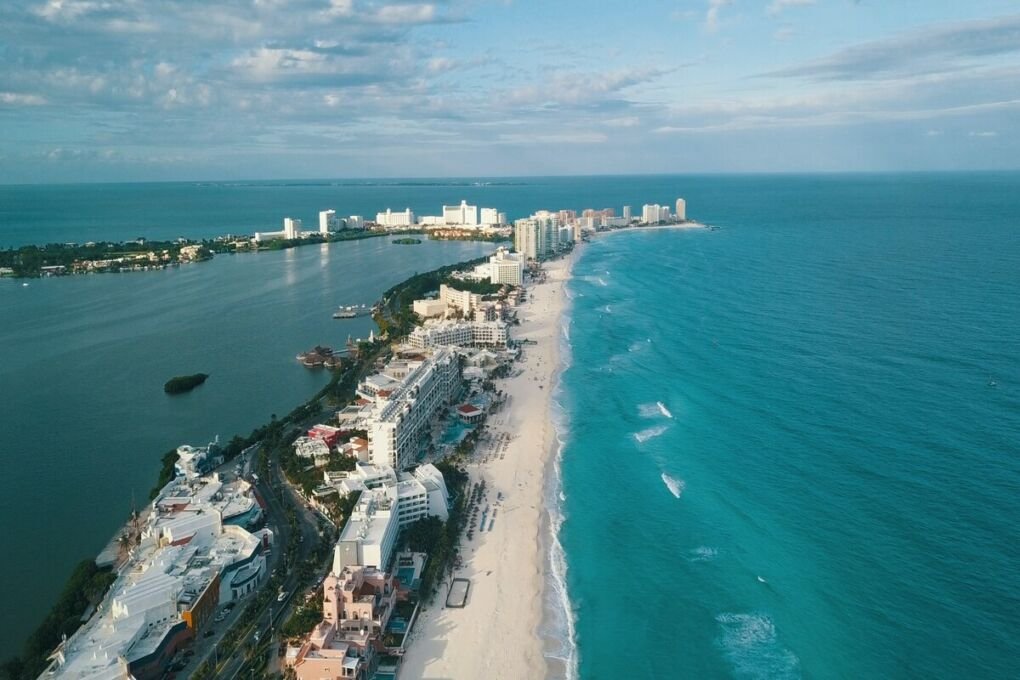 Risk of Pickpockets
Like any tourist hotspot, Cancun is known for pickpockets. They tend to flock to areas where there are a lot of people. Crowded areas are where you should be most wary.
Keep your belongings safe by wearing your bag in front of you and ensuring that there aren't any valuables in your pockets.
Be mindful of people trying to distract you. This is one of the easiest ways to get pickpocketed. You may want to be friendly to everyone, but they don't all have good intentions.
Risk of Taxis
The risk of taxis and transportation is quite low in Cancun. Many hotels and resorts offer shuttles, not just to and from the airport but for any other activities that you may have planned.
It's better to book your taxi via your hotel or resort. Hailing a taxi may lead to complications as they aren't all marked or licensed.
If you were planning on Ubering, forget about it. There have recently been tensions between taxi drivers and Uber drivers. Taxi drivers feel that Uber is taking business away from them, and as a result, things have turned violent.
Risk of Scams
The risk of scams in Cancun is mild. There are some obvious ones, like people offering you free food or massages and then later wanting payment. Then there are the more nuanced scams like police officers creating petty charges against you and fining you.
Another scam is when you book a tour with a stand-alone guide under the guise of it being cheaper and less crowded. Stick to booking through the website or your hotel for all your activities.
Be mindful of your bill when at a bar or restaurant. They may add extra drinks to inflate the overall bill.
Risk of Mugging
The risk of getting mugged in Cancun is low. Although Mexico is known for kidnapping and mugging, Cancun does not fall under the umbrella. If you stay within the designated areas, you won't be met with this sort of crime.
On the off chance that you do happen to be mugged, don't resist or mouth off. Hand your belongings over and comply with all of their demands. Never escalate the situation.
Tips for Staying Safe in Cancun
With the amount of neighborhoods in Cancun, it's easy to get turned around and wind up in an unfamiliar one. Make sure you're in areas that you know or that you've researched. If you aren't sure about somewhere that you want to go, then ask at your hotel.
Keep copies of your passport and visa on your phone and leave the actual documents in your hotel room safe. The less you carry with you, the better. It makes it easier for you to maneuver, and it's less stuff to worry about being taken.
While it's generally safe, here are five safety tips for Cancun:
Keep in contact with loved ones. Make sure that you're constantly checking in with your loved ones back home and keeping them up to date on your movements.
Be careful at ATMs. Be aware of who's around you when using an ATM, and try not to show how much money you have.
Don't be flashy. Do not flaunt your wealth or your expensive belongings. This will only make you a target for criminals.
Keep an eye on the weather. If you're there during hurricane season, June to November, then monitor the weather closely.
Be friendly, but not naive. Guard your personal space and assess how you feel when certain people approach you. Don't allow yourself to get distracted. Always be aware of what's going on.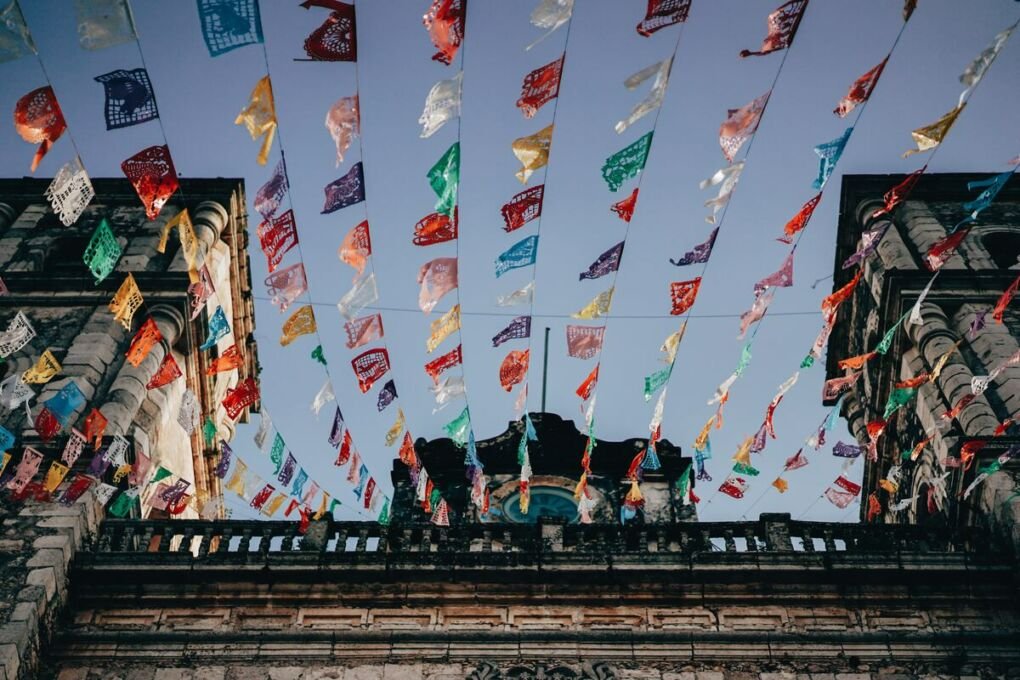 Is Cancun Safe? │Frequently Asked Questions
Is Tap Water Safe To Drink?
No. Tap water isn't safe to drink in Cancun. Stick to purified and bottled water. You can find bottled water anywhere, so make sure that you have some on hand, especially when exploring.
Is Cancun Safe for Women?
Yes, it is. Treat it like you would any other trip as a female. Be vigilant, and don't wander alone at night. Research your accommodations and the areas near them to make getting around easier for you. Keep in constant communication with someone back home, and don't be afraid to meet people.
Is Cancun Safe for Solo Travelers?
Yes. Seeing as you're alone, take the necessary precautions. Don't get too drunk and become vulnerable. Go on tours and attend social events near your hotel in order to meet people. All in all, you have nothing to worry about when traveling to Cancun alone.
Is Cancun Safe for Kids?
Yes, it is. We know the gangs and crime in Mexico can make you a bit nervous, and rightfully so. However, Cancun is an amazing place to bring your kids. It's very safe, and there are numerous activities for them to enjoy. Just ensure that you stick to the designated areas and monitor your children closely.