This wonderful region in Catalonia is home to some of the most beautiful beaches in Spain, at least in my opinion! It's much quieter than the Costa Del Sol, and seems to have a lot more character with ancient watchtowers, coastal paths and medieval villages dotted between the pristine beaches. Below are my pick of the best beaches in Costa Brava, from the bold to the beautiful!
It's perfect destination if you're looking for a secluded beach where you'll be practically alone, but if you want a little mix of urbanism and a relaxed ambiance, there's also a perfect beach for you.
The best part of Costa Brava is the fact that it never feels crowded and you can always find a spot to put your towel down, all the while the beaches themselves are pretty much perfect.
Having spent a week there in June, exploring up and down the coast, here's my pick of the best beaches in Costa Brava.
Best Beaches in Costa Brava
Playa Gran, Tossa De Mar
This was the main beach where we were staying, right in the center of Tossa De Mar. While busy and right next to the cute strip of shops and restaurants in Tossa, it's one of the most gorgeous beaches I've ever laid my eyes on. What makes this beach particularly special is that you can swim in the crystal clear waters while looking up at the incredible Tossa Fort towering down on the beach from the old town. Makes for a unique experience and some fantastic photos!
For those that want to get active, there's often volleyball tournaments on the beach which you can join.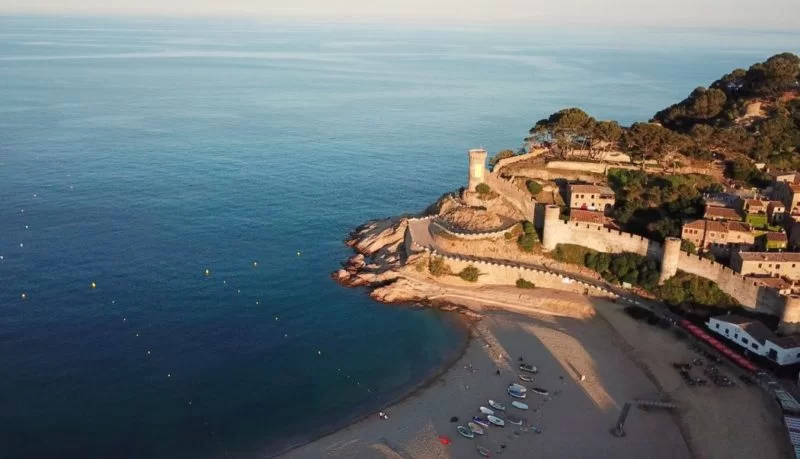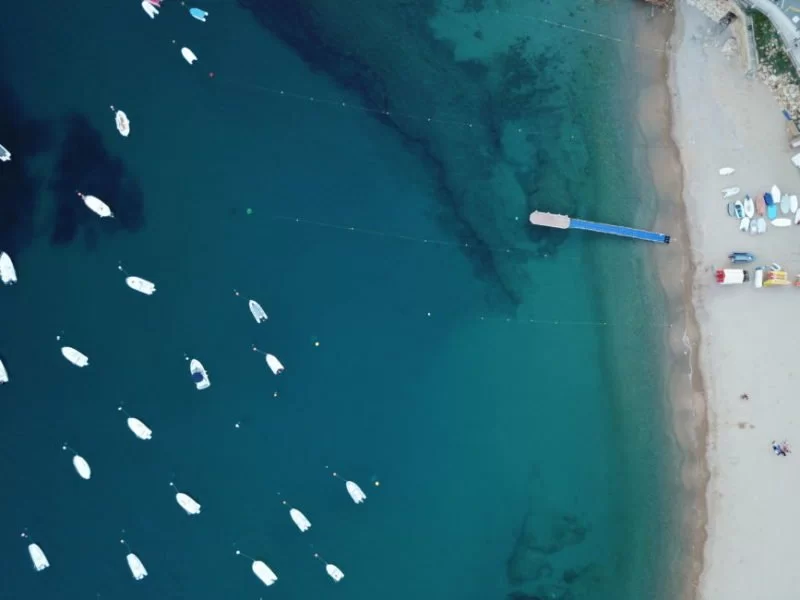 Where to eat: One of the best seafood restaurants close to the beach famous for their black rice risotto and paella dishes, is Sa Barca Restaurant.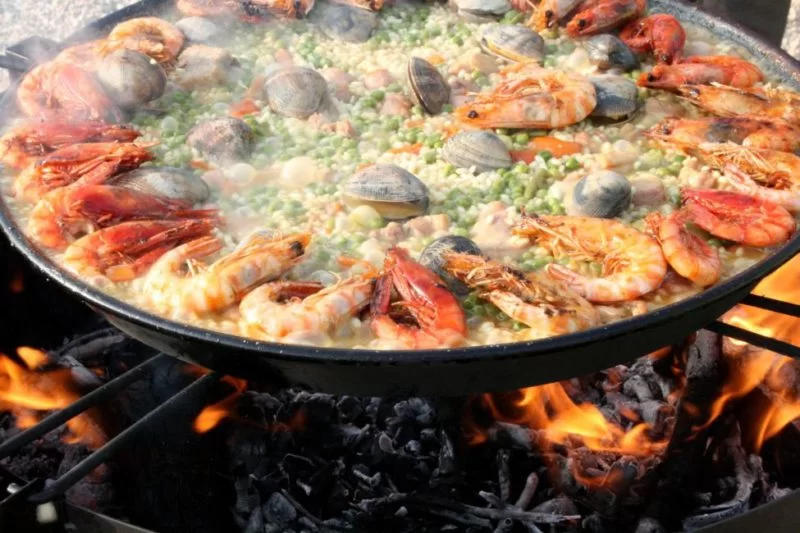 Platja d'Aro
If you're into water sports, then this is the beach to go! From snorkelling and diving trips to kayaking or stand up paddle boarding, there's a huge choice of activities on this beautiful stretch of sand. It's also much quieter than the rest, or at least it was when I visited in June!
We did a two-hour boat trip to visit some small hidden coves and the got some great views of some of the best beaches in Costa Brava from the comfort of our boat! The water was surprisingly cold so I only lasted about an hour in the water, sans wetsuit!
Where to eat: We had lunch at the gorgeous Casa Brinda in Platja d'Aro – one of the prettiest restaurants we ate at during our stay with high ceilings and plenty of light flooding in, and also a pretty terrace out the front. Their portions were huge! One girl ordered a pasta starter and the bowl was the size of her head! Go for the seafood risotto!
Platja de Fenals, Lloret de Mar
Another great beach for water sports enthusiasts, and a busy beach for groups of friends and families too, this seemed more of a party place with some cute cafes and beach bars (Instagram lovers rejoice!) so that you could easily sip on some cocktails while watching all the activity on the beach.
We did a kayaking trip from here which was one of the highlights of the trip – I seriously could not believe how clean and clear the water was. It was just magical!
Where to eat: If you want to have lunch right on the beach, sitting on a beautiful terrace with ocean views and sand in your toes, then head to Cala Canyelles Restaurant in Lloret De Mar – they serve both amazing seafood and meat, and some delicious pizzas too!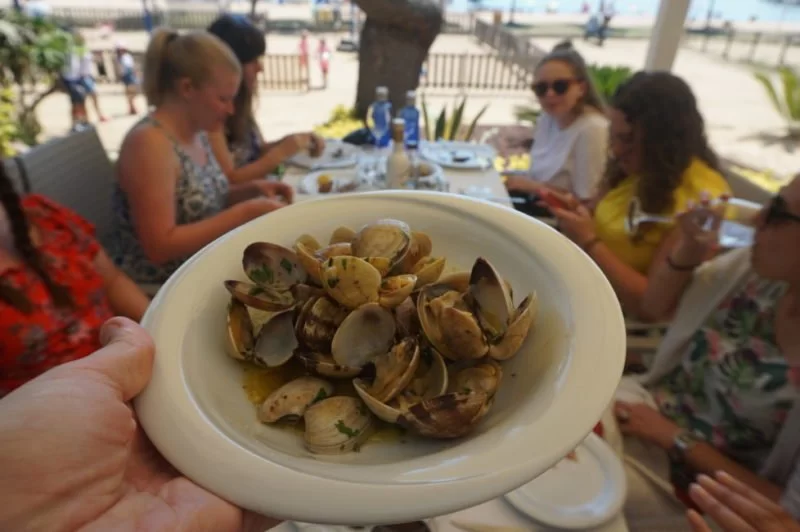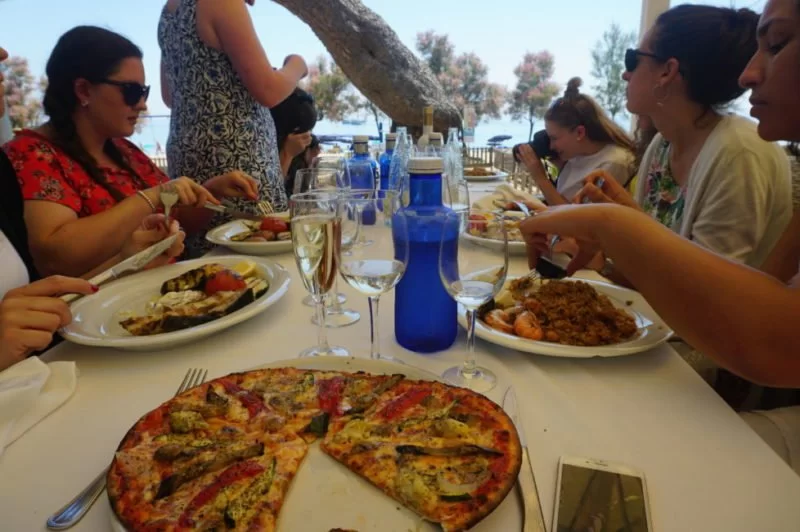 San Pol Beach, S'Agaró
We didn't have too much time on this beach, and while the area of sand itself was quite narrow in parts, it's the stunning background of the Costa Brava Coastal Path and the super colourful beach huts that line the southern end of the beach that make it unique. Again with crystal clear waters and quite popular with families, with many inflatables and small boats in the water.
This is also a great starting point to walk some of the prettiest parts of the Costa Brava Coastal Path, passing pristine water and coves and jaw-dropping villas perched up the hills.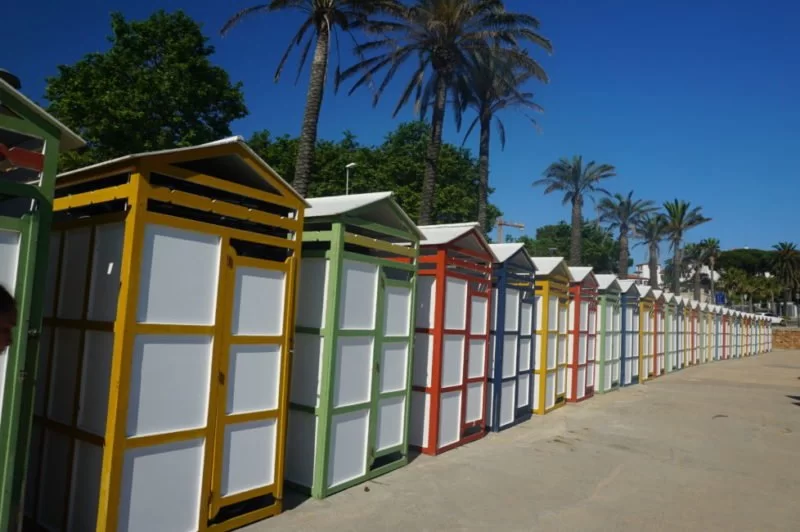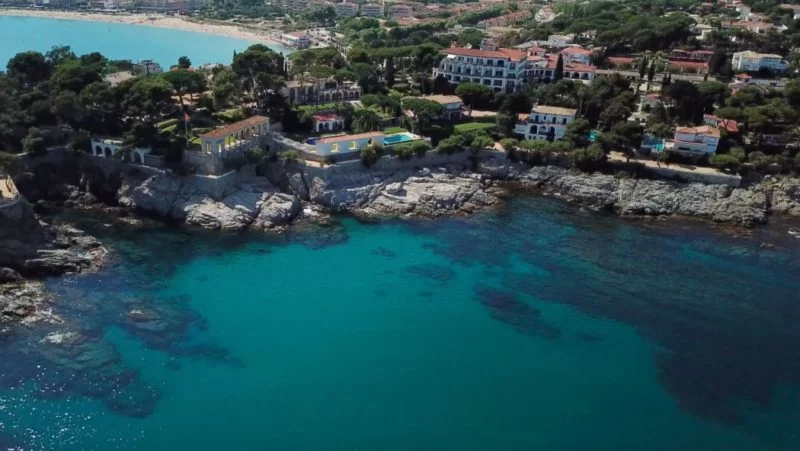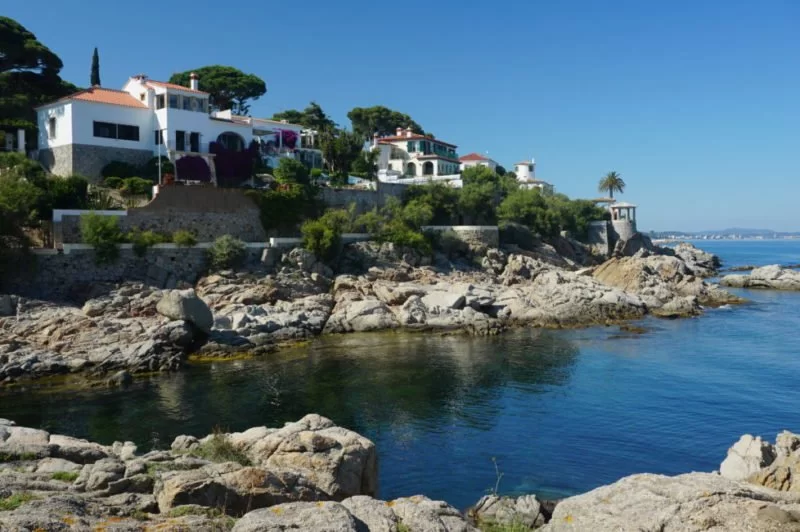 Platja de Treumal, Blanes
While on the surface it might seem like a typical Costa Brava beach, but there's a lot more to this very accessible beach than first meets the eye. Platja de Treumal runs along a protected area, Pinya de Rosa, in which you can find a botanical garden that's filled with cacti.
In the summer it's crowded with sun worshippers lunging on beach beds you can rent nearby, and for the rest of the year it's a calm, meditative beach that's perfect for yoga, which is exactly what a lot of people are using the beach for. And it's quite close to civilization, too, so it's an easily reached place.
Where to eat: If you're in Blanes, you simply MUST eat at Es Blanc Blanes, probably one of the best restaurants on the entire Costa Brave coast.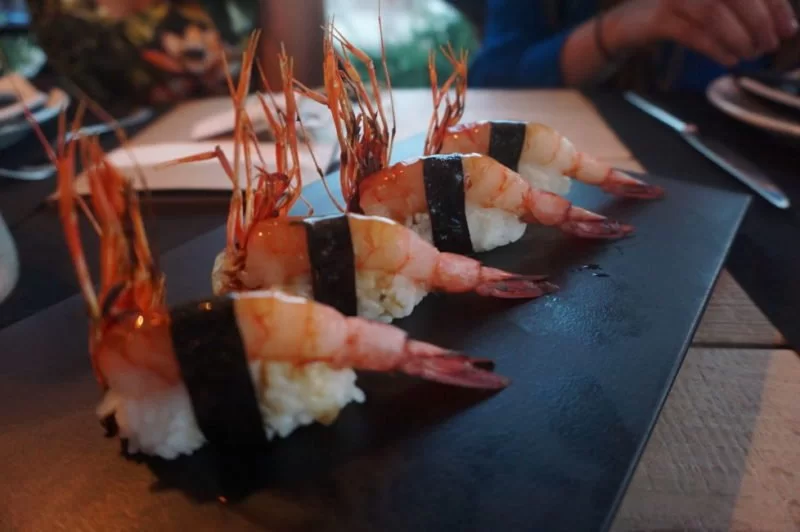 Platja de Santa Cristina
While this beach is actually next door to Treumal, it's practically worlds apart in terms of feel and atmosphere. It's not a spectacular beach by any sense of the word, but it's much nearer to a standard tourist beach, albeit a relaxed one, where you can just lie down and enjoy the breeze and the calm waves crashing on the sand.
There are several tourist facilities around, as well as a shrine to the local patron, and even an old fishing cottage. The beach and the nearby green pine trees were immortalized by famous painter Joaquin Sorolla, who managed to capture the calm splendor of this otherwise fantastic beach.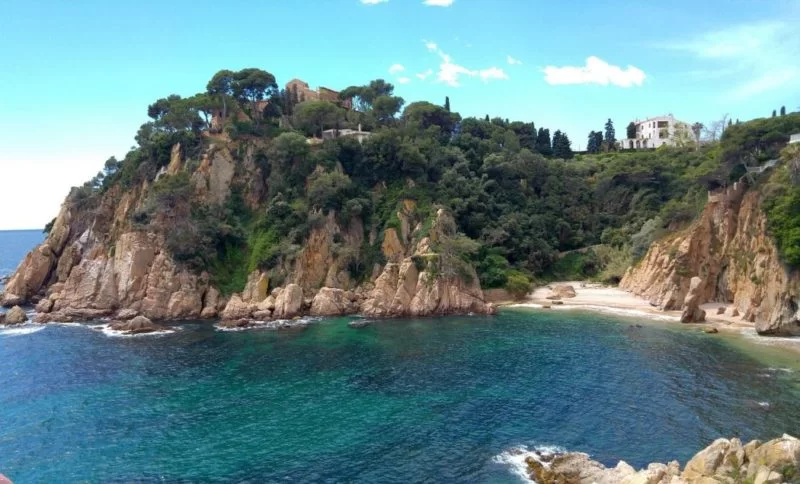 Sant Pol
A comfortable, yet modern, place, Sant Pol is a beach on a wonderful little bay on the fringes of Sant Felis de Guixols. It's a place that was practically walled up due to the many buildings that were originally built in the first decades of the 20th century, but in recent years it was turned into a tourist destination where people from all around the world like to visit.
The surroundings of Sant Pol feel a bit wild and unkempt, but despite that, it's a well-maintained beach and area. There's a peculiar charm to Sant Pol, one that's unique to Costa Brava, where you can feel all alone in one moment, and in the next completely surrounded by people.
Cala Rovira
Definitely one of the most beautiful beaches in all of Costa Brava, this is a beach that's both comfortable and wild. It has a certain rugged beauty about it, with a certain splash of color that only adds to the ambiance of the beach and its surroundings, meaning that even though it's constantly populated and occupied by people, there's always rooms for more.
Not that it's a large beach, because it isn't, but rather because it's just popular enough for it to never feel crowded and suffocating. There are even little coves outside of the beach that are a few minutes' walk where you can find a spot that nobody will be able to bother if you're not a fan of people playing beach sports around you or sipping drinks under umbrellas around you.
View this post on Instagram
Platja de Castell
Not your typical beach, Platja de Castell has a unique virgin beach feeling that's not all that typical to Costa Brava. The locals have put a tremendous effort to save this beach from developers in order to save the natural splendor from turning into hotels, bars, and villas, and the result is a relaxing natural beach.
Platja de Castell used to be the spot of lavish parties thrown by the nobles that used to live in the area, and among its guests were celebrities of the likes of Marlene Dietrich and Salvador Dali.
Dali himself built a cottage in the nearby forest which stands to this very day, and can be found after some wandering throughout the woods.
Platja del Canadell
Probably the most luxurious spot in all of Costa Brava, this former fishing village was turned into a summer getaway spot for wealthy Catalonians, but thankfully it hadn't lost a single speck of its charm. Everything is downright gorgeous in Platja del Canadell, and there's a vast amount of choice when it comes to bars and restaurants, even if they are a bit of the pricey side. The summers tend to get overcrowded, indeed, but thanks to the wonderful weather throughout the rest of the year, even a visit in the other seasons is rewarding in and of itself.
The beaches are absolutely perfect, as they're constantly maintained, even if there's rarely extra spot for more towels on the ground. But still, with all those excellent tourist amenities, perfect waters, and stunning charm, Platj del Canadell is absolutely worth a visit.
View this post on Instagram
There are many, many wonderful beaches in Costa Brava. And because of the accessibility of this region finding a new beach is not only easy, but definitely fun. Everyone should experience the wonderful sands of Costa Brava at least once, as it's one of the most unique places in the world when it comes to beaches and coastal beauty.