Dreaming of exploring Cape Country Routes and need help planning your itinerary?
Cape Country Routes was founded in 1997 by a group of enterprising independent hotels and country inns, to encourage visitors to explore the scenic, romantic and historic routes between the two harbor cities – Cape Town and Port Elizabeth in Eastern Cape Province.
These routes include a selection of fun things to do and properties stay are chosen for Character, Charm, and Romance – the hallmark of Cape Country Routes.
---
Things to know before visiting SA
---
Where is Cape Country Routes
Cape Country Routes aims to promoted and enhance the splendors of South Africa, starting or ending in 'The Cape' at the southern tip of the African continent, through their 4- and 5-star establishments.
They provide world-class tourism in a sustainable way. It will not only please and satisfy conscious travelers but also benefit all South Africans. f members are committed to assisting community projects in their areas and have invested in meeting the aspirations and needs of their staff and their families.
The Best Cape Country Routes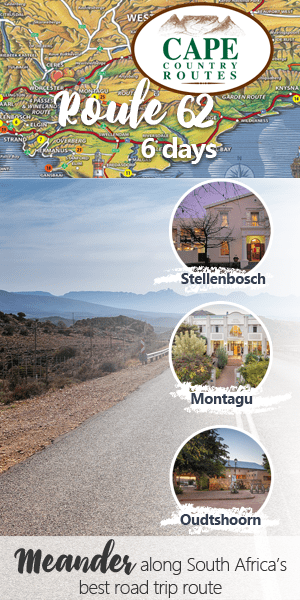 Route 62
The scenic Route 62 is a popular road trip route between Cape Town and Oudtshoorn. This used to be the main link between Port Elizabeth and Cape Town before the N2 Highway was built in 1958.
Popular stops on this Cape County route includes Ronnies Sex Shop, about 20km outside the small country town of Barrydale
You can also enjoy the experience of a lifetime in Montagu with a genuine American Dream Car. The fleet includes the 1956 Cadillac Sedan De Ville and 1956 De Soto Fire Flight Sportsman. Tours are chauffeur driven and start at Montagu Country Hotel in the center of the village at an hourly rate and accommodate up to four people.
A stop at Van Loveren Wine Estate to learn about the Four Cousins – South Africa's biggest-selling bottled wine brand, and enjoy a wide range of food and wine pairings.
Some amazing Properties on this route include Wildehondekloof Private Game Reserve – 8 luxurious bedrooms all en-suite & air-conditioned with stunning views of the mountain and river in Oudtshoorn; and the Montagu Country Hotel – styled to take guests down memory lane to the 1930s.
7-day Golf Experience
From Stellenbosch to Paarl, Elgin Valley and Knysna.
The Cape Country Routes Golf Experience takes you from Stellenbosch, a picturesque university town surrounded by mountains and vineyards, where you will get to spend two nights at the Evergreen Manor.
You will travel to Paarl in the heart of the Cape Winelands where you can hit-a-hole-in-one at the beautiful Boschenmeer golf course then spend one night at Cascade Country Manor.
You'll head to the Elgin Valley lying between the UNESCO protected Kogelberg Nature Reserve and the Groenland Winery, for an experience of a lifetime.
From swimming, hiking, mountain biking, kayaking, river cruises, ziplining, shark cage diving, or whale watching to apple-picking and bird watching, you won't run out of things to do in this region. After a long day, you can wind down at South Hill Guesthouse.
This trip ends in South Africa's own 'Garden of Eden' Knysna, sandwiched between the towering Outeniqua Mountains and the Indian Ocean. You will get to spend two nights at the luxurious Lofts Boutique Hotel.
[maxbutton id="3″ url="https://www.capecountryroutes.com/pages/find-a-route/" ]
Travel Insurance for South Africa
Use travel insurance while visiting South Africa so you are covered for theft and medical expenses. There are a lot of adventurous activities to do in SA, and it's best to have peace of mind while driving, hiking, and trying some of the best food in the world.
Find out why I recommend World Nomads, check out my World Nomads Insurance Review.
Disclaimer: This article contains affiliate links. This means that if you make a booking after clicking on a link, I may receive a small commission at no extra cost to you!