When visiting Ireland, most people think of the major tourist cities, like Dublin and Cork, but it's really the small charming towns in Ireland that make it such a fascinating destination. Once you dig into the smaller gems, you'll start to see the real beauty of Emerald Island.
Planning a trip to Ireland? Here's our Ireland packing list, a suggested 1-week in Ireland itinerary and tips for expats who want to move to Ireland.
Charming Irish Towns
Ireland is home to some of the most beautiful towns in Europe.
Boolavouge
Boolavouge is a charming Irish village located 12 km northeast of Enniscorthy in County Wexford (about 2.5 hours from Dublin).
When you say Boolavouge, most people think of the famous Irish ballad commemorating the Irish Rebellion of 1798, when the local parish priest Father John Murphy who led his parishioners into battle in May 1798 but they were defeated and killed at the Battle of Vinegar Hill on 21 June.
You can stroll through the village and admire the farms and beautiful home, head to Father Murphy centre to learn about his history or have coffee at one of the quaint cafes before making your way into town where you'll find more things to do in Wexford.
Dingle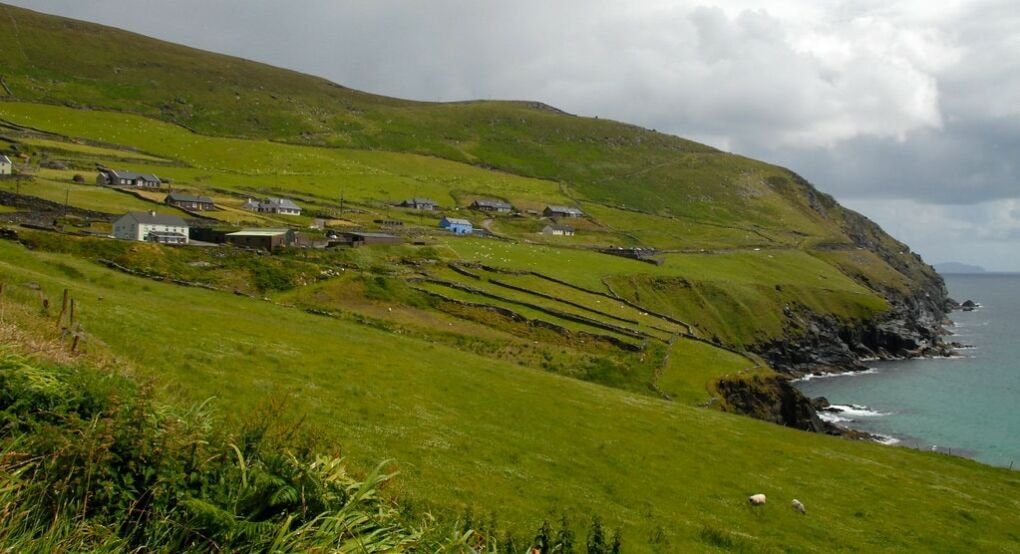 By Jyoti from Story at Every Corner
Dingle is a beautiful little Irish town in western part of Ireland. We arrived there as part of our 1-week road trip around Ireland. This quaint town should be in your itinerary if you enjoy nature, culture, food, music, or history. You'll leave with a gorgeous gallery of photos from Ireland.
There is a ton to do in Dingle and the broader Dingle peninsula. One of the most favorite things to do in Dingle the 26mile Slea Head Scenic Drive. The drive offers some of the most gorgeous views, delicious Irish food, and open air museums. You'll see ancient stone homes and recreated homes from the potato famine. The potato famine caused a large part of the population to die or flee to other parts of the world including the USA.
Ireland is known for its amazing horseback riding and Dingle is a great example with its established stables, horses and trainers. A horseback ride on the beach in the evening is a wonderful way to capture sunset and build memories for a lifetime.
The town of Dingle is the best for pub crawling, traditional Irish food, and Irish folk music. As you walk around town in the evening you'll hear catchy Irish music from pubs and you wont be able to resist walking in for a treat. Talking of treats, the downtown has the best icecream, a wonderful way to wrap up a meal is Dingle.
Donegal Town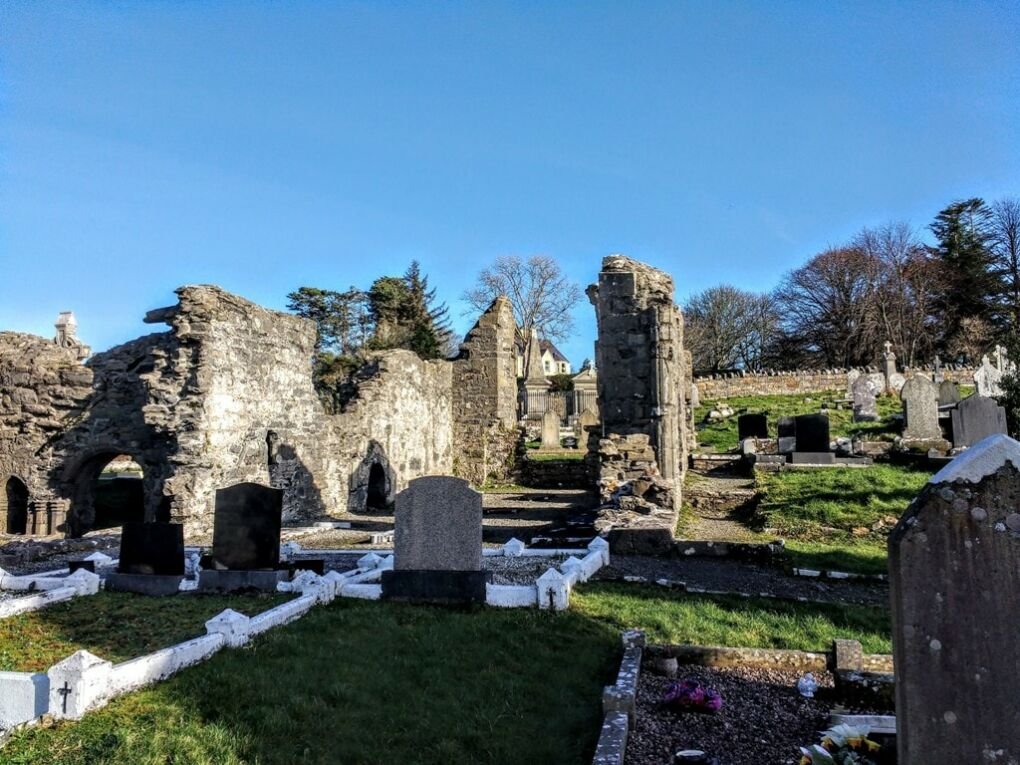 By Faith if XYU and Beyond
Donegal County is located in northwest Ireland on the Wild Atlantic Way and Donegal Town sits to the south end of Donegal at the mouth of the River Eske, with views of the Bluestack Mountains on one side and Donegal Bay on the other.
The Diamond is where you will find all the hotels, pubs and restaurants and where the buses let you off. To get here you need to drive from Dublin which is around 3 hours or take a bus which takes 4 hours.
Donegal Town is perfectly located to see Neolithic sites watch the grandeur and fury of the Atlantic Ocean, tour Irish Islands like Tory and Arranmore, and start your Wild Atlantic Way road trip.
You can tour Donegal Castle built by the first Red Hugh and his mother Nuala in the 1400s. Visit the ruined Abbey at the mouth of the bay and take the bank walk around the Eske River. There's a famine graveyard to visit or a boat tour around the harbor with live music and some great craic.
Check out the world-famous Magees Donegal Tweed shop where they have been weaving Donegal tweed for over 150 years and enjoy some of the best trad music in Ireland in Donegal Town pubs.
Cobh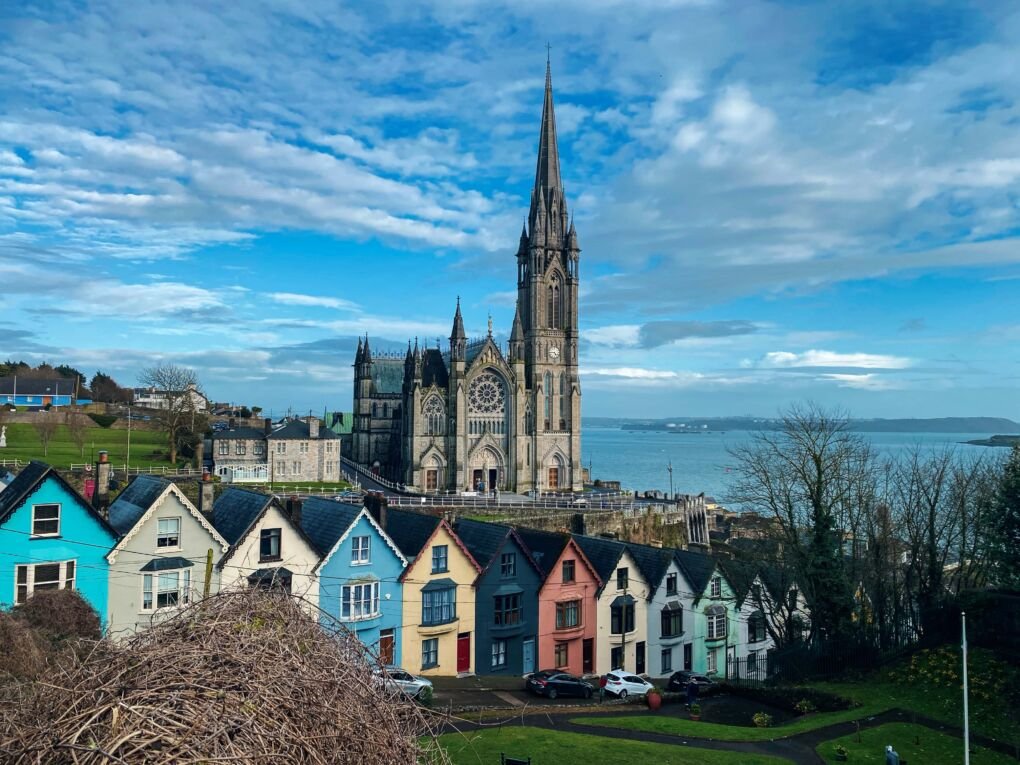 By Chelsey of Chelsey Explores
Cobh (pronounced as Cove) is a charming Irish Town located in county Cork. It's know for picturesque colourful houses, art, history and the Titanic's last port of call in 1912.
Visitors can walk around this historic town, say a prayer at the St. Colman's Cathedral, walk the titanic train or even go inside the Titanic Experience museum or simply enjoy views from the cork harbour at one of the many restaurants.
Castlelyons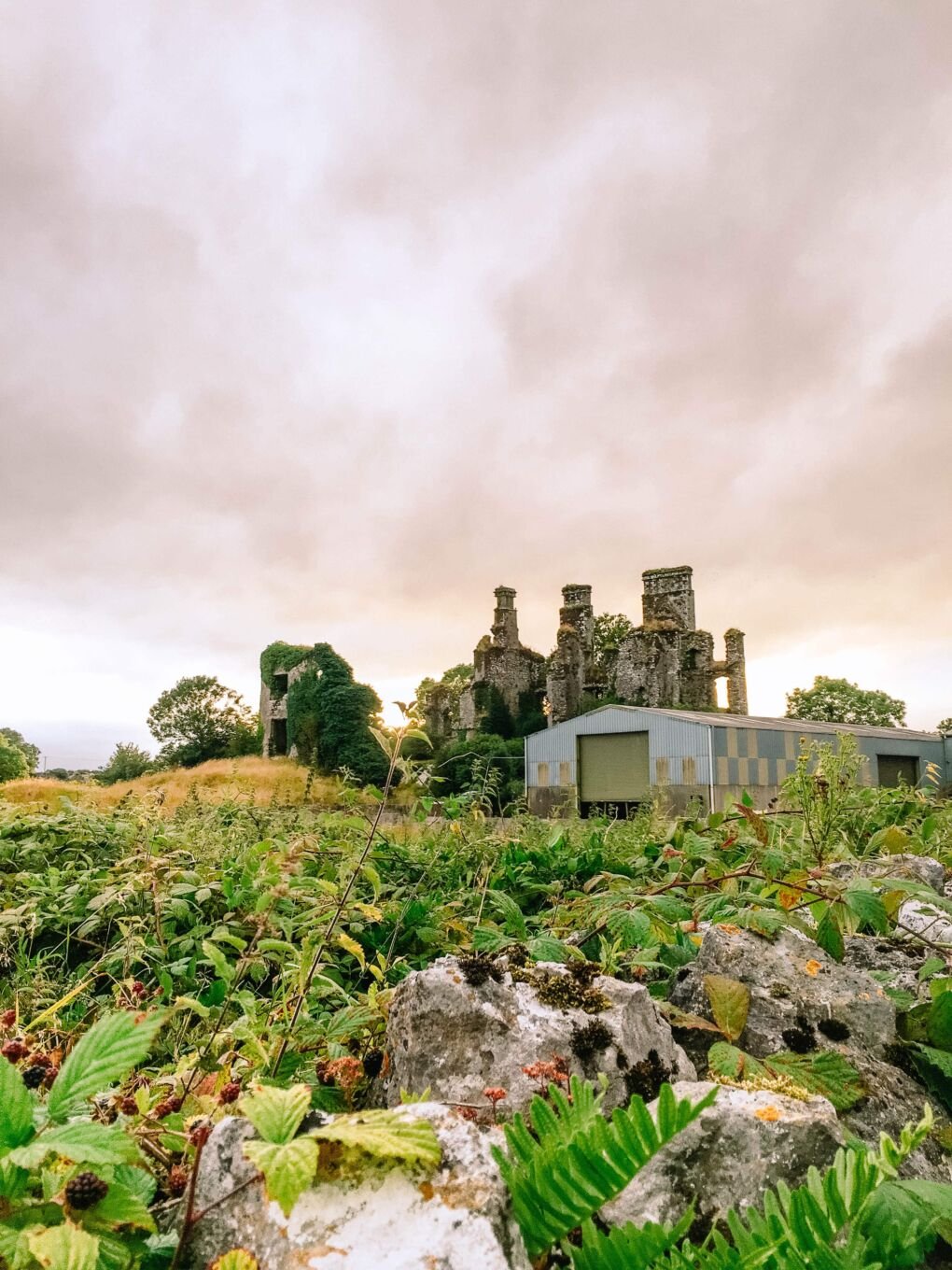 By Alicia of Travels with the Crew
Castlelyons is a charming small town in Ireland, located about 30 minutes north of Cork. It is part of greater Fermoy and enjoys some of the most spectacular views in Ireland.
The best things to do in Castlelyon are all about views of the countryside. If you have come to Ireland to see beautiful green landscape this is the place to visit!
Hike to the top of Corrin hill to get a panoramic view of Castlelyon and Fermoy. If you are religious you will notice the stations of the cross along the hike.
Tour the old Castle in town and enjoy the views from within its walls. The castle was originally built in 1220 and called Irelands oldest inhabited Castle.
Visit Ballyhooly Castle and enjoy a stroll around the yards. The old castle is mostly in ruins but it is fascinating to explore, plus it is one of the most beautiful properties in County Cork.
No matter where you are in Castlelyons you will find something beautiful! I hope you will enjoy your visit.
Howth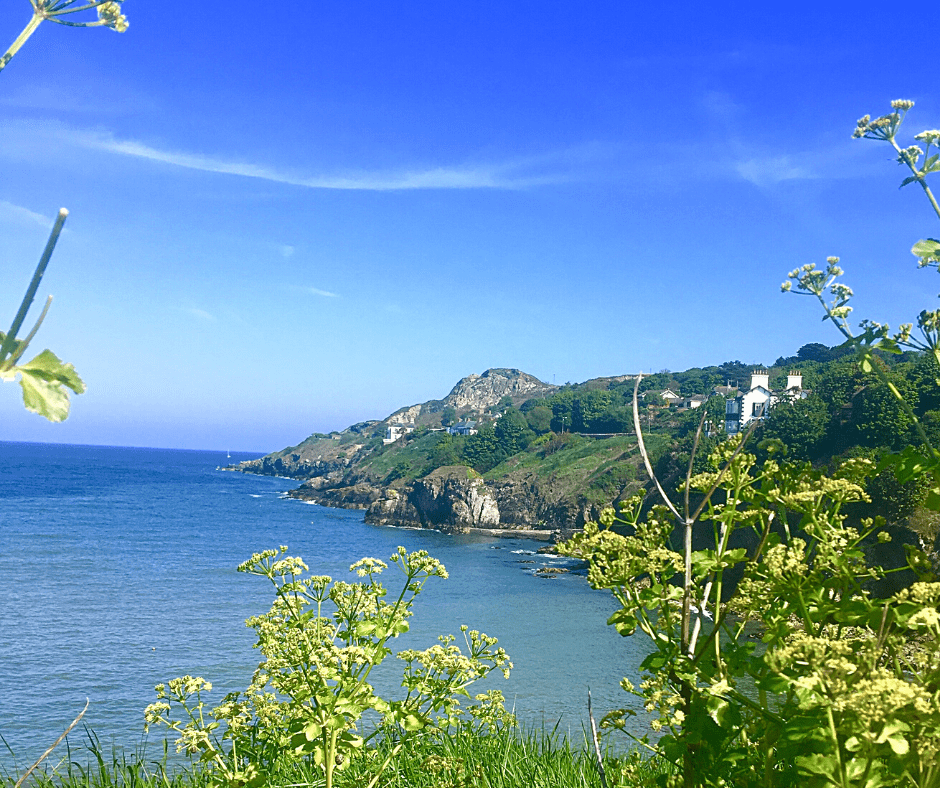 By Pamela of The Directionally Challenged Traveler
One of the most beautiful towns in Ireland is Howth. This picturesque, seaside town is often overlooked by travelers.
Located 10 miles (13 km) north of the bustling city of Dublin, Howth is very easy to visit. You can drive or take the Dublin Bus to get to Howth. A bus ride takes about 45 minutes. Once you're in Howth, be sure to visit the Howth Market. You'll find some local food including cheeses, nuts, and chocolate, but also idyllic Irish jewelry and more perfect souvenirs.
Wear your comfortable shoes in Howth so you can enjoy the natural beauty of Howth Head and the Bog of Frogs. Despite its name, it's home to incredible countryside views. In south Howth, you'll find the Baily lighthouse. The original lighthouse was built in 1667, with parts of the original building still remaining!
Explore St. Mary's Abbey and Howth Castle. Travelers who double as chefs can also take a cooking class in the Kitchen!
No matter what you decide to do in Howth, you'll be glad you visited this beautiful town in Ireland.
Kinsale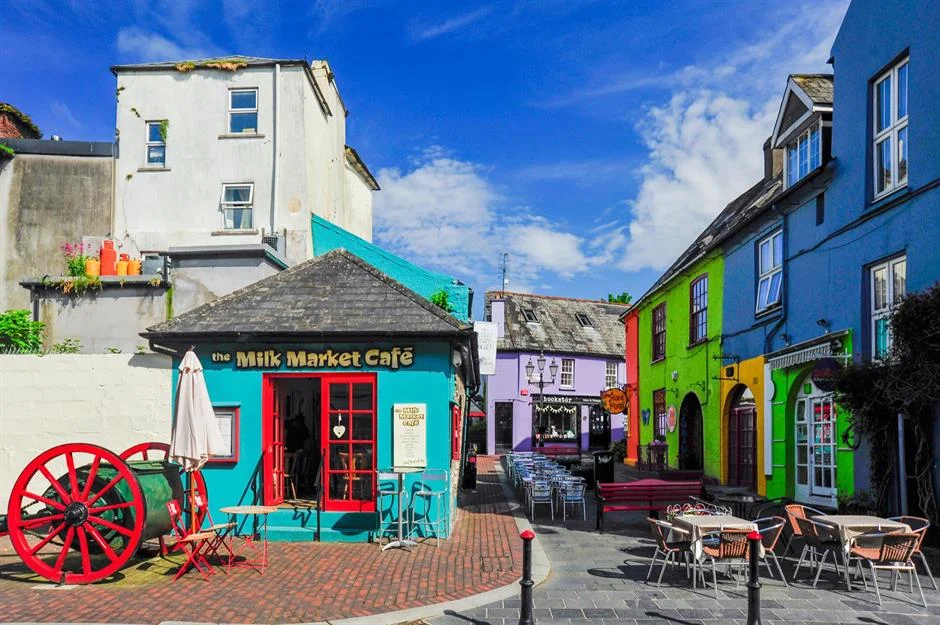 If you're looking for picturesque towns in Ireland, you have to visit Kinsale. This postcard-perfect town is situated on the southern coast of Ireland, in County Cork.
Kinsale is internationally renowned for the number of its famous eateries. There are no shortage of cafés, pubs and restaurants to suit every taste and budget. This historic fishing town is worth adding to your Irish bucket list!
Londonderry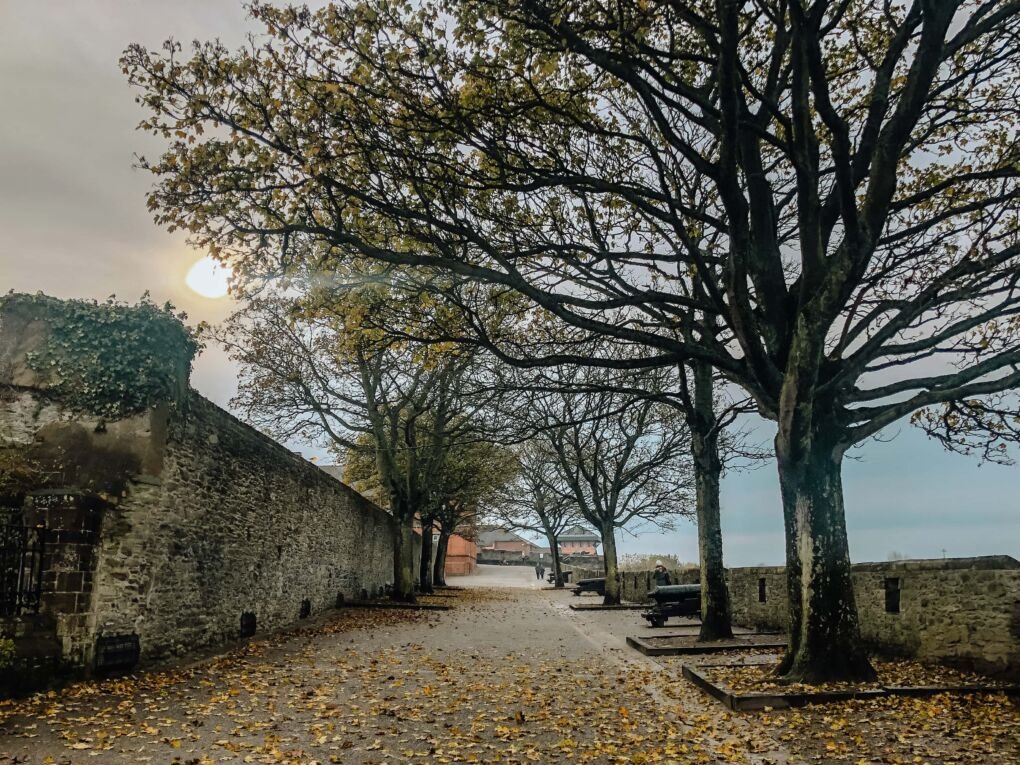 By Olivia of Girl With Blue Sails
Londonderry holds the title of being the only completely walled city in Ireland. Perched on a hill and surrounded by greenery, it overlooks the river Foyle below. Commonly a day trip by car or train from Belfast, Londonderry is one of the most beautiful towns in Ireland.
Londonderry is famously historic and is known for its walls, which were built in the early 1600's. One of the most popular things to do in Londonderry is to take a historical walking tour. Visitors walk the walls while learning about past and present conflicts.
Another major draw in Londonderry is the beautiful art murals, some current and some from the early 1900's. Most of the murals are politically charged, but some are lighthearted, like the mural depicting kids in school uniforms, showing the town's pride of the 2018 light-hearted Netflix show Derry Girls.
While Londonderry has had a conflicting past, it still has much beauty and charm to offer. The locals are very welcoming and the streets are full of amazing restaurants. It's a wonderful city to spend a couple of nights in, but it only takes one afternoon to realize Londonderry is one of the most beautiful towns in Ireland.
---
Ireland Travel Tips
---
Have you visited any of these most beautiful towns in Ireland? What would you add to this list?