India has turned into a real treat for digital nomads, with coworking places blooming all over the country, especially during the last few years. Besides Mumbai and New Delhi, which are considered some of the best places to live in India, Goa is also a great destination for nomads and expats. This is an eco-friendly region that offers a peaceful working environment and relaxing activities, like yoga and meditation, to eliminate work-related stress. If this is your first time in Goa, here is a little help to get to know it better:
As a southwestern state in India, Goa has coworking spaces in several cities. Unlike cafés and restaurants, where the quality of the Internet is not a guarantee, most coworking spaces offer everything for working comfortably, including fast and reliable Wi-Fi. We suggest you try the following coworking spaces in Goa, and also one to steer clear of unless there isn't anything better in the vicinity.
MeWo Is the Greatest Coworking Space in Goa
Image source: MeWo website
MeWo coworking space is designed to fulfill your every wish. This modern and well-organized space is relatively new and already attracting a lot of attention in Goa. The Internet here is fast and even has a backup in case of a blackout, although MeWo's generator kicks in if electricity is down.
If you come here with your team, you will like the private offices. Each is equipped with a whiteboard, an air-conditioner, and monitors if requested. Dedicated desks are arranged in the open area full of artificial plants dropping from above, while desk separators ensure that there is sufficient privacy. Everyone at MeWo gets an ergonomic chair and a personal locker located above the desk, so your belongings will be safe when you take a breather.
Coffee and snacks are available in the kitchen, and you can have them at the in-house café whose ceiling emulates a clear, blue sky, with vintage street lamps by the walls. The café is also everyone's favorite meeting spot, although MeWo has excellent conference rooms with full AV equipment.
Every member receives biometric keycards to access MeWo, and the whole place is monitored with CCTV. If you have any problems or need help with anything, a receptionist is there to take care of any potential issues.
During breaks, you can borrow a book from the library and read on the comfortable couch in the lounge area. If you want something more exciting, MeWo has an impressive game zone where you can do some networking while playing with the other members.
Basics
Pricing
INR800 per hour
High-Speed Internet
150 megabit fiber
Open Hours

Monday–Friday: 8 am–8 pm
Saturday: 8 am–8 pm
Sunday: Closed

Ergonomics
Comfortable Chairs
Yes
Standing Desk
Yes
Workspaces
Dedicated Desks
Yes
Conference Rooms
Yes
Private Offices
Yes
Phone booths
No
Coliving
No
Blue Lotus Is the Coworking Space to Skip in Goa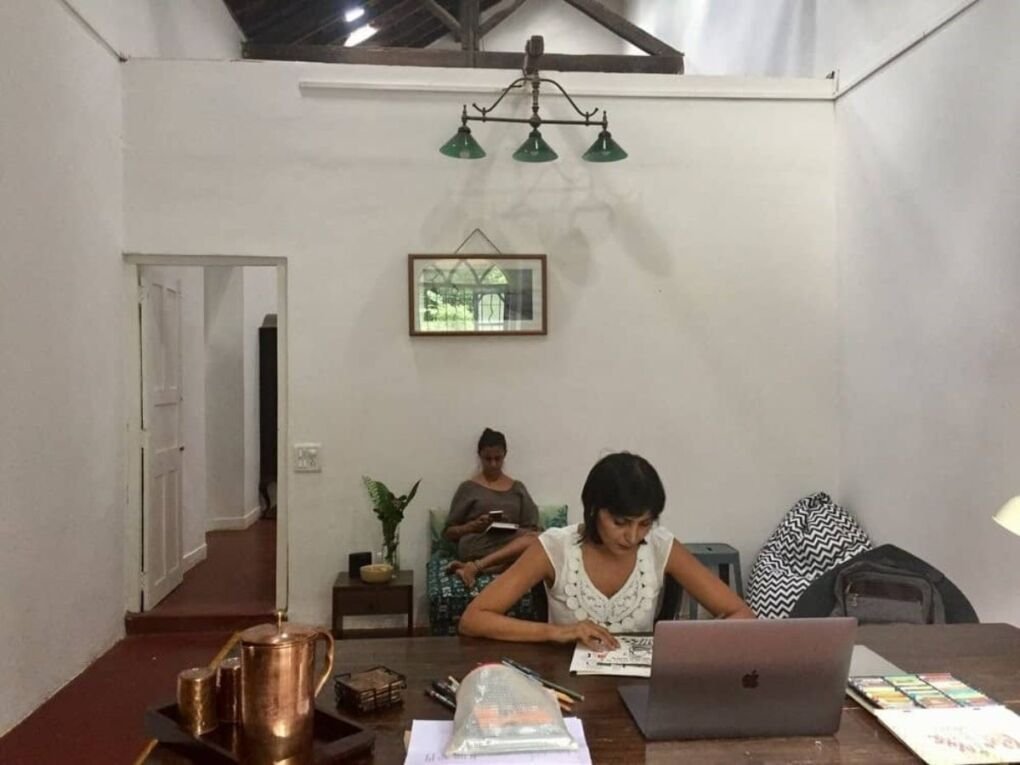 Image source: Blue Lotus website
Blue Lotus is part of the concept that promotes coliving and coworking for digital nomads. This extremely small coworking space is located within a 140-year-old property in the village of Ucassaim.
The biggest problem we had with Blue Lotus is that it's the least dedicated to coworking and the most to community building. There are one proper desk and two chairs in their area intended for coworking, with a couple of beanbags on the side. Some rooms have desks, but you need to make that request when booking to make sure you get one.
Since we didn't feel comfortable working in the small coworking area, we were able to work in the common room, thanks to our travel stand desk. The Internet was great, but in the evenings, when everyone was back inside and online, it tended to slow down.
Blue Lotus is far from being a bad place to stay, but it's not even close to being a great coworking spot, especially because of all the available activities. The staff takes guests for regular hikes in nature to the surrounding forest and hills. You can take yoga lessons at the studio outside and also participate in a group meditation.
Since the place is an international hub, you will meet great people and fellow digital nomads here. Even if you don't get a lot of work done, you will have fun networking and relaxing.
Basics
Pricing

INR100 per hour
INR600 per day
INR2,000 per week
INR8,000 per month

High-Speed Internet
100 megabit fiber
Open Hours

Monday–Friday: 9 am–6 pm
Saturday: Closed
Sunday: Closed

Ergonomics
Comfortable Chairs
Yes
Standing Desk
No
Workspaces
Dedicated Desks
Yes
Conference Rooms
No
Private Offices
No
Phone booths
No
Coliving
Yes
Three Coworking Spaces in Goa Not to Miss
Here are more coworking spaces that deserve your attention:
91SPRINGBOARD
NomadGao
Ignite EDC Innovation Hub
91SPRINGBOARD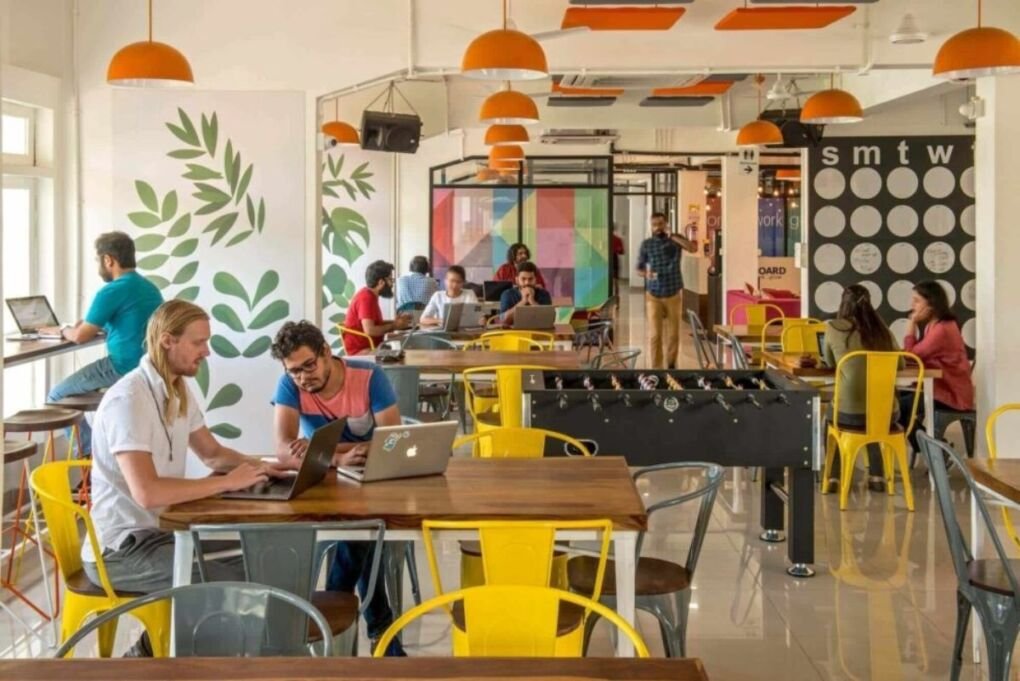 Image source: 91SPRINGBOARD website
91SPRINGBOARD is a coworking space in Panjim occupying two floors, available 24/7 to its members. It has an open floor plan for hot desks and separate areas for private offices, conference rooms, and dedicated workstations.
If you prefer to work on your feet, you can use one of the standing desks by the windows. Ergonomic chairs are available for all members, except for those at the hot desks, although they can work on the couch or beanbags in the lounge. If you want to play foosball or read in the library, you can leave your things in a personal locker, available for all members.
The space is pet-friendly, so you are welcome to bring your doggo or kitten to keep you company while you work. The free coffee and tea at the in-house café will keep you focused on your work. If you want to grab something to eat, you will have to go for lunch at one of the nearby eateries.
NomadGao
Image source: NomadGao website
NomadGao is located in a quiet neighborhood, Assagao, offering rooms as well as one of the fastest Internet connections in Goa. If you decide to rent a room, you will get 24/7 access to the coworking space, which is otherwise available only on workdays.
Wood and potted plants dominate the interior design of this coworking space and make it homey and cozy. Ergonomic chairs are available at every hot desk, so you don't have to worry about back pain or a stiff neck.
This coworking space is all about building a community of digital nomads, so you will have excellent networking opportunities. NomadGao often hosts events aimed at bringing Goa's coworking community together and helping local startups.
You will always have company for coffee and tea since everyone is nice and friendly, including the staff. The in-house café also serves amazing food, and you can have lunch in the lounge area outside or inside on a comfy couch and beanbags.
Ignite EDC Innovation Hub
Image source: Ignite EDC Innovation Hub Facebook
Ignite EDC Innovation Hub is a big enough space to fit almost 100 people and is completely equipped with private offices, conference rooms, and individual workstations. Ergonomic chairs are everywhere, but if you need a standing desk, you will find them only in the dining area.
Space is more dedicated to collaborative work and building startups, so it can be a little bit loud when teams gather to discuss a project. Ignite EDC Innovation Hub often organizes workshops and events for the local community, so you can meet a lot of interesting people and maybe start new collaborations. Thankfully, phone booths and Skype rooms are isolated, so you can make calls without any interruptions or surrounding noises.
The staff is friendly and will gladly show you around when you come here for the first time. Coffee and tea are free of charge, although you will have to pay for snacks in the kitchen, or you can bring your food and keep it in the refrigerator until lunch.
Other Coworking Spaces in Goa:
Mozaic
The Noname Coworking
Old Quarter by the Hostel Crowd