Traveling to Koh Samui is high up on digital nomads' bucket lists. And for a good reason, if we may add. This Thai island is absolute heaven on earth! Lush forests, rich wildlife, and seemingly endless stretches of sandy beaches would make everyone want to make this place their home permanently. The bravest and luckiest of remote workers actually do. We reviewed the best coworking spaces on the island so that you can take the plunge and work from Koh Samui without any worries.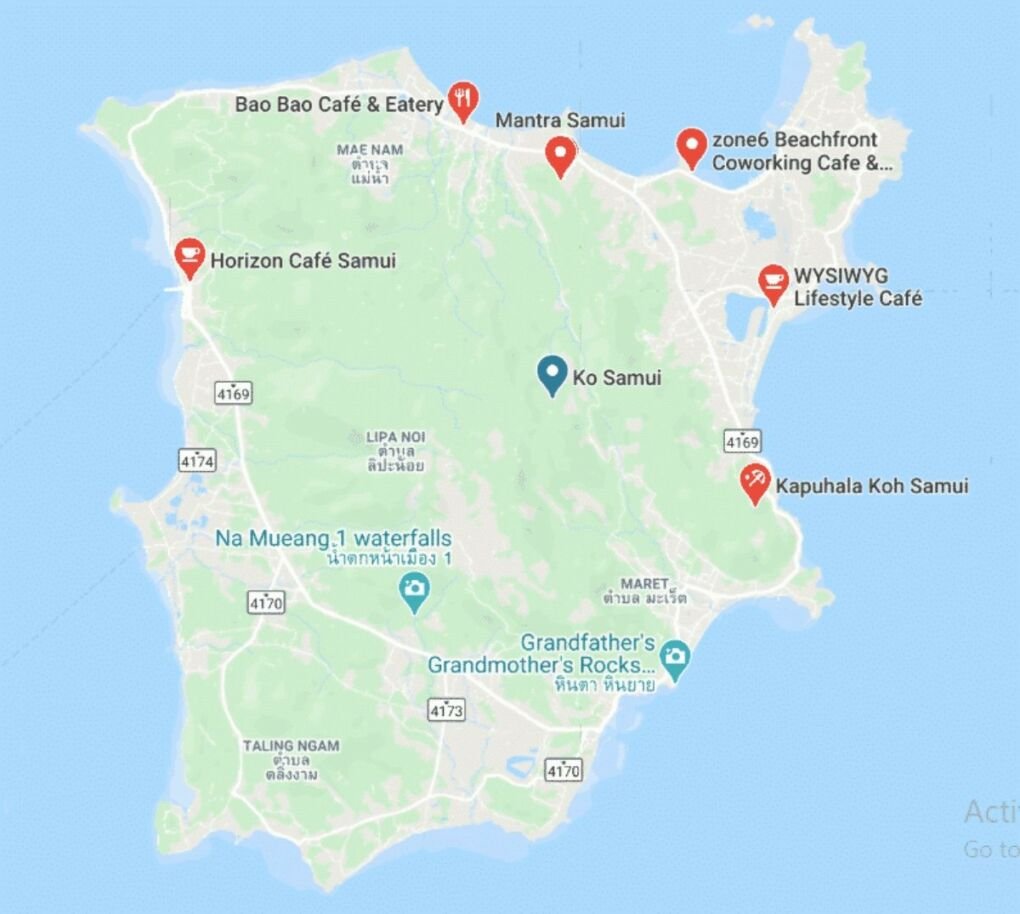 These are the places that caught our eye:
Mantra Work Lounge
WYSIWYG Coworking Space & Cafe
Jungle Club
Horizon Cafe Samui
Mantra Work Lounge Is the Place We'd Most Like to Cowork in Koh Samui
Source: Mantra Work Lounge
Mantra Work | Lounge is the first dedicated coworking space in Koh Samui, Thailand. It is located at 9/123–124 Moo1, Tumbon Maenam (Surat Thani province) in Koh Samui. The beach is in its immediate vicinity, which makes for some truly spectacular views that'll make your workload an easier burden to bear.
The original concept behind Mantra Work | Lounge was to create an inviting, invigorating, and community-building coworking space both for local entrepreneurs and foreigners. It caters to tourists looking to catch up on work correspondence as well as business owners wanting to organize events and make new connections.
What we love the most about it is the flexibility it offers. The place was designed to meet the needs of individuals having a working holiday and locals looking to spice up their work environment alike. It is equipped with high-speed Wi-Fi, a pantry with a selection of drinks and snacks, a printer, a scanner, and a photocopier.
There is even a pool table in case you need to take some time out or enjoy a stimulating team-building activity. But what really left us speechless was that you could choose whether to work from a cozy, air-conditioned lounge or from an outdoor terrace overlooking the ocean.
Still, that is not to say that we weren't able to identify a weak spot. Although Mantra Work | Lounge is an extension of a renowned hotel complex, the Mantra Samui Resort, it may prove rather hard to find for out-of-towners. Not only are there no street signs on the main road to point you in the right direction, but the street corner is quite easy to miss. If you know what you are looking for beforehand, you can always rely on the locals to point you in the right direction!
Basics
Pricing

Per day: 600 THB
Per week: 3,500 THB
Per month: 12,000 THB

High-Speed Internet
100 megabit fiber
Open Hours

Monday — Friday: 9 am – 9 pm
Saturday: 9 am – 9 pm
Sunday: 9 am – 9 pm

Ergonomics
Comfortable Chairs
Yes
Standing Desk
No
Workspaces
Dedicated Desks
No
Conference Rooms
No
Private Office
No
Conference Room
No
Phone Booths
No
Coliving
No
WYSIWYG Coworking Space & Cafe Is the Runner-Up for Koh Samui Coworking Spaces
Source: TripAdvisor
WYSIWYG Coworking Space & Cafe is located at 209 / 1–2 Moo 2, Koh Samui, Thailand. It is a coworking lounge of the COSI Hotel. Its location is conveniently accessible. Not only is it a part of a well-known hotel, but it is also right next to the Central Festival in Koh Samui, which gives its users access to all of the shops and restaurants this shopping mall can provide.
WYSIWYG Coworking Space & Cafe was envisioned as the place to get things done in Koh Samui. It is usually teeming with visitors, so you are bound to make a connection or two and expand your business community.
There is no entrance fee, and upon purchasing an item from the Cafe, you are granted unlimited access to a high-speed Wi-Fi connection. You have two stories at your disposal — the lower level is the cafe, while the upper level gives off a more relaxed, lounge-like vibe.
What we liked about this place for coworking is the fact that it is exceptionally well equipped for that purpose. There is direct access to a printer, and you'll have several Mac computers at your disposal. It is also open 24/7, a variety of food and drinks is available at the lobby, and the whole area is air-conditioned.
WYSIWYG Coworking Space & Cafe failed to be our top pick due to several factors. The music from the lower chill-out area is a tad bit too loud, and it may prove distracting for those of you who are most productive when you have some peace and quiet. The whole place is a bit too noisy, in general, as there are always a lot of people coming and going. If a busy environment is not stimulating for you, you may want to skip this one.
Basics
Pricing
Per day: 30 THB
High-Speed Internet
100 megabit fiber
Open Hours

Monday — Friday: 24 hours
Saturday: 24 hours
Sunday: 24 hours

Ergonomics
Comfortable Chairs
No
Standing Desk
No
Workspaces
Dedicated Desks
No
Conference Rooms
No
Private Office
No
Conference Room
No
Phone Booths
No
Coliving
No
Two Other Coworking Spaces That Caught Our Eye in Koh Samui, Thailand
Unfortunately, dedicated coworking spaces are in rather short supply in Koh Samui. But that doesn't mean there aren't any alternative options where you can set up shop for the day. We like several cafes and clubs that have great service and can double up as coworking spaces.
Jungle Club — Chaweng Noi Beach, Koh Samui, Thailand
Source: The Jungle Club Samui
The Jungle Club Samui is located at 44/11 Koh Samui Surat Thani 84320, Thailand. This is a true jewel of the area and a must-see place in Koh Samui. Nestled in the natural landscape in the midst of the leafy hillside overlooking the Gulf of Siam, this resort is the perfect solution for travelers looking to unwind and disconnect.
The Jungle Club may be an exceptional choice for accommodation, but what landed it on our list is primarily the versatility of its outdoor area. The resort boasts an exquisite cascading terrace with an awe-inspiring panoramic view of Chaweng Bay and an infinity pool.
Surrounded by natural lushness, it exudes tranquility and freshness, making it an excellent setting for getting some work done. On top of that, the terrace is the outdoor setting of a note-worthy restaurant that has you covered with delectable food and drink for the day!
Horizon Cafe Samui — Choengmon area, Koh Samui, Thailand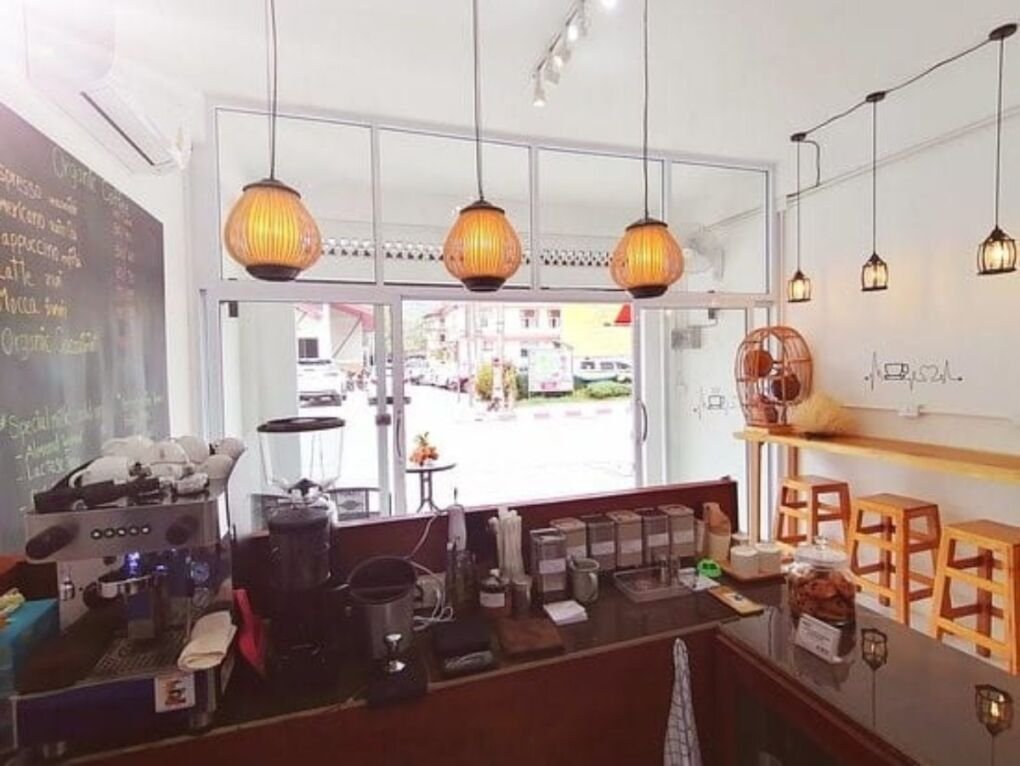 Source: Tripadvisor
You can find Horizon Cafe Samui at 41/1 M.3 T, Koh Samui, Surat Thani 84140, Thailand. What we loved about this place is that it is the ultimate locally-owned small business with a soul. Horizon cafe is a go-to place for those looking to sit down and have a chatter. The staff is lauded for their hospitality and kindness, and their vegan delicacies are the best on the island!
This heartwarming place is welcoming to coworkers as it has a stable internet connection, a pleasant, non-distracting atmosphere, and plenty of delicious, organic food and beverages to fuel your work endeavors. You are also able to choose whether to attend to your business matters from the air-conditioned indoor area or a secluded, enclosed backyard garden.
Even More Coworking Spaces in Koh Samui, Thailand
In case you haven't found exactly what you were looking for and you feel like you need more ideas, make sure you check out our following choices:
zone6 Coworking Beach Apartment — it may suit you in case you are looking for rentable apartments for your coworkers in the tropical paradise that is Koh Samui. In case you are not satisfied with the desk arrangements here, you could try out a travel stand desk
Bao Bao Cafe and Eatery — another viable solution that successfully mixes coworking in a relaxing setting with delicious Asian food and freshly ground coffee to help you stay focused
Kapuhala Koh Samui — an eco-friendly and vegan vacation retreat that includes a coworking space and also hosts events and workshops
Hopefully, this article has helped you find the perfect coworking space for your needs. To round the article up, we suggest you take a look at this video about what it is like to be a digital nomad in Koh Samui. It will help you grasp the advantages that such a lifestyle has to offer.
Tip: Find out where expats choose to live and work by reading our guide to the best coliving and coworking spaces in Thailand.