The life of a digital nomad has its ups and downs. Advantage: you can travel whenever you want. Disadvantage: you have to work while you travel. If you don't want to end up being unproductive in your hotel room bed, you'll probably want to find a functional coworking space.
If Seoul is your location of choice, you're in luck since it is one of the best places to live in South Korea. As the capital of South Korea, the city is well-equipped with everything, including coworking spaces.
As we know, though, sometimes it's better to have fewer choices. Think about the last time you bought toothpaste. Did you not stand there, looking helplessly at all seven thousand and something options, and finally pick one at random?
Don't worry—we'll save you from that terrible fate by narrowing down the list of coworking spaces in Seoul for you.
HIVE ARENA Is Our Favorite Place to Cowork in Seoul
Source: HIVE ARENA: Coworking space and Coliving in Seoul
We couldn't help but love HIVE ARENA. The hosts are friendly and communicative and always seem genuinely interested in the projects and ideas of their clients. They have dedicated their time to creating an active coworking community, and that is just what Hive is—a place to mingle, share your ideas, and make friends. The atmosphere is at the same time friendly and relaxing, productive and conducive to hard work, which is hard to come by.
It is situated in Gangnam, in the city center. The nearest metro station (Daebang) is just a short walk away.
Hive Arena is a comfortable place to work in, as it provides comfy chairs, bean bags, and standing desks. They offer printing equipment (including a 3D printer), and there is a nice lounge area when you need to rest and chill out.
There is a kitchen you can use, and they offer co-living arrangements as well. The co-living space is excellent, and it saves you a bit of time if you live and work at the same place—which leaves you with some extra time to explore the city!
There is free beer, coffee, and drinking water. If you're traveling with your furry friend, you can take them too, as the space is both cat and dog-friendly. It does a lot to improve the overall mood, as most people seem happy to see a wagging tail.
Basics
Pricing
10,000 KRW per day150,000 KRW per month
High-Speed Internet
Yes
Open Hours

Monday – Saturday: 10 am–8 pm
Sunday: Closed

Ergonomics
Comfortable Chairs
Yes
Standing Desk
Yes
Workspaces
Dedicated Desks
Yes
Conference Rooms
Yes
Private Offices
Yes
Phone booths
Yes
Coliving
Yes
We Also Loved These Coworking Spaces
If Hive Arena is, for any reason, not convenient for you, there are other options. Seoul offers over 60 coworking spaces, so you're bound to find something you like. Some are better than others, though, so here are some that we liked the most.
WeWork—Gangnam Station
WeWork—Euljiro
WeWork—Samseong Station
CowNDog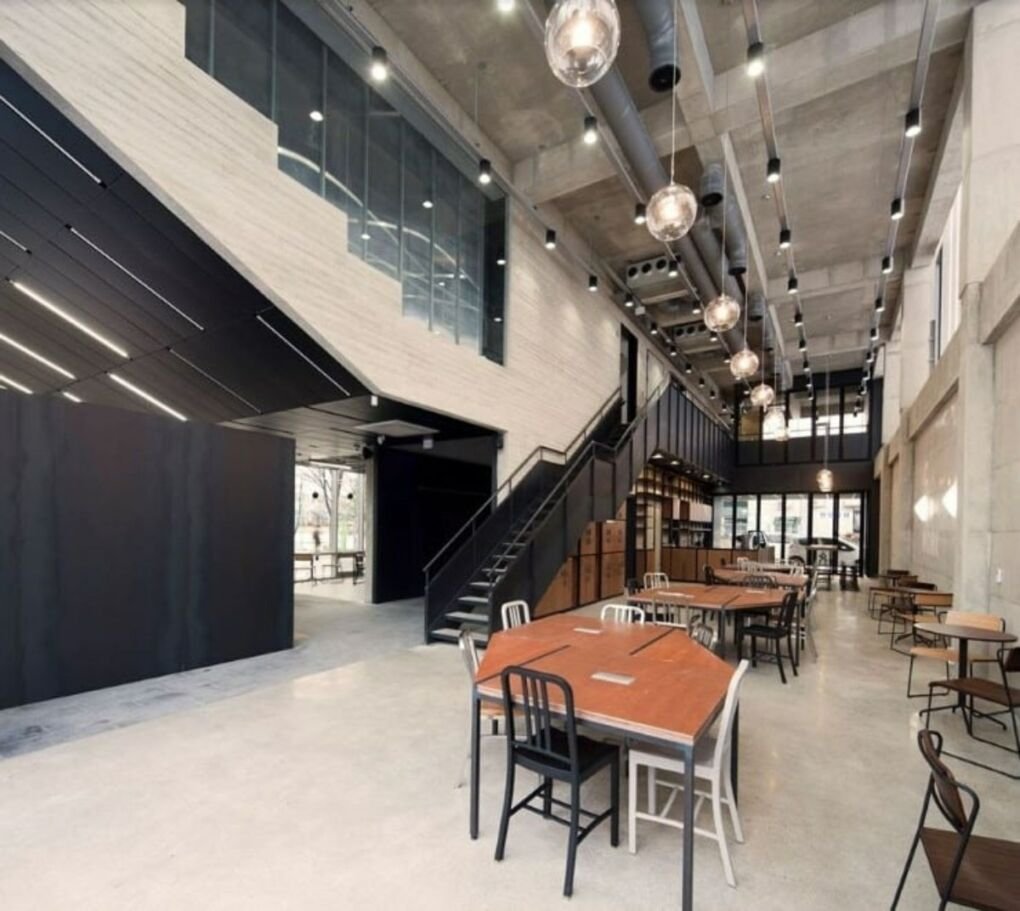 Source: CowNDog
CowNDog is located in Seongsu, the hipster part of Seoul. Aside from the great coworking space, the area provides plenty of craft beer bars, so you won't have any trouble finding entertainment after work.
The name itself is short for "CoWork and DoGood", which should give you an idea of the atmosphere and what they're all about. The members need to be involved in a project that will make a social impact, but you don't have to be a member to use this space.
The first floor is a café that is available to everyone. You don't have to pay to use it—but you do need to pay for the coffee. It's delicious coffee, though, and they also sell tea, snacks, and cakes.
The second floor is a members-only area. There are several rooms of various sizes for meetings, conferences, workshops, and so on. This part is also where they organize events and workshops for the members.
The internet is fast and reliable, and there is a lot of natural light, so it's a pleasant place for work. If you're driving, though, you have to pay for the parking, and the fee is 30,000 KRW.
Open hours

Monday – Friday: 10 am – 9:30 pm
Saturday – Sunday: 12:00 am – 9:00 pm

Price
Per month
59,400 KRW
WeWork
A part of an international corporation, WeWork boasts no less than 18 locations in Seoul.
Gangnam Station
Euljiro
Samseong Station
Yeouido Station
Seoul Square
Jongno Tower
Seolleung Station
Seolleung Station II
Seolleung Station III
Gwanghwamun
Yeoksam Station
Yeoksam Station II
Sinnonhyeon
Gangnam Station II
Samseong Station II
Designer Club
Sinsa
Hongdae
All of them share similar characteristics, but each is unique in some way. The open hours and the price are generally the same, though.
Open hours
Monday – Sunday: 24/7
Price
Per month
350,000 KRW
Other similar characteristics include a beautiful, modern space with a lot of light. All locations provide the following:
High-speed, reliable Wi-Fi
Standing desks
Comfy chairs
Printing equipment
Free tea, coffee, and water
Phone booths
A kitchen you can use
The first three locations are the most worthy of your time, so we'll take a closer look at them.
Gangnam Station
Source: WeWork.com
This coworking space is only a three minutes walk from Gangnam Station. There is a donut place just below, so it's perfect for those of you with a sweet tooth. There's free beer, coffee, tea, and water. You can always find some exciting events organized there if you're interested in that.
Unfortunately, the elevators are excruciatingly slow, and it's a 13-floor building. If you don't enjoy a pre-work workout on the stairs, you'll probably be in for a moderately long wait. If you're driving, be aware that you may or may not find a parking spot.
Euljiro
Source: WeWork.com
Euljiro coworking space is a ten-floor building situated next to the historic Myeong-dong Cathedral. The rooms are spacious, and they offer a great view of the city. You can get a fantastic beer for free.
Music plays all the time on every floor. If you have difficulties concentrating, the noise is likely to bother you. Staff can be a bit unfriendly at times, and you have to pay for the parking if you come by car.
Samseong Station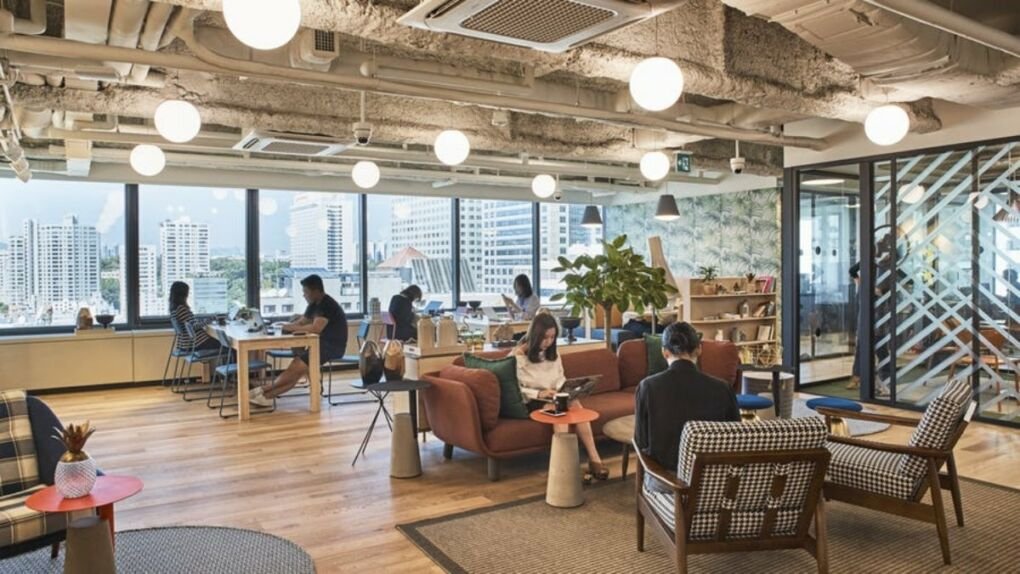 Source: WeWork.com
Located on Teheran-ro, Samseong Station is a beautiful coworking space with abundant natural light. They provide a coffee machine and beer taps for free. For entertainment, there are darts, a ping pong table, and even a small basketball hoop machine. All in all, it's a great communal area. There are a few conference rooms, a recording room, and there are some telephone booths as well.
The downsides are that the elevator is slow and always extremely crowded. This is a massive problem in big buildings, and you're likely to wait about half an hour for an elevator. Other big problems are the difficulty of access for people in wheelchairs and the complete lack of wheelchair-friendly toilets.
If you love South Korea and would like to call it your permanent home, there are different routes to becoming a resident. It is important to know exactly how to move to South Korea as a foreigner to see if you are eligible.