A vacation to a new country can sometimes bring an element of fear. Even if you're visiting a country as inviting and awesome as the United Kingdom, you might wonder, "Is London safe for tourists?"
London is fantastic, especially if you like European cities with a rich history and impressive architecture. And its multiculturalism, vibrancy, and coolness, as well as its fantastic food scene and exciting nightlife, are even better.
Of course, some parts of London are no-go areas, but which city doesn't have them? That said, there's a high chance you'll leave the country completely unharmed.
So, before you say 'Sláinte' in old London pubs, take a moment to go through this guide, which covers everything you need to know about safety in The Big Smoke. There are also tips to make sure you have a smooth trip and make the most of your experience there.
Why Visit London
Everyone should visit London at least once in their lifetime. Nothing compares to boarding a red double-decker bus and taking in some of the most famous sights from the top. From Big Ben and the Tower of London to Buckingham Palace and the London Eye, there is simply so much to see.
Also, there is no finer city in the world to shop in than London, whether you have money burning a hole in your wallet or just want to look through some windows.
Ultimately, the best parts of a London vacation will be the ones you don't expect. You wouldn't know how serene the green spaces can be in such a busy city or how distinctive different neighborhoods will feel until you actually see them.
Only by traveling to the city, putting on some relaxed walking shoes, and venturing out on an adventure can you create one-of-a-kind memories.
Is London Dangerous?
Like any other big city, London has its share of crime, but it's still regarded as safe. Its crime rate is even lower than that of many other large cities worldwide and has been declining in recent years.
As per a crime in London report, the city has a safety index of 45.88, with the most common types of crime being theft, violence, and sexual offenses. So, it's wise to exercise caution when stepping out, especially during the evening and in crowded spots.
The good news is many tourists don't experience any of the crime, and by following standard precautions and keeping out of dangerous areas, you won't, too.
Dangerous Areas in London
Brixton
Brixton, situated in South London, is part of the vibrant Lambeth Borough. This district is a mecca for music lovers with a rich pop and rock legacy — think David Bowie.
The community mostly has Afro-Caribbean residents, adding to its cultural diversity. Unfortunately, Brixton grapples with drug trafficking, a prevalent issue that tarnishes its image.
Even though it has a musical heritage and diverse culture, Brixton isn't a popular pick among Londoners, primarily due to the challenges it faces. This makes it a complex and often misunderstood neighborhood.
Tower Hamlets
Covering a significant part of London's East End, Tower Hamlets is celebrated for its diversity, global cuisine, and trendy subculture. Sadly, being one of London's poorest areas, it has a higher crime rate, often linked to poverty.
Bicycle theft, drug problems, violence, and sexual offenses are unfortunately common here, causing Tower Hamlets to rank among the most unsafe areas in London.
The challenges it faces affect its reputation as a safe and favored neighborhood in the eyes of many.
Is it Safe to Live in London?
London is generally a safe city for residents and visitors due to the strong levels of law enforcement and security present across the city's neighborhoods. It is actually the 14th safest city in the world, according to the World Population Review in 2023.
Surely, knowing there are extremely severe gun restrictions here will put your mind at ease. This measure makes it significantly safer than some other nations.
Because of this, gun violence is far less frequent in London than in other big cities, with unlawful possession of weapons being the least common sort of crime in London.
Safe Areas in London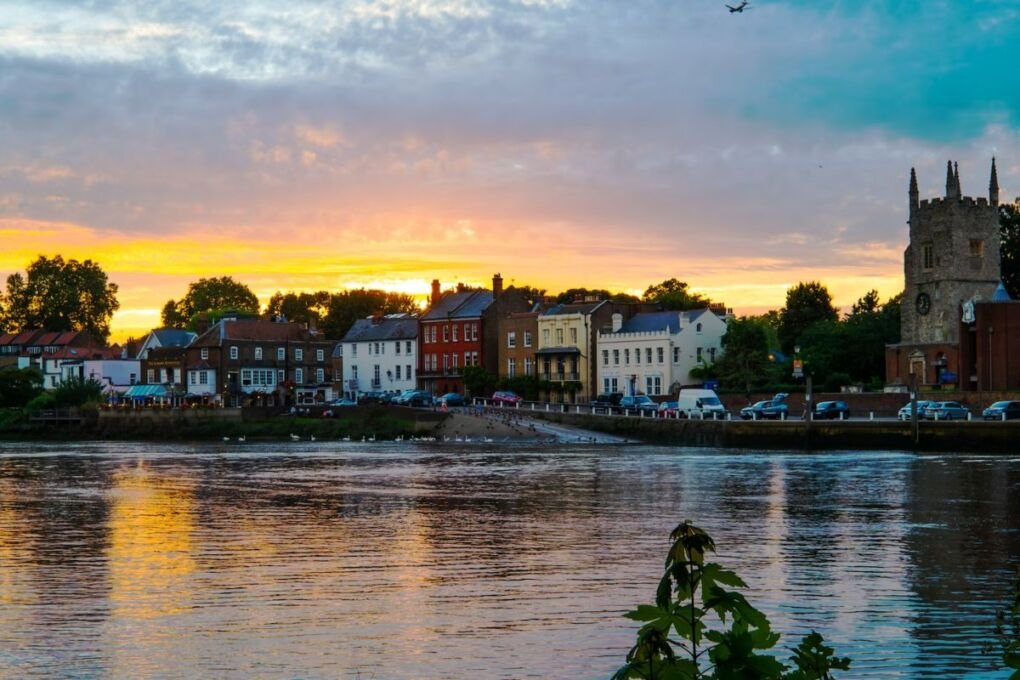 Richmond
Richmond, a neighborhood in southwest London, is equally secure and lovely. This charming town has a village-like atmosphere along the river. It is well-liked by families and is praised for its cafés and taverns, as well as for the local deer.
In 2022, Richmond had a crime rate of 60 offenses for every 1,000 residents. This is 35% less than London's general crime rate of 95 per 1,000 population, which is a favorable comparison. You'll enjoy your time here without stressing about the potential danger lurking around the corner.
Notting Hill
Notting Hill has gained popularity because of a particular film, but its popularity goes beyond the movie. Not only will you love its vibrant and trendy atmosphere, but you'll also love the beautiful cafés lining its bohemian roads.
Mostly, people like it because it's safe. Think of it as a tight-knit community throwing a perpetual neighborhood watch party. Add in well-kept parks, friendly cops on the beat, and a sprinkle of low crime rates for that extra peace of mind. If doing quirky things excites you, this place won't disappoint.
Bermondsey
Lists of the greatest places to live in London frequently include this area of southeast London, and it's clear to see why. Even though it's in Zone 1 of London, Bermondsey has a distinctively quiet and relaxed atmosphere.
It has undergone a major transformation in the last 10 years, going from being somewhat boring and even dangerous in some places to becoming one of London's safest.
The Met Police has a safer neighborhood team in the area, and they collaborate with other regional organizations to lower crime and antisocial behavior.
Warnings & Dangers in London
Theft, assault, and sexual offenses are the three most prevalent categories of crime in London.
But the police and other organizations have really taken steps to address this problem, including bumping up stop and search operations and putting anti-crime programs into place. Luckily, these initiatives have been successful, and crime incidents have decreased in the city.
London is generally seen as a safe city, even though it has crime like any other metro does. With the authorities striving to address any problems and guarantee the safety of both inhabitants and visitors, it'll become even more secure.
Overall Travel Risk 5/10
To be honest, going to London is not so dangerous that you'd need to be worried about traveling there. Unless you're concerned about getting lost in its notorious fog — in which case, you should probably stay away.
Terrorism is a sensitive topic in the city due to past attacks, and the alert level remains high, marked as "severe," indicating an elevated risk of an attack.
Don't be surprised if Tube stations experience temporary closures due to bomb scares or delays caused by the discovery of a "suspicious package." Also, expect security checks of your belongings at places like museums.
Pickpockets
Pickpocketing happens quite often in London, so it's always good to protect your valuables, especially in bustling areas. Watch for signs like overly crowded spaces, people acting extremely friendly or distracting, or sudden commotions.
These are classic diversion tactics. Keep belongings close, preferably in front, and zipped bags closed. Avoid displaying flashy items, making you a target. Try to get anti-theft bags or money belts for added security.
Fake Tickets Scam
When buying tickets for concerts, shows, or sporting events, it's safer and more reliable to buy them from online platforms rather than from sellers outside the venues. While some sellers might be legitimate, there's a significant risk of getting fake tickets. Since you have no way of knowing if a ticket is legit, just don't do it.
It's a simple precaution that can ensure you have a genuine and enjoyable event experience without any hassles or disruptions. You don't want to put a damper on your vacation by having a run-in with the law.
Fake Luxury Goods Scam
London is a haven for luxury goods, but watch out for fakes and buy directly from stores or second-hand shops for vintage designer items.
Many markets often try to pass off counterfeits as genuine designer goods, but no matter how much you want to save an extra nickel, don't buy from them.
Everybody wants a souvenir before going home, but you can always find something authentic at a gift shop or flea market.
Someone Offering to Take Your Picture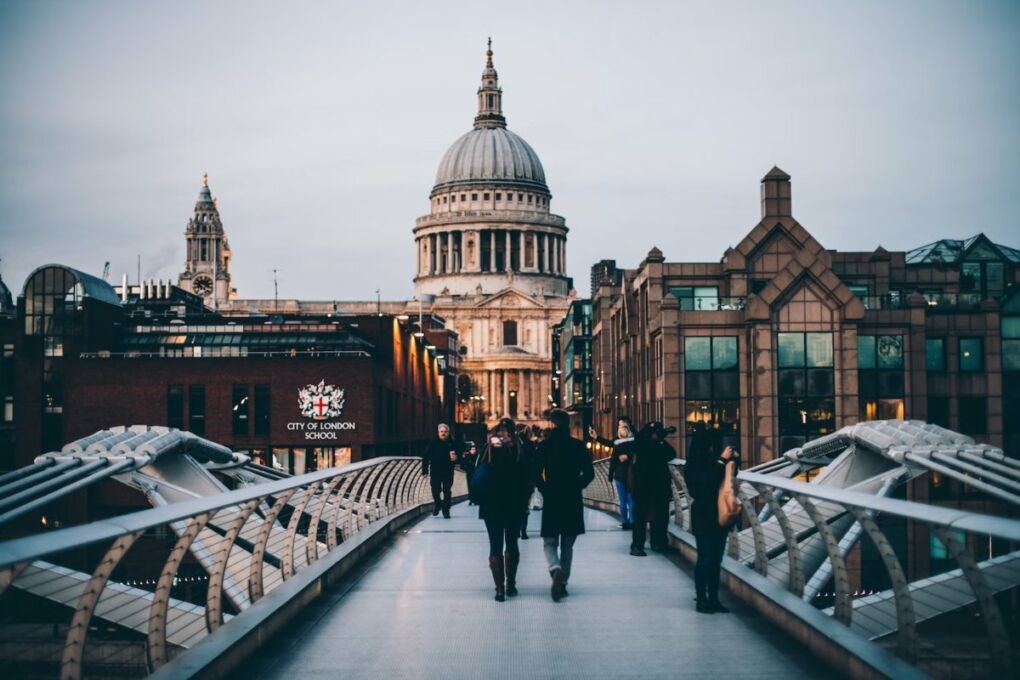 It's a classic trick seen in many cities, including London. If you're a solo traveler looking for that perfect shot at your favorite sight, then you have to be very cautious. Of course, crooks don't parade around with a criminal tattoo on their foreheads, so how should you approach the situation?
Well, families are a safer bet for assistance. Also, being mindful of your surroundings adds an extra layer of security to your adventures, ensuring a smooth and memorable trip as you capture the beauty of London and beyond.
Tips for Staying Safe in London
Here are some top safety tips for visiting London so you can navigate the city like an expert while also being extra safe and having a blast:
Be careful at ATMs: Be sure that it hasn't been tampered with, and don't approach the machine if there's someone loitering about it.
Make sure your purse is secured: Avoid walking about with your purse open or a handbag that is simple to get into, especially in crowded situations.
Keep your belongings close: In a cafe or restaurant, don't hang your bag on the back of your chair since it could be easily taken.
Keep belongings out of sight: Avoid leaving your suitcase unattended, as this could result in both a break-in and a significant security alert.
Try to blend in: It's easy to spot tourists in London with front-facing backpacks, hiking boots, a map, etc., but having an obvious touristy look will make you a target.
Is London Safe | Frequently Asked Questions
Is London Safe for Solo Travelers?
If you're solo, you actually don't need to worry. Actually, London and its residents are a pretty cool blend of cultures and get their fair share of foreign visitors. For extra safety, there are things you can do; for instance, researching the neighborhood you want to stay in is a start.
Central London has big streets and great sights, while West London is mostly affluent, and East London is hipster-friendly. So safety always starts with where you choose to book.
Is London Safe for Female Tourists?
London is a safe destination for female travelers traveling alone. It's a progressive, sophisticated metro where women are constantly on their own. Many do activities independently, and they live, work, and travel alone, so you'll blend in perfectly with them.
In general, Londoners are courteous and hospitable, so nothing particularly ominous will prevent you from having a fantastic time in the British capital.
Do I Need Travel Insurance for London?
Not really, but if you want to take a trip to London, you should give travel insurance serious thought. You want safety and peace of mind in the event of unforeseen circumstances.
Travel insurance covers many potential dangers, including trip cancellations, medical crises, lost or stolen luggage, and other unanticipated circumstances.
When choosing insurance, the insurer will take into account the potential hazards and activities associated with your trip.
Is Tap Water Safe to Drink in London?
London's tap water is top-notch and totally safe to drink. The UK is known for having some of the best tap water globally because before it reaches your glass, it goes through a thorough purifying process. The majority of it is sourced from the River Thames and River Lee reservoirs.
If you still want more confidence, commercial water providers like Thames Water routinely test London's tap water to assure its safety.