The year-long Mauritius Digital Nomad Visa (Mauritius Premium Travel Visa) gives remote workers the opportunity to live on a subtropical island country in the Indian Ocean.
Mauritius is known for its tropical beaches, volcanic landscapes, and exotic trees. This is one of the best places to live in Africa and the year-long Mauritius Premium Travel Visa can be obtained online for FREE as long as you have sufficient travel and health insurance and can prove that you earn your main source of income elsewhere.
Temporary visitors in the country on short-term tourism visas are eligible for a visa extension or to transfer their visa to the long-stay Premium Visa. Mauritius is the only country in the world to offer both long-term visas and the vaccination free of charge and is part of the national campaign to help keep Mauritius Covid secure.
Where is Mauritius
Mauritius is located just over 1,130 kilometers east of Madagascar, Mauritius lies in the waters between the continents of Africa and Asia, but it is considered part of Africa.
Is Mauritius a country
Mauritius is an Island Nation. Island countries are typically small with low populations, some island countries are centered on one or two major islands, such as the United Kingdom, Trinidad and Tobago, New Zealand, Cuba, Bahrain, Singapore, Iceland, Malta, Greenland, and Taiwan.
How to get to Mauritius
The best way to go to Mauritius is by flight. The country has two international airports – Sir Gaëtan Duval Airport situated in Plaine Corail on Rodrigues and Sir Seewoosagur Ramgoolam International Airport, you can get a direct flight or connect via one of the major airports around the world.
Alternatively, you can go to Mauritius via cruise.
Things to know about Mauritius Premium Travel Visa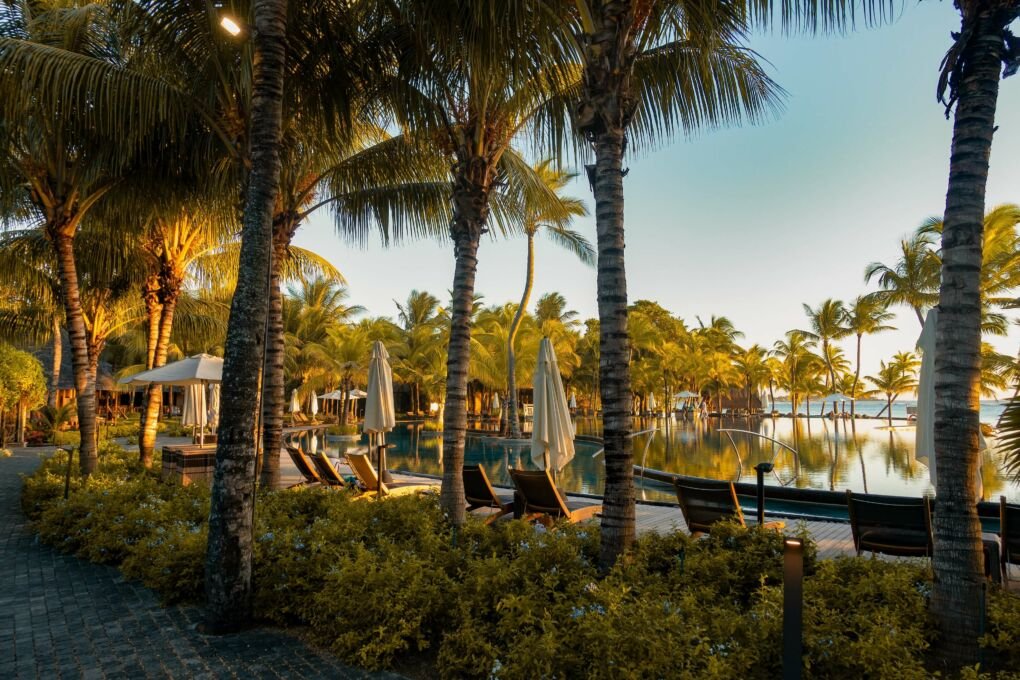 How long is the Mauritius Digital Nomad Visa Valid
The Mauritius Digital Nomad Visa is valid for one year and is renewable.
If you intend to stay in Mauritius for 180 days (6 months) or less then you are granted a Tourist. If you want to live in Mauritius for up to 12 months, then you need a Premium Visa also known as Digital Nomad Visa.
Is the visa Multiple Entry
Yes, this visa enables you to enter and leave Mauritius whenever you please. (Subject to covid quarantine rules)
Requirements for Mauritius Premium Travel Visa
Proof of Work: Your main place of business and source of income must be outside of the country. The government does not want you to compete or enter the Mauritius Labor Market.
Proof of Funds: Bank statement showing that you make a minimum of (R23,000 | USD 1500) per month. If you have dependents under the age of 24 this is an additional (R7,500 | USD 500) per head.
Negative Covid Test: a certificate of a negative COVID – 19 PCR test administered between 5 and 7 days prior to the date of boarding at the last point of embarkation.
Flights: a valid return air ticket to and from Mauritius
Accommodation: Where you'll stay during your mandatory 14 days of quarantine and post-quarantine.
Travel Insurance for Mauritius: Use travel insurance while visiting Mauritius so you are covered for theft and medical expenses. There are a lot of fun things to do in Mauritius, and it's best to have peace of mind while diving, hiking, and trying some of the best food in the world.
Find out why I recommend World Nomads, check out my World Nomads Insurance Review.
Who is eligible for Mauritius Premium Visa
At the moment, only citizens from the following 114 countries are eligible (please note: this list is subject to change anytime)
South Africa

Angola, Antigua and Barbuda, Argentina, Australia, Austria

Bahamas, Bahrain, Barbados, Belgium, Brunei Darussalam, Belize, Benin, Botswana, Brazil, Bulgaria, Burundi

Canada, Cape Verde, Chile, China, Congo, Croatia, Cyprus, Czech Republic

Denmark, Dominica, Democratic Republic of Congo

Egypt, Estonia

Fiji, Finland, France

Gabon, Gambia, Georgia, Germany, Ghana, Greece, Grenada, Guyana

Hong Kong, Hungary
Iceland, India, Ireland, Israel, Italy
Jamaica, Japan
Kenya, Kiribati, Kuwait
Latvia, Lesotho, Liechtenstein, Lithuania, Luxemburg
Macau SAR, Malaysia, Malawi, Maldives, Malta, Mexico, Monaco, Mozambique
Namibia, Nauru, Netherlands, New Zealand, Norway
Oman
Papua New Guinea, Paraguay, Poland, Portugal
Qatar
Romania, Rwanda, Russia
Samoa, San Marino, Saudi Arabia, Seychelles, Sierra Leone, Singapore, Slovenia, Slovakia, Solomon Islands, South Korea, Spain, St Kitts and Nevis, St Lucia, St Vincents & Grenadines, Suriname, Swaziland, Sweden, Switzerland
Tanzaniam Tchad, Tonga, Tunisia, Turlkey, Trindad & Tobagip, Tuvalu
Uganda, Ukraine, USA, United Arab Emirates, United Kingdom
Vanuatu, Vatican
Zambia, Zimbabwe
Do Digital Nomads in Mauritius Pay Tax
Yes, If you spend more than 183 days in Mauritius, you become a tax resident and you are liable for taxes.
How to apply for Mauritius Digital Nomad Visa
To apply for the visa, firstly you need to check if your meet all the requirements, then head to the official EBD Mauritius Website and complete the form. It takes about 48 hours to process the application and it's FREE.
Update from Mauritius Government
This follows the reporting of 15 cases of Covid-19 cases in the community. International and domestic inbound and outbound passenger flights have been suspended until 25 March 2021. Cargo flights will continue. – 11 March 2021
---
More Tips for Expats
---
Disclaimer: This article contains affiliate links. This means that if you make a booking after clicking on a link, I may receive a small commission at no extra cost to you!