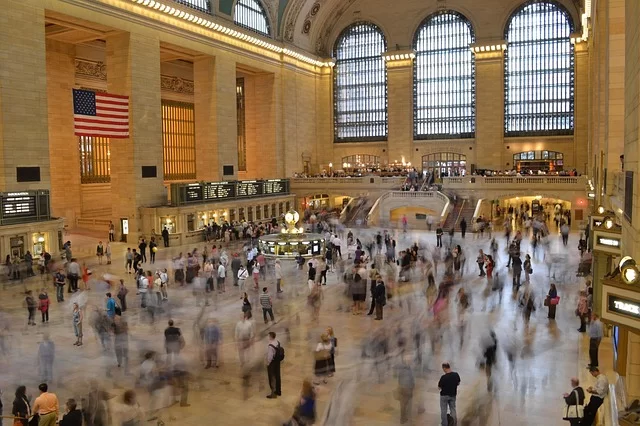 The NYC subway is one of the most convenient ways to negotiate your way around the Big Apple. However, just like the train stations in Japan, there are plenty of tricks of the trade to learn about the workings of the NYC subway which will save you precious time and money during your stay.
Below are our six top tips to enjoy the NYC subway, either as a solo traveller or with your loved ones.
Understand the Difference Between Express and Local Trains
The first rookie error tourists make on the NYC subway is hopping aboard an express train instead of a local train. Express trains skip out the majority of low-traffic subway stops. Any subway stop that's marked as a black circle on the subway map is deemed a local station. All express trains will go through these stations without stopping. Subway stops with white circles and black edging serve both express and local trains.
Get Yourself a Reloadable MetroCard
When it comes to the price of journeys on the NYC subway, it's important to remember that single-use tickets are the most expensive way to use the system. The most cost-effective way of getting around is via a MetroCard. You can pay for seven-day or 30-day MetroCard passes which give you unlimited "swipes" at stations on the subway as well as local bus routes.
If you choose to pay-per-ride, you will pay approximately $2.75 per trip. A seven-day Unlimited MetroCard pass costs just $33, so you only need to ride the subway a dozen times a month just to make this the value option for your stay.
Avoid Wall Street Station Early in the Morning
Wall Street station was unsurprisingly a part of the initial phase of plans for New York City's inaugural subway line, approved in 1900. The heartbeat of NYC's financial district, it remains a global leader in stocks and shares. Although little has changed at Wall Street station in the last century, technology has changed the face of the financial trading world. The advent of automated forex robots has become a dominant tool in the high-liquidity world of forex. Trades are placed for and against the US dollar and many other currencies at high volume and scale.
Around the time of the 2008 financial crash, some 200,000 people were employed in the Wall Street district. Although that figure is significantly reduced today, there's still tens of thousands of people that commute in daily. So avoid Wall Street rush-hour if you can – unless you like being packed in with strangers!
Learn Your Uptown from Your Downtown
Most tourists base themselves in the Manhattan area of New York. If that's the case, you'll need to get to grips with the concept of going "Uptown" and "Downtown" on the NYC subway. From any point on the subway network, if you are planning on moving north, you will be traveling Uptown. However, if you are in Times Square on 42nd Street and you are planning on travelling to 16th Street, you'll need to head on a subway service heading Downtown i.e. towards Brooklyn Bridge.
Download the NYC Transit App and Don't Always Rely on Google Maps
One of the biggest bugbears of using the NYC subway is the last-minute service changes due to construction works. These are most common at night and at the weekends. If you are thinking of relying on Google Maps to update you on service changes, don't. Although it's a useful app, it's not always accurate when it comes to where the subway is and isn't working.
Instead, it's a good idea to download the NYC Transit app on your smartphone. This handy app provides step-by-step navigation for all trips across the city, day and night. It will list all available routes and allow you to pick your favoured option.
Use the Pedestrian Tunnels to Walk to Nearby Stations
A classic mistake that many tourists make when navigating NYC's subway system is exiting a station to go to another nearby station and catch another train on a different line. This can prove a costly error for newbies, as you'll have to pay to re-enter the nearby station to travel again. Fortunately, some subway stations are connected to one another via pedestrianized tunnels.
One of the most common walkway connections between stations is Port Authority Terminal and Times Square. This is a well-trodden path for many New York Mets fans, who will change from the blue line at Port Authority Terminal and move onto the 7 Train at Times Square straight to the stadium.
If in doubt, ask someone. Most New Yorkers are extremely friendly and will be more than happy to guide you the right way. Alternatively, the subway conductors are also on-hand to make sure you're on the right train.