If you're wondering how to start a podcast in South Africa? You've come to the right place! Just like teaching English abroad as a South African, podcasting can be a great way to make money while traveling the world and living as an expat.
Just like with a blog, a podcast is a way for you to build a community, solve problems, and share stories.
Sharing helpful advice on a specific topic on a consistent basis helps position you as an authority in your industry/niche. If you're thinking of hosting a podcast in South Africa, I highly recommend that you start today.
As you increase your authority in your market, you attract other opportunities to you (for example, being invited to speak at events or conferences in your industry). You may also consider offering coaching or consulting services as people begin asking you for specific advice on your area of expertise.
What Is A Podcast
Podcasts are audio programs or spoken word broadcasts delivered through podcast networks or channels. They aim to provide the audience with useful and actionable information in an engaging and conversational format.
Podcast Statistics South Africa
According to the Reuters Institute Digital News Report, more than 475 million people are actively listening to podcasts around the world.
10% of metropolitan South Africans listen to any podcasts in a typical month, compared to 33% of people in the US, or 22% of Australians.

Podcast listeners in South Africa went up by 50% in 2018.
How To Start A Podcast in South Africa
Choose a topic and title for your show
When it comes to choosing a name for your podcast, try and make it short and sweet. One to Three words that are easy to remember. Consider the search-ability and brand-ability. Your podcast name depends on you, your topic, and the type of podcast you'd like to make.
It's also important to choose a niche because if you try to cater to everyone your overall marketing and message won't speak to anyone. Your niche can also be linked to who your ideal client is.
So, it's important you have a targeted niche market and speak to a customer or client in a certain way that they can really relate to.
Decide on a Podcast show format
Podcast formats are ways to organize your show's content. They are delivery methods that give your show structure.
The most popular one is the interview podcast format, where a host speaks to a guest about a specific topic.
The solo-casts format requires a lot of talking to yourself. Most people find this a bit difficult but editing one voice is much easier than editing multiple tracks.
Purchase equipment and software
The equipment needed to start a podcast is a laptop, a microphone, a mixer, recording software, and a pair of noise-cancelling headphones.
When starting a podcast in South Africa, one of the most important things to consider is your audio quality – and for that, you'll need a good microphone.
If you're recording solo, or recording interviews online: RODE LAVGO Broadcast Grade Lavalier Microphone
Rode Lavalier GO Professional-Grade is a compact, lightweight and wearable microphone that connects directly to your phone or laptop. It was designed for use in a wide range of applications. The 3.5mm TRS connector is designed to pair perfectly with the RØDE Wireless GO and most recording devices with a 3.5mm TRS microphone input.
[maxbutton id="5″ url="https://amzn.to/2HlSUFU" text="Check Amazon" ]
[maxbutton id="6″ url="https://www.takealot.com/rode-lavgo-broadcast-grade-lavalier-microphone/PLID68263307″ ]
If you're recording 2 people in-person, on a budget: Samson Meteor Mic
Meteor Mic is a portable USB studio condenser microphone for recording directly to your computer. Perfect for your home studio, it features a cardioid pickup pattern, a smooth, flat frequency response of 20Hz–20kHz and it also works with iPhone or iPad using Apple's Lightning USB Camera Adapter. Watch the official promo video here.
[maxbutton id="5″ url="https://amzn.to/35LxHOO" text="Check Amazon" ]
[maxbutton id="6″ url="https://www.takealot.com/samson-pro-usb-studio-condenser-microphone/PLID32848646″ ]
If you want the best of the best in podcasting (right now): Blue Yeti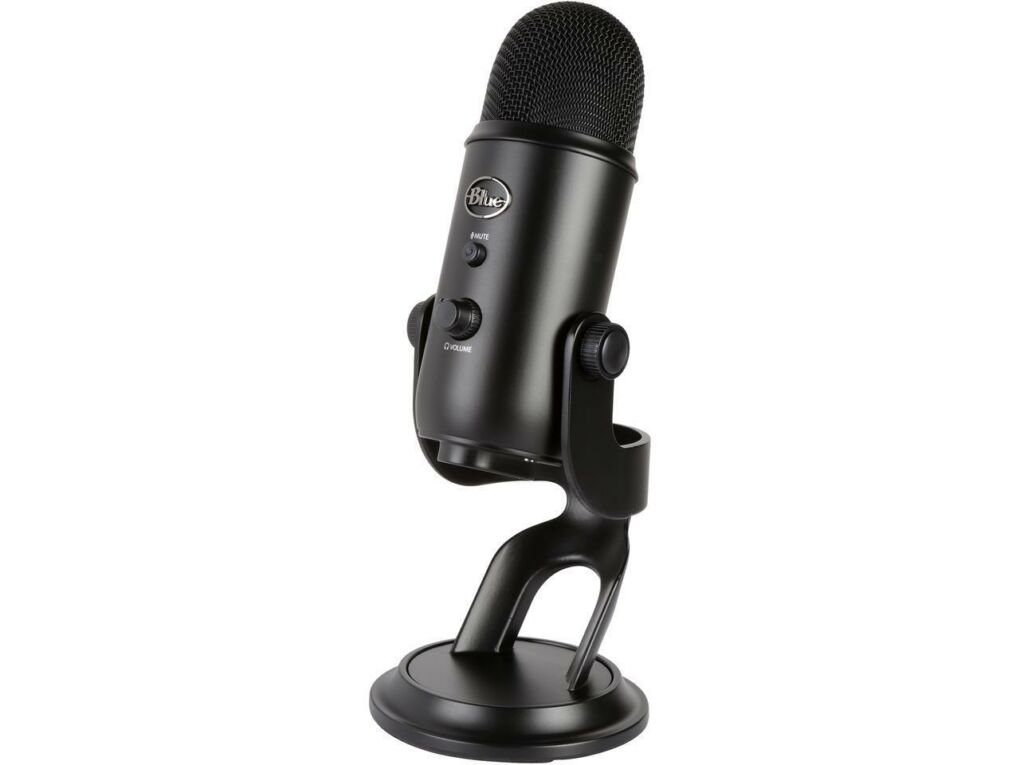 Blue uses a proprietary tri-capsule microphone array that allows you to switch between 4 different polar patterns: Cardioid, Omnidirectional, Bidirectional, and Stereo. It's considered one of the best microphones for podcasting right now! Watch the official promo video here.
[maxbutton id="5″ url="https://amzn.to/2HiAJ3V" text="Check Amazon" ]
If you are recording interviews, Zoom audio won't be good enough. For podcast recording software, use Audacity or GarageBand. They're both free recording and editing software.
If you have an Adobe Creative Cloud subscription, you can use Adobe Audition, but there's no need to pay extra for it to start.
Publish your show
There are many free Podcasting Platforms In South Africa and around the world. A podcast hosting service acts as the home for your show. Just like a website needs a hosting provider, podcasts also need some way to help store and distribute the podcast audio files.
Though most have cost tiers associated with them, and you can read about our favorite podcast hosting services here, several have more affordable options, and some even provide free podcast hosting. Here are some of the best free podcast hosting services:
PodBean

Anchor

Buzzsprout

Spreaker
How to create podcast graphics and audiograms
Market your show
Share images, clips, and shareable quotes on your social media pages.
Create a podcast blog.
Be a guest on other shows.
Search Engine Optimization
Email marketing strategy
Paid search and social media ads (if you have a budget).
Monetize your podcast
Offer a service: Coaching and Consulting
Public Speaking
Offer Premium Service: Behind the scenes content, q&a with host or guests, or even a private Facebook group for listeners.
Partner with brands: Join an ad network or approach brands you'd like to work with.
Sell products: Merchandise, Books, Printables
My Favorite Podcasts in South Africa
These are among the top 100 if not 10 podcasts in South Africa right now:
Summary: How to start podcasting in South Africa
Ready to start your podcast?
Identify a Niche.
Invest in Audio.
Have a plan for each episode.
Tell everyone about it.
Help before you sell.
Be unique.
---
Want to live your best expat life? Here are more guides
---