West Coast National Park (WCNP) also known as Weskus Nasionale Park or West Coast Nature Reserve is the Jewel of the Cape and one of the best national parks in South Africa!
The Park was established in 1985 and comprises some 32 000ha. It's known for its spectacular colorful carpets of wildflowers, an abundance of wildlife, pristine golden beaches surrounding the Western Cape's Langebaan Lagoon.
The park is approximately 26 km long and at its broadest 15 km wide and hosts a total of over 250 bird species annually, over a quarter of South Africa's total! Just like Table Mountain National Park, Namaqua National Park, and Kruger National Park, this area is protected and managed by the South African National Parks (SANParks).
The key conservation areas of West Coast National Park are Langebaan Lagoon and the offshore islands in Saldanha Bay, which together form the Langebaan Lagoon Ramsar site – one of the wetlands in South Africa of international importance.
The lagoon has a rich diversity of marine invertebrates and seaweeds. It is also one of only two known habitats for Siphonaria compressa (small, air-breathing sea snail), South Africa's most endangered marine mollusc (snail-like animals), and WCNP also supports approximately 10% of the coastal wader population in South Africa.
The offshore islands provide important nesting areas for unique seabird species while the substantial terrestrial section of the park protects appropriately 12 % of the Langebaan Fynbos/Thicket habitat type, which outside the park is being threatened by agricultural activities and housing developments.
When you go towards the northeast of the park, at Langebaan and Elandsfontein, are important Plio/Pleistocene fossil deposits.
If you are planning a West Coast National Park Trip in South Africa and not quite sure what to expect? Here's everything you need to know.
Where is West Coast National Park Located
West Coast National Park is located approximately 100 km northwest of Cape Town on the Cape West Coast (about 1 hour 20 minutes drive).
The park entrance is off the R27 highway. Most internal routes are tarred. The last section of the road to Postberg is, however, graveled. The coordinates of the park are 33°20' – 33°05'S, 17°54' – 18°15'E.
Things to know before visiting West Coast Nature Reserve

Map of West Coast National Park
The landscapes of the park are products of a long and complex geological history of geological folding, intrusions, and sea-level changes. The three main substrata are limestone, granite, and sand, and the main formations found are as follows:
Is West Coast National Park Open
Yes, West Coast Nature Reserve is currently open. The hours are:
1 April to 31 August: 07:00 – 18:00

1 September to 31 March: 07:00 – 19:00

Postberg Nature Reserve (only open during Flower Season – August and September annually): 09:00 am – 17:00 pm. (Last vehicle entry at 16:30 pm.)
West Coast National Park Entrance Fee
The West Coast National Park Entry Fee is different in and outside of the West Coast Flower Season. Prices also vary on your nationality and age. South African citizens must show their National ID to be able to access the park at a discount rate.
In Flower Season – Adults: R64 to 96 | Children: R32 to 48 depending on Citizenship and Nationality

Outside Flower Season – Adults: R90 to R200 | Children: R45 to R100

depending on Citizenship and Nationality
The entrance fee is updated annually in October. It's important to check the official website before you visit: West Coast National Park Entry Fees
Best time to visit West Coast National Park
The most popular time to visit the park is during the flower season (between August and September).
Things to do in West Coast National Park
There are many fun activities at West Coast National Park, firstly you need to know that, you are not allowed to fish or do any water sports without a permit! The park has also been divided into 3 recreational zones:
Zone A: multi-functional section for most water sports.

Zone B: reserved for sailboats and board sailing (no powerboats or angling).

Zone C: wilderness area which is closed to the public.
Water Sports
If you fancy kite surfing, waterskiing, snorkeling, diving, kayaking, swimming, fishing, angling, and boating, or even riding around on a jetski. This is allowed in Zone A.
See flowers in Postberg Nature Reserve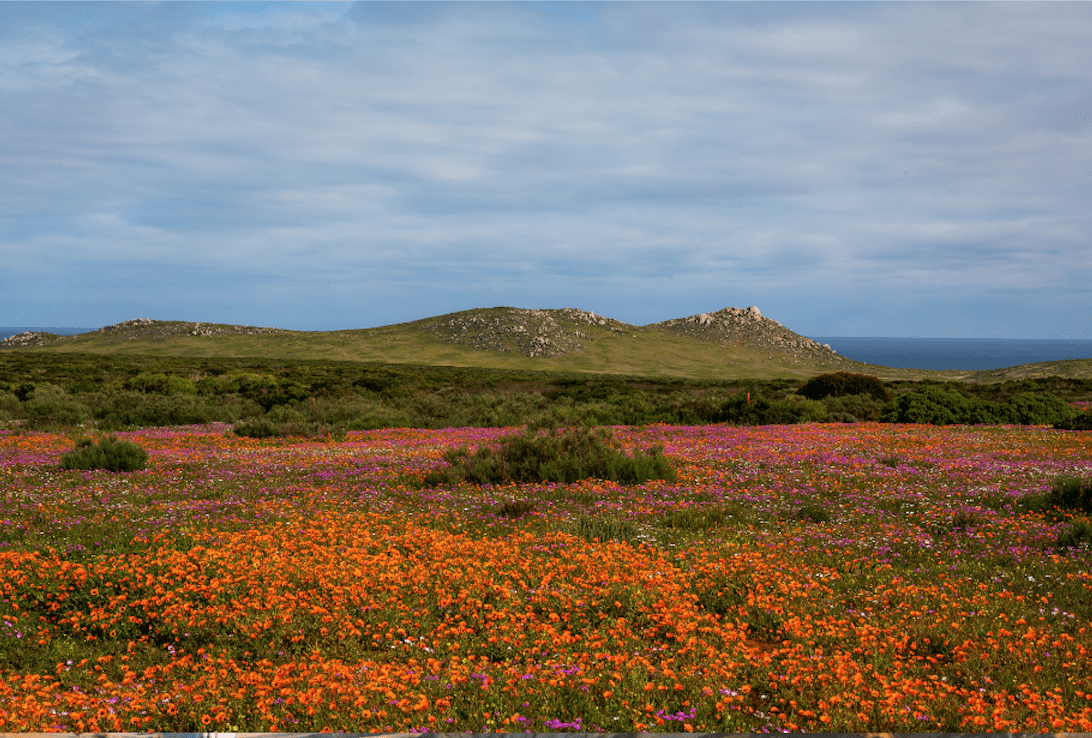 Postberg Nature Reserve is a section of the panoramic West Coast Nature Reserve that only opens to the public once a year during flower season (August and September).
In this region, you will also find West Coast Flowers (wildflowers) similar to those in Namaqualand and Cape West Coast. Visitors can go on the Flower trail or go on a picnic or even have a braai in the designated areas.
Find Eve's Footprints
Make a stop at the Geelbek Visitor's Centre and see the replica of Eve's Footprints – fossilized footprints belonging to a young woman who lived alongside the lagoon about 117 000 years ago.
The footprints were discovered in 1995 and they are the oldest known footprints of an anatomically-modern human who would have lived within the current wide range of estimates for the date of Mitochondrial Eve.
The original prints are housed at the Iziko Museums' South African National Museum in Cape Town, but the replica can be viewed at the Geelbek Information Centre inside West Coast National Park.
If you're an outdoor enthusiast you can go on Eve's Footprint and Trail – a 2.5 day, fully portered and catered hike through the park, tracing the footsteps of Eve. The trail is a 30km wilderness hike, consisting of 3 legs connected through a series of West Coast-style meals and transfers.
Lunch at Geelbek Restaurant
Geelbek Restaurant is a National Monument that was built in 1744. Open daily from 9 am to 5 pm, they serve traditional South African dishes with a modern twist.
Go Whale Watching
The best time for whale watching at West Coast National Park is between the months of August to October,
Rent a Houseboat on the Lagoon
One of the best places to stay in the West Coast National Park is on the lagoon.
Accommodation in the West Coast National Park
Club Mykonos
Club Mykonos Resort is situated along the Langebaan Lagoon. The West Coast National Park entrance is within 11 km and Cape Town International Airport is 145 km away. Guests have access to all resort facilities consisting of a casino, 7 restaurants, 5 outdoor pools, a bar, and a pool deck.
[maxbutton id="1″ url="https://www.booking.com/hotel/za/mykonos-hol-langebaan-kaliva-447.en.html?aid=1558524&no_rooms=1&group_adults=2″ ]
Kraalbaai Houseboats
Kraalbaai Luxury House Boats offers unique accommodation in the West Coast National Park. Guests can enjoy lagoon views. There a 2 houseboats, both fully equipped with a kitchen and barbecue facilities. Both have a swim deck. The boats are located in Kraalbaai, accessed via the West Coast National Park gates either from the R27 or from Langebaan's side.
[maxbutton id="1″ url="https://www.booking.com/hotel/za/kraalbaai-luxury-house-boats.en.html?aid=1558524&no_rooms=1&group_adults=2″ ]
Shark Bay Hotel & Spa
Set in Langebaan, 1.9 km from Langebaan Main Beach, Shark Bay Hotel & Spa offers accommodation with a restaurant, a bar, and a garden. All rooms feature a flat-screen TV with satellite channels and a private bathroom. The hotel features family rooms
[maxbutton id="1″ url="hhttps://www.booking.com/hotel/za/shark-bay-amp-spa.en.html?aid=1558524&no_rooms=1&group_adults=2″ ]
Travel Insurance for South Africa
Use travel insurance while visiting South Africa so you are covered for theft and medical expenses. There are a lot of adventurous activities to do in South Africa, and it's best to have peace of mind while driving, hiking, and trying some of the best food in the world.
Find out why I recommend World Nomads, check out my World Nomads Insurance Review.
Disclaimer: This article contains affiliate links. This means that if you make a booking after clicking on a link, I may receive a small commission at no extra cost to you!