Georgian food is some of the tastiest cuisine you will ever be lucky enough to try. Influenced by European and Middle Eastern traditions, while also offering something that's unique in its own right, many people who travel here list the cuisine as one of the best things Georgia has to offer.Along with the people, of course! This guide is my ode to Georgian food, looking at the best restaurants in Tbilisi to eat at during your visit.
I think one of my absolute favourite things about visiting Tbilisi, and Georgia as a whole, is eating my way around the city. They are unbelievably passionate about food, with so many families making their own cheese and wine. They will never take no for answer, your plate will never be empty and according to them, you will never be too full!!
Perhaps the best way to experience their cuisine is by attending a supra, a Georgian feast in which many different meals are served with lots of wine. And I mean LOTS of wine! You'll find it easy to make friends in Georgia, so when a stranger on the street invites you to dinner…always say yes! If you're planning your trip and wondering where to rest your head, this guide on where to stay is a good place to start.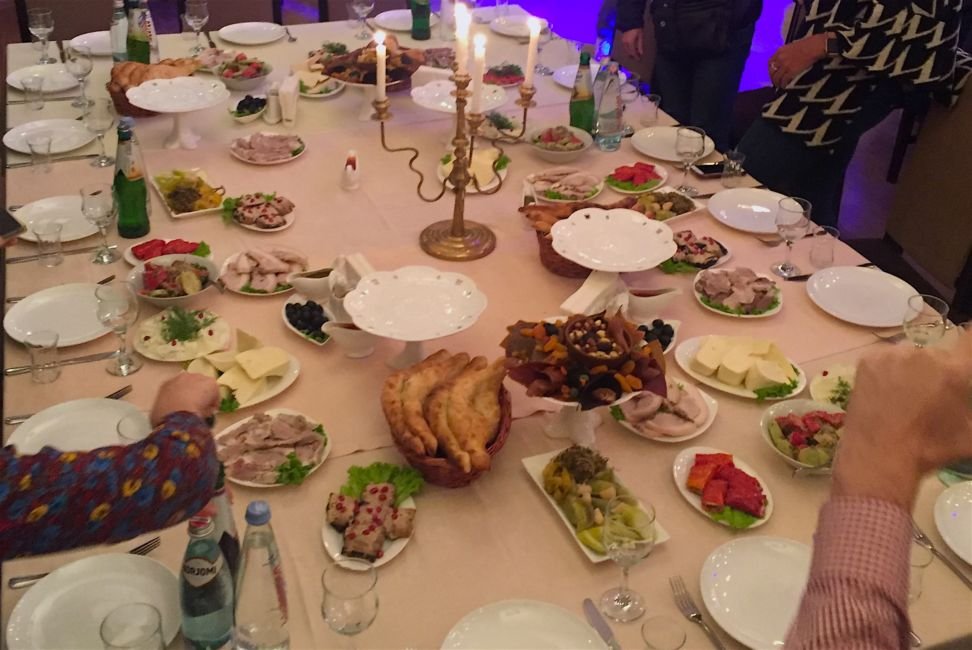 Georgian food you must try
Make sure to try the khachapuri, a delicious dish of cheese-filled bread which tastes like heaven. You will find it at the breakfast buffet at your hotel, at cute bakeries and cafes and at the cheapest and most expensive restaurants in the city. If you thought you ate a lot of bread in your country, it's nothing compared to the Georgians. There's are many different shapes and sizes, some just oozing with cheese, others with a friend egg on top which you mix up with the cheese. It really is heavenly!
You'll also want to try the churchkhela, which are Georgian candies made in the shape of sausages. You would be forgiven, like me, for thinking it is chorizo or something similar hanging out to dry. You will see these candies hanging outside all the main souvenir shops and supermarkets around the city – a fun afternoon or after dinner snack.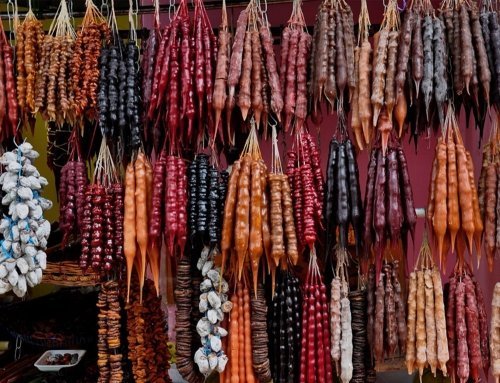 Khinkali is another must try Georgian dish, where you can see the influence from the East. These Georgian dumplings, stuffed with spice and meat, are seriously massive so don't get ahead of yourself and order too many! Similar to Chinese soup dumplings, you take a bite from the side, drink the soup out and then eat the dumpling.
Pkhali is something you will find at every meal, in the most unexpected places. I don't think I had a single meal when there wasn't some Pkhali. It's a paste that is a mixture between spinach, garlic and walnuts…because WOW do Georgians love walnuts!!
Finally you must try some mtsvadi, which are Georgian shish kebabs and are found at most meals. Usually made with pork or chicken, and traditionally barbecued on a grill outside.
Georgian drinks you must try
Georgia is most famous for its wine, so no visit here would be complete without trying as much Georgian wine as possible. Almost every family makes their own, so there are lots of delicious varieties to choose from. If you walk around the old city you will even see vines growing up on all the old houses. Apart from wine, there are some locally branded soft drinks, and Tarhun which is a tarragon-flavoured soft drink that locals love!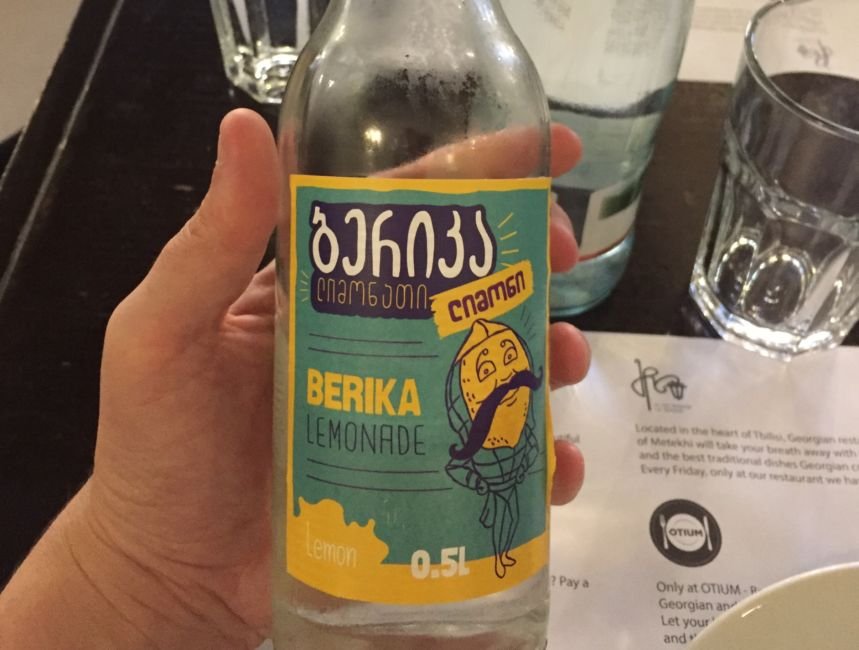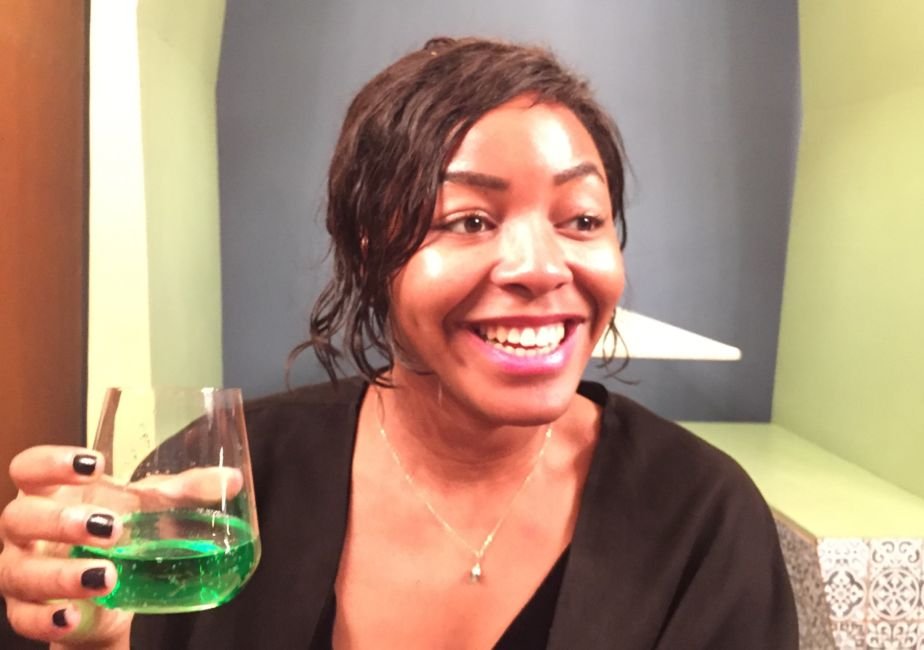 My Favourite Restaurants in Tbilisi
One thing I loved about my recent visit to Georgia was that I was brought to so many great traditional Georgian restaurants in Tbilisi, which meant I got to taste endless traditional meals. Below are some of my favourite places to eat in Tbilisi that I think you would love too.
Barbarestan is quite a well known and fancy traditional Georgian restaurant in Tbilisi. It actually feels like you are eating inside an old wine cellar…probably because you ARE eating inside an old wine cellar!! This restaurant is family run, has a huge menu to choose from and serves up delicious locally made Georgian wine. Great lunch spot!
Rooms Hotel Tbilisi is the hotel where we stayed for 4 nights while in Tbilisi. Hotel restaurants aren't exactly known for their top class cuisine, but this hotel is in a league of its own. Rooms Hotel served up the best hotel breakfast I've EVER had in my life and I seriously recommend everyone to stay here just to avail of their insane breakfast spread. The Eggs Benedict and freshly baked croissants were perfection. I also ordered room service one evening and was pleasantly surprised! A little pricey for sure, but probably one of the classiest restaurants in Tbilisi to have breakfast. Website here.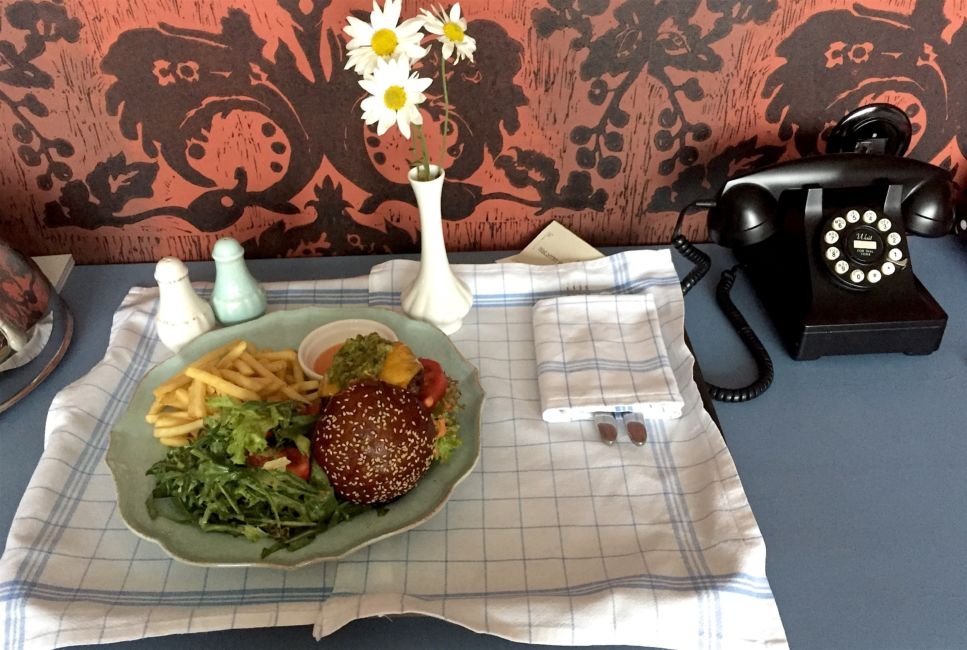 For a young and fun vibe, with music, cocktails and great food, Lolita is the place to go. This place is Instagram heaven and has an amazing outdoor courtyard loved by tourists and locals alike. Definitely one of the most popular spots in the city.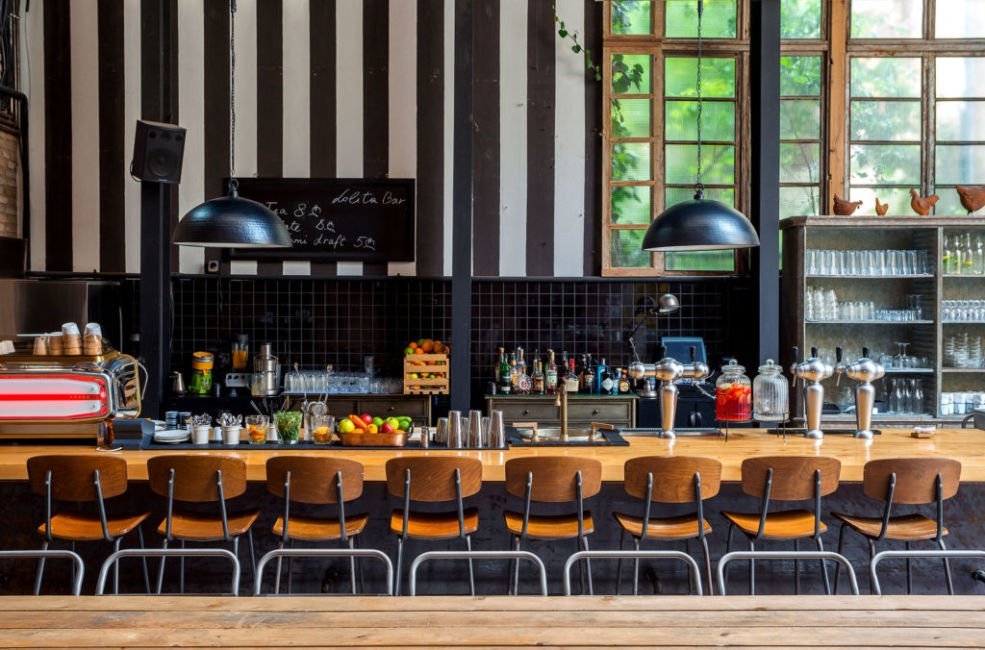 Sakhachapure is a great restaurant if you're looking for the tastiest egg filled Khachapuri in town! I literally have no idea what else is one the menu because this Khachapuri was so tasty that my mind has blocked out everything else we tried…except some strange green coloured drink my guide made me taste!!
One of the cheaper places to eat, and a restaurant sure to fill you right up with delicious dumplings is Zakhar Zakharich – a very local place near the river and good spot of lunch if you're hungry after a morning sightseeing.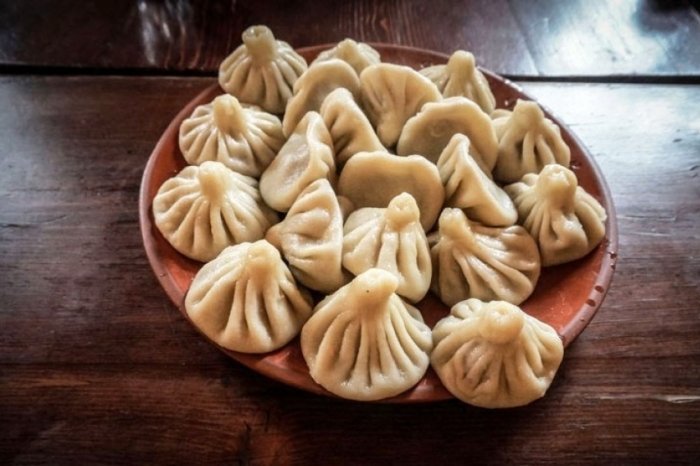 If you're looking for a top breakfast spot or a cool cafe for a midday break, the cafe and restaurant that is part of the funky Fabrika Hostel (a hostel housed in an old factory) is very popular with local artsy types. Their banana cakes and brioche are a real winners for guests – this is a 5 star hotel breakfast for the price of a budget hostel (less than $5 for an amazing feed!) Probably one of the cheapest restaurants in Tbilisi!