South Africa's coastal province of KZN is known for its beaches, and being the warmest place all year round. With many things to do in Durban and surrounding areas, it's no surprise why the old British colony of Natal is one of the country's top tourist destinations.
KZN is divided into eight regions, namely Durban, the South Coast, the North Coast, Pietermaritzburg, and the Midlands, the Drakensberg, the Battlefields, the Zululand and the Maputaland or Elephant Coast. Each of these areas has its own unique characteristics and attractions and you will find you are spoilt for choice.
Things to know about Kwa-Zulu Natal
Used to be known as Terra de Natalia
The name 'Natal' dates back to 1497 when, on Christmas day, Portuguese explorer Vasco da Gama saw the beautiful coastline and named it 'Terra de Natalia' in reference to Christ's birth.
After 1994 when South Africa became a republic the two names "Kwa-Zulu" meaning the Place of Zulu people and "Terra de Natalia" were combined to form Kwa-Zulu Natal (KZN).
Home of the great Zulu King
King Shaka kaSenzangakhona is also known as Shaka Zulu was the founder of Southern Africa's Zulu Empire.
He was known for his strength, courage, and unique fighting methods to become one of the fiercest warriors in the clan.
He introduced new weapons to the Zulus and fought against the British.
He is credited with creating a fighting force that devastated the entire region
He was murdered by his two half-brothers, Dingane and Mhlangana in 1828.
Home to South Africa's most spoken language
South Africa boasts eleven official languages.
Although most locals are multilingual, the most spoken native language is isiZulu.
KwaZulu means 'Place of the Zulu people'. The word Zulu is derived from eZulweni, which loosely translated means 'heaven' or 'sky above'.
Warm all year round
The climate in Durban is subtropical and it is known as the best city to visit all year round.
The sun is hot, the air is sultry, the leaves are big and sub-tropical and even in mid-winter, when there can be snow on the mountains, the sea will be relatively warm and in the coastal regions, you can still wear your summer clothes with perhaps a light cardigan at night.
Largest Indian community outside of Indian
South Africa is home to the largest Indian community outside of Indian.
Most of the country's Indian community lives in Kwa-Zulu Natal.
Mahatma Gandhi lived in Durban
Mahatma Gandhi called Durban, South Africa his home for nearly 21 years. While Gandhi is perhaps most famous for his work in India, he also played a pivotal role in civil rights for South Africans.
Home to two UNESCO World Heritage Sites
There are many fun things to do in Durban, including exploring the provinces' UNESCO World Heritage Sites: iSimangaliso Wetland Park on the Elephant Coast, and the uKhahlamba-Drakensberg Park in the mountains to the west of the province.
Things to do in Durban
eThekwini is a hub of entertainment, fun attractions, and iconic sites in South Africa. Here are the top 10 things to do in Durban that should be high on every traveler's bucket list!
Smell the roses at Durban Botanical Gardens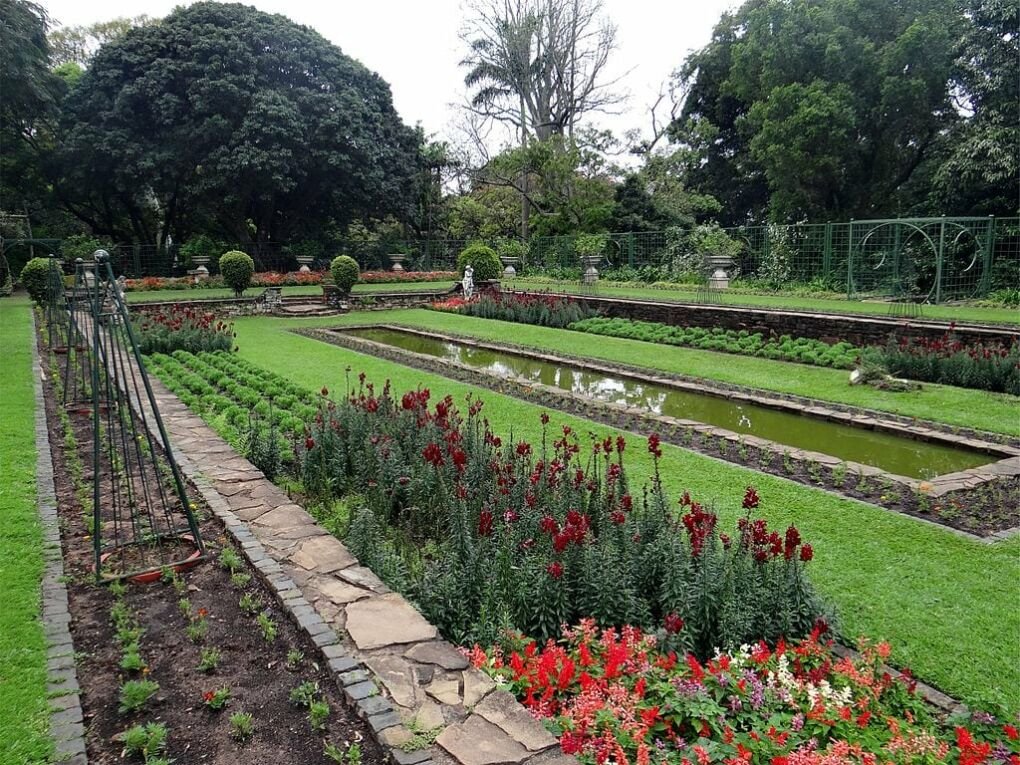 Durban Botanical Gardens are the cities oldest public institution and Africa's oldest surviving botanical gardens.
At first, Durban's Botanic Gardens was situated on the south bank of the Umgeni River, but it had to be relocated from this hippo- and croc-infested site to the lower slopes of the Berea forest in 1851.
The gardens cover an area of 15 hectares in a subtropical climate.
There are guided walking and golf cart tours available, a restaurant and play area for children.
Location – 9A John Zikhali Rd, Berea, Durban
Open in Winter – 16 April – 15 September: 07h30 – 17h30
Open in Summer – 16 September – 15 April: 07h30 – 17h45
See sharks at uShaka Marine World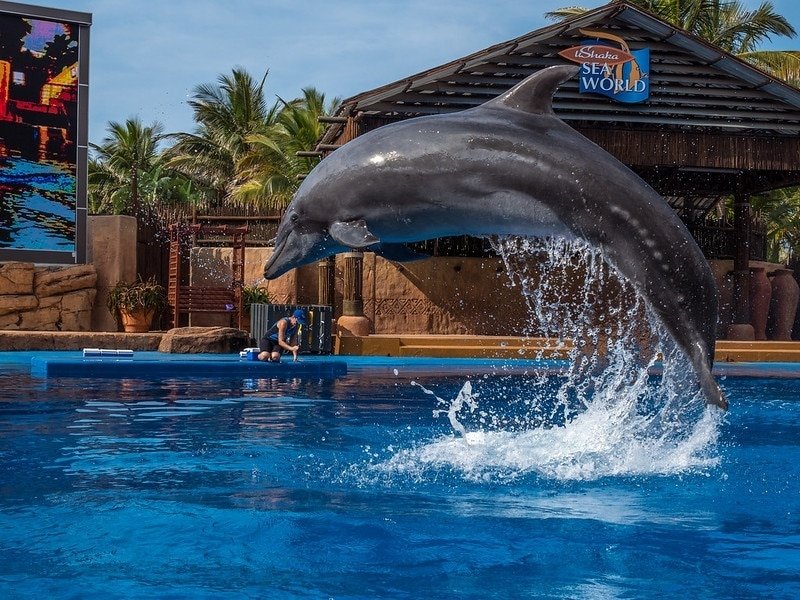 uShaka Marine World in Durban is the fifth-largest aquarium in the world!
The building of uShaka was pivotal in the revitalization of the Point area.
uShaka was opened in April 2004 and comprises of 8 sections: uShaka Sea World, uShaka Wet 'n Wild, uShaka Sea Animal Encounters Island, uShaka Beach, uShaka Village Walk, uShaka Kids World, uShaka Dangerous Creatures and Chimp & Zee.
You can expect to find water rides, penguins, seals, dolphins and even sharks!
Location: 1, King Shaka Ave, Point, Durban
Open: Daily, 9 AM to 5 PM
Visit The Whale Bone Pier in Umhlanga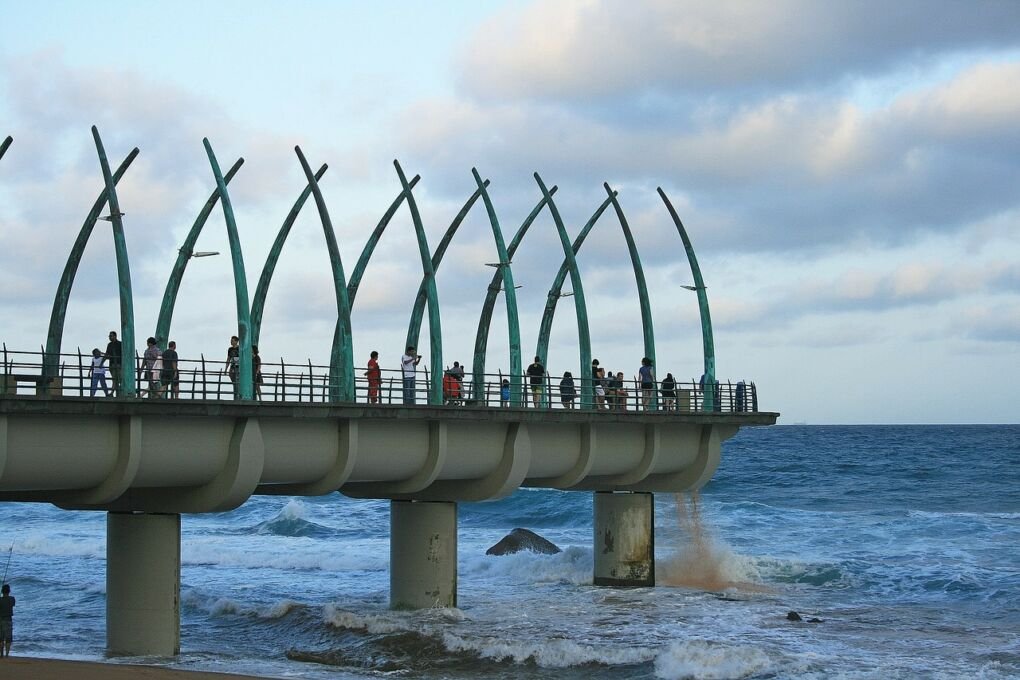 Durban Harbor Cruise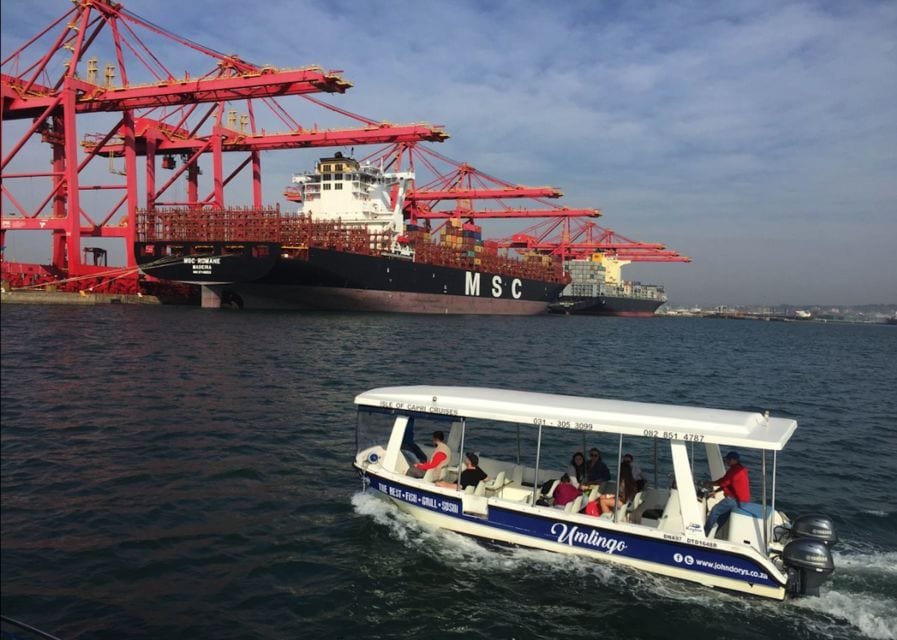 The Durban Harbour is the largest and busiest shipping terminal in sub-Saharan Africa
It handles up to 31.4 million tons of cargo each year and It is the second-largest container port in Africa (after Port Said in Egypt).
The distance around the port is 21 kilometers (13 miles) and it can be explored via boat cruise.
High tea at the Oyster Box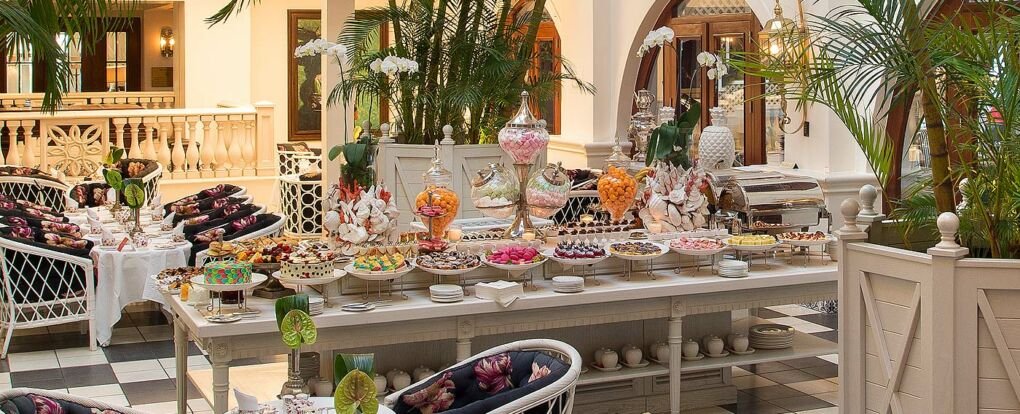 The Oyster Box is an award-winning 5-star luxury boutique hotel and spa and a member of Leading Hotels of the World in Umhlanga, KwaZulu-Natal.
The hotel is also
Victoria Street Market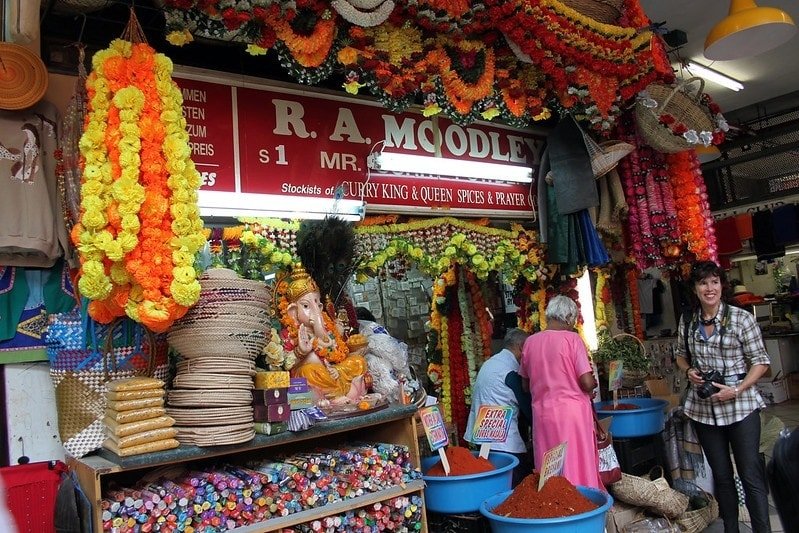 Victoria Street Market is a unique market that boasts over 160 stalls of the freshest and best quality of products.
From Indian spices to African crafts and literally everything and anything you could want!
The top floor is popular with international visitors, offering more conventional shopping for souvenirs, crafts, jewelry, and fabric.
The ground floor has a fish and seafood market, fresh meat, fruit, vegetables, and spices.
Location: 151/155 Bertha Mkhize St, Durban Central, Durban
A taste of Durban
One of the must-do things in Durban is to learn about the history of Indian and Zulu cultural influence in the area while tasting these delicious regional cuisines.
Discover Durban's unique cultural mixes while trying some of the best flavors in the world.
Surfs Up eThekwini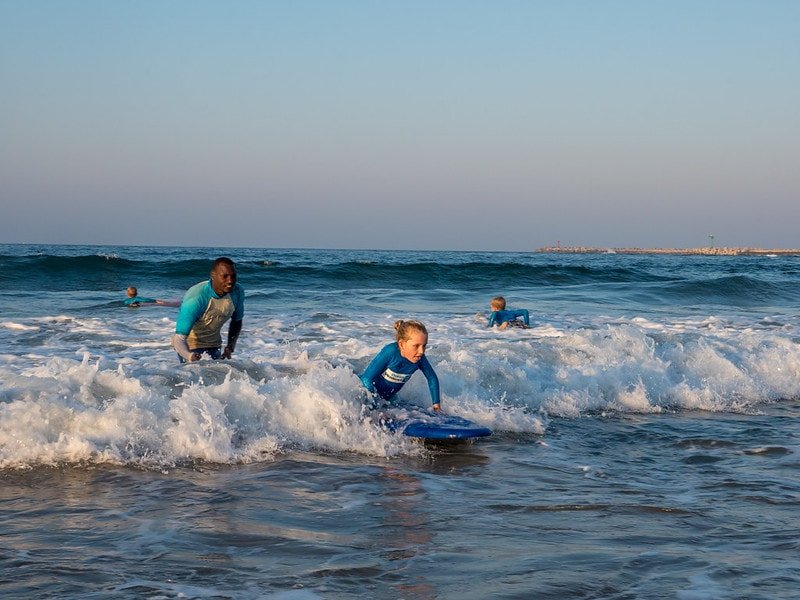 The city of Durban is one of the country's top surfing spots!
The Indian Ocean is warmer than the Atlantic on the West Coast of South Africa.
With relatively stable sea temperatures reaching 21 degrees Celsius, it provides opportunities for swimming, surfing, fishing, sailing, snorkeling, and scuba diving or just hanging out all year round on the many beautiful beaches in Durban.
Bungee Jump at Moses Mabhida Stadium
Built for the 2010 FIFA soccer world cup, this stadium is now used for other sports, concerts, and bungee jumping!
The stadium also has a SkyCar that gives you the chance to discover Durban from a 106m-high vantage point.
Mounted on an undercarriage, the SkyCar is a single cabin that runs up steel tracks on the northern arch of the stadium and is designed to roll down the arch under its own gravity – this enables it to return to the lower station, even in the event of a power failure.
For the best scenery for miles, this must-see attraction in Durban is a must-do for locals and tourists!
Location: 44 Isaiah Ntshangase Rd, Stamford Hill, Durban
Unique activities to do in Durban
There are many things to do in Durban, most are unique to this part of the country!
Ride the Rickshaw along the Beachfront
Take a back seat and enjoy an iconic ride on Durban's beachfront.
The Rickshaw was based on Japanese design and brought to Durban, in 1893, by the sugar magnate Sir Marshall Campbell, from London.
By 1902, more than 24,000 men registered as pullers, for no less than 1,700 rickshaws.
Today they are a symbol of the city, and although there are less than 50 left. These beautifully decorated pullers are decked out in beautiful head-dresses, which are mainly beads and other traditional decorations. All of these beautiful decorations are handcrafted, and there are no two the same!
This dying art is a major experience in the beach area and one of the unique activities to do in Durban!
Eat a bunny-chow
Although you can find this dish in most cities around the country, you won't find one that tastes the same as from where it originates.
A Bunny Chow is a spicy curry ladled into a hollowed-out loaf of bread. Durban is where the humble Bunny Chow was first eaten by local Indentured Labourers from India.
A good bunny chow has extra gravy, a combination of tender lamb pieces, soft melting potatoes, a vinegar grated carrot salad and is filled into a 1/4 loaf of fresh white bread.
It's best eaten with your hands and served with a glass of coke!
Visit the Luthuli Museum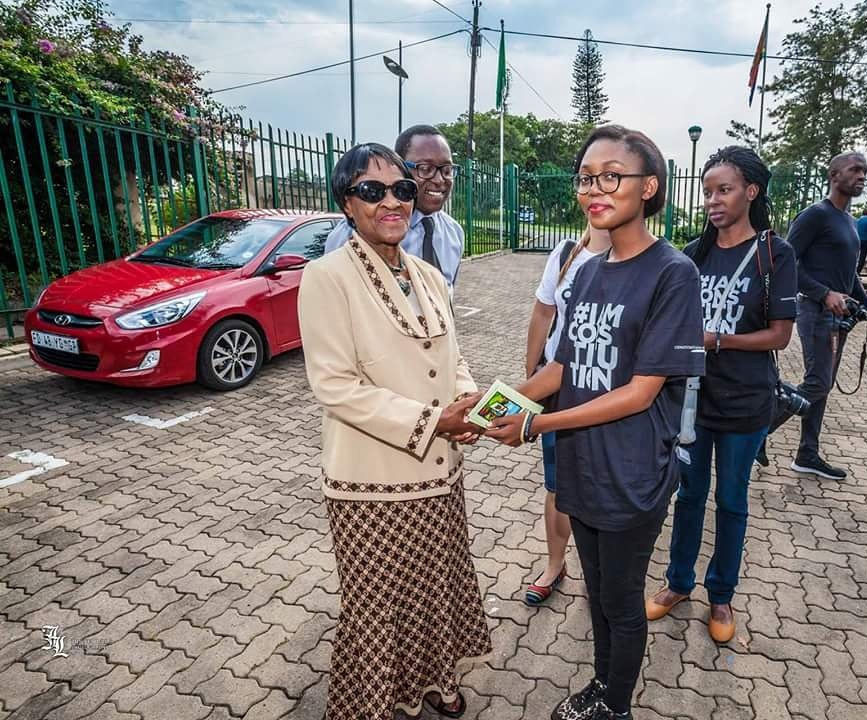 I visited the Luthuli Museum in Groutville near KwaDukuza where I learned about Africa's first Nobel Peace Prize recipient, Chief Albert Luthuli.
His original 1927 home stands as a national monument. While we were there we had the honor of meeting his eldest daughter, Dr. Albertinah Luthuli whom we presented a copy of the South African constitution.
The former ANC president died in 1967 after he was hit by a train on a railway bridge close to the home he had been confined to by the apartheid regime. To date, his death remains a cold case.
Location: 3233 Nokukhanya Luthuli Street, Groutville
Admission: Free
Open: daily, 8:30 AM – 4 PM
Best Day trips from Durban
There are many things to do in Durban and depending on how many days you have to spend in Durban.
A day trip to another area of Kwa Zulu Natal can be a fun way to see more of this gorgeous country. These trips are a great addition to your Durban itinerary, and there are lots of options to choose from!
Visit Nelson Mandela's Capture Site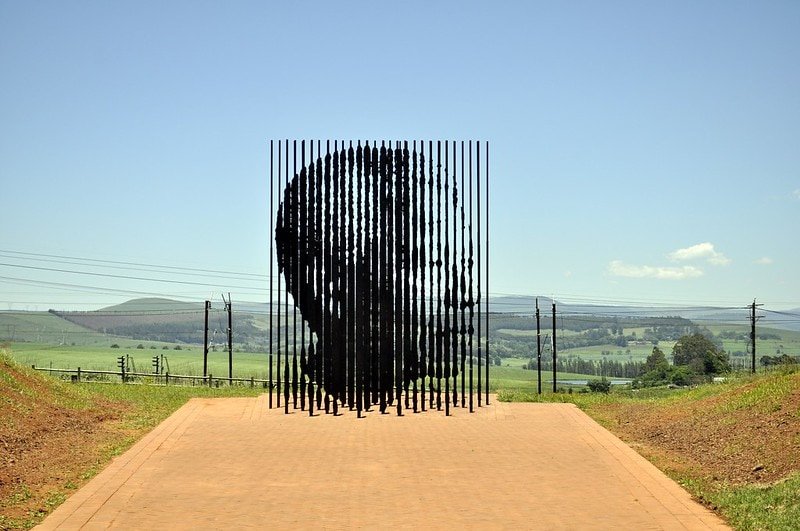 On 5 August 1962, an otherwise ordinary piece of road along the R103, roughly three kilometers outside Howick in South Africa's KwaZulu-Natal province, suddenly took on a profound consequence.
Armed apartheid police flagged down a car in which Nelson Mandela was pretending to be the chauffeur.
After Nelson Mandela was captured and arrested, he consequently began his 27 years of imprisonment.
Today it's an exhibition with a museum and sculpture. The extraordinary sculpture by artist Marco Cianfanelli comprises 50 steel column constructions – each between 6.5 and 9.5 meters tall – set into the KwaZulu-Natal Midlands landscape.
The approach to the site, designed by architect Jeremy Rose of Mashabane Rose Associates, leads one down a path towards the sculpture where, at a distance of 35 meters, a portrait of Nelson Mandela, looking west, comes into focus as the 50 linear vertical units line up to create the illusion of a flat image.
Meander through the Midlands
Until my recent visit, I had never heard of Howick and the Midlands region.
It's located in the north of Pietermaritzburg, There are enough activities to suit any preference and to my surprise, this town is quite a gem!
Where to stay in The Midlands
Set in the heart of the Blue Crane Nature Reserve, Brahman Hills offers all who visit it an escape from bustling city life and a glimpse into the Midlands best-kept secret.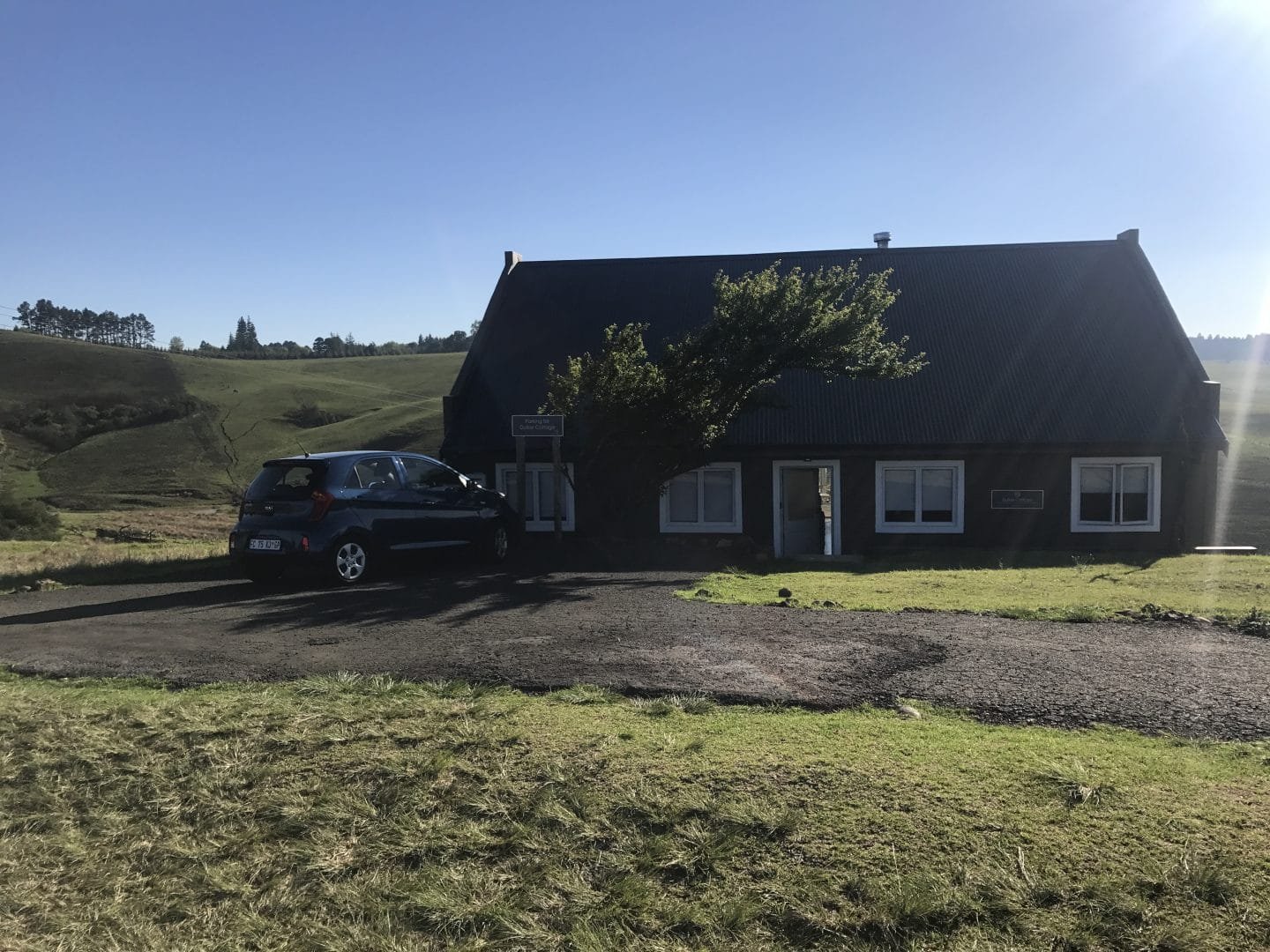 Things to do in The Midlands
Enjoy a gourmet platter of cheese and wine amongst lush lawns, trees, and goats at Swissland Cheese. It's the perfect spot for a picnic!
The Nottingham Road Brewing Company is craft beer heaven. We had an interactive factory tour and a fascinating craft beer tasting experience.
Our host John was VERY knowledgeable on the history, brewing of beer and all of the different craft beers we tasted. It turned out to be an educational experience that I'd do over and over again!
Visit the Inanda Heritage Route
Inanda Valley is a densely populated semi-rural settlement roughly 30 km outside of Durban. In this region, you can learn about:
Gandhi's movement of passive resistance (Satyagraha)
Visit the John Dube's Ohlange Institute for African boys.
He was the founder and first President of the African National Congress (ANC). He was born on the 11th of February 1871 and he passed away on the 11th of February 1946. 11 February is a special date as Nelson Mandela was released from prison on the 11th of February 1990 and the annual State of the Nation Address is held on the 11th of February.
In this village, you will find his home and burial site.
We also visited Dr. John. L Dube African Resistance Resource Centre which happens to be the same hall where Tata Nelson Mandela cast his vote in 1994. After voting, he walked up to John Dube's grave and said: "Mr. President, I have come to report that South Africa is now free."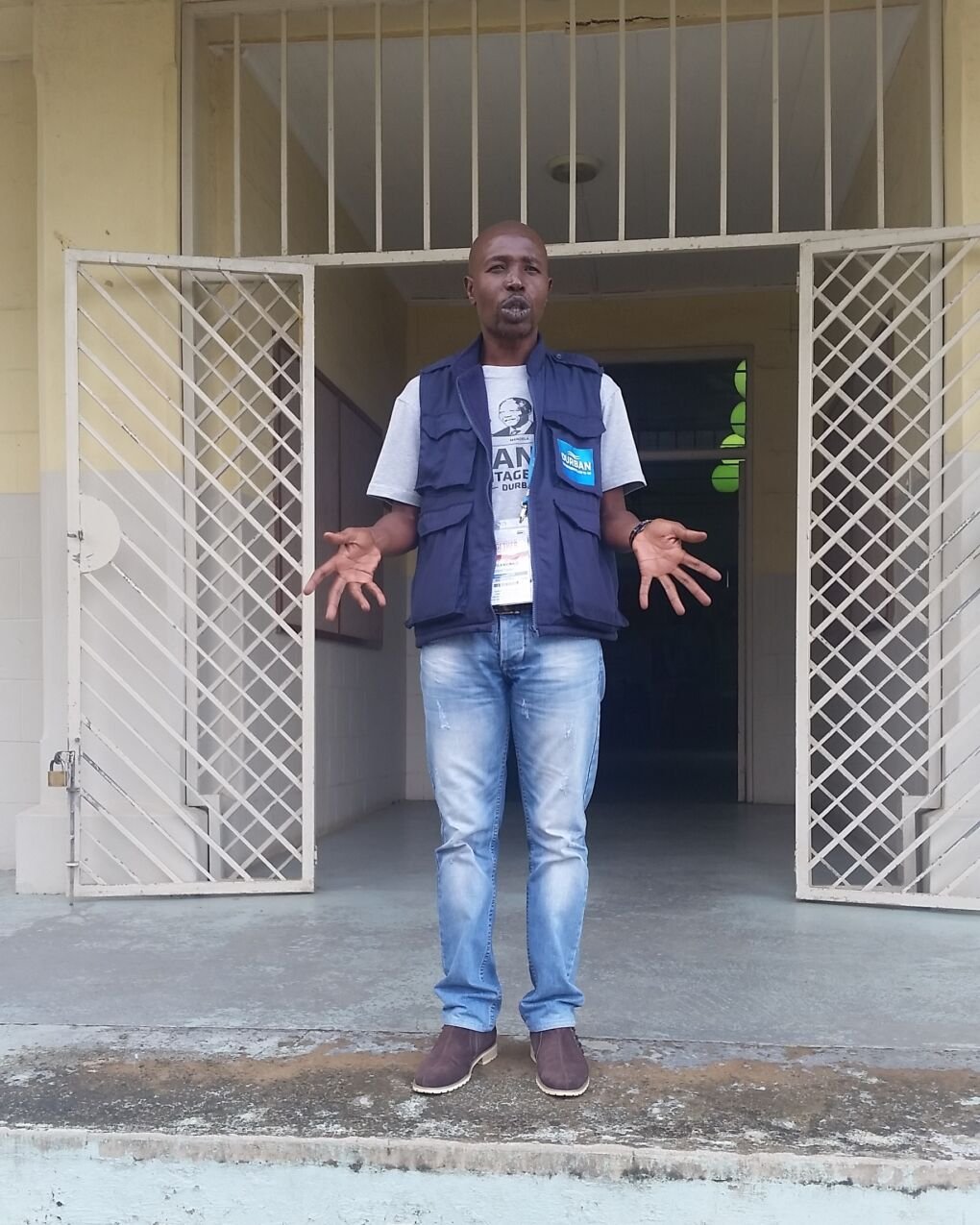 When our guide Mandla Nxumalo from Durban Tourism was telling us all these stories. I was ambivalent – sad: because of all the apartheid stories, happy: because I could see how he glows when he speaks about the day he met Tata Madiba and shook his hand and I was also so proud to be a South African.
The Shembe church
The Inanda Seminary School and Museum, a mission secondary boarding school.
This was the first secondary school exclusively for African girls in Southern Africa. The lovely students took us on a tour of the school and they were sharing stories about the schools' history and life in boarding school.
Where to Safari in Durban and surrounding areas
Find Hippos in iSimangaliso Wetland Park
image: Justin Lee
iSimangaliso Wetlands Park – located on the east coast of KwaZulu-Natal is South Africa's third-largest protected area.
iSimangaliso means "a miracle" in Zulu.
With grasslands, forests, wetlands, mangroves and ancient dunes, magnificent beaches, and coral reefs this is one place you need to see!
The park includes areas such as Kosi Bay, Cape Vidal, Lake St. Lucia, St. Lucia Game Reserve, Lake Sibhayi and Sodwana Bay National Park, just to name a few.
The iSimangaliso Wetland Park boasts the highest bird count in all of Africa, the southern-most breeding spots for turtles in Africa, Africa's tallest forested dunes, the largest remaining stands of sand forest, the biggest peat beds in the Southern Hemisphere and vast wetlands.
The Park features:
Biodiversity of 5 ecosystems

Superlative natural phenomena

Scenic beauty

Flora and Fauna

Ecological processes
Other outstanding features:
The largest black rhino population in the world

220km of pristine coastline and beaches

25,000-year-old coastal dunes which are the tallest forested dunes in Africa

The only major swamp forest left in the Southern Hemisphere

3 major lake systems (Lake St Lucia; Kosi Bay; Lake Sibaya)

4 RAMSAR wetlands

A 45,000-year-old peat wetland
Isimangaliso is one of a kind!
Boat Cruise in St Lucia
Lake St Lucia is situated a 3-hour drive north of Durban and about one hour north of Richards Bay in Zululand.
It's home to over 2000 crocs and 800 hippos, and the warm waters of the Indian Ocean to the East, where whales pass on their way to their breeding grounds in Mozambique, dolphins play in the surf and turtles nest on the beaches.
St Lucia is the gateway to the iSimangaliso Wetland Park, South Africa's first UNESCO World Heritage Site and the perfect adventure holiday destination!
As St Lucia is surrounded by the game park, it's a daily occurrence to see a business of mongoose cross the street, a troop of monkeys grooming each other and the elusive leopard ambling on the outskirts of town…
Although the town is safe, with private security companies that patrol the area and a local police station. You only need to watch out for hippos, whom after spending the day in Lake St Lucia, emerge at night to graze on the luscious lawns of the streets of St Lucia!
While on a sunset boat cruise, I learned that hippos kill 2900 human beings every year. So if you see one, trip the person next to you and run for your life!
Visit Zululand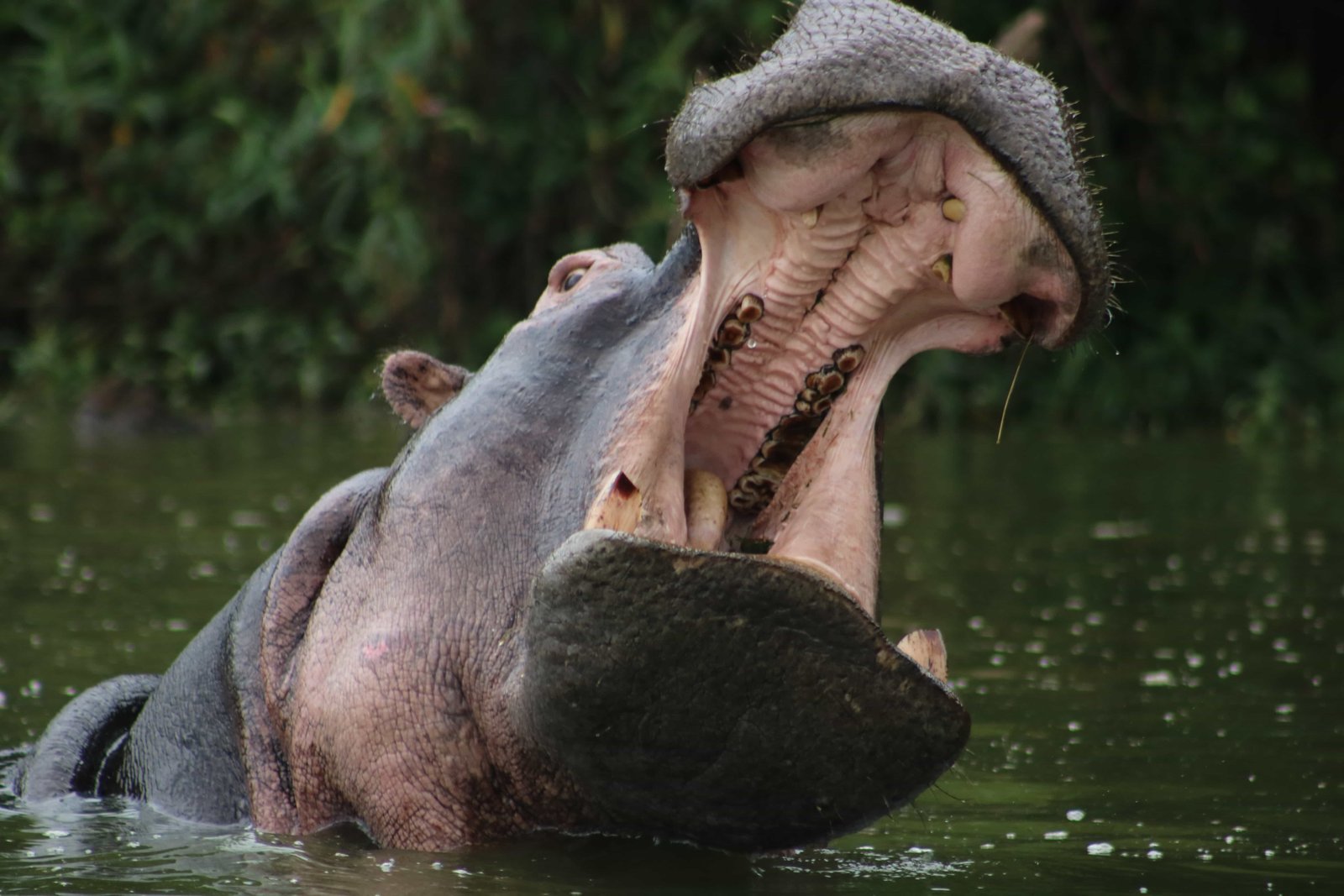 The name Zulu originally meant people who were migrating southward, towards the area around the Tugela River in the late 19th century. Led by King Shaka Zulu.
Today the area is dominated by Game reserves and villages.
Books to read about Shaka Zulu
If you don't know the story about Shaka Zulu, I highly recommend you read a book about this iconic South African military leader or watch the series on Netflix or rent the movie on Amazon Video.
The Zulus at War: The History, Rise, and Fall of the Tribe That Washed Its Spears
The Zulus at War is an important and readable addition to this popular subject area.
It describes the violent rise of King Shaka and his colorful successors under whose leadership the warrior nation built a fearsome fighting reputation without equal among the native tribes of South Africa.
It also examines the tactics and weapons employed during the numerous intertribal battles over this period.
They then became victims of their own success in that their defeat of the Boers in 1877 and 1878 in the Sekunini War prompted the well-documented British intervention.

Shaka Rising: A Legend of the Warrior Prince (The African Graphic Novel Series)
Shortlisted for the Nommo Awards for African Speculative Fiction―Graphic Novel.
A time of bloody conflict and great turmoil. The slave trade expands from the east African coast. Europeans spread inland from the south. And one young boy is destined to change the future of southern Africa.
This retelling of the Shaka legend explores the rise to power of a shrewd young prince who must consolidate a new kingdom through warfare, mediation, and political alliances to defend his people against the expanding slave trade.
---
Hluhluwe–Imfolozi Park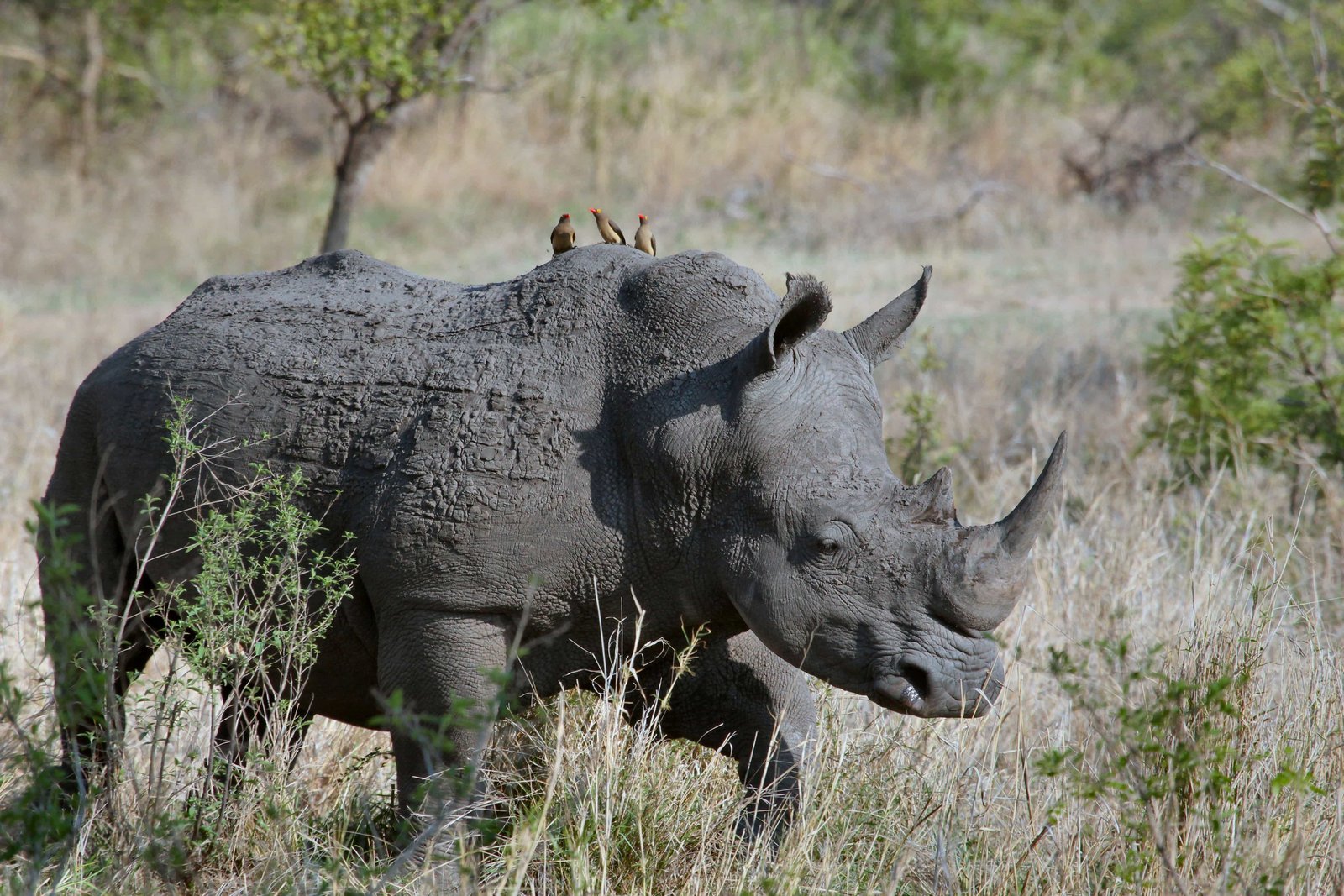 Previously used as King Shaka's private hunting grounds and formerly known as Hluhluwe–Umfolozi Game Reserve – this is the oldest proclaimed nature reserve in Africa.
It consists of 960 km² of hilly topography 280 kilometers north of Durban in central KwaZulu-Natal, South Africa and is known for its rich wildlife and conservation efforts.
It's one of the best national parks in South Africa and the park was originally set up to save this animal from extinction. There are now close to 2,000 of these animals at this park.
Beachwood Mangroves Nature Reserve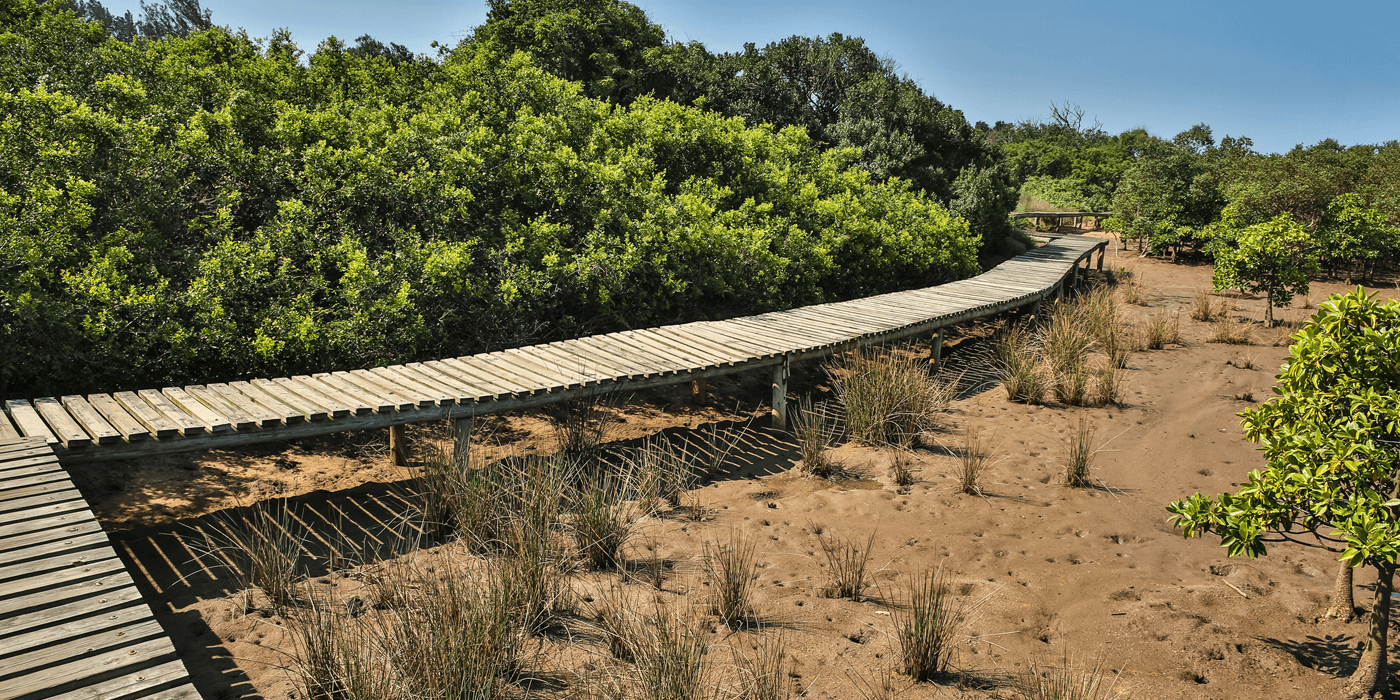 This 76 hectares of land consists of swamp forest that is one of the last remaining fragments of protected mangrove habitat on KZN's coast.
Gwahumbe Game Reserve
Just an hour's drive from Durban, this private reserve overlooks the confluence of the Gwahumbe and Umsunduze Rivers forms part of the greater Gwahumbe Valley.
This river system joins the Illovo River in the southern midlands of Kwa Zulu Natal and ultimately flows into the Indian Ocean south of Durban.
Gwahumbe Game Lodge and Spa offer a wide variety of catered and self-catered accommodation ranging from ultimate luxury to a rustic bush camp.
It's a great place to go for a day or weekend trip to view games such as hippo, wildebeest, giraffe, zebra and many antelope species to name but a few. The Reserve also enjoys an abundance of animals and birds.
Read about My day trip to Gwahumbe Game Reserve
South African Travel Guides
Best Hotels near Johannesburg Airport
---
Travel Insurance for South Africa
Use travel insurance while visiting South Africa so you are covered for theft and medical expenses. There are a lot of adventurous activities to do in SA, and it's best to have peace of mind while diving, hiking and trying some of the best food in the world.
Find out why I recommend World Nomads, check out my World Nomads Insurance review.
Disclaimer: This article contains affiliate links. This means that if you make a booking after clicking on a link, I may receive a small commission at no extra cost to you!