If you were asked to name the single most important tool that people have at their disposal today, what would you say? Our guess is that your answer would be the Internet. It has improved our lives in so many ways, and the possibility of remote and nomad working is just one of them.
Working online enables you to do so much more. The possibilities range from going through your beauty routine while actually working to bringing your tasks with you wherever you go. It doesn't really sound like something you'd look forward to, right? Well, consider this: you don't have to ask your boss for days off when you want to travel. Whenever you want, you can just… I don't know; pack your laptop and go to live in Japan Tokyo for a month or two?
Of course, you'd still have to work. In a densely populated place like Tokyo, though, you'll hardly be able to find a flat spacious enough to fit in a home office. Besides, even if you could, would you honestly want to spend your days cooped up in a room?
If you wouldn't, you'll probably want to take advantage of one of the many coworking spaces in Tokyo. It's a smart decision, too, since an orderly environment is likely to boost your productivity and motivation. So, to make your life easier, here is a list of the five best coworking spaces in Tokyo.
The Hive Jinnan Is Our Favorite Place to Cowork in Tokyo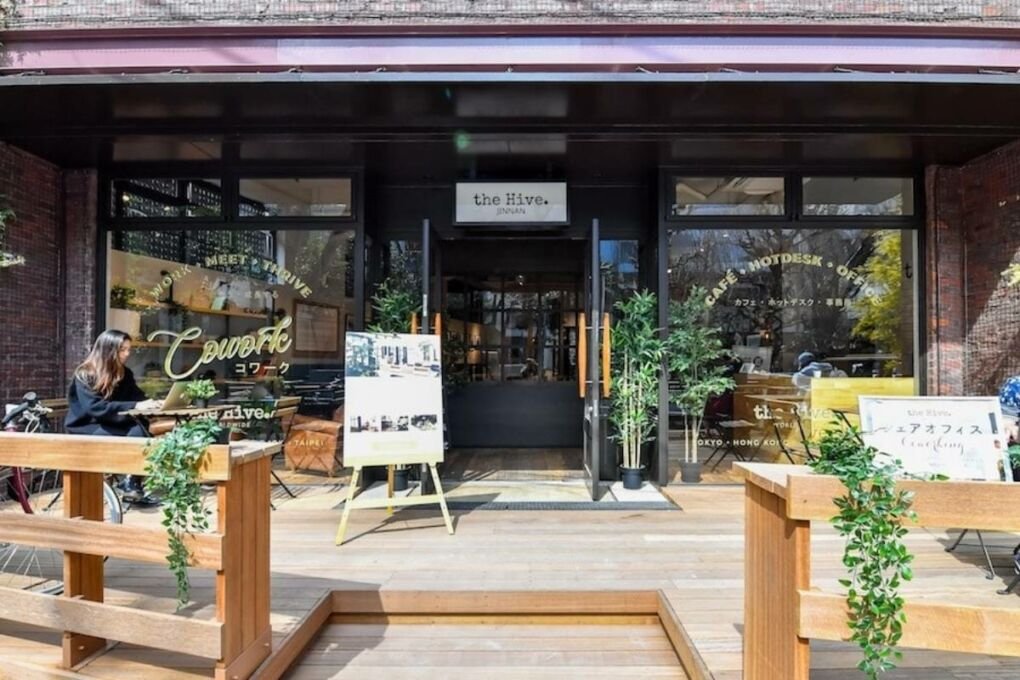 The Hive is located in the Shibuya district, within a walking distance from Akihabara station and Izumi elementary school.
If there is one place in this world perfectly suited to tend to the needs of a nomad worker, it's the Hive. The interior is pleasant, in soft earthy tones, and decorated with vintage-looking photos and pretty pops of little greenery on the desks and shelves.
You can get nice and comfy. There are personal lockers, so you don't have to worry about your stuff, and there are standing desks in case your back starts protesting. They offer everything you'll need for a successful workday, from good WiFi to printing equipment. There are an outdoor terrace and a chill-out area, as well as free coffee and tea.
If you have specific cravings, there is a barista at your disposal, and you can also purchase alcoholic beverages and snacks if you want to. The price per day is 2,000 JPY, and the working hours are from 8 am to 8 pm, Monday through Friday.
If you're a community member, however, you have other benefits, such as:
Unlimited 24/7 access to the premises,
Free lunches and drinks,
Free pass for workshops, events, etc.
The beauty and practicality of the Hive are the reasons we love it so much. So, if you're in need of a wonderful, inspiring place to work, look no further.
Basics
Pricing

Per day: JPY 2,000
Per month: JPY 30,000

High-Speed Internet
Yes
Open Hours

Monday – Friday: 8 am – 8 pm
Saturday – Sunday: closed

Ergonomics
Comfortable Chairs
Yes
Standing Desk
Yes
Workspaces
Dedicated Desks
Yes
Conference Rooms
Yes
Private Offices
Yes
Phone booths
Yes
Coliving
No
Other Places That We Also Loved
No matter how fabulous it is, the Hive may not be your choice if it's inconveniently far from your accommodation. So here are other great coworking spaces in Tokyo, organized according to the neighborhoods in which they're located.
Akihabara
If you're a fan of anime and/or a tech enthusiast, chances are you'll choose to stay in Akihabara. Maid cafes and arcades — while undoubtedly male-oriented — might just be attractive enough to make you forget about your work. If you manage to keep your head in the game, though, here are some awesome coworking places in your proximity. The best ones are:
Rampart
⅓ Life
BIZcomfort Akihabara Iwamotocho
Regus Akihabara Minami
So, let's take a closer look.
Rampart
Rampart boasts a great location, only a few minutes on foot from the Akihabara Station.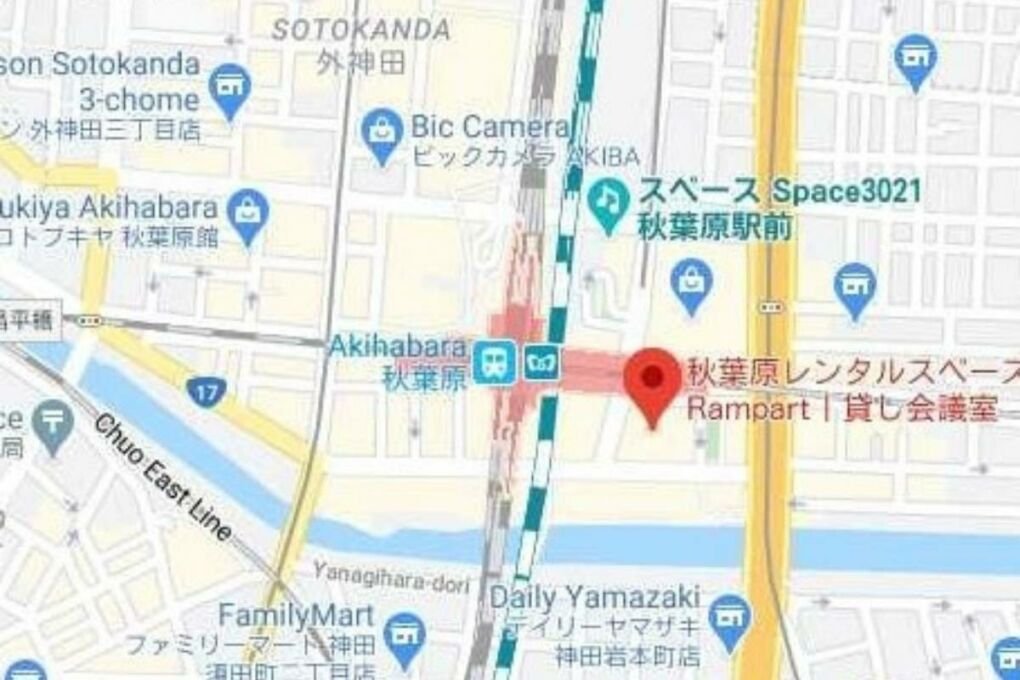 There is one big, very bright, open-space room, and two smaller ones for meetings. This coworking space includes a smoking room, which is great if you're a smoker. It's less great if you're not, as you can smell the cigarettes in the air.
That being said, there are plenty of benefits to this place. For one thing, at 22,000 JPY per month, the price is fairly approachable. They also offer the possibility to pay per half an hour, which is great. Finally, the sheer closeness to the station is its best asset — Rampart is easily the most happily situated coworking space on this list.
1/3 Life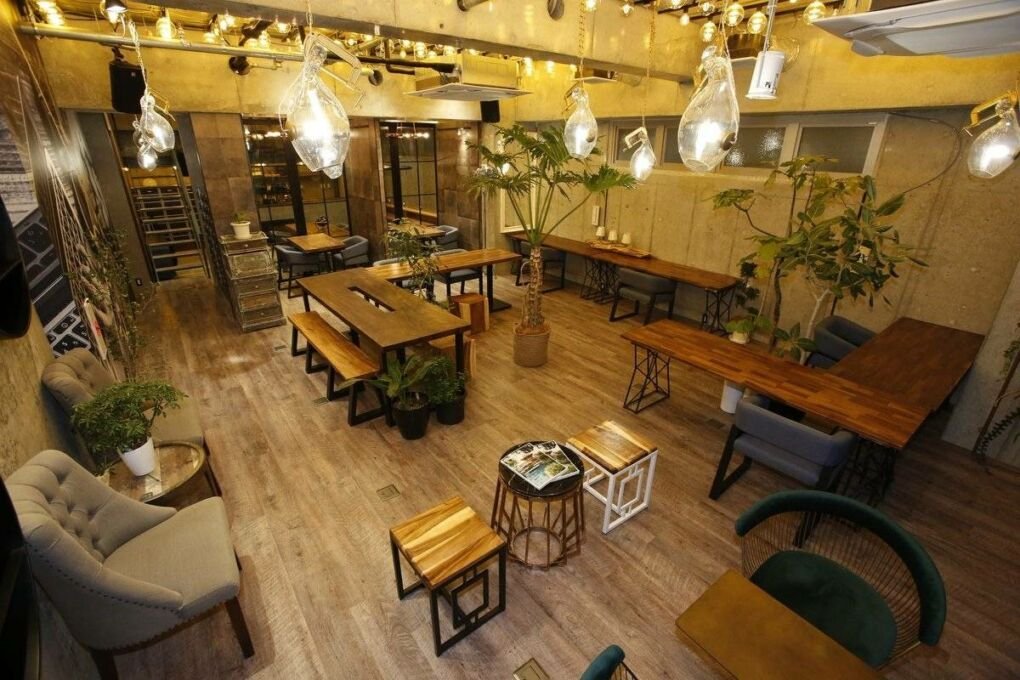 Northwest of Akihabara Station, no more than five minutes walk to Suehirocho Station, is where you'll find ⅓ Life.
In ⅓ Life, you'll find something that coworking spaces, in Tokyo or anywhere, generally don't have — an actual gym. It makes a lot of sense if you think about it. Since long hours of work can get you all stiff and uncomfortable, it's good to have a way to get your blood flowing.
So, if you're an active person (good for you!), and you want to keep up with your exercise routine while in Tokyo, this is a great place for you. There are other benefits as well.
With ergonomic and Bosu ball chairs, this coworking space is fairly comfortable. It is also fashionably decorated and has a large bar that serves alcoholic drinks. There is free coffee and tea and a great chill-out area. It provides personal lockers, as well as printing equipment.
It is open from 9 am to 10 pm Monday through Friday for regular visitors, while members have unlimited 24/7 access. They charge 9,320 JPY per month.
BIZcomfort Akihabara Iwamotocho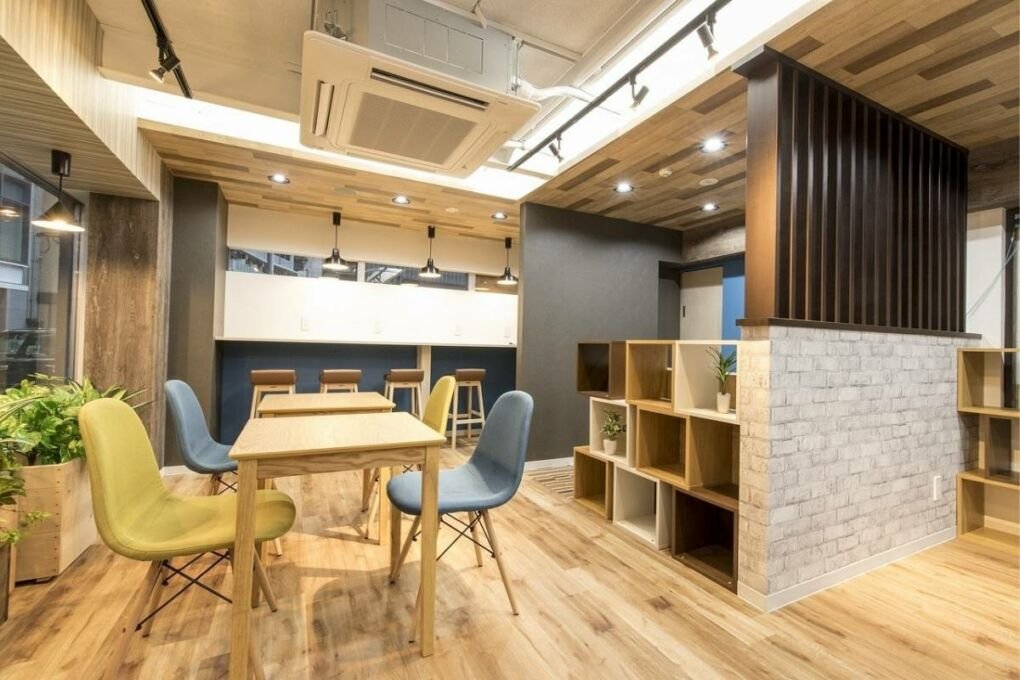 BIZcomfort is only a 7-minute walk from Akihabara Station. They don't allow drop-in, but the monthly subscription is quite low — an all-day plan costs 12,000 JPY, and members are welcome 24/7.
The coworking space itself is pretty pleasant, and the booths are very quiet. It's amazing for anyone who needs silence to work. Other benefits include personal lockers (at the added price of 2,000 JPY) and free coffee and tea, but snacks are neither provided nor allowed. Still, you're not likely to be disturbed there, and the price is really low, so the upsides seem to win, don't you think?
Regus Akihabara Minami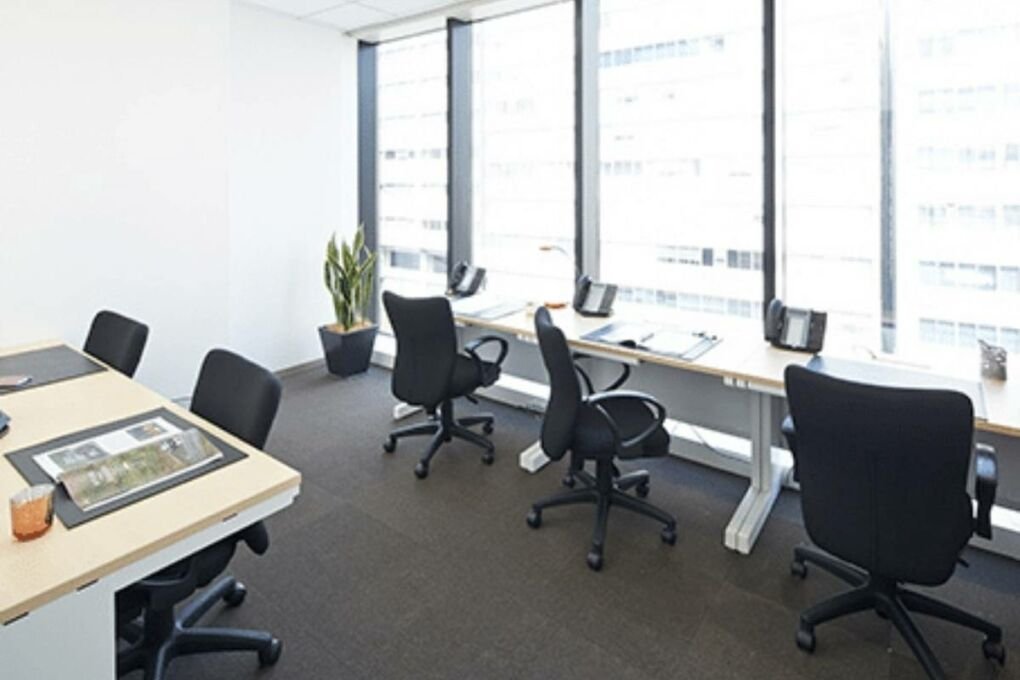 Regus Akihabara Minami is situated across the Kanda river, and it is fairly close to the Iwamotocho Station.
For those of you who dislike the contemporary cheerful workplace philosophy, the serious and impersonal atmosphere in Regus might be just what the doctor ordered. While it might be missing the warmth of some other entries on this list, it does provide plenty of space and very few disturbances. This is a great place for you if you need to focus and you tend to get lost in your work.
If you're interested in Regus, you'll need to call them and ask about the prices – and you should expect a higher figure than others on this list.
Basics
Rampart
⅓ Life
BIZcomfort
Regus
Pricing
22,000 JPY/month
9,320 JPY/month
12,000 JPY
On-demand
High-Speed Internet
Yes
Yes
Yes
Yes
Open Hours
Mon–Fri: 7 am–9 pm,

Sat-Sun: 10 am–7 pm,

Mon–Fri: 9 am–10 pm,

Closed on weekends

24/7
Mon–Fri: 8 am–6 pm, Mon – Fri,

Closed on weekends

Ergonomics
Comfortable Chairs
Yes
Yes
Yes
Yes
Standing Desk
No
No
No
No
Workspaces
Dedicated Desks
Yes
Yes
Yes
Yes
Private Offices
Yes
Yes
Yes
Yes
Coliving
No
No
No
No
Asakusa
If you're going to Tokyo with the idea of experiencing Japanese tradition and culture, you'll probably opt for staying in Asakusa. This is part of the city where the Old Town and Sensoji temple are located. You can rent a kimono and walk around pretending to be a Geisha. More importantly, if you're lucky enough to come in April, you can experience Hanami — Sakura blossoms viewing — while strolling along the Sumida River.
In such a magical environment, it's hard to think about work, isn't it? Well, if you really need to work, there are some great coworking spaces in this neighborhood as well. Here are the best ones.
Harajuku
Fashion of the youth
Lots of fashion stores
Quite unique
Bizzare cafes
Shinjuku
Culture clash
Office buildings, department stores
Golden Gai, 288 tiny bars on a space smaller than a soccer field
Gyoen Park
Ginza
Haute couture center
Shopping
Department stores
High-class brand from all over the world
Cafes and restaurants
Ikebukuro
The other Akihabara
Anime shops targeting females
Roppongi
Nightlife
Very classy restaurants
Shibuya
Youth Capital
Attracts a lot of young people
New Year's eve – countdown at Shibuya crossing