With so many things to see in Surabaya, it's surprising how the city of Surabaya doesn't often appear on travel bucket lists. It's one of Indonesia's hidden gems and If pristine white sand beaches are more than what you seek, this city is for you!
Surabaya is a vibrant port city located on the Indonesian island of Java. With a mixture of modern skyscrapers with canals and buildings from its Dutch colonial past. It has a thriving Chinatown and an Arab Quarter whose Ampel Mosque dates to the 15th century.
If you're planning a trip to Surabaya, this guide includes what to do see in Surabaya, the best places to stay in Surabaya and information about tips for visiting Surabaya for the first time.
Getting to Surabaya
The distance between Bali and Surabaya is 284 km. Depending on where you are traveling from, Surabaya is reachable by air, bus or car.
What is the fastest way to get from Bali to Surabaya?
The fastest way to get from Bali to Surabaya is to fly to Juanda international airport from Ngurah Rai International Airport in Bali. It takes 40 minutes by plane and there are direct flights to Surabaya from Bali and other cities like Hong Kong, Jakarta, Singapore and Kuala Lumpur in Malaysia.
What is the cheapest way to get from Bali to Surabaya?
The cheapest way to get from Bali to Surabaya is to drive. (Either by car or bus).
From Bali to Surabaya by Bus: There are direct buses from Ubung Terminal in Denpasar to Surabaya. Most are overnight buses and they travel got 10 – 12 hours depending on the traffic and road conditions. Tickets start from IDR 160,000 (about USD 12).
Getting around Surabaya
No Surabaya city guide would be complete without mentioning the city's Cyclo-rickshaws. Cyclo rickshaws are plentiful in busy areas like Qubah or malls. Prices seemed to be in increased
Best time to visit Surabaya
The rainy season is from November to April, this time there are heavy rains literally every day, and it is often strong winds. Throughout the year hot weather reigns in Surabaya; the average daily temperature is about 30-32
What time is it in Surabaya Indonesia right now
Indonesia is a big country with over 17 000 islands and 3 timezones. Bali is part of Indonesia and Jakarta is the capital of Indonesia, but they don't share the same time zone. Surabaya is 1 hour behind Bali and Bali actually shares the same time zone with Singapore, Kuala Lumpur, and Perth (AUS).
Surabaya Places of Interest
If you're wondering what do in Surabaya city and beyond, here is a list of places to go in Surabaya for first-timers:
1. Tour Submarine Museum Surabaya
Submarine Monument, also known as Monumen Kapal Selam (Monkasel) is located in Surabaya, on the edge of Kalimas River.
This is the largest submarine monument in Asia and the museum was built as a memorial of the brave fighters of Indonesia, and to conserve history or Indonesia's Maritime.
2. Explore the House of Sampoerna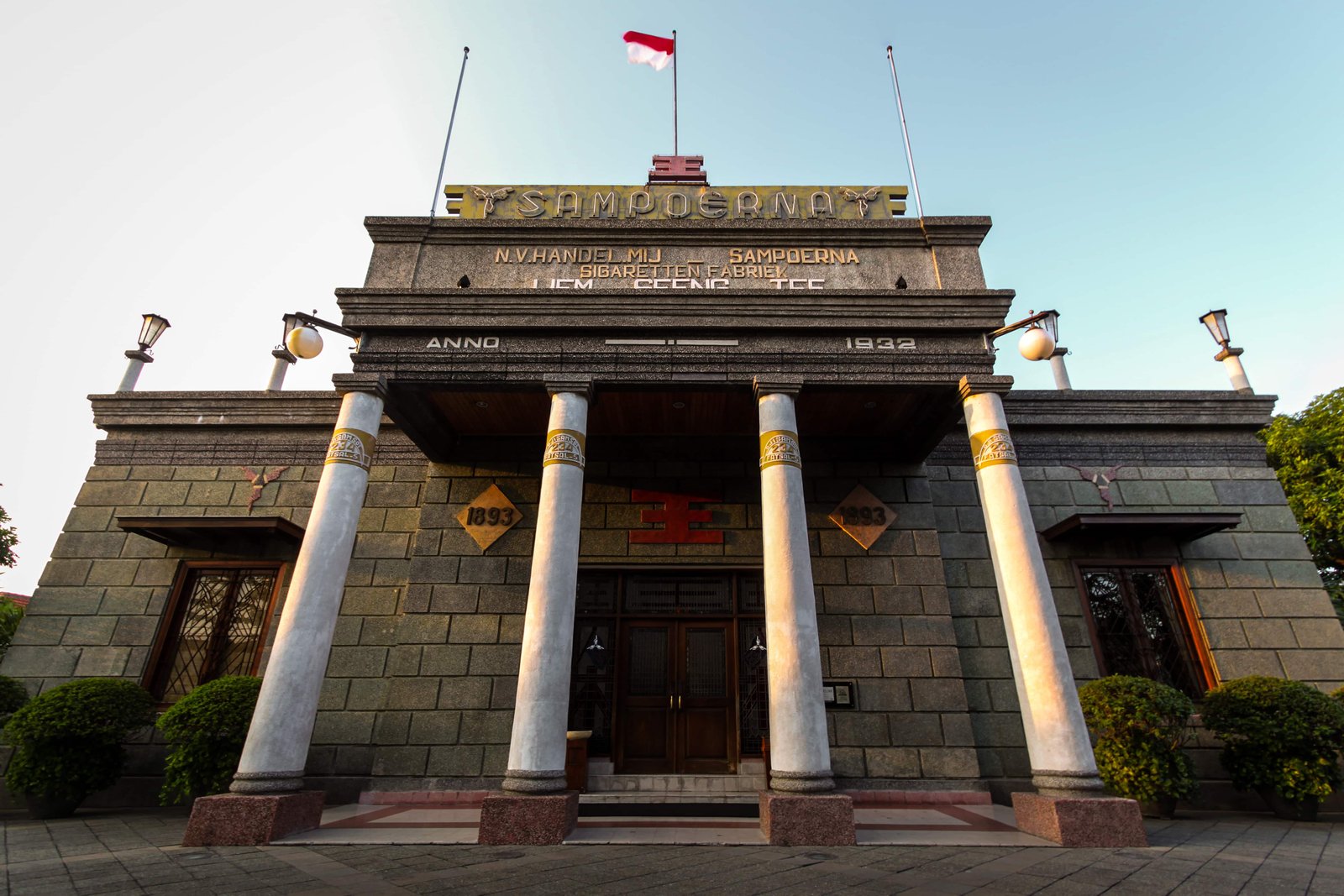 Learn about the fascinating rise of Liem Seng Tee and his wife. From small-time handmade cigarette producers to creating the biggest tobacco brand in Indonesia and becoming business moguls.
The main building's architectural style influenced by Dutch colonial-style compound was built in 1862 and is now a preserved historical site with exhibits and a cafe. Entry is free and the museum is open daily from 9 am to 6 pm.
3. Climb Mount Bromo
Mount Bromo is also known as Gunung Bromo in Bahasa (the local language) is an active volcano in the eastern part of Java Island in Indonesia (just a 4-hour drive from the capital city of Surabaya). Its name derives from the Javanese pronunciation of Brahma, the Hindu creator god.
Mount Bromo is part of the Bromo Tengger Semeru National Park and it is located in a plain called the Sea of Sand. At 2329 meters, this isn't the highest peak in Indonesia, but it is the most famous volcano in Indonesia.
Depending on how quickly you can climb up a sandy slope, It takes about 20-30 to summit Mount Bromo. Many tourists decide it is a good idea to have a horse haul them up the hill, which I don't recommend this because most animal-related activities aren't ethical.
Mount Bromo's last eruption was in July 2019, so it's important to sign up for Indonesian travel advisory alerts before planning your trip. Climbing the mountain is free but there are also daily sunrise tours to Mount Bromo, which involves walking up to its crater are almost rites of passage.
If you've ever considered the possibility of hiking a volcano then Indonesia will be your favorite country because it's sitting right atop of the Pacific Ring of Fire – home to 129 active volcanoes.
5. Say a prayer at Masjid Al Akbar Surabaya
Known as the Great Mosque of Surabaya, Masjid Al Akbar Surabaya is the second largest mosque in Indonesia after Istiqlal Mosque in Jakarta.
The mosque sits at 65 meters above the city and has its own tower that can be reached by elevator inside the mosque.
Non-Muslim visitors are welcome but must be dressed accordingly. Entry is free, but don't forget to wear a headscarf and cover your shoulders and knees.
6. Explore Wisata Bukit Mas
Wisata Bukit Mas is a premium housing complex with replicas of famous landmarks from European countries. The different areas are named with monikers such as Alexandria, Acropolis, Madrid, Versailles, and Rome. The Notre Dame Adventure Park has a stunning lake and if you want to swim, head to the Colosseum Club House that was modeled after the Roman amphitheater.
7. Find the Sembilangan Lighthouse
On Madura Island, just off the coast of Surabaya, is found a stunning Dutch-era lighthouse, a 65m tall and 17-floor towering presence protruding from Sembilangan Village.
8. Take IG shots at Bukit Jaddih
Just like Pamukkale in Turkey but less crowded, you'll find a pool (with natural spring water) in the middle of the hills. Locals call it "aeng goweh pote" (or the white cave water).
9. Admire The Suramadu National Bridge
The Suramadu National Bridge is one of the longest in this part of the world and runs between Surabaya and the neighboring island of Madura.
You can drive over the bridge or walk along the waterfront in the city to admire the views. The best time to visit is after dark when the bridge is illuminated with a variety of colorful lights.
10. See the Heroes Monument (Tugu Pahlwan)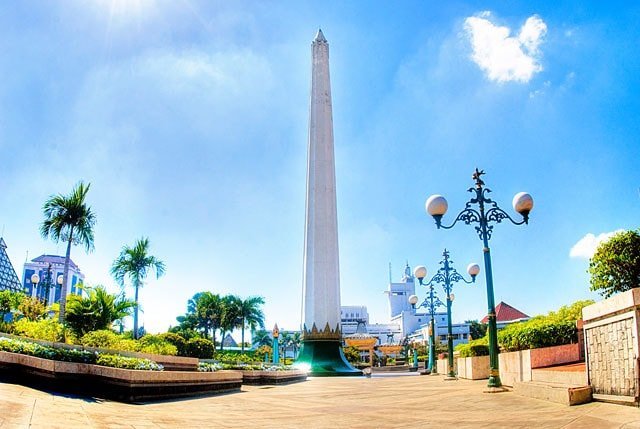 The Heroes Monument is a monument in Surabaya, Indonesia. It is the main symbol of the city, dedicated to the people who died during the Battle of Surabaya on November 10, 1945. The 10 November Museum is located under the mo
11. Visit the Smurf Village of Bukit Jamur Bungah
Located just 45 minutes north of Surabaya, Bukit Jamur Bungah is a village with naturally formed rock mushroom hills. It reminded me of the penis-shaped rock formations in Cappadocia, Turkey. Entry is free and this is a great place to take pictures or just walk around.
Things to buy in Surabaya
There are many places to go shopping in Surabaya:
Where to buy souvenirs in Surabaya: Head to Roode Brug Soerabaia which is on Jalan Pucang Anom Timur. This shop is like an all-in-one museum and antique store, they also offer heritage tours around the city.
Where to buy food in Surabaya: Galaxy Mall in Surabaya is home to over 500 shops and TWO food courts.
Visit the Kodam Brawijaya Night Market. Southeast Asia is home to amazing night markets. offering local food like Batagor, Siomay, and Ayam Penyet, this night market is filled with numerous bizarre food stands too, so be as adventurous as you'd like!.
Places to stay in Surabaya
There are many places to stay in Surabaya and it's also a moderately affordable city. With luxury 5-star hotels priced from US$60 and budget hotels & hostels in Surabaya priced as low as US$5 per night.
Set in the heart of business and shopping district of Surabaya, JW Marriott Hotel Surabaya offers luxurious 5-star accommodation, with exquisite European décor, outdoor pool, and a fitness center. The hotel provides 24-hour room service and free on-site parking.
Fitted with floor-to-ceiling windows overlooking the city, all air-conditioned rooms come with flat-screen cable TVs and a safety deposit box. A minibar, tea/coffee maker and free bottled water are provided. En suite bathrooms include separate marble bath and shower facilities.
[maxbutton id="1″ url="https://www.booking.com/hotel/id/jw-marriott-surabaya.en.html?aid=1558524&no_rooms=1&group_adults=1″ ]
Boasting modern interiors, Luminor Hotel Jemursari is located a 10-minute drive away from Royal Plaza and a 15-minute drive from Surabaya Carnival. WiFi is available in all areas and provided for free.
All the rooms are air-conditioned and feature a seating room, wardrobe, and a flat-screen cable TV. Fitted with parquet flooring, the room also has an electric kettle and minibar. The bathroom comes with a hot and cold shower facility as well as towels and free toiletries. A hairdryer is available upon request.
[maxbutton id="1″ url="https://www.booking.com/hotel/id/luminor-jemursari-surabaya.en.html?aid=1558524&no_rooms=1&group_adults=1″ ]
Situated in Surabaya City, this urban boutique hotel features stylish contemporary décor and rooms with unique wall art. It provides free Wi-Fi access and complimentary parking spaces.
Fitted with tiled flooring and a wardrobe, air-conditioned rooms feature their own unique décor. They are equipped with a flat-screen TV with cable channels and a personal safe. The attached bathroom comes with water heating facilities.
[maxbutton id="1″ url="https://www.booking.com/hotel/id/artotel-surabaya.en.html?aid=1558524&no_rooms=1&group_adults=1″ ]
More budget places to stay in Surabaya
Strategically located in Surabaya, POP! Hotel Diponegoro offers simply furnished rooms and meeting facilities. Free WiFi access is available throughout. The modern air-conditioned rooms are fitted with a satellite TV and sofa. En suite bathroom comes with a shower. Guests can enjoy city views.
[maxbutton id="1″ url="https://www.booking.com/hotel/id/pop-diponegoro.en.html?aid=1558524&no_rooms=1&group_adults=1″ ]
Livinn Hostels Gubeng Station in Surabaya offers accommodation with free WiFi, air conditioning and access to a garden. With a fully equipped shared kitchen, each unit also comes with a cable flat-screen TV, ironing facilities, desk, and a seating area. A continental breakfast is available each morning at the property.
[maxbutton id="1″ url="https://www.booking.com/hotel/id/livinn-hostels-gubeng.en.html?aid=1558524&no_rooms=1&group_adults=1″ ]
Varna Culture Hotel Soerabaia offers air-conditioned rooms and a shared lounge. Among the facilities of this property are a restaurant, a 24-hour front desk, and room service, along with free WiFi throughout the property. The accommodation provides an ATM, a concierge service and organizing tours for guests.
At the hotel, each room has a wardrobe. At Varna Culture Hotel Soerabaia every room includes a desk, a flat-screen TV and a private bathroom.
[maxbutton id="1″ url="https://www.booking.com/hotel/id/livinn-hostels-gubeng.en.html?aid=1558524&no_rooms=1&group_adults=1″ ]
Best Travel Insurance for Surabaya
Use travel insurance while visiting Surabaya so you are covered for theft and medical expenses. There are a lot of places of interest in Surabaya, and it's best to have peace of mind while swimming, hiking and trying some of the best food in the world.
Find out why I recommend World Nomads, check out my World Nomads Insurance review.
Disclaimer: This article contains affiliate links. This means that if you make a booking after clicking on a link, I may recieve a small commission at no extra cost to you!