If you've read my article about things to do in Taichung, you'll know Taiwan's second city is a very funky place to visit full of weird and wonderful themed cafes, creative parks and of course incredible street food. What you might not know is that when it comes to deciding where to stay in Taichung, there are a lot of fun options for the more curious traveller. Here's my pick of the best Taipei accommodation, perfect for your Taichung visit!
Where to Stay in Taichung: Quirky Options
RedDot Hotel
Where brick walls meet wooden furniture, complete with funky sofas and indoor slides, RedDot Hotel in Taichung is as quirky as they come. This cool Taipei Boutique Hotel is a great choice is you're in town for a few days and looking for somewhere memorable to stay. Price starts at $60 a night.
iCloud Hotel
When a hotel is named after an Apple product, you have to wonder what it's going to be like inside! iCloud hotel in Taichung is a mix between a seriously luxurious boutique hotel and a slightly quirky accommodation option – just the way I like it. Room highlights (and all rooms are unique) include a colourful bubble bath, an in room projector, and touch screen TVs. Room categories fall under fashion, dreamy, iCloud, amazing, elegant and gorgeous – so you can pick a room theme that suits you best!
Budget Accommodation in Taichung
Love I
If you want to stay at near as possible to the Taichung Night market, but far one of the top attractions in the city, then booking into the fresh looking Love I seems ideal. This budget hotel feels like a hostel, except with private rooms of varying sizes and also comes with a small common area to chill out and maybe make some new friends.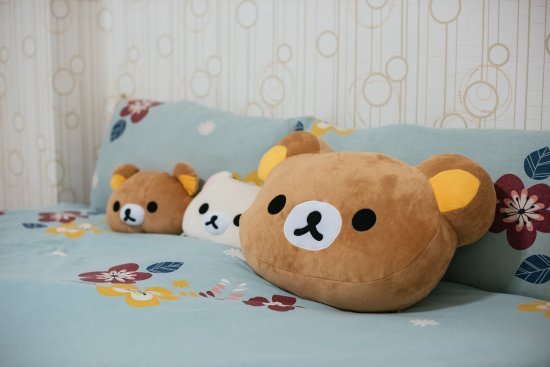 This photo of Love I Taichung Hostel is courtesy of TripAdvisor
Kiwi Express Hotel
So Love I is a hotel that feels like a hostel and Kiwi Express is a hostel that thinks its a hotel! Complete with dormitories, bunk beds and common areas, this is a great option of you're on a tight budget and just need a place to keep your stuff safe and lay your head at night.
Best Luxury Hotels in Taichung
The Lin Hotel
One of the top rated hotels in Taichung, this is where to stay in Taichung if you're looking for a little luxury. Judging by the photos, a hotel like this wouldn't be out of place in Dubai and Bali, with an amazing guest swimming pool, greenery, sun beds and all the top facilities guests expect from a luxury property. Rooms are bright and colourful, with black checkered carpets and red walls with floor to ceiling windows and SPECTACULAR views of Taichung city, especially at night.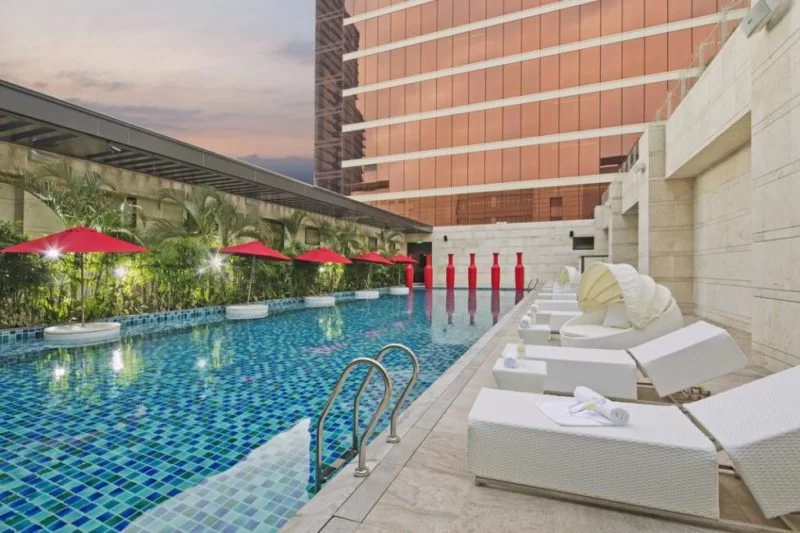 The Landis Taichung
The Landis Taichung is another uber luxury hotel perfect for those looking for a relaxing and comfortable stay in the city. One of, if not THE, tallest skyscrapers in the city, this is a hotel you cannot miss. Thanks to the height of the building, you can expect incredible views from the bars, restaurants and rooms. The rooms make the most of the view with panoramic windows and unbeatable views.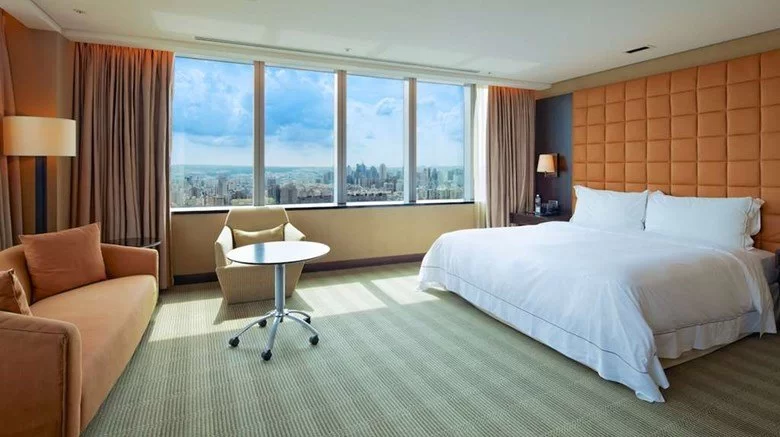 Know of any cool places to stay in Taichung that I haven't thought of? Feel free to leave a comment!